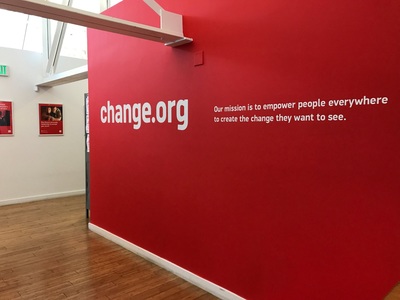 Photo courtesy of Reid Hoffman
San Francisco, CA, USA – May 26, 2017
We live in an era of massive public marches and standing-room-only town hall meetings.
People today expect opportunities to actively engage with the legislators who govern them and the companies they do business with.
Change.org
, the global hub for collective action, is a crucial democratizing force in this era of growing civic participation.
It helps enable a world where you don't need to hire a lobbyist to have real impact on the issues and policies that matter to you.
https://www.change.org/
Change.org
is accessible, it's transparent, and it's flexible enough to help people collectively pursue everything from lower monthly banking fees to better criminal justice system policies for sexual assault survivors.
https://bucks.blogs.nytimes.com/2011/10/13/petition-on-debit-card-fee-attracts-200000-supporters/
https://www.change.org/p/urge-congress-to-support-rape-survivor-rights
In fact, I believe in
Change.org'
s mission so strongly that I'm leading its latest funding round of more than
$30 million
, with the largest personal impact investment I've made to date.
Why Change.org Matters

Change.org
performs functions that are key to a healthy democracy – functions that were once mostly the domain of daily newspapers and other traditional news outlets.
It informs its users about issues and developments that are of local, national, and even global relevance.
It gives a megaphone to marginalized and disenfranchised communities. Its users and petition starters hold powerful interests accountable.
Most importantly,
Change.org
functions within the framework of what
Tim O'Reilly
calls "an architecture of participation."
At
Change.org
, users don't just consume information.
They act on it, by starting and signing petitions that have real impact.
That's why, since
Ben Rattray founded Change.org in 2007
, the platform has attracted nearly
200 million users in 196 countries
.
In its decade of existence,
Change.org
petitions have resulted in more than
21,000 victories
, i.e., instances in which a government agency, corporation, or other entity has changed a regulation or a policy in the face of a
Change.org
petition urging it to do so.
So when
Change.org
's users sign a petition, they know they're not just sounding off on a message board or engaging in empty rhetoric.
They're leveraging the human capital of their voices with thousands or even millions of like-minded others, in a way that regularly results in significant impact.
Indeed,
Change.org
petitions have helped achieve grants of clemency for dozens of people serving lifetime prison sentences for nonviolent offenses.
https://www.change.org/l/us/20-clemency-recipients-with-change-org-petitions
In the U.K. last year, a
Change.org
petition signed by more than
650,000 people
and delivered to the
British Prime Minister's residence
by the family of computer scientist
Alan Turing
helped convince officials to pardon
49,000 men
who'd been convicted of felonies under homophobic laws.
https://www.change.org/l/us/49000-gay-men-to-receive-pardon-after-alan-turing-law-announced
In
Mexico City
, residents and municipal leaders used the
Change.org
platform to collaborate on the development of the city's new constitution.
https://qz.com/662159/mexico-city-is-crowdsourcing-its-new-constitution-using-change-org-in-a-democracy-experiment/
Because of
Change.org'
s intrinsic architecture of participation, it harnesses the full power of its users' knowledge and interests.
Petition signers become petition creators, and
Change.org
effectively becomes a marketplace of civic engagement, where many campaigns are presented and the most relevant and powerful ones achieve traction.
As with most platforms and marketplaces, information spreads fast on
Change.org
.
Feedback
loops are tight and easy to analyze.
As a result, innovation, iteration, and replication all accelerate.
Activists seeking to drive change of some kind can experiment with different petitions, to find which ones resonate most with users, and which ones lead to real change.
Once such petitions are identified, they can be reproduced and replicated.
A petition that leads to a regulatory change in one city can serve as a template for similar petitions around the country.
Change.org
benefits from the same virtuous cycle that
Amazon, Airbnb
, and other consumer Internet giants depend on to improve user engagement, identify the products and services that consumers want most, and increase revenues.
Early on,
Ben Rattray
recognized that the power of networks and platforms should be applied to social impact as well as consumer Internet businesses.
While critics sometimes dismiss online petitions as "clicktivism," the premise underlying this critique is completely misguided.
It isn't bad to strive to make civic engagement more accessible and convenient and personalized, as effortless as one-click shopping.
It's good!

As
Change.org
has proven over and over, petition signatures can lead to victories and real policy changes that make the world better.
As a society, we should be doing everything we can to build powerful, easy-to-use civic spaces where upstarts and idealists can effectively challenge entrenched interests.
Where people believe their participation makes a real difference.
Where every day, in transparent fashion, individual citizens can join forces in highly democratic efforts to make the world a better place.
That's why I'm making this investment in
Change.org
.
Investing Philanthropically In Change.org

In my primary capacity as a
partner at
Greylock,
I invest in and serve on the boards of companies that focus on increasing their equity value.
Many of these businesses, like
LinkedIn
and
Airbnb
, have strong social missions, but their principal long-term responsibility is to maximize returns to shareholders.
Change.org is different
.
From its inception, it has emphasized increasing social good over maximizing shareholder value, and it will continue to do so.
In fact, it will soon be transitioning from a certified B corporation to a full-fledged benefit corporation – a structural status that will legally establish and ensure its commitment to public social benefit.
Because
Change.org
balances social impact and investor returns in this way, my investment in it will be a personal one rather than through
Greylock
.
While I and other investors participating in this round believe
Change.org'
s equity value will increase over time, it's important to ensure that its social mission remains its primary objective as it expands into a platform that turns petitions into movements and enables deeper and more powerful collective action.
As part of my commitment to help
Change.org
achieve its mission, I am pledging to donate any increase in equity value I realize from this investment to non-profit organizations, including
Change.org
's own charitable arm, the
Change.org Foundation
.
Building Change.org For Scale

Whenever I evaluate potential ventures and projects, including philanthropic and impact investments I've made in organizations like
Kiva.org, Segovia, Endeavor, Mozilla
, and
Change.org
, I consider the organization's capacity to scale.
In doing so, I consider number of users, the depth of impact on those users, and how that impact plays out over time.
In other words, the organizatoins, products, or services that achieve the greatest scale don't just attract millions or even billions of users.
They also engage them in meaningful ways. And persist over time.
To achieve impact over time, you need financial sustainability – whether you're a public benefit corporation like
Change.org
, a non-profit like
Kiva
or
Endeavor,
or a foundation like Mozilla that owns a revenue-generating for-profit subsidiary.
Because many other Internet leaders believe like I do that
Change.org
will play a key role in empowering crucial new forms of collective action over the coming years, we've been able to assemble a
world-class
Board of Directors
to assist Ben Rattray
.
Nancy Lublin, founder of Crisis Text Line and former CEO of Do Something, will be chairing the new board
.
https://www.linkedin.com/in/nancylublin
http://www.crisistextline.org/
https://www.dosomething.org/us
Allen Blue, LinkedIn's VP of Product of Management
and one of my co-founders there, will be serving on the
Change.org
board as well, as will
Joe Greenstein, founder of InnerSpace and Flixster,
and
Sarah Imbach, an angel investor and entrepreneur who was COO at 23andme
and a longtime colleague of mine at
LinkedIn
and
Paypal
.
https://www.linkedin.com/in/ablue/
https://www.linkedin.com/in/joegreenstein/
https://www.helloinnerspace.org/
https://www.flixster.com/
https://www.linkedin.com/in/sarahimbach/
I have personal experience with how talented each of these board members are through my work with them in other capacities over the years.
As Change.org's founder, Ben
has always believed that
Change.org
could deliver the most social impact over time by developing strong revenue streams and the financial autonomy that comes with that.
That's one of the reasons I was attracted to
Ben
's vision, and why I made my first investment in
Change.org in 2014
.
In its early years,
Change.org
pursued an ad-based revenue model that relied heavily on large non-profit sponsors and other similar entities.
While this model generated tens of millions of dollars in revenue and helped thousands of nonprofit organizations reach new supporters, it wasn't able to keep pace with
Change.org
's rapid user growth.
So
Change.org
has shifted its model to incorporate user subscriptions, crowdfunding, and a promoted petition product that is accessible to individuals and organizations.
Moving forward, a major focus of the
Board
will be to help
Change.org
continue developing and refining its business model – in ways that increase its capacity to pursue its mission for the long term.
With
Change.org
, financial autonomy plays a particularly strategic role.
A global utility that anyone can use to persuade governments to change laws and corporations to change policies must be completely reliable.
It needs to be transparent, and beholden to no special interests or agendas.
That's why it's so important to improve and diversify
Change.org
's business model, and ensure that it has the resources to continue adding features and tools that can help turn petitions into movements.
The Future Of Collective Action

With its nearly 200 million users, Change.org is already a major global platform
.
But I believe we're still in the early stages of what
Change.org
can accomplish.
As
NYU professor Clay Shirky
explained in his book,
Here Comes Everybody
, the kinds of collective action human beings have traditionally engaged in have been limited by the costs that come with managing large-scale group efforts.
"For the last hundred years the big organizational question has been whether any given task was best taken on by the state, directing the effort in a planned way, or by businesses competing in a market," he wrote.
Now, however, the Internet, email, smartphones, and related technologies have dramatically lowered the costs of group organization and management - so much so that individuals can self-organize and collaborate, in decentralized, asynchronous, and loosely coordinated fashion, on projects that once only formal organizations would have had the resources to pursue.
Platforms like
Change.org
further amplify this new capacity for decentralized collective action by making it easier for people to find the issues and campaigns that matter most to them, and giving them an evolving set of tools to leverage their impact.
The potential for individuals to create real and lasting change through collective action - by influencing electing officials, by influencing corporations, by connecting over shared interests and pooling resources - is rapidly growing more powerful.
Every day brings new opportunities to act on your values and ideals.
Recently, I signed a
Change.org
petition started by a doctor who has been on the front lines of the humanitarian crisis unfolding in
Syria
, calling for world leaders not to forget the carnage and chaos in places like
Aleppo
.
https://www.change.org/p/join-me-in-standing-with-one-of-the-last-doctors-in-aleppo-call-world-leaders-to-act-now-to-savealeppo
If you feel similarly about this issue, I invite you to join me
.
Reid Hoffman

Reid Hoffman
,
Partner at Greylock Partners
and

Member, Board of Directors at Microsoft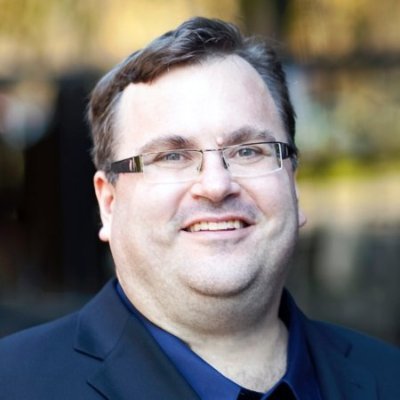 Reid Hoffman
Entrepreneur. Product Strategist. Investor.
Partner at Greylock Partners and Member, Board of Directors at Microsoft.
Photo courtesy of LinkedIn
Entrepreneur. Product Strategist. Investor. San Francisco Bay Area.
Greylock Partners
works with entrepreneurs to build market-transforming companies.
Notable
Greylock portfolio
includes companies like
LinkedIn, Facebook, Workday, Airbnb, Pure Storage, Cloudera, Convoy, Dropbox, Pandora, Instagram
and
Palo Alto Networks
.
Reid Hoffman represent Greylock on the boards of Airbnb, Convoy, Edmodo, and Xapo
.
https://www.linkedin.com/in/reidhoffman/
Source: LinkedIn Pulse

https://www.linkedin.com/pulse
ASTROMAN Magazine - 2017.04.21

Apple celebrates Earth Day with new initiatives and stories of innovation

https://www.astroman.com.pl/index.php?mod=magazine&a=read&id=2233
ASTROMAN Magazine - 2017.04.19

Shelly Palmer: Can Self-Driving Cars Ever Really Be Safe?

https://www.astroman.com.pl/index.php?mod=magazine&a=read&id=2232
ASTROMAN Magazine - 2017.04.14

Jamie Dimon, Chairman & CEO of JPMorgan Chase: Good Reputation Advances Your Career

https://www.astroman.com.pl/index.php?mod=magazine&a=read&id=2229
ASTROMAN Magazine - 2017.03.13

William D. Cohan: It's time we stop hating Wall Street and start appreciating what it does for the U.S. economy

https://www.astroman.com.pl/index.php?mod=magazine&a=read&id=2210
ASTROMAN Magazine - 2017.03.01

The new Hanoi Lotus Centre project has been featured on Archdaily!


https://www.astroman.com.pl/index.php?mod=magazine&a=read&id=2201
ASTROMAN Magazine - 2017.01.31

How Facebook Uses Data Analytics To Understand Your Posts And Recognize Your Face

https://www.astroman.com.pl/index.php?mod=magazine&a=read&id=2186
ASTROMAN Magazine - 2017.01.13

JPMorgan Chase and CCSSO Announce USD 20 Million to Improve Career Education for Young People in 10 U.S. States

https://www.astroman.com.pl/index.php?mod=magazine&a=read&id=2228
ASTROMAN Magazine - 2016.06.25

Toyota launches Biodiversity & Sustainability Learning Center to complement its Biotope project in Thailand

https://www.astroman.com.pl/index.php?mod=magazine&a=read&id=2081
Editor-in-Chief of ASTROMAN magazine: Roman Wojtala, Ph.D.