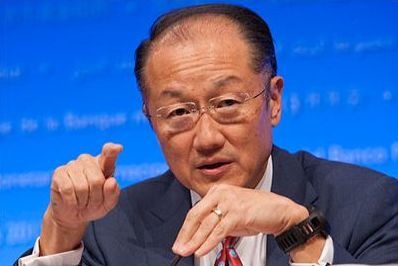 World Bank Group President Jim Yong Kim addresses the media briefing.
Courtesy of World Bank / Simone D. McCourtie
Washington, D.C., USA - October 12, 2013
• The Development Committee — a joint World Bank-IMF forum that advises the two institutions — approved a new World Bank Group Strategy.

• "We strongly endorse the WBG Strategy. We welcome the repositioning of the institution as 'One World Bank Group,'" the committee said.

• The new strategy says there will be shift from a focus on stand-alone projects to a "development solutions culture embedded in widely disseminated knowledge of what works and how to deliver it."


Six months ago, the World Bank Group's member countries endorsed a bold plan to end extreme poverty by 2030 and promote shared prosperity.

Today, they gave the Bank Group the green light to reposition itself to better tackle these goals
.
"I am very grateful for the support of the governors in unanimously endorsing our World Bank Group Strategy,"
said World Bank Group President Jim Yong Kim.

"For the first time in the history of our organization, we have a strategy that leverages the strengths of our entire organization – the Bank, the IFC, our private sector arm, and MIGA, which provides risk guarantees – and aligns all our work for a common purpose."
The Development Committee — a joint World Bank-IMF forum that advises the two institutions — approved a new World Bank Group Strategy calling for greater efficiency in operations; more investment in knowledge, technical skills, and information technology; and the breaking down of silos within the institution that currently inhibit collaboration and knowledge-sharing
.
"We strongly endorse the WBG Strategy,"
the Committee said in a communiqué released at the World Bank-IMF 2013 Annual Meetings on October 12.

"We welcome the repositioning of the institution as 'One World Bank Group' that works with the public and private sectors in partnership, contributes to the global development agenda through dialogue and action, supports clients in delivering customized development solutions, and helps advance knowledge about what works in development."
The Committee urged special attention to countries and regions with the highest rates of poverty, fragile and conflict-affected situations, and unique challenges facing small states.

It noted that while the global poverty rate has been cut in half since 1991, not all developing countries have seen equal progress.

About half of low-income countries are classified as fragile and conflict-affected, and they are home to a growing share of the world's poor.

Economic growth has been accompanied by rising inequality in many developing countries, with the majority of the poor now living in middle-income countries
.
A report released Thursday revealed that 400 million — one in three — of the world's extreme poor are children.

The State of the World's Poor also found that in 35 low-income countries, 100 million more people are living in extreme poverty — defined as less than $1.25 a day — than 30 years ago.

"How can we in good conscience not do all we can to lift these children and their families out of extreme poverty?"
Kim asked
.
"They can't wait for progress to emerge slowly. They need our help today."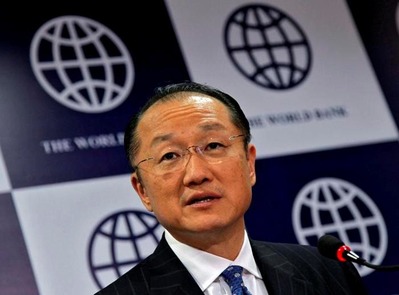 "For the first time in the history of our organization, we have a strategy that leverages the strengths of our entire organization ... and aligns all our work for a common purpose."
- Jim Yong Kim, World Bank Group President.
Courtesy of World Bank

The two goals set by the Bank Group are reducing extreme poverty globally to 3% by 2030, and boosting incomes for the bottom 40% of the population in developing countries.

On Wednesday, in a webcast interview with CNN's Richard Quest, Kim said countries will have to perform at their very best level of the last 20 years to reach the poverty goal, which would not be realistic unless countries can reduce extreme poverty to single digits in the next seven years. Kim announced a new interim target – lowering poverty from 18% in 2010 to 9% by 2020.
The new strategy approved today says the Bank Group will have to become more flexible to meet the goals.
It will have to provide faster service, be able to
"crowd in resources, experience, and ideas more effectively through partnerships and leverage its global role by deepening global engagements that are aligned with the two goals."

The Bank Group will also have to be more selective in its efforts, customize its support to respond to country demands, and increasingly promote public-private partnerships.

In his opening plenary speech on Friday, Kim listed several ways a leaner, more efficient, and tightly knit World Bank Group will be different.

Among them: reducing by a third the amount of time a project takes to get off the ground; gathering feedback on development projects from all beneficiaries; and openly sharing knowledge and experience with its 188 member countries, the private sector and civil society.

The new strategy says there will be shift from a focus on stand-alone projects to a
"development solutions culture embedded in widely disseminated knowledge of what works and how to deliver it."
New Global Practices groups, which Kim said would involve roughly 4,000 technical experts, will have the ability to "generate, share, and deploy knowledge globally – facilitating rapid response to client demands and focusing on cutting-edge development challenges," says the strategy.

Kim said in the next three years the Bank Group would identify a minimum of $400 million in administrative savings.

That savings would be reflected in future budgets.

Savings will come from reduced travel and facility costs, simplifying bureaucracy and strategically reviewing staffing
.
"We welcome measures to utilize existing resources better and strengthen the WBG's financial capacity to align it with the ambition of its strategy,"
the Development Committee said
.
The Bank Group has
"an important role to play in delivering global development results, supporting countries with their specific development challenges and helping them eradicate poverty and build resilience to future financial, economic, social, and environmental challenges,"
it said
.
Dr. Jim Yong Kim
World Bank President
Jim Yong Kim
Courtesy of World Bank
Jim Yong Kim, M.D., Ph.D., became the 12th President of the World Bank Group on July 1, 2012
.
A physician and anthropologist, Dr. Kim has dedicated himself to international development for more than two decades, helping to improve the lives of under-served populations worldwide.
Dr. Kim comes to the Bank after serving as President of Dartmouth College, a pre-eminent center of higher education that consistently ranks among the top academic institutions in the United States.
Dr. Kim is a co-founder of Partners In Health (PIH) and a former director of the HIV/AIDS Department at the World Health Organization (WHO).
As President of Dartmouth – an institution that comprises a liberal arts college and professional schools of medicine, engineering and business, as well as 19 graduate programs in the arts and sciences, a staff and faculty of 3,300, and a budget of $700 million – Dr. Kim earned praise for reducing a financial deficit without cutting any academic programs.
Dr. Kim also founded the Dartmouth Center for Health Care Delivery Science, a multidisciplinary institute dedicated to developing new models of health care delivery and achieving better health outcomes at lower costs.
Before assuming the Dartmouth presidency, Dr. Kim held professorships and chaired departments at Harvard Medical School, the Harvard School of Public Health and Brigham and Women's Hospital, Boston.
He also served as director of Harvard's François-Xavier Bagnoud Center for Health and Human Rights.
In 1987, Dr. Kim co-founded Partners In Health, a Boston-based non-profit organization now working in poor communities on 4 continents.
Challenging previous conventional wisdom that drug-resistant tuberculosis and HIV/AIDS could not be treated in developing countries, PIH successfully tackled these diseases by integrating large-scale treatment programs into community-based primary care.
As Director of the World Health Organization's HIV/AIDS Department, Dr. Kim led the '3 by 5' initiative, the first-ever global goal for AIDS treatment, which sought to treat 3 million new HIV/AIDS patients in developing countries with antiretroviral drugs by 2005.
Launched in September 2003, the ambitious program ultimately reached its goal by 2007.
Dr. Kim's work has earned him wide recognition. He was awarded a MacArthur "Genius" Fellowship (2003), was named one of America's "25 Best Leaders" by U.S. News & World Report (2005), and was selected as one of TIME magazine's "100 Most Influential People in the World" (2006).
Born in 1959 in Seoul, South Korea, Dr. Kim moved with his family to the United States at the age of five and grew up in Muscatine, Iowa.
Dr. Kim graduated with an A.B. magna cum laude from Brown University in 1982.
He earned an M.D. from Harvard Medical School in 1991 and a Ph.D. in anthropology from Harvard University in 1993.
He is married to Dr. Younsook Lim, a pediatrician.
The couple has two young sons.
Source: The World Bank
http://www.worldbank.org
ASTROMAN Magazine - 2013.10.04
President Jim Yong Kim laid out the World Bank Group's new strategy to end poverty by 2030
http://www.astroman.com.pl/index.php?mod=magazine&a=read&id=1568
ASTROMAN Magazine - 2013.09.23
Prezydent RP Bronisław Komorowski: Póki my żyjemy...
http://www.astroman.com.pl/index.php?mod=magazine&a=read&id=1561
ASTROMAN Magazine
Publikacja tekstów pochodzących z wydawnictw prasowych bądź elektronicznych prezentowanych w ASTROMAN Magazine nie ma charakteru komercyjnego, służy wyłącznie celom edukacyjnym, dydaktycznym i naukowym - zgodnie z Ustawą o prawie autorskim i prawach pokrewnych z dnia 04.02.1994 r. (Dz. U. z dn. 23.02.1994 r. nr 24, poz. 83).