President Barack Obama and the First Family are visiting NASA's Kennedy Space Center in Cape Canaveral, Fla., Friday, April 29, 2011. Endeavour's launch was scrubbed for a technical issue; the earliest attempt will be Monday at 2:33 p.m. EDT.
Courtesy of NASA
Palo Alto, Calif., USA - April 28, 2011
HP Enterprise Services
has been chosen for a
single-award firm-fixed-price
, indefinite delivery/indefinite quantity contract worth up to
$2.5 billion over a four-year
base period with two three-year option periods by the
National Aeronautics and Space Administration (NASA).
HP will provide end-user desktop services
and devices that will increase
NASA's efficiency
and allow its employees to more easily collaborate in a secure computing environment.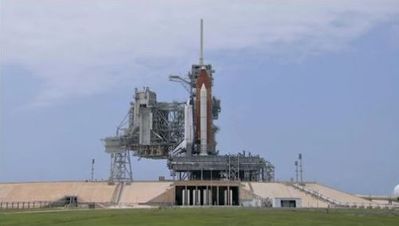 NASA's Kennedy Space Center on Friday, Apr. 29.
Courtesy of NASA
As a part of
NASA's Agency Consolidated End-User Service (ACES) Program,
HP will modernize NASA's entire end-user infrastructure
by delivering a full range of personal computing services and devices to more than
60,000 users
.
The modernization is expected to deliver significant productivity gains and cost savings to
NASA.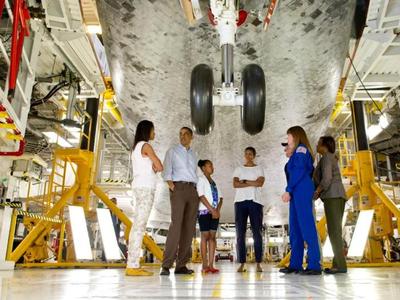 First Family Views Shuttle Atlantis.
President Barack Obama, First Lady Michelle Obama, daughters Malia, left, Sasha, Mrs. Obama's mother Marian Robinson, astronaut Janet Kavandi and United Space Alliance project lead for thermal protection systems Terry White, walk under the landing gear of the space shuttle Atlantis as they visit Kennedy Space Center in Cape Canaveral, Fla., Friday, April 29, 2011.
Courtesy of NASA
"NASA personnel use IT to support NASA's core business, scientific, research and computational activities," said
Michael Sweigart, procurement officer, Shared Services Center, NASA
.
"HP will provide, manage, secure and maintain these essential IT services for the agency."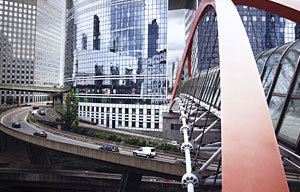 Workplace as a Service - a new paradigm for the workplace environment.
HP WorkPlace360 Services uses a subscription-based approach to provide standard hardware and software configurations matching the needs of your users. You assign standard profiles to each user or user category in your organization. We do the rest - provisioning, deployment, support, update, and refresh. The fixed monthly price per seat means no need to budget for refreshes, minimal capital investment, and no asset maintenance issues.
Courtesy of HP
Under the
ACES contract, HP
will provide a variety of
Computing Seat, Tier 2/3 Service Desk Support and Collaboration Services
to more cost-effectively
manage NASA's end-user infrastructure
at all NASA sites across the United States.

Computing seat and cellular seat services are designed with security and collaboration capabilities to help the
NASA team safely share information.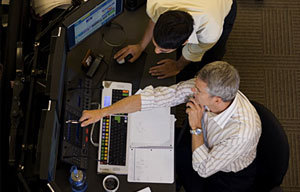 HP Service Desk Services - making users and IT more productive.
Service Desk Services provides high-quality, consistent support wherever users are. From high touch phone support to a gain-sharing model that lets you drive cost savings to new levels, we work with you to meet your business goals. We bring you the innovation to transform your support and provide users a new level of service desk experience.
Courtesy of HP
"The ACES contract will help evolve NASA's IT environment to a centralized, adaptable IT infrastructure to enable economies of scale, agency-wide visibility and improved management and security," said
Dennis Stolkey, senior vice president and general manager, U.S. Public Sector, HP Enterprise Services
.
"HP will build on our deep industry, infrastructure and end-user services expertise to support this significant work for the agency that is pioneering the future in space exploration, scientific discovery and aeronautics research."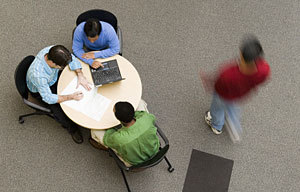 Simplify collaboration, improve team communication and efficiency.
HP Collaboration Services provides the implementation and full management of a virtual work environment that lets workers overcome the challenges of time and distance.
Courtesy of HP

HP
will be teaming with numerous small businesses to meet
NASA's small business
participation guidelines and diverse mission needs.
The contract will be managed at the
NASA Shared Services Center in Stennis, Miss.,
and will serve
all NASA centers and facilities
.
About HP
HP creates new possibilities for technology to have a meaningful impact on people, businesses, governments and society
.
The world's largest technology company, HP
brings together a portfolio that spans printing, personal computing, software, services and IT infrastructure at the convergence of the cloud and connectivity, creating seamless, secure, context-aware experiences for a connected world.
More information about
HP
(NYSE: HPQ) is available at
http://www.hp.com
Source: HP
http://www.hp.com/hpinfo/newsroom/
ASTROMAN magazine