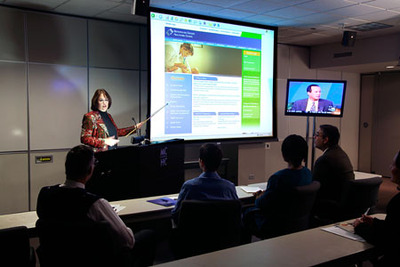 The Metropolitan Chicago Healthcare Council is a membership and service association comprising more than 150 hospitals and health care organizations working together, since 1935, to improve the delivery of health care services in the greater metropolitan Chicago area. MCHC's Conference Center is the perfect location for meetings or special events.
Courtesy of MCHC
Chicago, USA - April 25, 2011
Metropolitan Chicago Healthcare Council to Develop Nation's Largest Metro Health Information Exchange to Improve Quality of Care and Cost Efficiencies

The Metropolitan Chicago Healthcare Council (MCHC)
is pleased to announce its decision to develop the
MetroChicago Health Information Exchange (HIE)
, which is expected to be the
largest metropolitan HIE
in the nation, serving more than
9.4 million people
.
The new exchange will use
Microsoft Corp., CSC
and
HealthUnity Corp. technologies
to drive quality care improvements and cost efficiencies for
Chicago healthcare consumers
.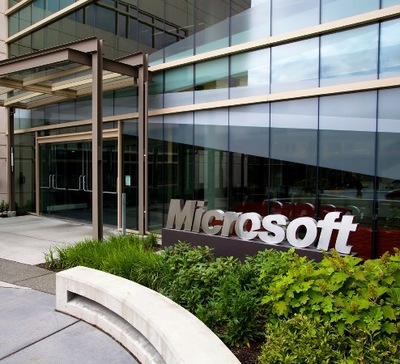 Entrance to Building 99 on the Microsoft Redmond Campus.
Photo courtesy of Microsoft

The MCHC
recognizes the potential for
HIEs
to improve individual care and population health through selected technologies that support both goals.
By enabling the flow of data across healthcare organizations, the
MetroChicago HIE expects
positive outcomes due to more comprehensive views of
patient information
.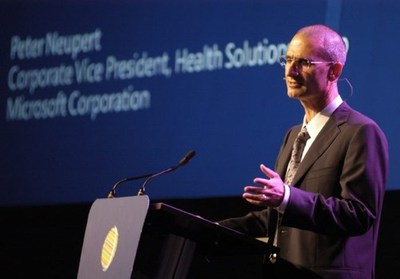 Peter Neupert, corporate vice president of Microsoft's Health Solutions Group, leads a panel discussion at Government Leaders Forum - Asia on how technology can help address the major challenges in the healthcare industry.
Courtesy of Microsoft
These include decreased costs from fewer redundant tests across care settings, reduction in time spent gathering information about patients, and greater efficiency in identifying patients requiring ongoing ambulatory care.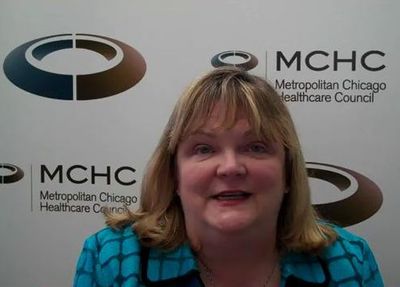 Mary Anne Kelly, vice president of MCHC, announcing the MetroChicago Health Information Exchange vendor.
Courtesy of MCHC / YouTube
"MCHC is charting a new course with the MetroChicago HIE," said
Mary Anne Kelly, vice president of MCHC.

"The HIE will be one of the largest in the country and will allow our region's healthcare market to improve efficiency by creating a network where health information flows with the patient, no matter where care is received. The reaction from local hospitals has been overwhelmingly positive. Seventy percent of hospitals in the Chicago metro area have already become founding members of the HIE, which is a testament to area healthcare organizations' stalwart commitment to improving quality and patient safety."
Microsoft Amalga. Advancing understanding of your organization's performance drivers.
Courtesy of Microsoft

The MetroChicago HIE
will use
Microsoft Amalga
, an
enterprise health intelligence platform
, to aggregate and present a unified view of patient medical history data at the time and point of care, and
CSC
will provide project management, implementation, hosting and support services
.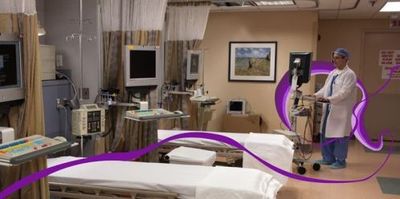 Microsoft Amalga centralizes digital information of all types into a single, continually updated repository that is available for analysis and data sharing.
Courtesy of Microsoft

Software components from HealthUnity will work in combination with Amalga to provide foundational HIE services and continuity of care document exchange services.

These technologies will give the
MetroChicago HIE
a powerful engine to quickly aggregate and analyze data across patient cohorts and populations, enabling care transformation.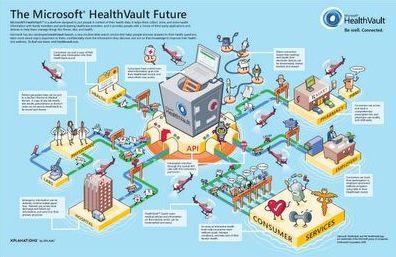 Courtesy of Microsoft
"As the industry continues to focus on delivering value — better care at the same, or lower, costs — the flow of data across organizational boundaries and the ability to analyze and report on data across patient populations is increasingly important," said
Peter Neupert, corporate vice president of the Health Solutions Group at Microsoft
.
"MCHC is leading its healthcare provider members to adopt technologies that can help drive value throughout the care delivery process, enabling a healthier population."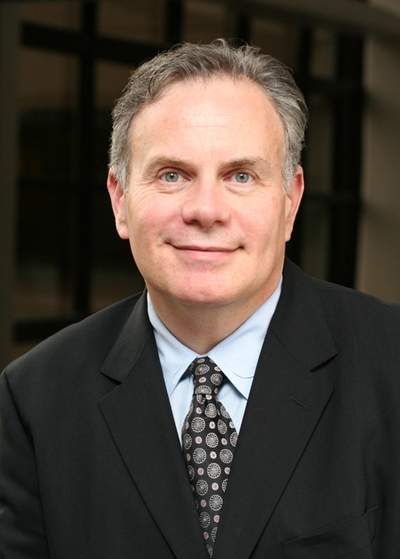 Mark Roman, president of CSC Global Healthcare Group.
Courtesy of CSC
"CSC is looking forward to delivering a powerful solution that gives MCHC the ability to analyze data across populations, enhance quality of care within that community and use the data to improve coordination across the continuum of care," said
Mark Roman, president of CSC Global Healthcare Group.

"Our experience designing, building and running the nation's first health information exchange in Massachusetts, and advanced capabilities in software-as-a-service cloud delivery platforms, will bring technology to deliver better information for better decisions to improve patient care for MCHC and residents of the Greater Chicago Metropolitan area."
Courtesy of MCHC / YouTube

The MetroChicago HIE
will initially build use cases that are aligned with meaningful use incentives, as outlined in the
Health Information Technology for Economic and Clinical Health (HITECH) Act
, passed in 2009.
The goal is to implement functionality that offers value to the largest number of stakeholders and that can be deployed quickly.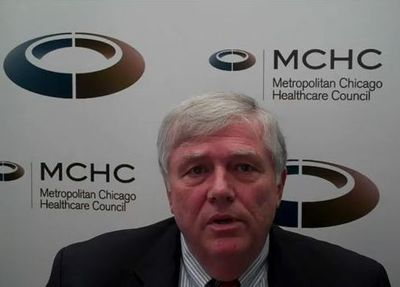 Kevin Scanlan, president and CEO of the Metropolitan Chicago Healthcare, introducing the MetroChicago Health Information Exchange.
Courtesy of MCHC / YouTube
The first two use cases to be deployed will be
Clinical Summary - Emergency Department (ED) Linking,
allowing authorized healthcare providers to see a consolidated view of the patient's medical history, with input regarding test results, problems and medication information from other providers across the region.
This information is crucial, especially during medical emergencies, when patients may not be able to tell providers about their health history, medications they take or allergies.
And, because of available information from the
ED, Public Health Reporting
can be supported to monitor emerging outbreaks of influenza or disease patterns for early surveillance across the
MetroChicago region.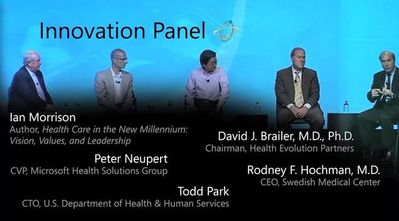 The Microsoft Connected Health Conference brings together stakeholders from across the healthcare ecosystem for learning, networking, and discussion on the most important issues facing healthcare organizations today, including the role of technology in transforming healthcare delivery and personal health management. We invite you to join this forum for engaging with peers, industry thought leaders, and Microsoft executives as we discuss what's next in health.
Courtesy of Microsoft
More than
66 hospitals
and major outpatient care organizations have submitted letters of intent to
MCHC
to participate in this industry-led initiative.
Participating organizations will fund the
HIE
, as opposed to short-term grant funding from government or other outside entities.
Join the Conversation
A Twitter session
accompanying this announcement will be held tomorrow, April 26, from 10 a.m. to 12 p.m. Central Standard Time and hosted at the
Microsoft Connected Health Conference
.

Courtesy of Microsoft
To follow and participate in the conversation use the hashtag #HIEChicago2011.
About Metropolitan Chicago Healthcare Council
The Metropolitan Chicago Healthcare Council
is a membership and service association comprising more than
150 hospitals
and health care organizations working together,
since 1935
, to improve the delivery of health care services in the
greater metropolitan Chicago area
.
About CSC
CSC is a global leader in providing technology-enabled business solutions and services
.
Headquartered in Falls Church, Va., CSC
has approximately
93,000 employees
and reported revenue of
$16.2 billion
for the 12 months ended December 31, 2010.
About HealthUnity
Founded in
2004
,
HealthUnity Corp
. is a leading provider of standards-based
MPI, HIE
and
PHR software, services and solutions
.
About Microsoft
Founded in
1975, Microsoft
(Nasdaq "MSFT") is the worldwide leader in software, services and solutions that help people and businesses realize their full potential.
Source: Microsoft
http://www.microsoft.com/presspass/press/2011/apr11/04-25mchcpr.mspx
Video
Support Our Hospitals
http://www.youtube.com/watch?v=Ghzm2vS4Rkg&feature
Video
Mary Anne Kelly announcing the MetroChicago Health Information Exchange vendor
http://www.youtube.com/watch?v=bF3JXkp701A&feature=related
Video
Kevin Scanlan introducing the MetroChicago Health Information Exchange
http://www.youtube.com/watch?v=dllkDmz7AxM&feature=related
Peter Neupert Welcome Message
Welcome, friends and colleagues, to the Microsoft Connected Health Conference 2011!
We are living in a time of significant change in healthcare: new delivery models and partnerships are emerging; consumers are expecting more convenience and value from the healthcare system; technology innovations are driving more efficient, higher-quality care; and governments around the world are looking at ways to encourage and support value creation in their healthcare systems.
Bringing the required changes to healthcare is hard. It will take all of us - patients, physicians, hospitals, health insurers, and technology companies working together to achieve real reform.
Thank you for your continued partnership and thought leadership on this journey.
I look forward to seeing you in April.
Peter Neupert, Corporate Vice President, Microsoft Health Solutions Group
http://msconnectedhealth.com/
Peter Neupert
Corporate Vice President, Health Solutions Group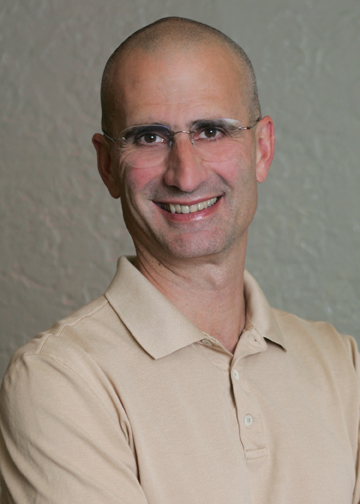 Peter Neupert
Courtesy of Microsoft
As corporate vice president of the Microsoft Health Solutions Group, Peter Neupert is responsible for driving the company's strategy to improve healthcare around the world through software innovation.
He leads a global organization dedicated to developing, marketing, selling and supporting software solutions designed specifically to improve the quality and efficiency of healthcare delivery and to empower individuals to become more engaged and responsible for their own health and wellness.
Under his leadership since its formation in 2005, the Health Solutions Group has brought two primary software platforms to market: Amalga, a data aggregation platform for hospitals and health systems, and HealthVault, a personal health application platform designed to put individuals in control of their own health information.
Both software platforms are designed to unlock the health data traditionally stored in separate information technology systems and make it readily accessible to the people who need it - whether emergency room doctors, primary care physicians, nurses, specialists, patients or family caregivers - to make more informed care decisions.
Although Neupert began his career in technology, he became immersed in the world of health when he served as president and chief executive officer of drugstore.com Inc. from July 1998 to April 2001, and as chairman of the board of directors through September 2004.
He led drugstore.com to become a top online retail store and information site for health, wellness, beauty and pharmacy products, and received an Ernst & Young Entrepreneur of the Year award for his work.
From 2003 to 2005, he served on the President's Information Technology Advisory Committee (PITAC), co-chairing the Health Information Technology subcommittee and helping to drive the "Revolutionizing Health Care Through Information Technology" report, published in June 2004 by PITAC.
Before drugstore.com, from 1987 to 1998, Neupert served at Microsoft in various capacities, including as the director of operating systems responsible for shipping OS/2, and later for MSNBC as vice president of News and Publishing for the interactive media group.
Neupert is an active member of the Institute of Medicine's Roundtable on Value & Science-Driven Healthcare and serves on the board of trustees for the Fred Hutchinson Cancer Research Center and the board of directors of GlobalScholar.com.
Viewed as an industry authority, Neupert has testified before Congress on multiple occasions, including in 2009 on health information technology reform.
He speaks at industry conferences on innovation and the impact of technology, and has contributed to leading publications including Health Affairs, Forbes and The Washington Post. He shares his observations and opinions on health in his personal blog, Neupert on Health.
Neupert holds a master's degree in business administration from the Tuck School of Business at Dartmouth College and a bachelor's degree from Colorado College.
He is married with four children and lives in the state of Washington.
Source: Microsoft
http://www.microsoft.com/presspass/exec/pneupert/
ASTROMAN magazine