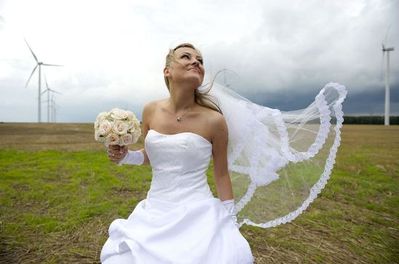 Wind Power in Poland
Photo courtesy of GWEC
Brussels, Belgium - February 2, 2011

Global wind power installations
increased by
35.8 GW in 2010
, according to figures released by the
Global Wind Energy Council
today.
This brings total installed wind energy capacity up to
194.4 GW, a 22.5%
increase on the
158.7 GW installed at the end of 2009
.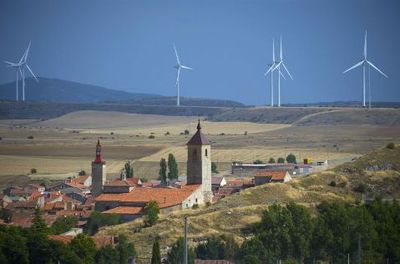 Wind Power in Spain
Photo courtesy of GWEC

The new capacity added in 2010 represents investments worth EUR 47.3 billion (US Dollars 65 billion).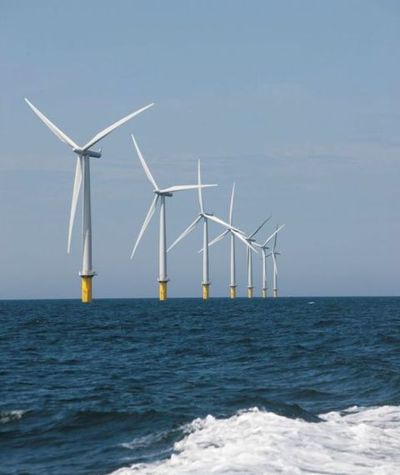 Wind Power in Denmark
Photo courtesy of GWEC
For the first time in 2010, more than half of all new wind power was added outside of the traditional markets in
Europe
and
North America
.
This was mainly driven by the continuing
boom in China
, which accounted for nearly half the
new wind installations (16.5 GW)
.
Wind Power in China
Photo courtesy of GWEC
"China now has 42.3 GW of wind power, and has surpassed the US in terms of total installed capacity," said
Li Junfeng, Secretary General of the Chinese Renewable Energy Industry Association (CREIA).

"This puts China firmly on a path to reach 200 GW of installed wind power by 2020. At the same time, China has become the world's largest producer of wind energy equipment."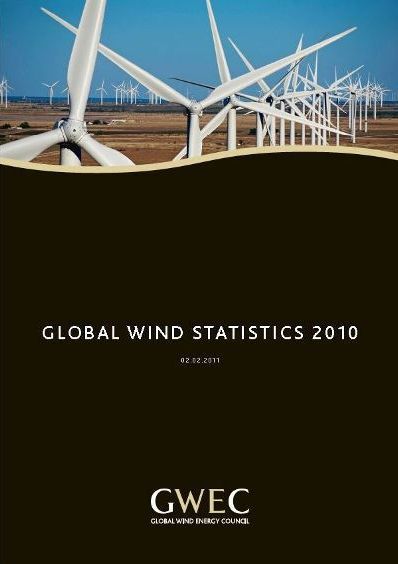 Courtesy of Global Wind Energy Council
But other developing countries also expanded their wind capacity, including India, which
added 2.1 GW in 2010, Brazil (326 MW), Mexico (316 MW),
and
213 MW
were installed in
North Africa (Egypt, Morocco and Tunisia).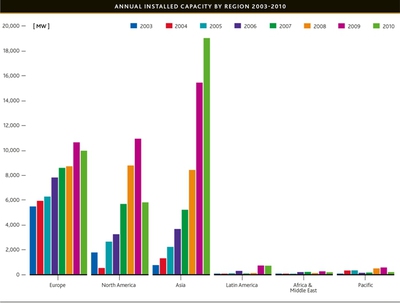 Courtesy of Global Wind Energy Council
"Wind power is now rapidly expanding beyond the traditional 'rich country' markets, a clear sign of its growing competitiveness," said
Steve Sawyer, GWEC's Secretary General
.
"This is a trend we are expecting to see developing further in the future, not only in Asia. We are also seeing encouraging signs in Latin America, especially Brazil and Mexico, and in both Northern and Sub-Saharan Africa."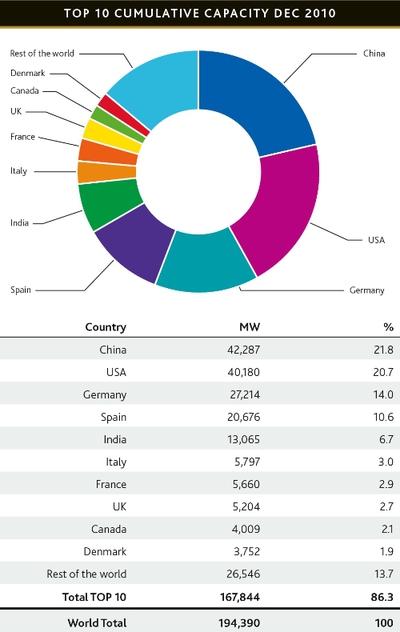 Courtesy of Global Wind Energy Council
Overall, however, the annual 2010 wind market was down for the first time in 20 years, shrinking by
7% from 38.6 GW
in 2009, mainly due to a disappointing year in the
US
, as well as a slowdown in
Europe
.
This was a result of the financial crisis, low levels of wind turbines orders working their way through the system, a depressed
OECD
electricity demand, as well as policy uncertainty in the
US
.
The
US
, traditionally one of the strongest wind markets, saw its annual installations drop by
50% from 10 GW
in 2009 to just over
5 GW in 2010
.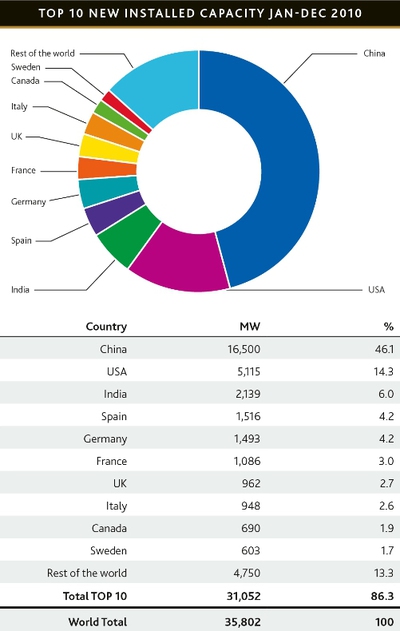 Courtesy of Global Wind Energy Council
"Our industry continues to endure a boom-bust cycle because of the lack of long-term, predictable federal policies, in contrast to the permanent entitlements that fossil fuels have enjoyed for 90 years or more," said
Denise Bode, CEO of the American Wind Energy Association.

"Now that we're competing with natural gas on cost, we need consistent federal policies to ensure we have a diverse portfolio of energy sources in this country."

Courtesy of Global Wind Energy Council

In Europe
also,
new installed capacity in 2010 (9.9 GW) was 7.5% down on 2009 (10.7 GW),
despite a
50% growth
of the
offshore market
in countries like the
UK, Denmark
and
Belgium
, and
new developments in Eastern Europe
, mainly in
Romania, Bulgaria
and
Poland.

Courtesy of Global Wind Energy Council
"These figures are a warning that we cannot take for granted the continued financing of renewable energy" said
Christian Kjaer
.
"Better access to financing is urgently needed, and the European Union must act without delay to prevent Europe losing its leadership in wind power and other renewable technologies.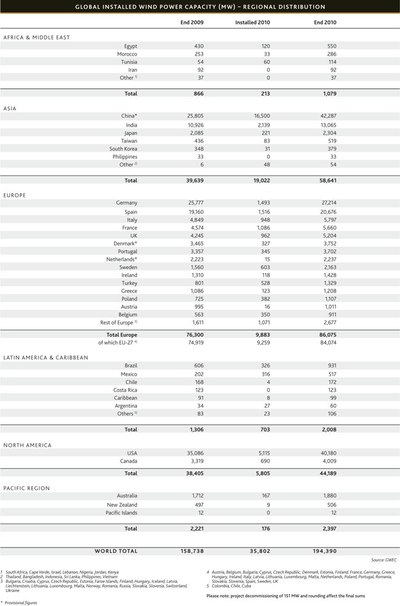 Courtesy of Global Wind Energy Council
"2010 was a tough year for most industries, and wind power was no exception," concluded
Steve Sawyer
.
"2011 will be better. Orders picked up again in the second half of 2010, and investments in the sector continue to increase."
SOURCE: Global Wind Energy Council

http://www.gwec.net/
For more information, please contact:
Angelika Pullen
Communications Director
Global Wind Energy Council

Tel + 32 2 213 18 98
Mob: + 32 473 947 966
Email:
angelika.pullen@gwec.net
Global Wind Energy Council

Rue d'Arlon 80
1040
Brussels, Belgium

Media contacts

Global:
Angelika Pullen

Communications Director
Global Wind Energy Council
angelika.pullen@gwec.net
United States:
Sarah Howell

VP, Public Affairs
American Wind Energy Association
showell@awea.org
Europe:
Julian Scola

Communication Director
European Wind Energy Association
communications@ewea.org
Canada:
Chris Forrest

Vice-President, Communications and MarketingMedia Relations Officer
Canadian Wind Energy Association
Tel. 613 234-8716 ext. 228
ChrisForrest@canwea.ca
China:
Mr. Yu Guiyong

Chinese Wind Energy Association
yugy@cgc.org.cn
India:
Jayasurya

Communications Director
Indian Wind Turbine Manufacturers Association (IWTMA)
secretaryy@indianwindpower.com
Germany:
Ulf Gerder

Press officer
Bundesverband WindEnergie
u.gerder@wind-energie.de
Tel: +49 (0) 30 284 82-121
Spain:
Mar Morante

Departamento de Comunicación
Asociación Empresarial Eólica
Tel: +34 91 745 12 76
mmorante@aeeolica.org
ASTROMAN Magazine - 2011.03.05

Gamesa named a leader in sustainability by "The Sustainability Yearbook 2011"
http://www.astroman.com.pl/index.php?mod=magazine&a=read&id=907
ASTROMAN Magazine - 2011.02.05

ENERCON installs world's most powerful wind energy converter E-126/7.5 MW

http://www.astroman.com.pl/index.php?mod=magazine&a=read&id=900
ASTROMAN Magazine - 2011.02.05

Powered by GE Turbines, Largest Wind Power Portfolio in Idaho Completed, Providing Clean Energy and Jobs

http://www.astroman.com.pl/index.php?mod=magazine&a=read&id=889
ASTROMAN Magazine - 2010.02.14

Iberdrola Renovables and the EBRD agree to jointly develop wind projects in Eastern Europe

http://www.astroman.com.pl/index.php?mod=magazine&a=read&id=663
ASTROMAN Magazine - 2010.02.13

ScottishPower Renewables and Vattenfall to develop major offshore windfarms

http://www.astroman.com.pl/index.php?mod=magazine&a=read&id=662
ASTROMAN Magazine - 2010.02.10

Global wind power boom continues despite economic woes


http://www.astroman.com.pl/index.php?mod=magazine&a=read&id=661
ASTROMAN Magazine - 2009.10.03

E.ON opens the world's largest wind farm

http://www.astroman.com.pl/index.php?mod=magazine&a=read&id=582
ASTROMAN Magazine - 2009.09.20

Stealth Wind Farms

http://www.astroman.com.pl/index.php?mod=magazine&a=read&id=578