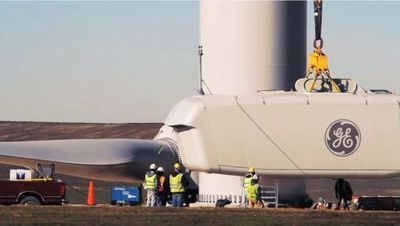 Exergy Development Group is one of the major independent renewable energy developers in the United States. Exergy has assembled a renewables projects queue of over 4,000 MW across the Western and Midwestern United States.
Courtesy of GE / Exergy Development Group
Hagerman, Idaho and San Diego, California, USA - February 03, 2011

Over
10,000 acres of rural land
will now also host
Idaho's largest portfolio of wind farms
through a partnership of
GE Energy Financial Services
- a unit of
GE
(NYSE: GE) -
Exergy Development Group, Atlantic Power Corporation
and
Reunion Power.

Announced at the
Infocast Wind Power Finance & Investment Summit
in San Diego
, construction was completed in just five months, resulting in the
installation of 122 of GE's 1.5 megawatt turbines
.
The wind farms are now operational and delivering clean energy to
Idaho Power Company
and its customers, while also bringing jobs to the region.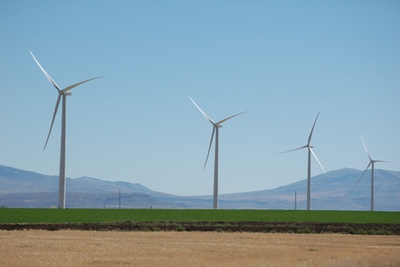 Idaho's largest portfolio of wind farms - partially shown here - is now operational and delivering clean energy to Idaho Power Company and its customers through a partnership of GE Energy Financial Services, Exergy Development Group, Atlantic Power Corporation and Reunion Power.
Photo credit: GE / Ilene Ferrell
The wind farms are capable of generating
183 megawatts of energy
- enough to power
39,700 average Idaho homes
- and are positioned on
11 sites
in two topographically diverse regions in
southern Idaho
(eight wind farms in Hagerman and three wind farms in Burley) situated 70 miles apart.
Despite the distance between the wind farms, they are able to operate as a unified system, enabling operating efficiencies, or on a site-by-site basis.
"Today marks a significant milestone for residents of Idaho who can now power their homes with cleaner, independently sourced energy," said
Kevin Walsh, Managing Director and Leader of Power and Renewable Energy at GE Energy Financial Services
.
"In addition to increasing our nation's energy independence, these wind farms provide enormous environmental benefits, including a reduction in greenhouse gas emissions, equivalent to the removal of 57,000 cars from the roads. We also were able to bring temporary and permanent jobs to a region that has been dramatically impacted by the economic slowdown."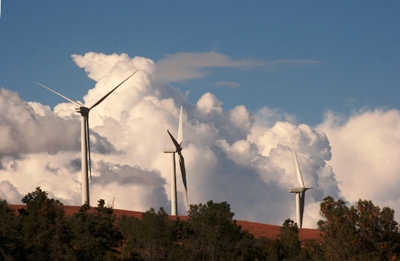 GE Energy Financial Services and Bankers Commercial Corporation have purchased Alta Wind I, shown here in Tehachapi, CA, the first wind farm to start operations in one of the largest wind energy projects in the United States, and leased it to Terra-Gen.
Courtesy of GE
The project created over
300 construction jobs
, far in excess of the originally anticipated
175 jobs
.
Approximately
25 permanent jobs
also were created for maintenance and other critical functions.
In addition to those employed directly, using a
National Renewable Energy Laboratory model
, a wind project of this size would typically support the equivalent of
2,200 full-time jobs in the United States for one year.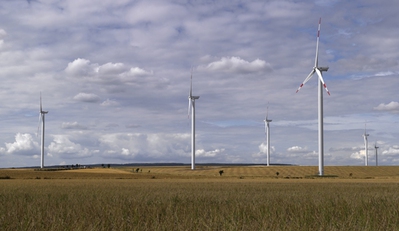 Photos of GE's 2.5-megawatt turbines in Germany.
Courtesy of GE
"After five years of intense planning, followed by five months of construction, we achieved our goal of creating Idaho's largest wind farm portfolio," said
James Carkulis, President and CEO of Exergy
.
"We are now able to transition into ongoing operations, providing the customers of Idaho Power Company with a more environmentally friendly energy solution."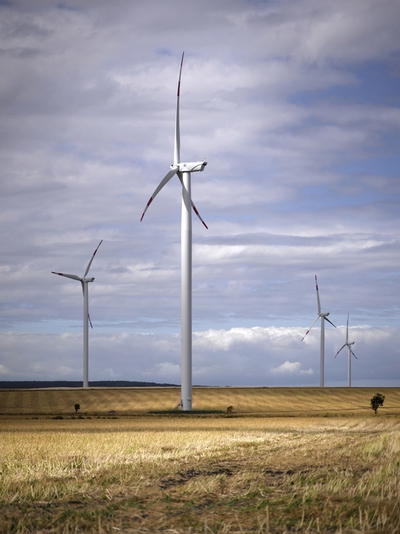 Photos of GE's 2.5-megawatt turbines in Germany.
Courtesy of GE
Construction, led by
Fagen, Inc
., was completed on schedule despite a tight schedule and occasionally extreme weather at the project site.
Adding to the complexities was the need for all
11 project sites
to strike individual agreements with
Idaho Power Company
, then to establish separate electrical interconnections into the transmission and distribution system.
GE Energy Financial Services, Atlantic Power
, and project developer
Exergy
own non-managing member equity interests in the nearly
$500 million Idaho Wind Partners project.
Reunion Power
holds the managing member equity interest and serves as the project's manager.
The wind farms are selling all of their power to
Idaho Power Company
under
20-year agreements
.
About GE Energy Financial Services

GE Energy Financial Services'
experts invest globally across the capital spectrum in essential, long-lived and capital-intensive energy assets that meet the world's energy needs.
In addition to capital,
GE Energy Financial Services
offers the best of
GE's technical know-how
, technology innovation, financial strength and rigorous risk management.
Based in Stamford, Connecticut, the GE business unit
helps its customers and
GE
grow through new investments, strong partnerships and optimization of its
$21 billion in assets
.
For more information, visit
http://www.geenergyfinancialservices.com
About GE

GE
(NYSE: GE) is a diversified infrastructure, finance and media company taking on the world's toughest challenges.
From aircraft engines and power generation to financial services, health care solutions, and television programming, GE operates in more than 100 countries and employs about 300,000 people worldwide
.
For more information, visit the company's Web site at
http://www.ge.com
About Reunion Power

Reunion Power LLC
, a privately owned company, provides project development and asset management services along with a thorough understanding of how to build and manage a successful project.
Reunion
began operations in 2000 and its management team combines over 100 years of development, engineering, and financial management experience in clean energy markets.
Reunion's hands-on experience in wind power commenced in 2002.
For more information, visit the company's Web site at
http://www.reunionpower.com
About Exergy Development Group

Exergy Development Group
is one of the major independent renewable energy developers in the
United States
.
Exergy's focus
is on deploying commercially successful, socially beneficial and environmentally responsible renewable energy projects.
The company moves its projects from conception to commercial operation, and is developing new and advanced renewable energy technologies as part of this comprehensive strategy.
Exergy
has assembled a renewables projects queue of over 4,000 MW across the Western and Midwestern United States.
The company's veteran team is set apart by its commitment to advancing renewable energy by mitigating utility concerns about renewables integration and orienting its projects towards local people and landscapes.
Exergy
believes that sustainable economic prosperity is inextricably tied to the well being of our communities and natural environment.
For more information, visit
http://www.exergydevelopment.com
About Atlantic Power

Atlantic Power Corporation
is an independent power producer, with power projects located in major markets in the
United States
.
Our current portfolio consists of interests in
13 operational power generation projects across ten states
, one biomass project under construction in
Georgia
, a 500 kilovolt 84-mile electric transmission line located in
California
and several development projects.
Our power generation projects in operation have an aggregate gross electric generation capacity of approximately
1,961 megawatts
(or "MW"), in which our ownership interest is approximately
878 MW
.
Press contacts

Andy Katell

GE Energy Financial Services, Senior Vice President, Communications
+1 203 961 5773
andrew.katell@ge.com
Christa Bowers

GE Energy Financial Services
+1 203 961 2934
+1 203 339 1434(mobile)
christa.bowers@ge.com
SOURCE: GE

http://www.ge.com/news/index.html
ASTROMAN Magazine - 2010.02.14

Iberdrola Renovables and the EBRD agree to jointly develop wind projects in Eastern Europe

http://www.astroman.com.pl/index.php?mod=magazine&a=read&id=663
ASTROMAN Magazine - 2010.02.13

ScottishPower Renewables and Vattenfall to develop major offshore windfarms

http://www.astroman.com.pl/index.php?mod=magazine&a=read&id=662
ASTROMAN Magazine - 2010.02.10

Global wind power boom continues despite economic woes

http://www.astroman.com.pl/index.php?mod=magazine&a=read&id=661
ASTROMAN Magazine - 2009.10.03

E.ON opens the world's largest wind farm


http://www.astroman.com.pl/index.php?mod=magazine&a=read&id=582
ASTROMAN Magazine - 2009.09.20

Stealth Wind Farms

http://www.astroman.com.pl/index.php?mod=magazine&a=read&id=578