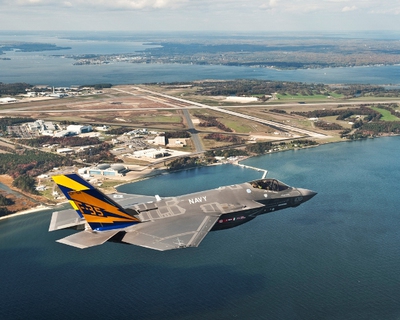 The first F-35C Lightning II carrier variant, the U.S. Navy's first stealth fighter, arrived at NAS Patuxent River, Md., Nov. 6.
Courtesy of Lockheed Martin
Fort Worth, Texas, USA - December 15, 2010

On Thursday, Dec. 9, the
Lockheed Martin
(NYSE: LMT)
F-35 Lightning II program team
reached its 2010 goal of
394 test flights
jointly established by the
Joint Strike Fighter Program Office and Lockheed Martin.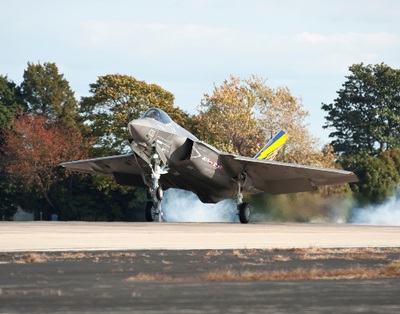 The first F-35C Lightning II carrier variant, the U.S. Navy's first stealth fighter, arrived at NAS Patuxent River, Md., Nov. 6.
Courtesy of Lockheed Martin
Since the first flight of the
F-35
on Dec.15, 2006, the program has logged a total of
531 flights
, expanding the performance envelope of the
three F-35 variants
and testing the mission systems.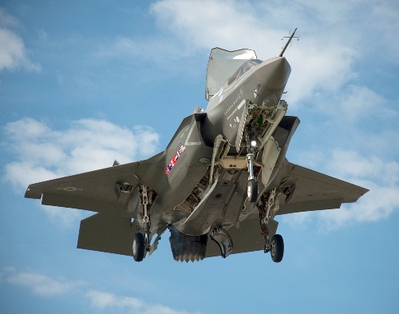 Flight operations continue at PAX River.
Courtesy of Lockheed Martin
"We exceeded our 394-flight goal and expect to meet our overall test-point goal this year by reaching ahead and working 2011 test points," said
J.D. McFarlan, Lockheed Martin vice president of F-35 Test and Verification
.
"While we are still behind on our overall STOVL variant testing, we are working through a plan to get us back on track."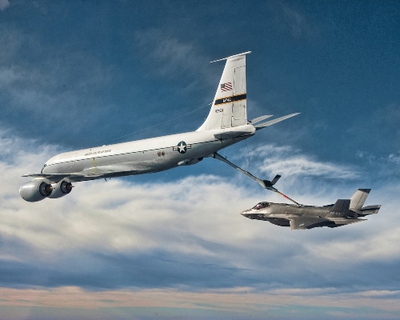 The third F-35A to join the test fleet at Edwards AFB, Calif., tops off its fuel tanks while cruising west toward its destination after departing Fort Worth, Texas on Dec. 11.
Courtesy of Lockheed Martin
In November, the program completed
60 flights
against a plan of
51
.
Both the
F-35B short takeoff/vertical landing (STOVL)
and the
F-35A conventional takeoff and landing (CTOL)
variants exceeded their monthly flight targets.
The F-35C carrier variant (CV)
jet fell just two flights short of its plan.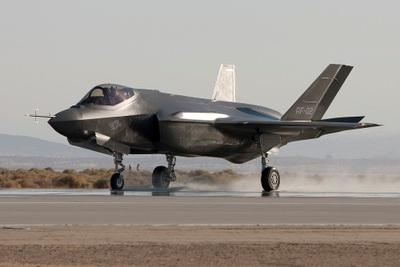 AF-2 completes wet runway testing at Edwards AFB.
Courtesy of Lockheed Martin

The F-35 Lightning II is a 5th generation fighter
, combining advanced stealth with fighter speed and agility, fully fused sensor information, network-enabled operations and advanced sustainment.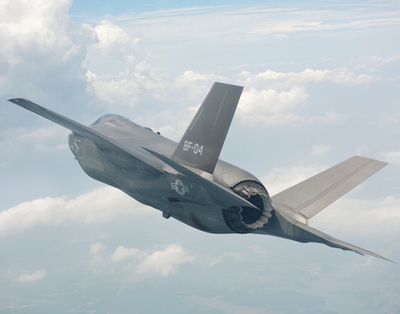 On Thursday, Nov. 18, the F-35 Lightning II program notched its 500th flight.
Courtesy of Lockheed Martin

Lockheed Martin is developing the F-35
with its principal industrial partners,
Northrop Grumman
and
BAE Systems
.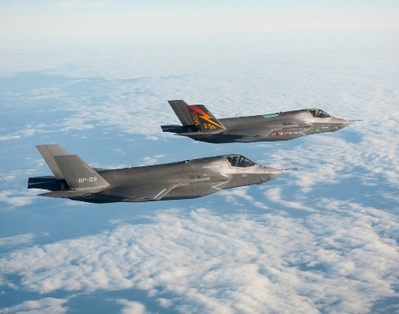 On Nov. 10, 2010, the first formation flight of two Lockheed Martin F-35B STOVL variant aircraft was completed at Naval Air Station Patuxent River, Md.
Courtesy of Lockheed Martin

Headquartered in Bethesda, Md., Lockheed Martin
is a global security company that employs about
133,000 people worldwide
and is principally engaged in the research, design, development, manufacture, integration and sustainment of advanced technology systems, products and services.
The Corporation's 2009 sales from continuing operations were
$44.0 billion.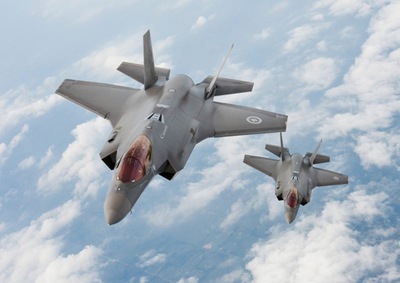 Canada has selected the F-35 Joint Strike Fighter to replace its fleet of CF-18 Hornets.
Courtesy of Lockheed Martin


Media Contacts:
John R. Kent

Office: 817-763-3980
Email john.r.kent@lmco.com
Jennifer Whitlow

Office: 301-897-6949
Email: jennifer.m.whitlow@lmco.com
For additional information, visit our website:
http://www.codeonemagazine.com
SOURCE:

http://www.lockheedmartin.com/news/
ASTROMAN magazine