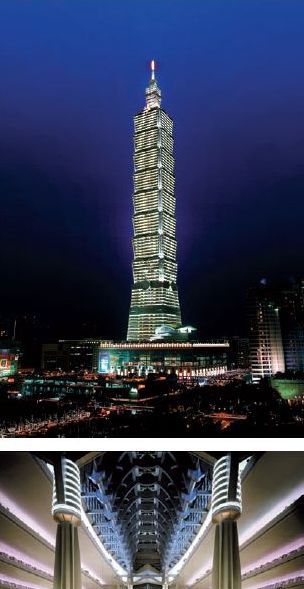 With 508-metre height "Taipei 101" is the second-highest building in the world. For the lighting, the highest quality was
specified - all lamps and devices for the public areas come from OSRAM.

Photo: OSRAM
Regensburg, Germany - October 20, 2010

OSRAM Opto Semiconductors
has added the
OSLON Black Series
to its successful
OSLON family
.
The first member of the new series has a metal lead frame, a compact package and a tried and tested lens design.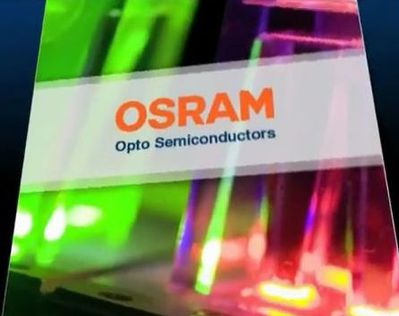 A
light-emitting diode (LED)
is a
semiconductor diode
that emits incoherent narrow-spectrum light when electrically biased in the forward direction.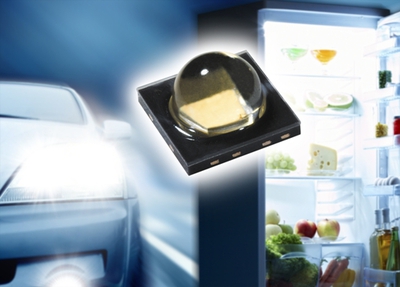 The OSLON Black Series combines thermal stability with high performance and reliability in a compact black package. It is ideal for example for trains, planes and automobiles, and even refrigerators.
Source: OSRAM
The
LED
can be used wherever there are large fluctuations in temperature and a large amount of light is needed from a small area.
The black molded package of this high-power
LED
ensures a high level of stability.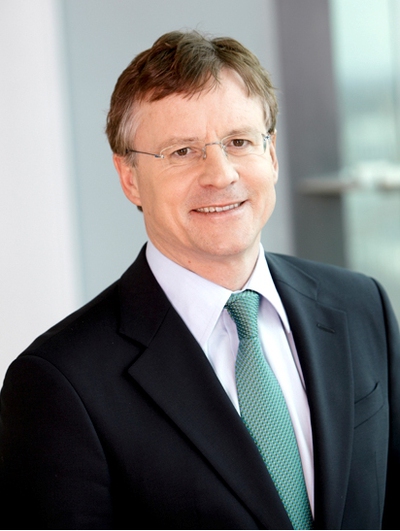 Martin Goetzeler, CEO of the parent company OSRAM
Photo: OSRAM
Not only does the thermal coefficient of expansion of the molding material precisely match the coefficient of expansion of the boards but there is an
ESD protective diode
concealed in the molding.
Thanks to the high output efficiency in the black package there is no need for additional reflectors.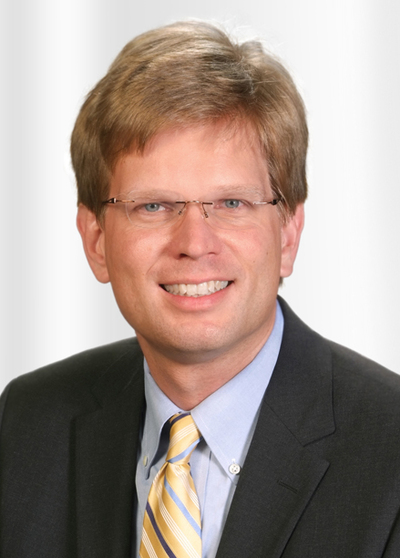 Aldo Kamper, CEO Business Unit Opto Semiconductors
Photo: OSRAM
The materials have been chosen so that even large fluctuations in temperature do not have an adverse effect on reliability or on the life of the
LED
(around
50,000 hours
).
Another benefit of the new
OSLON
is its low thermal resistance of
6.5 K/W
, which again is thanks mainly to the classic metal lead frame.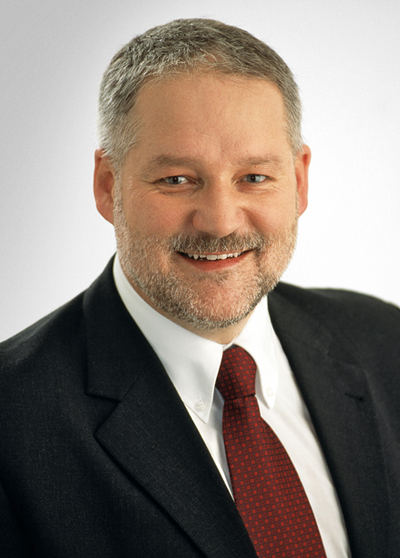 Claus Regitz, CEO Business Unit Professional Lighting (PL)
Photo: OSRAM
Like other
OSLON LEDs
, the
OSLON Black Series
has a lens with a
90°
beam angle and produces a typical brightness of
115 lm
at an operating current of
350 mA
and a color temperature of
6500 K
.
By increasing the operating current to
1 A
it is operating to achieve a brightness of
250 lm
.
The
LED
uses a
1 mm²
chip
and is available in all colors including warm white.
As is usual with
OSRAM
, the
OSLON Black Series
solder pad is compatible with the other
LED
s in the product family.
There are many possible applications, including signal lights, interior lighting for refrigerators and lighting for trains and planes.
This
LED
really shows its strengths wherever high thermal stability, performance and brightness are needed.
OSRAM
will be showcasing the
OSLON Black Series
for the first time at
electronica (November 9 to 12, Munich)
at booth
107
in hall
A3
.
You can find more information on
www.osram-os.com/electronica2010
or the
Mobile Website
:
www.osram-os.com/m-electronica2010
Press contact:
Marion Reichl
Headquarter, Europe

Tel: +49 (0) 941 - 850 - 16 93
Fax: +49 (0) 941 - 850 - 33 05
Email:
marion.reichl@osram-os.com
http://www.osram-os.com
OSRAM Opto Semiconductors – Technologies for the Synergy of Light Quality and Energy Efficiency

OSRAM Opto Semiconductors
ranks among the world's leading manufacturers of opto-electronic semiconductors and is considered to be the authority on innovative light technologies.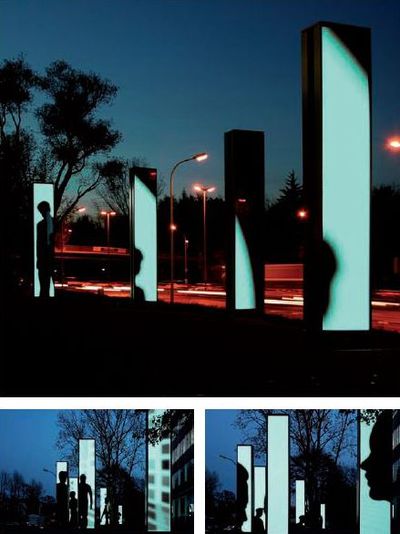 At OSRAMs Headquarters seven light pillars s.c. Seven Screens were set up, each six meters high and equipped
with state-of-the-art RGB LEDs on both sides. Altogether almost 80 square meters of display area with 770,000 LED
serve as digital platforms for media artists.

Photo: OSRAM
For more than 30 years, the innovation leader's high-quality opto-electronic semiconductors have been setting standards in a wide variety of applications.
The extensive product portfolio encompasses components for the fields of illumination, visualisation and sensor systems.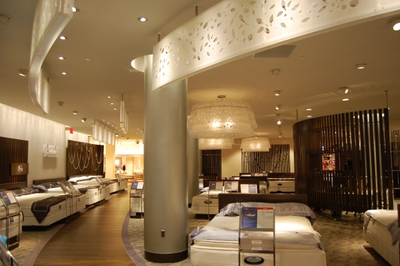 OSRAM Lighting Services - realising your vision sustainably.

Photo: OSRAM
The best-known products are high-efficiency
light-emitting diodes (LEDs), semiconductor lasers, infrared diodes (IREDs), detectors
and
organic LEDs (OLEDs).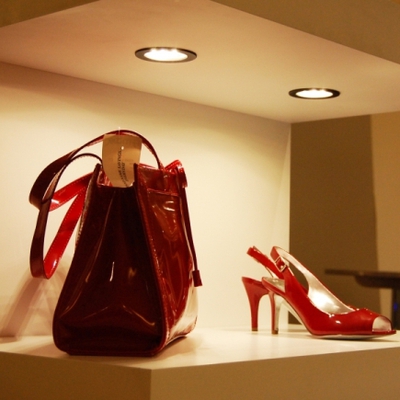 LED Lighting Illuminates Cost Savings at Retail
Source: OSRAM
The products in the
LED segment range
from miniature components for the back-lighting of small displays, all the way to extra-bright light sources for
general lighting, TV screens
and
car headlights
.
LED technology
is extremely successful, thanks to its extraordinary technical characteristics and the rapid development of consumer electronics.

LED modules from OSRAM have revolutionized illuminated advertising. They are small, compact, reduce costs, and give the cold shoulder to wind and weather. Lettering and logos lit with LED technology are extremely robust and present companies in a new light.
Source: OSRAM
Alongside the widespread use of the small lightsources in mobile phone displays, computers and big screens, the
LED
is nowadays also turning into an innovative light solution in the field of general lighting.
Apart from its small size, one of the decisive reasons for this is its impressive energy efficiency, which was also demonstrated for the first time in a study on the eco-balance of
LED lamps
from
OSRAM Opto Semiconductors
, published in August 2009.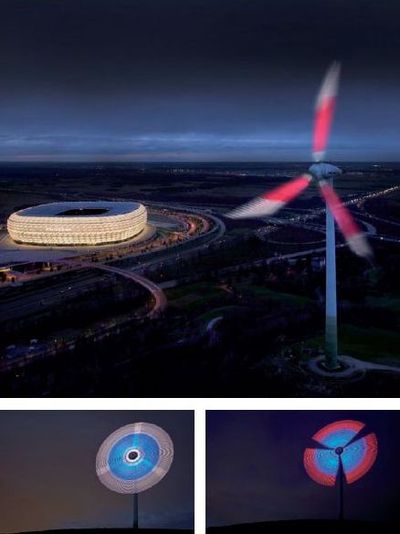 Traxon an OSRAM subsidiary transforms a wind turbine into a unique LED piece of art. The "Star of the South" is lit
up with 9,000 LED. The project is a cooperation between Siemens and multimedia artist Michael Pendry.
Photo: OSRAM
The study scrutinised the entire life cycle – the quantity of energy and raw materials consumed by the lamp during its lifetime for production, use and disposal, and the environmental burdens occurring in this context.
The result: today's
LED lamps
match the eco-balance values of compact fluorescent lamps and are far superior to conventional incandescent lamps.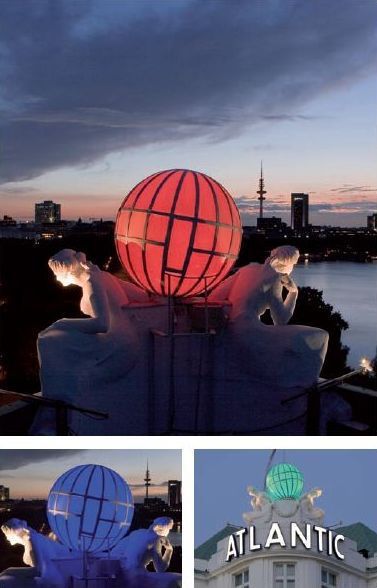 The city of Hamburg has another bright attraction now that OSRAM has illuminated the 100 year old town`s landmark on top of the Hotel Atlantic in colourful LED light.
Source: OSRAM
In theory, ubiquitous use of
LED lamps
would make it possible to save more than half the electricity needed for generating light worldwide.
In combination with
intelligent light management
, the figure would even be as high as two-thirds.
Consequently, the market will become more and more dynamic in future, and
LED
s will increasingly assert themselves as the universal light source type.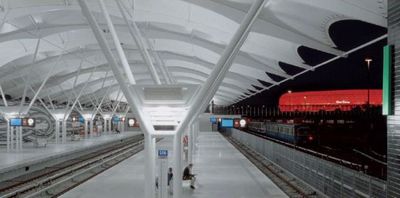 OSRAM has installed 150 Endura lamps in the 14 support pillars for the roof structure over the Fröttmanning station at the Munich football stadium. The luminaries are completely hidden from the view of passengers.
Source: OSRAM
Once the current global economic crisis has subsided, analysts are again expecting the market as a whole to achieve annual growth rates well into double figures.
Thanks to its capacity for innovation, its patented technologies and its established distribution structures,
OSRAM Opto Semiconductors
is well-equipped for these developments.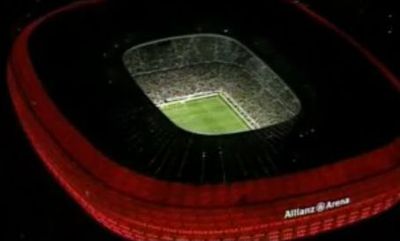 Munich football stadium.


Source: OSRAM

OSRAM Opto Semiconductors
only recently succeeded in achieving another highlight in the lighting sector: the company presented the first, commercially available light source based on
organic light-emitting diodes (OLEDs).


This technology was thus able to take a further, important step on its way out of the laboratory and into general lighting.
The Orbeos OLED panel
is suitable for numerous applications in the premium segment, such as
architecture, hotels
and
restaurants, offices, museums
and
shops.


The panel's efficiency of
25 lm/W
is already better than that of a conventional halogen lamp. The warm-white colour temperature of
2800 K
corresponds to the warm light of an incandescent lamp and is therefore suitable for the atmospheric and yet functional illumination of rooms.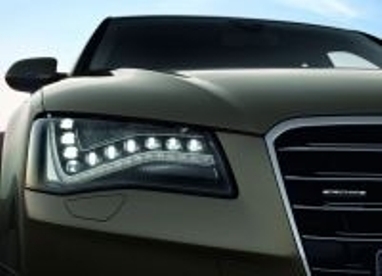 Audi A8 with LEDs from OSRAM Opto Semiconductors
Source: OSRAM
Light sources for projectors were likewise a field in which
OSRAM Opto Semiconductors
was successful in fiscal year 2009.
Projectors are becoming smaller and smaller, and they will soon not only be available as add-ons measuring a few centimeters on computers, cameras and mobile phones.
For the next step will be to integrate the projector into these devices, where high-efficiency light sources, such as
LEDs
or
lasers
, will provide extremely sharp, bright images and intensive colours.

OSRAM LED lamps - State of the art lighting in all shapes and sizes.
Photo: OSRAM

OSRAM Opto Semiconductors
contributed a further two
LED
s to the projection market in 2009: the
OSTAR Compact
and the
OSTAR Power Projection.

The OSTAR Compact
is designed for small, efficient systems in
mobile phones, PDAs or MP4 players
, while the
OSTAR Power Projection
serves the market for high-performance projection systems, e.g. for the
home cinema sector
with diagonal screen sizes in excess of
70 inches.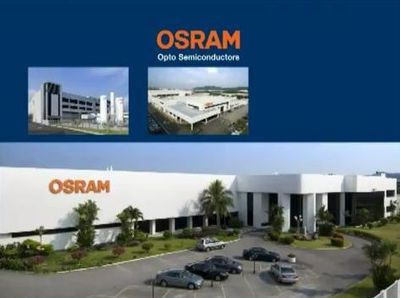 The LED portfolio
of the semiconductor specialist now covers the entire projection system output range
from 1 W to 300 W
.
There was also a new development in
laser light sources
– the
blue laser diode
with an optimised
TO38 housing
.
This technology has also brought
OSRAM Opto Semiconductors
one step closer to realising the vision of small projectors which can be integrated in mobile terminals, such as mobile phones and digital cameras.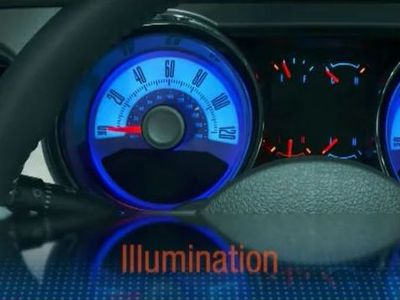 Source: OSRAM
Similarly,
OSRAM Opto Semiconductors
was able to demonstrate success in the laboratory with the direct-emitting,
green indium-gallium-nitride laser
. It already achieves an optical output of
50 mW
and, with a wavelength of
515 nm
, emits in
true green
.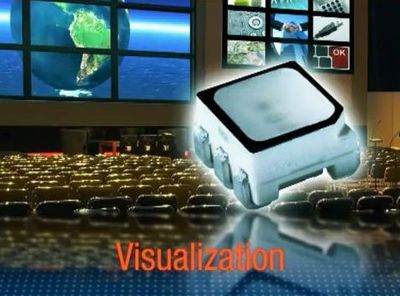 Source: OSRAM
Compared to
semiconductor lasers
using current technology, which operate on the basis of frequency doubling, the winning features of the
direct-emitting green laser
are its more compact design, greater temperature stability, easy control and high modulation capability.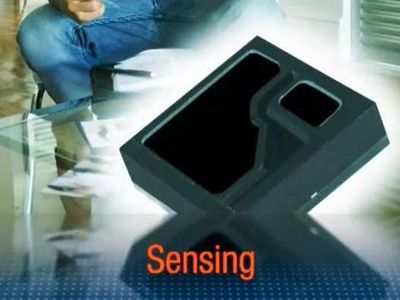 Source: OSRAM
Both of these semiconductor technologies will turn mobile terminals into sophisticated, multifunctional devices that can not only record visual content, but also present it in high-definition quality.
Power for cars

The automotive industry
has also long since discovered the all-rounders.
In addition to serving as a functional light source for cars in the form of standard daytime running lights and rear lights,
LED
s are also popular designer pieces and distinguishing features – and no longer just for high-end vehicles.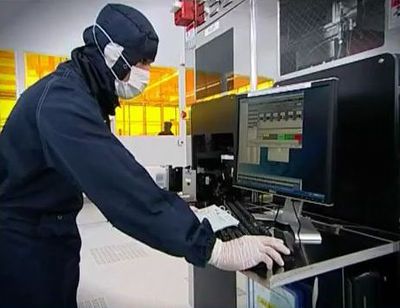 Source: OSRAM
For instance, the
Audi A 8
get its striking look from the unusual
front LED headlights
.
However,
opto semiconductors
are used in less conspicuous areas of motor vehicles, too:
semiconductor lasers
and
high-power infrared diodes
also make for enhanced safety in
pedestrian protection systems
, for example.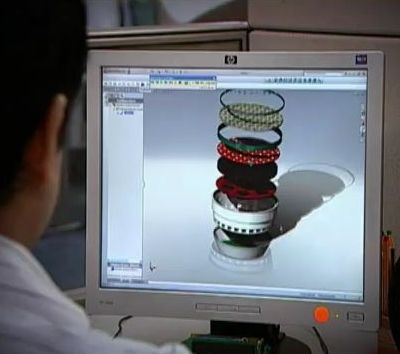 Source: OSRAM

The first Night Vision System
using
high-power
IRED
s will be going into regular production as early as in 2011.
General lighting is one of the fields with the most promising future.
Policy-makers are supporting this development by issuing guidelines aimed at more energy efficiency and more energy-efficient lighting.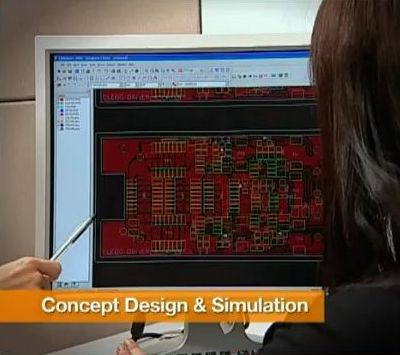 Source: OSRAM
For example,
LEDs
are already being used in domestic and workplace lighting.
Even now,
LEDs
are becoming a natural choice of
lamp
– as will
OLED
s, too, in the longer term.
The rapid development in terms of brightness suggests that many further innovations can be expected in entirely new fields of application.
Designers and architects are also making use of this type of lamp and creating highlights through extravagant light design.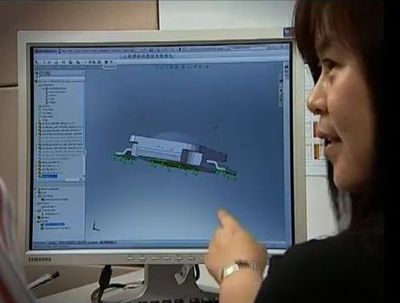 Source: OSRAM
When equipping
street lighting
and
architectural lighting
,
public-sector customers
are increasingly opting for long-lived, environmentally friendly
LED light systems
.
Starting in
Asia
and progressing via the
USA
all the way to
Europe
, more and more streets are being lit by
LED
s.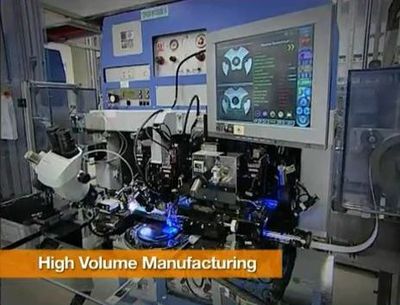 Source: OSRAM
One instance in
Europe
: the
Levi Ski Resort in Kittilä (Finland)
set a good example in 2009 and became the first municipality in the country to use
LEDs to illuminate its streets
.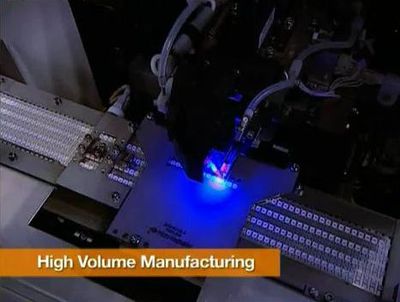 Source: OSRAM

Research and development
spending totalling more than
15 percent
of the annual turnover creates stable framework conditions for achieving consistently high performance in product development and manufacture at
OSRAM Opto Semiconductors
.
It is by these means that the company, which currently holds more than
4,000 patents
, has been able to develop pioneering technologies over the past
30 years
.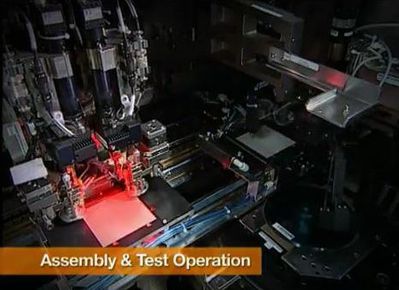 Source: OSRAM
Among other things, this achievement is due to special programmes designed to promote the culture of innovation in the company.
For instance, scientific work and studies receive financial, structural and professional support.
In addition to which, new technologies emerge as a result of
interdisciplinary project partnerships in national and international funding programmes
, or are based on innovative team work and close coordination with customers and partners.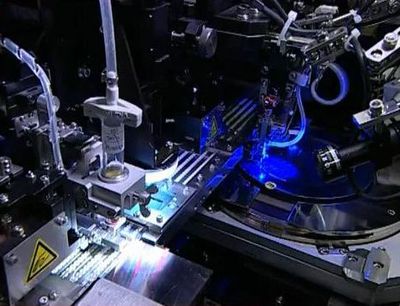 Source: OSRAM
Milestones in connection with the numerous standards set in
LED light technologies
included the development of the
first surface-mountable LED (TOPLED)
, the first
LED
with a white colour appearance and the
OSTAR platform
, a highly versatile form of production.
The company has received awards for many of these developments.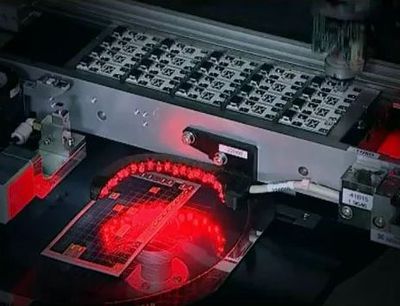 Source: OSRAM
The company has its
headquarters in Regensburg
, where the highly
complex semiconductor chips
are
developed
and
produced
, and new products are designed for new applications.
LED production
and
global distribution
have been based in
Penang (Malaysia)
for over 20 years.
A
chip production facility
was additionally opened there in mid-2009.
Together with the
Regensburg factory, OSRAM Opto Semiconductors
now has the
two most modern
LED chip production facilities in the world.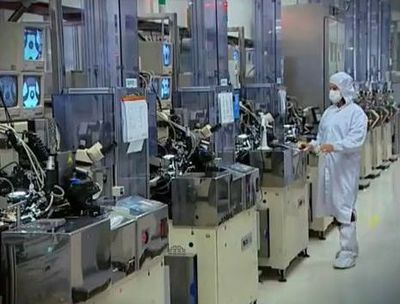 Source: OSRAM

Corporate Headquarters for North America
are located in
Sunnyvale (USA)
, while
Hong Kong
is the home of the
Headquarters for Asia
.
Having formerly been part of the
Semiconductors Division of Siemens
, the company has long-standing experience in the development and production of
LED light solutions
.
It is today a wholly-owned subsidiary of
light manufacturer OSRAM
and thus part of the
Siemens Industry sector
.
More at:
www.osram-os.com
Overview
OSRAM Opto Semiconductors GmbH

Established:
1999
Sector:
Manufacturer of opto-electronic semiconductor components (LEDs, infrared diodes, semiconductor lasers).
The company offers products and system solutions for lighting, visualisation and sensor systems.
Awards:
• "Best Electronics Design" for 2008
• 2007 Deutscher Zukunftspreis des Bundespräsidenten für Technik und Innovation
• 2007 Best Innovator (Wirtschaftswoche, AT Kearney)
• 2006 Wissenschaftspreis des Stifterverbandes
• 2006 PACE Award (Automotive News, SAP, Microsoft, et al.)
• 2005 Innovation Prize INTEL Design (INTEL)
OSRAM GmbH
Corporate Communications

Media Relations
81536 München,
Germany
http://www.osram-os.com
OSRAM w Polsce

OSRAM Sp. z o.o.
- jest obecna na polskim rynku od
1991
roku i oferuje produkty pod marką
OSRAM
w pełnym asortymencie.
Od 1991 roku zarządza firmą w Polsce
Pan Bogumil Stepan, założyciel, prezes zarządu – dyrektor zarządzający OSRAM Sp. z o.o.
w Warszawie.
Szeroka gama produktów konsumenckich dostępna jest w sklepach partnerskich
OSRAM
, a także supermarketach i marketach budowlanych na terenie całej Rzeczypospolitej Polskiej.
Produkty profesjonalne oferowane są przez sieć specjalistycznych hurtowni i partnerów realizujących kompleksowe projekty oświetleniowe.
Źródła światła i systemy oświetleniowe
OSRAM
są obecne w wielu ważnych i znanych miejscach w Polsce.
We współpracy z polskimi firmami powstają projekty i realizacje oświetlenia wnętrz, systemy specjalistyczne do zabytkowych obiektów i wnętrz muzealnych, a także do nowoczesnych centrów finansowych i handlowych.
Wśród obiektów użyteczności publicznej i zabytków, oświetlanych źródłami światła OSRAM znajdują się między innymi:
• w Warszawie – Pałac Prezydencki, budynek Metropolitan oraz Rondo 1
• w Krakowie - Wawel, Sukiennice, Kościół Mariacki
• we Wrocławiu - Panorama Racławicka
Kontakt:
OSRAM Sp. z o.o.
Wiertnicza 117
02-952 Warszawa

Telefon: +48 22 550 2300
Fax: +48 22 550 2319
http://www.osram.pl
Video
OSRAM Corporate Video

http://www.youtube.com/watch?v=f3DvGjVn0eo&feature
Video
OSRAM LEDs DECO FLEX Promo Spot

http://www.youtube.com/watch?v=05BjRpkFQbA&NR=1
Video
OSRAM Opto Semiconductors Expanded Penang Manufacturing

http://www.youtube.com/watch?v=0bXXdd-mPiA&NR=1
Video
Everything about LED

http://www.osram.com/osram_com/LED/Everything_about_LED/index.html
ASTROMAN Magazine – 2010.09.10

Aldo Kamper succeeds Dr. Rüdiger Müller as President and CEO at OSRAM Opto Semiconductors

http://www.astroman.com.pl/index.php?mod=magazine&a=read&id=826
ASTROMAN Magazine