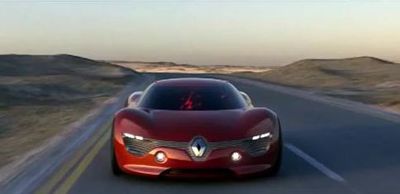 Photo: Renault
"
My early source of inspiration stemmed from the liquid sensation, wave-like movement and contrasts in light associated with certain rippled surfaces
"
- Yann Jarsalle, designer in charge of exterior styling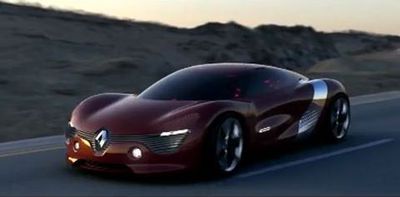 Photo: Renault

Renault
has provided a preview glimpse of its
new concept car, DeZir
, ahead of this year's
Paris Motor Show
.
Photo: Renault

DeZir
stands out as an illustration of the brand's commitment to more emotional styling.
DeZir
's sensuous lines and bright red finish express passion.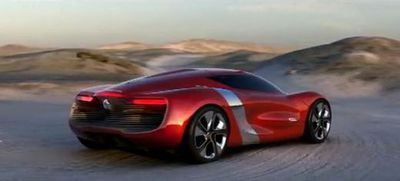 Photo: Renault
Powered by an
electric motor, DeZir
is proof that environmental concern and a love for cars are by no means incompatible.
A new strategy: 'the life cycle'
Under the leadership of
Laurens van den Acker, Renault's Design Department
has taken its inspiration from the brand's new signature
Drive the Change
and explores
Renault's styling roots
to express the company's powerful human dimension via a new strategy founded on the notion of
'the life cycle'
.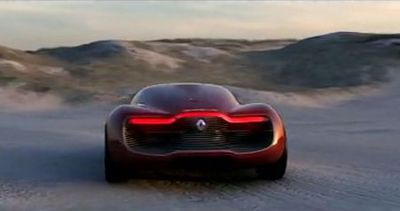 Photo: Renault
This vision also builds on the bonds that are gradually forged between the brand and its customers at watershed moments of their lives, such as when they fall in love, start to explore the world, found a family, begin to work, take time to play and attain wisdom.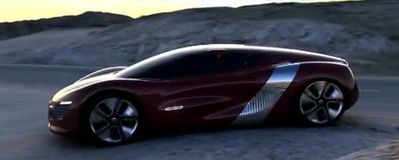 Photo: Renault
This approach coincides with the introduction of a
new Renault design
language that takes its inspiration from the three keywords which communicate the
brand's vision, namely 'simple', 'sensuous' and 'warm'.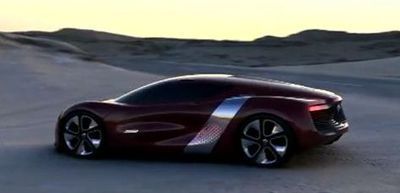 Photo: Renault
In keeping with this strategy,
Renault's concept cars
will progressively express this vision, paving the way for a product plan based on a coherent and clear offer.
DeZir is about falling in love
DeZir
is the first project to be led by
Laurens van den Acker
and marks the implementation of the strategy based on the notion of
'life cycle'
.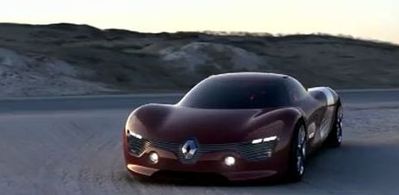 Photo: Renault
The first step involves falling in love, an experience that is perfectly illustrated by
DeZir's powerful, sensuous styling and bright red finish
; red being the colour associated with passion.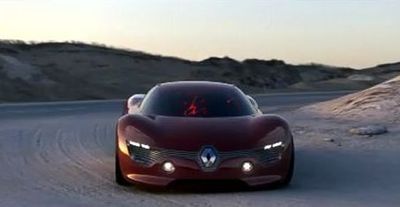 Photo: Renault
The result is a two-seater coupé which is both sculptural in spirit yet perfectly harmonious.
DeZir
's shape features prominent wheel arches that accommodate
21-inch wheels
, the design of which took its inspiration from the notion of movement.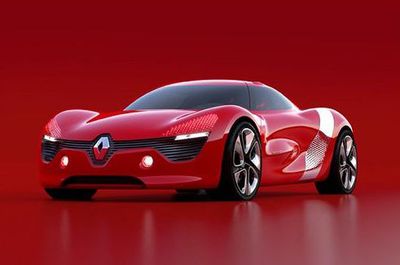 Photo: Renault

DeZir
's front end features a full-width air-intake which strikes out either side of a large, vertically positioned
Renault logo
that proudly displays the car's brand pedigree.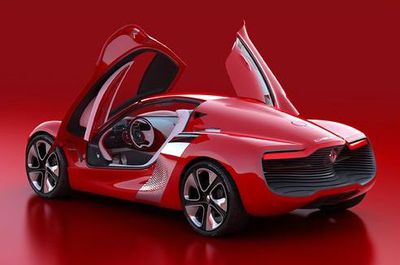 Photo: Renault
Meanwhile, the chrome finish of the diamond-shaped logo contrasts with the dark aspect of the grille to express the statement still further.
The front-end design previews the new front-end identity that is poised to become a feature of all Renault models in the future
.
Inside: lightness
The interior design also suggests lightness.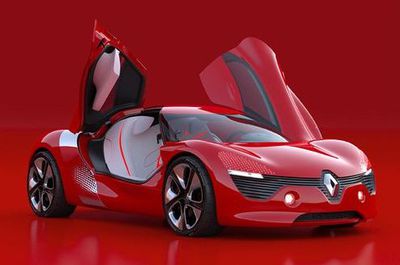 Photo: Renault
"
Love is a sentiment that lifts you; gives you wings
," says
Stéphane Maïore, who was in charge of DeZir's interior styling.

"
Inside DeZir, you feel like you're floating on a cloud
," adds
Stéphanie Petit, Colours and Materials Designer.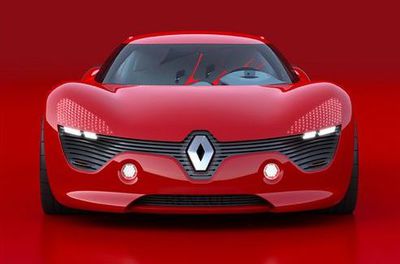 Photo: Renault
The forms are soft and light, while the predominant colour is white, although there are also echoes of the same passion red used for the exterior.
The materials employed for the interior, like the senses they awaken, are precious, with white leather upholstery and trimming for the seats, dashboard and floor, along with a red lacquered finish for the console and accessories.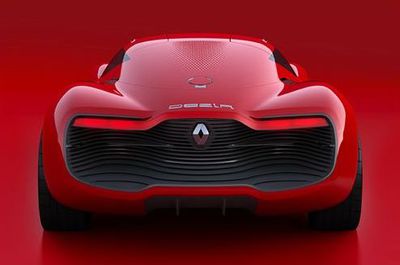 Photo: Renault
The one-piece, two-seater front benchseat provides cocoon-like comfort.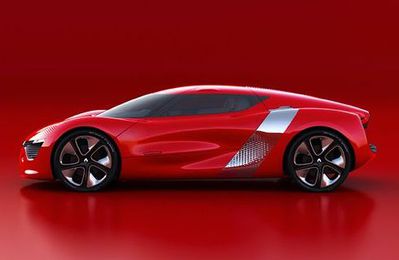 Photo: Renault
To emphasise the sensation of a shared passion and lightness, it comprises a number of interlocking elements trimmed in white leather, with a quilted pattern on the passenger's side, and a contrasting uniform finish on the driver's side, as if to suggest an inexorable attraction between the two.
An electric and yet sporty coupé
DeZir
is powered by an electric motor mounted in a mid-rear position to optimize weight distribution over the front and rear wheels.
The vertically-mounted
24kW/h lithium-ion battery
is located behind the benchseat and provides the car with a range of
160km
.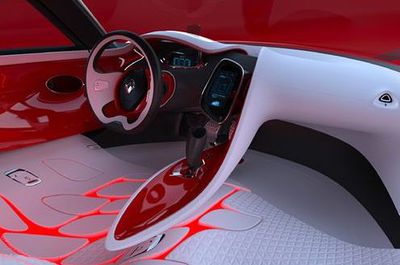 Photo: Renault
In order to optimise range and dynamic performance,
Renault Design's
technical teams have kept
DeZir
's weight to a minimum: its body is made from
Kevlar
, while its tubular steel frame is similar to that employed for
Mégane Trophy race car
.
DeZir
's suspension also shares certain features with that of
Mégane Trophy
– including a double wishbone arrangement – to deliver a particularly high standard of handling precision.
http://www.renault.com/en/innovation/l-univers-du-design/pages/concept-car-dezir.aspx
Carlos Ghosn
Chairman and Chief Executive
Officer of Renault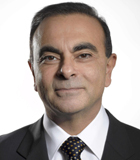 Carlos Ghosn, Chairman and Chief Executive Officer.
Photo: Renault
Year of birth: 1954
Studies: Ecole Polytechnique, Ecole des Mines engineering school.
He joined Michelin in 1978 as manager of the Le Puy plant in France.
He became Chief Operating Officer of Michelin's South American activities based in Brazil before being appointed Chairman and Chief Executive Officer of Michelin North America in 1989.
He joined Renault as Executive Vice President in 1996.
In addition to supervising Renault activities in Mercosur, he was responsible for research, automobile engineering and development, manufacturing, powertrain operations, and purchasing.
Carlos Ghosn joined Nissan Motor as Chief Operating Officer in June 1999 and was named Chief Executive Officer in June 2001.
President of Renault since May 2005, he remains President and CEO of Nissan.
Carlos Ghosn is also a director of Alcoa and AvtoVAZ.
He is appointed President and CEO of Renault on May 6, 2009.
http://www.renault.com/en/groupe/management-et-gouvernance/comite-de-direction/pages/carlos-ghosn.aspx
Video
Renault - DeZir concept car "Heartbeat"

http://www.youtube.com/watch?v=ycGMpjFl-Rs&feature
Video
Renault - DeZir concept car presentation
http://www.youtube.com/watch?v=fCUmioAFNRY&feature=channel