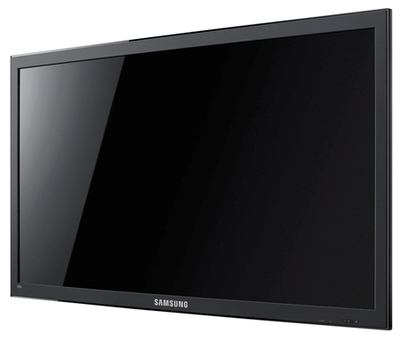 Samsung is introducing the EX series which is the world's thinnest LFD suitable for showing large advertisements, and is available in 40-inch, 46-inch and 55-inch models, and also has the option of a built-in PC. The series are the result of the display market leader's ambitious project to become the world's first to launch LED LFD.
Photo: Samsung Electronics

SEOUL - June 7, 2010
Samsung Electronics Co., Ltd
., a market leader and award-wining innovator in consumer electronics, has
launched the world's first eco-friendly and large format information display (LFD) incorporating LED backlighting technology.

Samsung is introducing the EX series
which is the
world's thinnest LFD suitable
for showing large advertisements, and is available
in 40-inch, 46-inch and 55-inch models,
and also has the option of a built-in
PC.

The series are the result of the display market leader's ambitious project to become the
world's first to launch LED LFD
.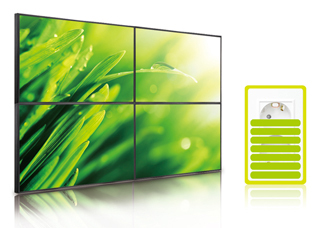 The Samsung EX Series LED LCD displays reduce energy consumption from 30 - 50% (depending on screen size) compared to conventional CCFL backlit LCD displays. Samsung's state-of-the-art LED BLU (Back Light Unit) technology has facilitated this breakthrough in Green Technology Solutions by eliminating mercury, reducing energy consumption and making it easier to recycle.
Photo: Samsung Electronics

The new LED LFDs are much better than conventional LCD displays
in terms of electricity consumption, design, image quality and efficiency, and they are expected to significantly change the landscape of the advertising display market.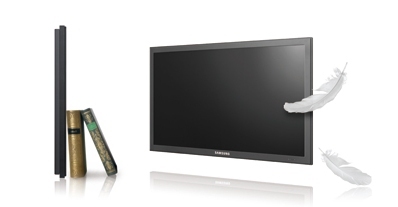 The ultra-slim, ultra-light design of the Samsung LCD LED commercial displays provide a new era of elegance and efficiency. The 460EX has an ultra-slim style that effortlessly draws your eyes to the screen and its ultra-light design enables easier installation and maintenance. It's a high-impact display that saves space with style.
Photo: Samsung Electronics
"The EX series will have an innovative impact on the large format information display market with their eco-friendly and highly efficient options, impressive image quality and sleek design," said
Jin-Hwan Kim, executive director in charge of Samsung Electronics' Visual Display Division.

"Building on their first launch, we will continue to be at the forefront of the market with more user-friendly solutions and advanced technologies."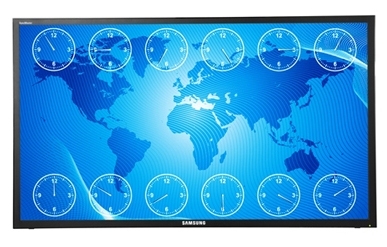 Samsung's LED backlight technology provides clear picture quality with high contrast levels and 80% color gamut, providing clear images and improved color saturation.
Photo: Samsung Electronics

The EX series
, which consume significantly less energy than the existing models, are green products with
Energy Star 5.0 certification
.
By incorporating
LED technology
, these models use up to
40 percent less electricity
than
LCD displays
and produce less carbon dioxide and fewer hazardous substances.
In addition, the option of a built-in
PC
eliminates the need to purchase an additional
PC,
resulting in
higher efficiency and less maintenance cost.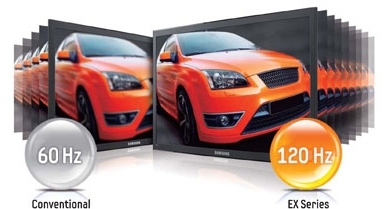 Operating at twice the speed of conventional 60 Hz displays, our 120 Hz displays are ideal for high-speed video and scrolling text, delivering advertising and information with complete clarity and seamless speed.
Photo: Samsung Electronics

The EX series
also boast
extreme thinness and lightness
, which make them much easier to use.
They are 35-to-40 percent lighter than other large information displays of the same size at about 15 kg (based on 46-inch), differentiating themselves from the conventional heavy and thick advertising displays.
Unlike the existing displays that take several people to install, the newest series can be installed conveniently and quickly.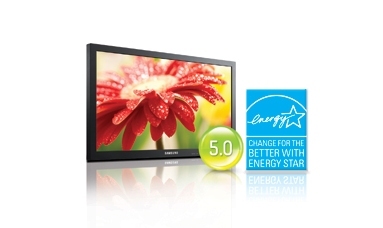 Samsung's revolutionary EX Series LED LCD Displays are easier for integrators and customers to install with its 1.6" ultra-slim design and reduced weight. The EX Series is Energy Star 5.0 compliant (excluding embedded PC models) and conforms to the ADA standards for wall mounting.
Photo: Samsung Electronics
In addition, the
EX series
features a
120 Hz panel refresh rate
.
This advanced technology enables faster image changes without motion blur, which deliver clearer advertising messages to the audience.
The 1920 x 1080 Full HD resolution and the high contrast ratio provide true-to-life picture quality
.
Magicinfo i, Samsung's proprietary content management solution
also allows you to control several displays easily by connecting them to a network.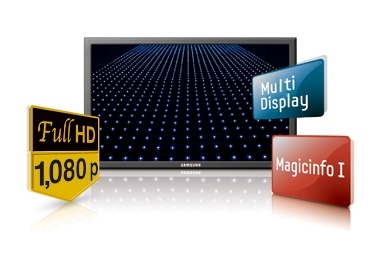 The 460EX is designed to be adaptable to any public display usage. Featuring Full HD images, expanded digital connectivity and multi-display control, it allows you to create a digital display environment that is always clear and displaying the highest resolution images.
Photo: Samsung Electronics

Samsung
has set the
EX series
apart by applying advanced technologies, which have not been used in conventional large displays, but provide a better user experience.
The
RJ45 port
enables you to control the displays through a
LAN cable
wherever you are. The smart scheduling function, allows you to turn on and off the display, adjust the volume and set input sources by simply using the
OSD
.
The EX series
is a perfect mixture of
Samsung's display technology
and an
eco-friendly concept
which improves user convenience that will lead to the standardization in the display market.
About Samsung Electronics Co., Ltd.

Samsung Electronics Co., Ltd. is a global leader in semiconductor
,
telecommunication, digital media and digital convergence technologies
with 2009 consolidated sales of
US$116.8 billion
.
Employing approximately
188,000 people in 185 offices across 65 countries
, the company consists of eight independently operated business units:
Visual Display, Mobile Communications, Telecommunication Systems, Digital Appliances, IT Solutions, Digital Imaging, Semiconductor
and
LCD
.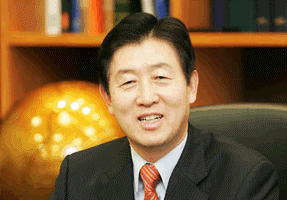 Gee-Sung Choi, President and CEO, Samsung Electronics Co., Ltd.
Photo: Samsung Electronics
Recognized as one of the fastest growing global brands,
Samsung Electronics is a leading producer of digital TVs, memory chips, mobile phones and TFT-LCDs.

For more information, please visit
www.samsung.com
http://www.samsung.com/us/news/newsRead.do?news_seq=19386&page=1&gltype=globalnews