Courtesy of Apple
With secure access to corporate networks, thousands of third-party business applications, and an enterprise developer program for in-house apps,
iPhone
is ready to go to work.
iPhone
connects seamlessly to
Microsoft Exchange
and standards-based servers for corporate email, calendar, and contacts.
And your data is secure with support for encrypted data in transmission, hardware encryption for data at rest, and encrypted backups in
iTunes
.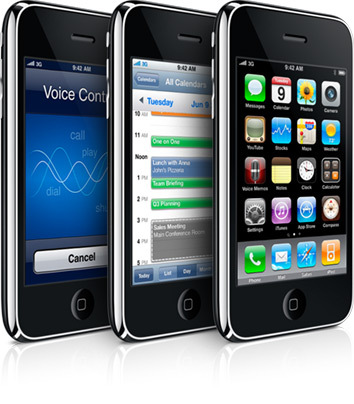 Courtesy of Apple

iPhone
also supports
Cisco IPSec VPN
and
WPA2 Enterprise
for secure access to corporate networks. And it makes quick work of configuration and deployment across your business.
Email, Calendar, and Contacts
Microsoft Exchange ActiveSync
If your office uses
Microsoft Exchange Server 2003 or 2007
, you can wirelessly push email, calendar events, and contacts to
iPhone
.
And with enhanced features like searching your inbox and server, creating calendar invitations directly from
iPhone
, and dialing out from calendar events on iPhone, it's easier to stay on top of your game.
Standards-based servers
iPhone
also supports standards-based servers for mail, calendar, and contacts integration.
Sync with IMAP mail servers
and search the mail server from your
iPhone
.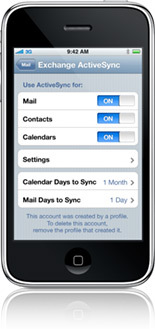 Courtesy of Apple
Integrate with common
CalDAV-compliant calendar
servers like
iCal Server, Oracle Beehive, Kerio,
and
Zimbra.

Sync subscribed calendars to your
iPhone
. And find colleagues fast by searching
LDAP servers
from either the mail or contacts app on your
iPhone
.
Securing your data
iPhone protects your data through encryption of information in transmission
, at rest on the device, and when backed up to
iTunes
.
iPhone
also provides secure methods to prevent unauthorized use of the device through passcode policies and restrictions.
In the event of a lost or stolen
iPhone
, you can even clear all data and settings by issuing a remote wipe command from
Exchange
.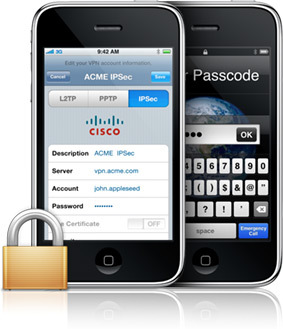 Courtesy of Apple

Network communications stay secure with Cisco IPSec VPN, WPA2 Enterprise Wi-Fi, and SSL/TLS on iPhone
.

Exchange users
can enforce complex passcodes, camera restrictions, and other policies on
iPhone to protect corporate data
.
And certificate-based authentication enables
iPhone
to connect with corporate servers via
Exchange
as well as
VPN On Demand
, making network communications seamless and secure.
Deploying iPhone across your business
Configuration profiles
Deploying
iPhone
across an enterprise is easy with configuration profiles.
Establish corporate passcode policies and settings with configuration profiles created and distributed via
USB
or over the air.
With configuration profiles, you can remotely configure your company's
VPN, email, and wireless network settings
, ensuring that each
iPhone
is secure and ready for business
.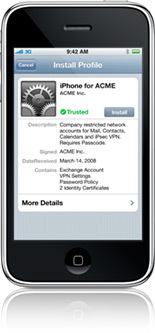 Courtesy of Apple

Configuration profiles
also make it easy to install device restrictions and certificates on
iPhone for authentication to Cisco IPSec VPN servers, 802.1x-based wireless networks, Exchange Servers
, and other corporate services.
For users, installing a configuration profile is as easy as tapping a secure web link or receiving an email with the configuration profile attached.
Configuration profiles can be signed and encrypted
- and once installed, individual users can be restricted from removing these profiles from their
iPhones
.
iTunes controls
Tailor
iTunes
to meet your company's needs.
Customize iTunes by restricting or disabling network services such as the iTunes Music Store or shared media libraries,
and
control access to software updates.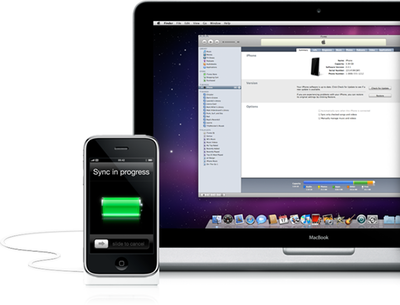 Courtesy of Apple
While you can set up
iPhone to connect directly to a corporate network
,
iTunes
is required for activation, software updates, and encrypted backups.
Centralize the
iPhone activation process by putting iTunes in activation mode.

You can deploy
iTunes using centrally-managed desktop software
deployment tools
.
http://www.apple.com/iphone/business/integration/
Build apps for the way you work
In-house apps for iPhone
can leverage your existing infrastructure or streamline conventional workflows to give your employees the information to make better decisions, faster.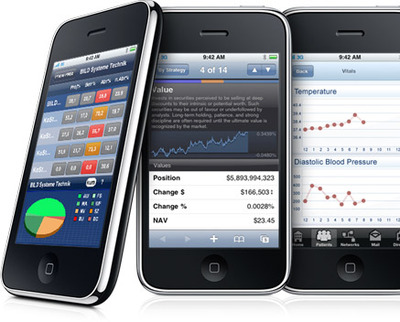 Courtesy of Apple

Build dynamic and interactive dashboards
, easy to use field force applications and collaborative tools for your entire company.
Read on to see what other businesses are creating and how in-house apps on
iPhone
are improving the way they work.
Business Intelligence
Build an
iPhone app
that can tap into simple spreadsheet data or complex back-office systems like
SAP
and
Oracle
.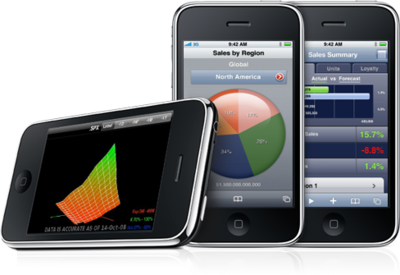 Courtesy of Apple
Your users will be able to make better decisions, faster, with interactive and dynamic views into
business critical information directly on their iPhone.

Lookup & Reference
Give your employees access to services that will help them stay current and informed wherever they are.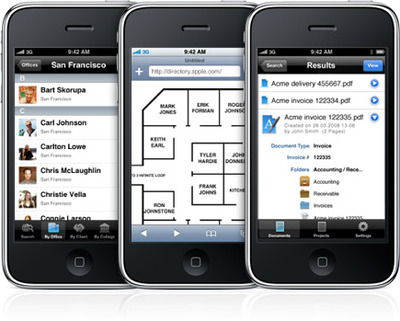 Courtesy of Apple
Easily tap into your central document repository, employee directory or campus maps, and serve up helpful reference information that is relevant to the task at hand.
Field Sales & Service
Optimize your mobile workforce with apps on iPhone
that integrate with your existing backend infrastructure or refresh an outdated workflow.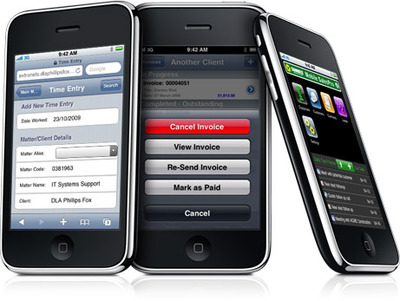 Courtesy of Apple
You can build rich
iPhone applications
to extend order entry, payment processing, customer service and help desk systems directly to your workforce in the field.
Business Process
Empower your employees to be productive even when they're out of the office.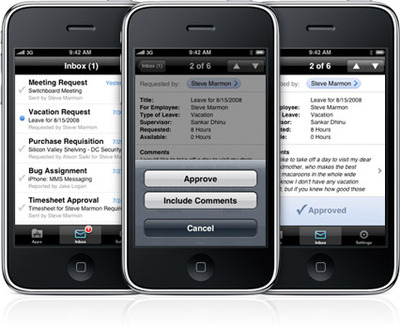 Courtesy of Apple

Develop iPhone apps
that mobilize everything from expense reporting and time-off approvals to
complete project management
.
With iPhone, managing day-to-day business tasks can be quick and simple
.
Collaboration
Expand how your business collaborates by merging various forms of communication into easy-to-use,
integrated apps on iPhone
.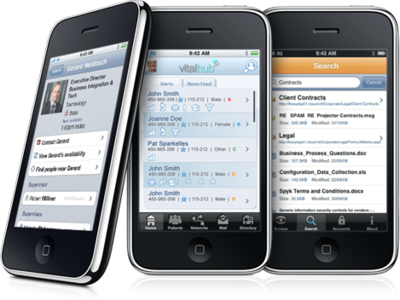 Courtesy of Apple

You can create applications to enable online meetings, voice services, instant messaging, and content sharing.

Training & Communication
Develop iPhone apps
that deliver rich media content to your employees.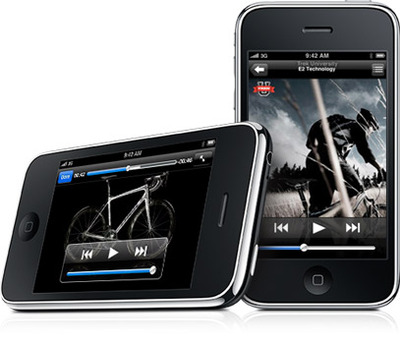 Courtesy of Apple

Use iPhone to train employees or sales channels, communicate important company-wide announcements
, or demonstrate your company's latest innovation to
customers or colleagues on the road
.
http://www.apple.com/iphone/business/apps/in-house/