Arvind Sodhani is executive vice president of Intel Corporation and president of Intel Capital.
Photo: Intel Corporation

SANTA CLARA, Calif., USA - May 26, 2010
–
Intel Capital, Intel Corporation's global investment organization
, today announced a
$10 million investment in TRA (True ROI Accountability for Media®)
, a media planning, measurement and analytics software company.
The investment is part of an
$18.2 million Series-C
round lead by
Intel Capital
, which includes participation from existing investors
Arbitron
and
WPP
.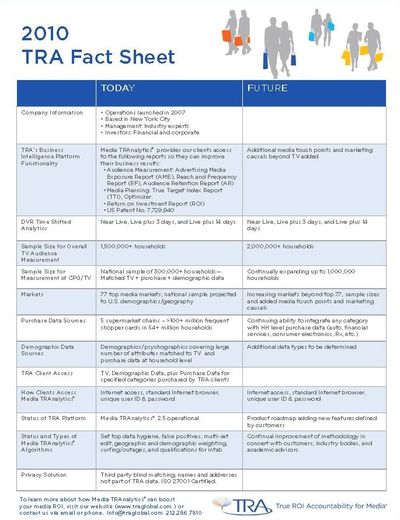 2010 TRA Fact Sheet
Photo: TRA

TRA
will use the funding for market expansion, continued technology innovation, data acquisition and hiring additional key personnel.
TRA provides a Web-based business intelligence platform, Media TRAnalytics®
, that addresses the challenge of marketing accountability by matching
1.5 million households of TV data with 54 million households
of purchase data for the largest single-source database -
370,000 households
.
Since the official launch 2 years ago, broadcast and cable networks, consumer packaged goods companies and media agencies have been using
Media TRAnalytics
® to identify "
the right audiences
" in their media planning and selling to improve return on media investment.
"Media is driven by advertising and advertising in the 21st century is driven by data," said
Arvind Sodhani, president of Intel Capital and Intel executive vice president.
"By leveraging connectivity, analytics and database technologies, TRA's solutions align with Intel's goal of discovering new and innovative technological solutions that have the potential to redefine traditional vertical industry ecosystems."

Intel Capital seeks out and invests in promising technology companies worldwide. Our goals are to spur innovation and inspire entrepreneurial spirit, while generating positive financial return. We focus on both established and new technologies that help to develop industry solutions, drive global Internet growth, facilitate new usage models, and advance computing and communications platforms. At Intel Capital, we provide unrivaled access to the latest technology developments in the industry.
Photo: Intel Capital
"We welcome the support from one of the world's leading technology companies in Intel," said
Mark Lieberman, chairman and CEO of TRA
.
"The investment will provide the resources and a great partner for TRA's next stage of growth as we continue to improve advertising accountability for networks, advertisers and agencies looking to target the right audience'."

Intel Capital represents a global commitment aimed at investing in, and supporting profitable enterprises.
Photo: Intel Capital
Funding for the investment comes from the
$200 million Intel Capital Invest in America Technology Fund.

Announced in February, the fund invests in U.S.-based, growth-oriented industries to foster economic recovery and development and to anchor the nation's competitiveness on the global stage.
About Intel Capital
Intel Capital, Intel's global investment organization
, makes equity investments in innovative technology start-ups and companies worldwide.
Intel Capital
invests in a broad range of companies offering hardware, software, and services targeting enterprise, home, mobility, health, consumer Internet, semiconductor manufacturing and cleantech.
Since 1991,
Intel Capital
has invested more than
US$9.5 billion
in over
1,050 companies in 47 countries
.
In that timeframe,
175 portfolio companies
have gone public on various exchanges around the world and 241 were acquired or participated in a merger.
In 2009,
Intel Capital invested US$327 million
in
107 investments
with approximately 50 percent of funds invested outside the United States and Canada.
For more information on
Intel Capital
and its differentiated advantages, visit
www.intelcapital.com
About TRA
TRA, Inc. (True ROI Accountability for Media®, www.traglobal.com )
is a media planning, measurement and analytics software company whose proprietary patent pending web-based business intelligence platform,
Media TRAnalytics
®, cost effectively matches the ads that people actually receive with the products people actually buy, giving advertisers, agencies and media transparency, accountable measurement, media planning and improved return-on-investment for their advertising spend.
TRA has 1.5 million households of TV set
top box data from multiple software platforms;
54 million households
of purchase data and the largest single source database ever
370,000 households
which provides "
to the second
" single-source measurement, while maintaining the privacy and anonymity of consumers.
TRA employs
proprietary measurement technologies and proven algorithms developed with over 45,000 man-hours invested into developing TRA's Media TRAnalytics® platform.
TRA's clients
include television networks, consumer packaged goods companies and media agencies.
Investors include
Intel Capital, Kodiak Venture Partners, WPP
and
Arbitron, Inc. TRA
is the recipient of the
BeyeNETWORK's 2009 Vision Award' for Business Impact in Analytics.

TRA is ISO 27001 certified
, the information security management system standard published by the International Organization for Standardization (ISO) designed to ensure security controls to protect information assets.
http://www.intel.com/pressroom/archive/releases/2010/20100526corp.htm
Mark Lieberman
Chairman and CEO of TRA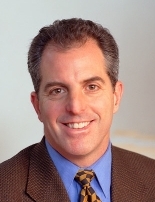 Mark Lieberman
Photo: TRA
Mark Lieberman has been an entrepreneur in the media and technology industry throughout his career.
Recently, he has been Managing Director of Hudson Abel Partners LLC, a boutique media and technology investment bank.
Previously, he was Chairman/ CEO of IVT, an e-communications software company from 2000 through 2004, and before that was President of About.com Ventures, and EVP of Reed Elsevier Business Information, where he oversaw Variety, Broadcasting & Cable, Publishers Weekly and MultiChannel News magazines.
In the mid-1990's, Mark founded Sarnoff Real Time Corp. (SRTC), a video server company that became DIVA systems, the first commercially viable video on demand provider.
He also served in the Bush Administration from 1989 through 1991, as Associate Deputy Secretary and Assistant Secretary for Technology (Acting) at the U.S. Department of Commerce. And from 1985 through 1989, he practiced intellectual property law and clerked for Judge Oscar Davis at the U.S. Court of Appeals for the Federal Circuit.
Mark graduated from the Benjamin N. Cardozo School of Law and from Tufts University with a degree in mechanical engineering.
He is now Vice Chairman of UJA's Entertainment, Media & Communications division and on the board of advisors for the Tufts University Entrepreneur Leadership Program.
Mark also played on the U.S. Masters Basketball Team in the 2001 Maccabiah Games in Israel.
http://www.traglobal.com/mgmt.php
Arvind Sodhani
Executive Vice President of Intel Corporation and President of Intel Capital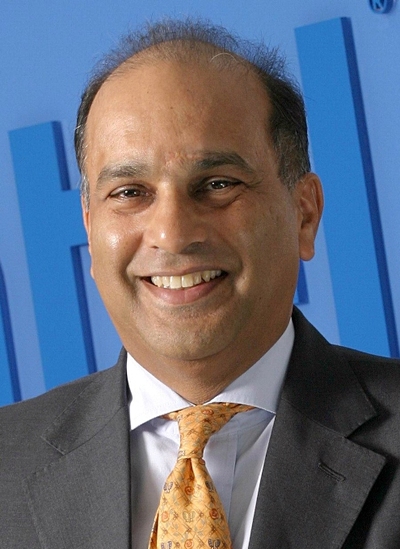 Arvind Sodhani
Photo: Intel Corporation
Arvind Sodhani is executive vice president of Intel Corporation and president of Intel Capital.
Sodhani was elected vice president by the board of directors in May 1990, served as senior vice president from 2005 to 2007 and was promoted to executive vice president in December 2007.
He joined Intel in 1981 as assistant treasurer of Intel Europe, was promoted to the position of assistant treasurer of the corporation in August, 1984 and was named treasurer in July 1988. As Intel's treasurer, Sodhani was responsible for treasury, investor relations, corporate credit, mergers and acquisitions, post contracts management and risk management.
He became president of Intel Capital in March 2005.
Intel Capital, Intel's strategic investment arm, directs the company's external investments, mergers and acquisitions in support of Intel's strategic objectives.
Sodhani served as a member of the NASDAQ Stock Market, Inc. board of directors from 1997 to 2007.
He currently serves on the board of directors for SMART Technologies, Inc.
He received a master's degree in business administration from the University of Michigan.
http://www.intel.com/pressroom/kits/bios/sodhani.htm