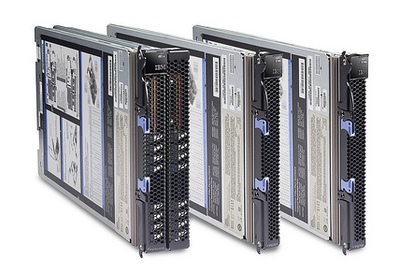 The new POWER7 blades come in 4, 8 and 16-core models and are IBM's most scalable Power blades yet.
Photo: IBM

ARMONK, N.Y. - 13 Apr 2010
New IBM POWER7 Blades, Systems Software, Services Cut IT Costs, Pave Way for New Workloads for Customers
IBM
(NYSE: IBM) today added new servers, services and software to its lineup of 2010 systems designed to put a lid on the rising costs and complexities of operating
modern data centers
.
The new offerings help clients reap the benefits of
IBM's three-year, $3 billion investment in POWER7™ systems
that are ready for new workloads, such as the growing use of powerful, real-time business analytics.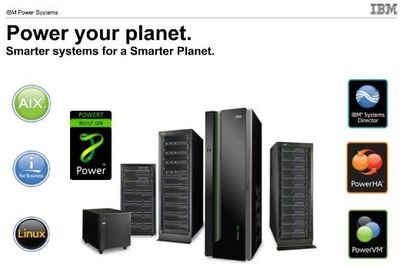 Photo: IBM
They include blade servers built on
IBM's POWER7
workload-optimized systems' design, new systems software that can reduce the deployment of workloads from weeks to minutes, and new services to remotely implement the systems, reducing costs by up to 25%.
IBM
also announced its
POWER7 technology
achieved record performance for a range of workloads.
New POWER7 Blades, Systems Software, Services: Improved Performance, Reduced Data Center Costs
With
four, eight or 16 cores
per blade, the new
POWER7 servers
offer clients the same
64-bit POWER® technology
at work in some of the world's most critical data centers in government, research, finance and high-tech industries, among others.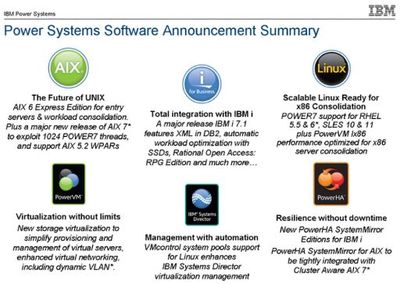 Photo: IBM
Built on the proven foundation of the
IBM BladeCenter® family
of products and designed for mid-size businesses needing enhanced performance to manage growth and reduce complexity, the all new
PS700, PS701
and
PS702 Express
are the premier blades for workloads ranging from web-tier and
SAP
application servers to distributed databases in blade-based data centers.
POWER7's innovative technologies
automatically optimize the blades' performance and energy efficiency, allowing the new
BladeCenter PS702 Express
to deliver 225% better performance per blade than the
Oracle Sun Blade T6340
, and 188% greater performance per blade than the
HP Integrity BL860c Blade
.
For more information go to:
http://www-03.ibm.com/systems/power/

New IBM Systems Director Software
helps adjust computing resources in virtualized data center environments to focus on priority workloads.
With
IBM Systems Director 6.2
and
IBM Systems Director VMControl
, multiple virtualized and physical systems can be managed from a single interface, new workloads can be deployed in minutes instead of weeks, and server administration costs can be reduced up to 34%.
IBM Active Energy Manager 4.3
monitors and manages energy use and can reduce systems energy costs by nearly 30% on
Power servers
.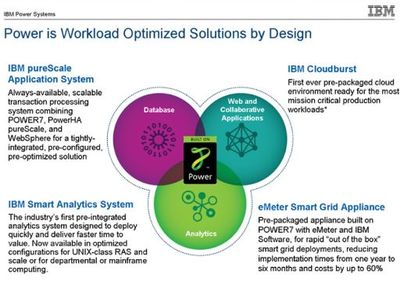 Photo: IBM
For more information on new
IBM Systems Director, VMControl
and
Active Energy Manager
offerings go to:
http://www-03.ibm.com/systems/software/index.html

IBM Global Technology Servic
es' new, remotely delivered implementation and migration services provide a lower-cost method (shaves up to 25% from installation costs) to install and implement IBM systems.
Remote delivery allows
IBM
to staff engagements more quickly and gives clients a faster return on their investment. Initially available in the
U.S. and Canada
with plans to expand to the rest of the world later in the year, these remotely delivered, lower priced services help clients optimize system performance and reduce time to value.
For more information, go to:
www.ibm.com/services/implementation

IBM
also announced today a new exchange program to allow clients to upgrade to
POWER7 technology
immediately.
IBM'
s lending and leasing unit,
IBM Global Financing
, is offering well-qualified clients to move up to POWER7 systems at monthly costs close to, or lower than what they are paying for a current
POWER6™ lease
.
The program also provides for side-by-side migration of up to 60 days with little to no downtime as the upgrade occurs.
For more information go to:
http://www-03.ibm.com/financing/us/lifecycle/acquire/powerx.html
Eight-Core POWER7 System Boosts Transaction-Processing Performance to Slash Licensing Costs More Than 80%
Using a sliver of its total, 64-core processing power,
IBM's Power® 780 system
today became the first server to deliver more than
1.2 million transactions-per-minute
on only eight cores according to
Transaction Processing Performance Council
results.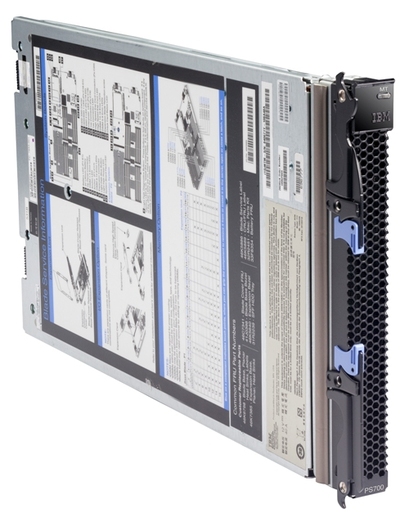 The IBM BladeCenter PS700 takes advantage of the workload optimization features of POWER7 technology.
Photo: IBM
With price/performance of less than
70 cents per transaction per minute
, the
Power 780's 1.2 million transactions-per-minute sets a new record
in performance-per-core – 4.6 times better than an
HP Superdome
and 7.5 times better than a
Sun SPARC Enterprise T5440
cluster running
Oracle RAC
.
For businesses that run
SAP
, the
Power 780
handled
37,000 users on 64 cores
– 16% more users than a
256-core Sun Enterprise M9000
and 130% more users than a
64-core Fujitsu
system running
Intel Xeon® X7560 chips.

Record-Setting Performance for Web and Analytics Workloads
The Power 780
also demonstrated the ability to deliver leadership, workload-optimized performance by setting new records across the three major industry-standard processor benchmarks for Java, integer and high-performance-computing workloads, achieving between 1.8 and three-times the performance of all other competitive published eight-socket results.
IBM Power Systems'
built-in virtualization provides the ability to scale virtual machines to the full capacity of the system – up to eight-times more than
VMware
.
IBM
testing indicates clients deploying virtualization may see up to 65% more performance-per-virtual machine on a
Power 750 Express
running
PowerVM
™ than a similarly configured
HP DL380 G6
running
VMware
.
Today's benchmark results continue to demonstrate that
IBM Power Systems
are able to deliver more compute power with fewer cores and less energy consumption than
Sun/Oracle
and
HP/Itanium
® based servers.
This performance leadership across all major workloads, combined with
Power systems'
built-in virtualization technology means clients can achieve dramatic cost savings and energy efficiency in their data centers.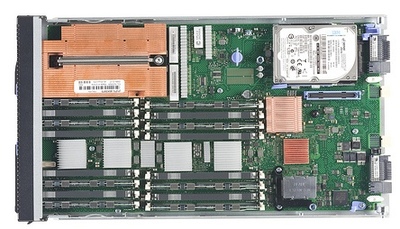 Targeted at small and midmarket users, the IBM BladeCenter PS701 helps customers reduce energy consumption. The IBM BladeCenter PS701 and PS702 Express use POWER7 processors to help maximize performance.
Photo: IBM
For instance, by using 87% fewer cores than a
Sun SPARC Enterprise Cluster
to deliver more than one million transactions per minute, the Power 780 allows clients to slash database licensing and maintenance costs by up to 80%.
New Operating Environments, Developer Tools
New AIX® 6 Express E
dition offers clients a new, lower-priced edition of
AIX
designed for
SMB
environments or smaller workloads consolidated on midrange or high-end
Power Systems
.
Supporting up to four cores per image and
8GB per core, AIX 6 Express
provides the reliability and flexibility of
AIX
at lower cost.
AIX Express
joins the existing
AIX Standard
and
Enterprise Editions
to fill out the new family of
AIX 6
offerings.
The new
IBM i 7.1
integrated operating environment is designed to take advantage of workload optimization features of
POWER7
, including automatic exploitation of Solid State Drives for optimum performance.
Enhanced support for
XML in DB2
®, the integrated database for
IBM i
, helps companies exchange information between customers and suppliers, a new virtualization feature for
PowerVM
enables simpler testing of new releases before a software upgrade, and asynchronous geographic mirroring with
PowerHA™ SystemMirror
provides support for multi-site clustering over longer distances.
For more information go to:
www.ibm.com/systems/power/software/i/advantages/v7r1/index.html
IBM Rational Developer for Power V7.6
gives users of
Power Systems
on
AIX
a modern,
Eclipse
-based development environment that supports C/C++ and COBOL development, and is also tightly integrated with
Rational Team Concert for Power Systems
for improved application lifecycle management.
IBM
is also introducing
Rational
compilers for C/C++ and Fortran, both optimized for
POWER7
.
This new environment can provide up to 30% improvement in workload productivity.
According to
IBM Business Partner Oxford International
, a leading provider of enterprise modernization solutions, new
IBM Rational
application development and management software for
POWER7
is providing improvements of up to 30 percent in team productivity in all aspects of the development process.
For more information go to
http://www-01.ibm.com/software/rational/announce/power/
For more information on new products announced today and to register for a special IBM webcast visit
http://www.ibm.com/systems/
Contact(s) information
Rick Bause
IBM Media Relations
845-892-5463
rbause@us.ibm.com
Mike Corrado
IBM Media Relations
914-766-4635
mcorrado@us.ibm.com
http://www-03.ibm.com/press/us/en/pressrelease/29871.wss
Dr. John E. Kelly III
Senior Vice President and Director of IBM Research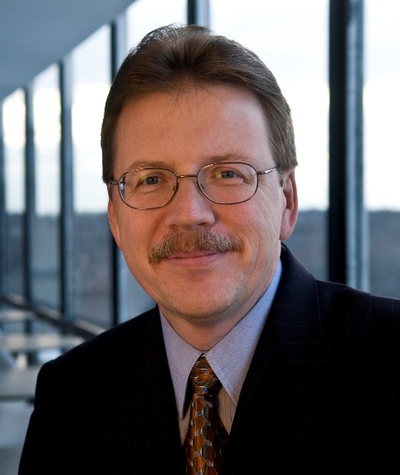 Dr. John E. Kelly III, Senior Vice President and Director of IBM Research.
Photo: IBM
Dr. John E. Kelly III is IBM senior vice president and director of Research.
In this job he directs the worldwide operations of IBM Research, with about 3,000 technical employees at eight laboratories in six countries around the world, and helps guide IBM's overall technical strategy.
Dr. Kelly's top priority as head of IBM Research is to stimulate innovation in key areas and quickly bring those innovations into the marketplace to sustain and grow IBM's existing business, and to create the new businesses of IBM's future.
IBM applies these innovations to help our clients succeed.
Dr. Kelly also leads IBM's worldwide intellectual property business.
Prior to beginning his current assignment in July of 2007, Dr. Kelly was senior vice president of Technology and Intellectual Property, responsible for IBM's technical and innovation strategies.
In 2000, Dr. Kelly was group executive for IBM's Technology Group, where he was responsible for developing, manufacturing and marketing IBM's microelectronics technologies, products and services.
Dr. Kelly joined IBM in 1980. Between 1980 and 1990, he held numerous management and technical positions related to the development and manufacturing of IBM's advanced semiconductor technologies.
In 1990, he was named director of IBM's Semiconductor Research and Development Center. In 1994, he was appointed vice president of business process reengineering for the Microelectronics Division.
In 1995, he was named vice president of systems, technology and science for the IBM Research Division. In this role, Dr. Kelly was responsible for the company's most advanced research activities.
The following year, he was named vice president of strategy, technology and operations for the Microelectronics Division.
In 1997, he was appointed vice president of server development (from work stations to supercomputers) for IBM.
In January of 1999, he was appointed general manager of IBM's Microelectronics Division, a position he held until August 2000.
Dr. Kelly received a Bachelor of Science degree in physics from Union College in 1976.
He received a Master of Science degree in physics from the Rensselaer Polytechnic Institute in 1978 and his Doctorate in materials engineering from RPI in 1980.
In 2004, he received an Honorary Doctorate of Science from The Graduate School at Union College.
Dr. Kelly is on the Board of Governors of The IBM Academy of Technology; a board member and former chairman of the Semiconductor Industry Association; a Fellow of the Institute of Electrical and Electronics Engineers, and on The Board of Trustees of Union College.
http://www-03.ibm.com/press/us/en/biography/10060.wss
Michael E. Daniels
Senior Vice President, Global Technology Services, IBM Global Services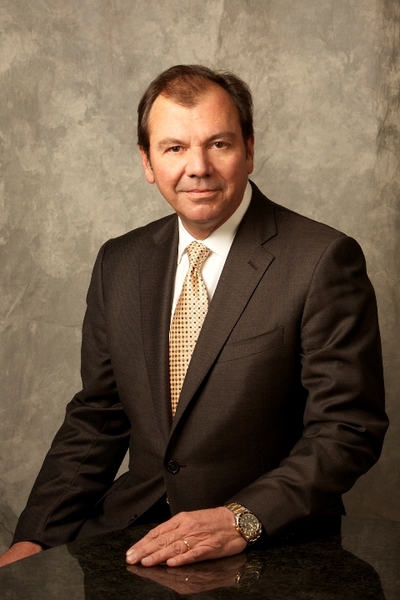 Michael E. Daniels, Senior Vice President, Global Technology Services, IBM Global Services.
Photo: IBM
Mike Daniels has worldwide responsibility for Global Services business operations in outsourcing services, integrated technology services, maintenance, and small and medium business services, as well as for IBM Global Financing.
He is also responsible for IBM's global delivery services.
Together, these businesses account for almost half of IBM revenue.
IBM is the leading business and IT services company in the world, with operations in more than 170 countries helping clients of all sizes integrate information technology with business insight to create and deliver new value for their customers and shareholders.
Previously, Mr. Daniels was general manager of IBM's Sales and Distribution operations in the United States, Canada, and Latin America, with responsibility for sales and support of the full range of IBM's information technology products, services, consulting offerings, and business solutions. Before that, he led the Global Services team in the Asia Pacific region.
Since joining IBM in 1976, Mr. Daniels has held a number of leadership positions in sales, marketing, and services, and was general manager of several services businesses, including Product Support Services, Availability Services, and Systems Solutions.
He is a member of the IBM Performance Team and serves as IBM's Senior State Executive for Connecticut.
Mr. Daniels is a graduate of Holy Cross College in Massachusetts with a degree in political science and serves as a Trustee at the College.
http://www-03.ibm.com/press/us/en/biography/10056.wss