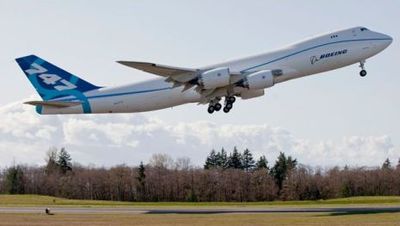 Boeing 747-8 Freighter
Photo: Boeing
EVERETT, Wash., March 17, 2010 – The third
Boeing
[NYSE: BA]
747-8 Freighter, RC 521,
successfully completed its first flight today.
It is the final test airplane scheduled to participate in the flight-test program for the
747-8 Freighter
.
Piloted by
Captains Paul Stemer
and
Keith Otsuka
, with
Ralph Chaffin
serving as systems operator,
RC 521
took off from
Paine Field in Everett, Wash.,
completed a two-and-a-half-hour flight and landed at
Boeing Field in Seattle
.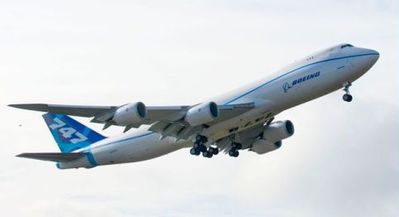 Boeing 747-8 Freighter
Photo: Boeing
The airplane reached an altitude of 30,000 feet (9,144 m) and an airspeed of 245 knots, or about 282 miles (454 km) per hour.
It took off at 3:27 p.m. PDT and landed at 5:58 p.m.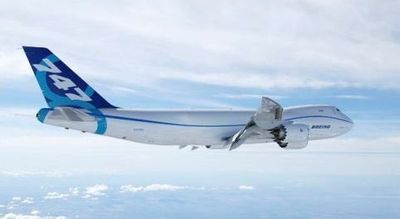 Boeing 747-8 Freighter
Photo: Boeing

RC 521
has several tests scheduled in the test program, including fuel-mileage testing.
The
747-8 Freighter
flight-test program calls for all three airplanes to perform approximately
3,700 hours
of testing both on the ground and in the air.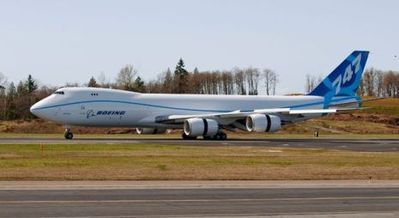 Boeing 747-8 Freighter
Photo: Boeing
The first
747-8 Freighter
delivery is planned for the fourth quarter of this year.
Contact:
Tim Bader
747 Communications
+1 425-717-0672
tim.s.bader@boeing.com
Jennifer Hawton
Boeing Test & Evaluation
+1 425-444-1600
jennifer.d.hawton@boeing.com
http://boeing.mediaroom.com/index.php?s=13&item=1069
Boeing 747-8 Flight Test Videos
http://www.boeing.com/newairplane/747/#/3
Boeing Corporate Offices
Boeing is the world's leading aerospace company and the largest manufacturer of commercial jetliners and military aircraft combined
.
Additionally,
Boeing designs and manufactures rotorcraft, electronic
and
defense systems, missiles, satellites, launch vehicles
and
advanced information
and
communication systems
.
As a major service provider to
NASA, Boeing
operates the
Space Shuttle
and
International Space Station
.
The company also provides numerous military and commercial airline support services.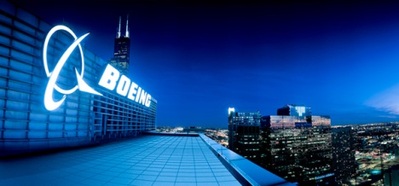 Photo: Boeing

Boeing
has customers in more than
90 countries
around the world and is one of the largest U.S. exporters in terms of sales.
Headquartered in Chicago, Boeing
employs more than
158,000 people
across the
United States
and in
70 countries
.
This represents one of the most diverse, talented and innovative workforces anywhere.
More than 90,000 of our people hold college degrees - including nearly 29,000 advanced degrees - in virtually every business and technical field from approximately 2,700 colleges and universities worldwide.
Our enterprise also leverages the talents of hundreds of thousands more skilled people working for
Boeing
suppliers worldwide.
http://boeing.mediaroom.com/index.php?s=13&cat=48&item=928