ADAM

"It's not a tablet or a book reader. It's a new species, and we call it ADAM. The First."
The
Notion Ink Tablet
will feature the
Pixel Qi
transflective display, and it will have a 10.1 inch screen with a resolution of 1024 x 600, and it measures 6.2 inches by 9.4 inches by 0.5 inches thick and weighs in at 1.35 lbs.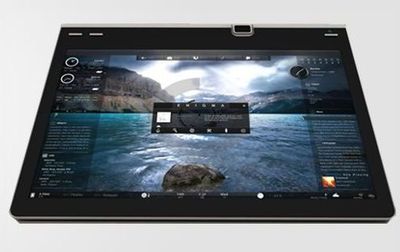 Enhanced
NVIDIA graphics technology
, enabling full flash acceleration, next generation 3D rendering performance for most compelling UI and games.
Let's see how far can I go back!

Out of my college, and I wanted a device to browse internet everywhere, anytime.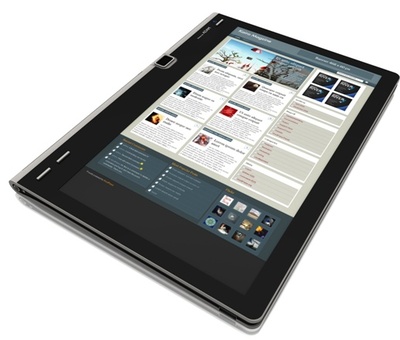 I wanted to read news, stay up to date with all possible RSS feeds.
Read random books, manage my finances.
Write blogs.
Chart out plans.
But this is not what I wanted when I was in college.
There I wanted to read economics.
See how reactions take place.
Design machines in 3D.
Design a robot which can be controlled, programmed.
Take photographs, edit them, share them.
Stay in touch with friends. Send them messages.
Watch serials.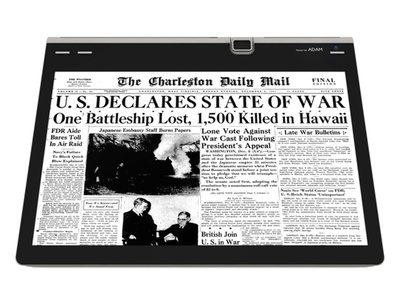 And in school, I wanted to paint, I wanted to learn how to play music.
How to create toys with smaller elements.
Sit back on bicycle and tell my mom, I am coming home, cook aloo-gobhi for me!
Do homework quickly.
Watch all possible serials on Discovery Channel.
Junkyard Wars was my fav, along with Extreme Engineering.
Follow cricket like mad ox.
Collect photos of cars, scientific innovations.
Write stories!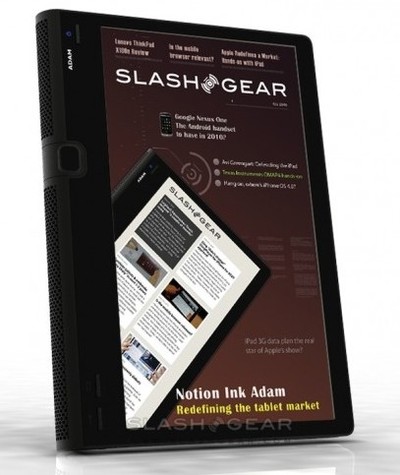 But the actual fun, was when I was a kid.
I wanted to be an astronaut one day, and the other, a cricketer.
Then I will wake up and tell my mom, I will be a scientist, and then suddenly the PM of the nation.
I had dreams that I will fly, touch moon and travel faster than light.
Kept wondering, how gravity works, and followed butterflies.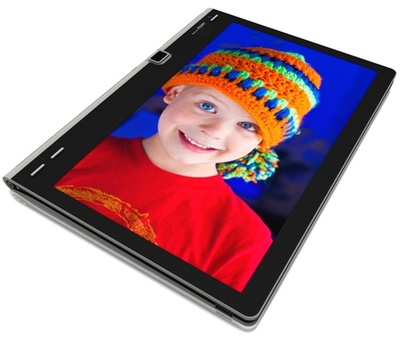 And like everyone, now I am none of them.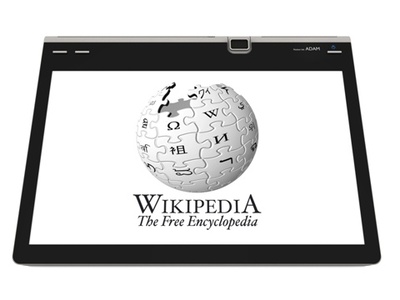 Life moved faster than I thought.
I still remember my dreams of actually landing on Mars!
Life is too harsh.
It stole my childhood dreams.
As a kid I was unaware of destiny.
Unaware of work to live concept.
Thought, that everyone can be happy, learn whatever they want.
And may be this is where I was nurturing this dream.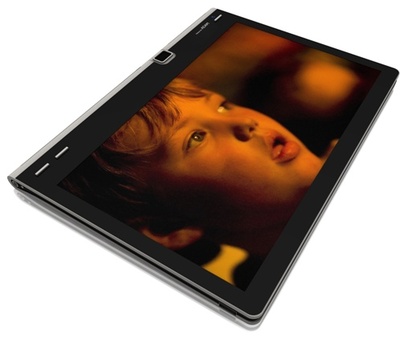 Doesn't matter if I am not able to realize my dreams.
I can do something for everyone else out there.
Do something for a kid to learn music, challenge gravity.
Let students see reactions, smile in awe when they look at such wonderful engineering creations of man.
Let engineers test their concepts.
And let people like me spend time in communication.
One device which can help many without telling them it's helping.
One device which quietly slips into their lives and becomes their best friend.
Their personal diary.
The window to look at their kids out there in some unknown land.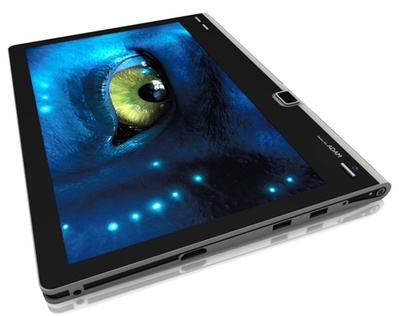 A device, just to realise dreams!
Rohan Shravan, Co-Founder, Notion Inc.

February 18, 2010
http://notionink.wordpress.com/
http://www.notionink.in/adamfeature.php
ADAM - Technical Specifications
Size and Weight
Height : 158 mm
Width : 239 mm
Depth : 13 mm (Measured at outer edge)
Weight : ~600-650 gm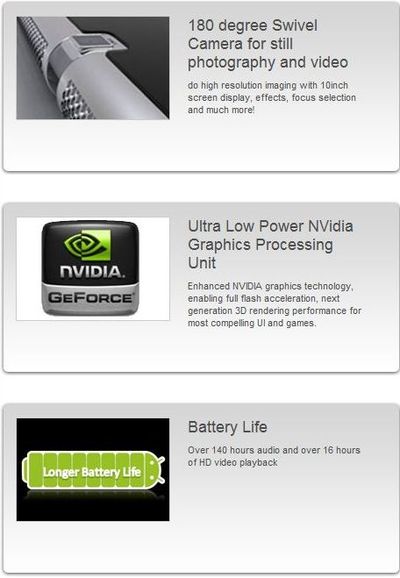 System on Chip
NVIDIA TEGRA 2
Dual Core Cortex A-9
ULP GPU
Storage
16 / 32 GB eMMC
Communication

WLAN - 802.11 b/g
Bluetooth 2.1 A2DP
WWAN - 3G HSDPA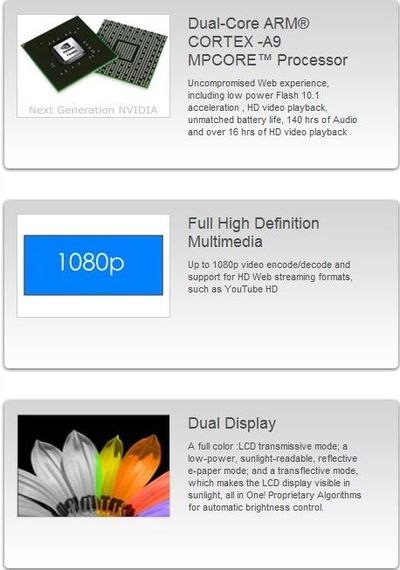 Display

a) Pixel Qi Display
10.1" TFT Liquid Crystal Display
WSVGA (1024 x 600 pixels) resolution
Transmissive, transflective, and reflective display modes
b) Non-Pixel Qi Display
10.1" TFT Liquid Crystal Display
Capacitive touch panel with multi-touch
Matt finish/ Anti glare Coating
Scratch resistant and Finger print
resistant surface
Touch Screen
Capacitive touch panel with multi-touch
Matt finish/ Anti glare Coating
Scratch resistant and Finger print resistant surface
Camera

3.2 MP Swivel Camera (NotionInk Patents)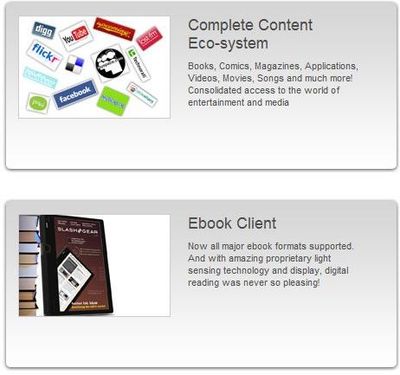 Audio

Two loudspeakers
3.5 mm Headphone jack
Microphone Jack
Built in microphone
Input/Output Ports
USB 2.0 Host - 2
HDMI
MicroSD slot
SIM Card slot
DC connector
Docking Port
Power & Battery
Universal Charger
3 cell standard battery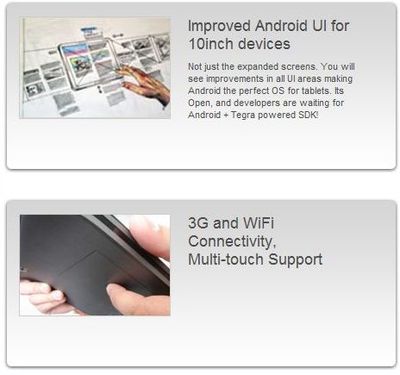 Sensors

3-Axis accelerometer
Ambient light sensing
A-GPS
Keyboard / Mouse
On screen keyboard
Back side trackpad (NotionInk Patents)
http://www.notionink.in/adamtechspecs.php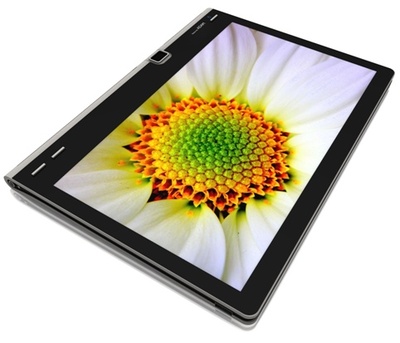 Video
Notion Ink Adam - First Look
http://www.youtube.com/watch?v=LPowc1yM0NQ&feature=related
Video
Notion Ink Pixel Qi tablet with Nvidia Tegra2 processor
http://www.youtube.com/watch?gl=US&v=WxgRBC47SAo
Video
Nvidia-Powered Devices at CES Including Notion Ink Slate with Pixel Qi Screen!

http://www.youtube.com/watch?v=_Q-bw2bg7fE&feature=related
Video
Tablet Notion Ink con display Pixel Qi colori/epaper
http://www.youtube.com/watch?v=2wtbf1STPQ0&feature=related
Video
NVIDIA Tegra Tablets auf der CES 2010
http://www.youtube.com/watch?v=mF1ok1OPPV8&feature=fvw
Video
ICD Ultra tablet with NVIDIA Tegra 2

http://www.youtube.com/watch?v=forrNy-PPjY&NR=1
Video
Hands-on with the Notion Ink Adam Tablet

http://www.youtube.com/watch?v=Gg3Z4YOD9Zg&NR=1