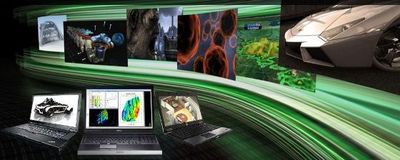 Photo: NVIDIA

The fun stuff you love, at your fingertips, right now.
NVIDIA® Tegra
™-based tablets and smartbooks deliver an ultra-portable multimedia web experience with phenomenal battery life.
Which means they go where you go, and give you what you want, whenever you want.
Amazing HD movies, stunning mobile games, immersive 3D sports, and more.
Addicted to Facebook?
Get the full versions of your social networking sites at lightning fast speed.
Really into music?
Hear your songs with incredible clarity.
Feel like a movie?
Grab the family or a few friends, plug into a big screen, and enjoy in HD.
Carry less.
Experience more.
Next Generation NVIDIA Tegra
The Next Generation NVIDIA® Tegra
™ mobile web processor was designed to power the new generation of tablets, slates, smartbooks, e-readers, automotive safety and entertainment solutions, and Internet TV boxes.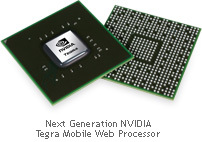 Photo: NVIDIA

NVIDIA Tegra
delivers an uncompromised Web experience, including ultra low power Flash 10.1 acceleration, 1080p video playback, 3D touchscreen UI support, and unmatched battery life.
Key Features
Dual-core ARM® Cortex -A9 MPCore™ Processor
• Symmetric Multi-Processing support for blazing fast web browsing performance, improving load times and rendering of complex pages
• Processing efficiency of Cortex-A9 provides industry leading performance in lowest power envelope
Ultra Low Power NVIDIA Graphics Processing Unit (GPU)

• Enhanced NVIDIA graphics technology, enabling full Flash acceleration for an uncompromised HD web browsing experience
• Next generation 3D rendering performance for the most compelling user interfaces and advanced mobile games
Full High Definition Multimedia
• Up to 1080p video encode/decode and support for HD Web streaming formats, such as YouTube HD
• Complete HW accelerated HD multimedia engine for visually stunning movie playback at lowest possible power
NVIDIA Low Power Management Architecture
• Effective power management techniques, such as dynamic voltage and frequency scaling, for ultra-efficient power consumption across all use cases
• Low-power design delivers over 140 hours audio and over 16 hours of HD video playback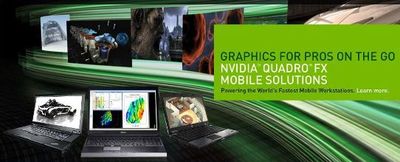 Photo: NVIDIA
Specifications

Processor and Memory Subsystem
• Dual-core ARM® Cortex-A9 MPCore™ processor, up to 1.0 GHz
• 32-bit LP-DDR2, DDR2
Ultra Low Power NVIDIA Graphics
• OpenGL ES 2.0
• Programmable pixel shader
• Programmable vertex and lighting
• 2x 3D graphics performance of previous generation Tegra
Full High Definition Multimedia
• 1080p H.264/VC-1/MPEG-4 Video Decode
• 1080p H.264 Video Encode
• Supports multi-standard audio formats, including AAC, AMR, WMA, and MP3
• Upgraded JPEG encode and decode acceleration
Integrated Image Signal Processing
• Up to 12 megapixel camera sensor support
• Advanced imaging features (AWB, AF, AE, etc.)
Display Subsystem
• True dual-display support
• Maximum display resolutions supported:
• 1080p (1920x1080) HDMI 1.3
• WSXGA+ (1680x1050) LCD
• UXGA (1600x1200) CRT
• NTSC/PAL TV output
http://www.nvidia.com/object/tegra_250.html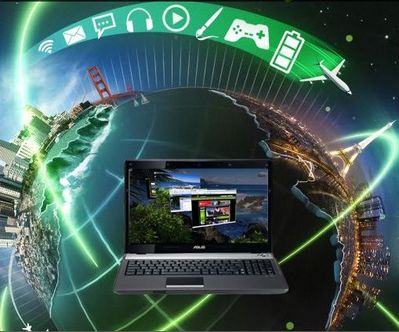 Photo: NVIDIA
NVIDIA Company Info
NVIDIA
(Nasdaq: NVDA) is the world leader in visual computing technologies and the inventor of the
GPU
, a high-performance processor which generates breathtaking, interactive graphics on workstations, personal computers, game consoles, and mobile devices.
NVIDIA
serves the entertainment and consumer market with its
GeForce
® products, the professional design and visualization market with its
Quadro
™ products, and the high-performance computing market with its
Tesla
™ products.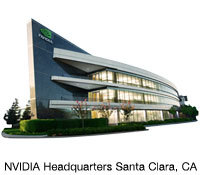 Photo: NVIDIA
These products are transforming visually-rich and computationally-intensive applications such as video games, film production, broadcasting, industrial design, financial modeling, space exploration, and medical imaging.
Ownership:
NVIDIA was founded in 1993 and is publicly traded on the Nasdaq stock market under the symbol NVDA.
Employees:
Over 5,000 employees worldwide.
Headquarters
: Santa Clara, California, USA
Offices

Europe:
England, Finland, France, Germany, Russia
Asia:
China, India, Japan, Korea, Taiwan

Photo: NVIDIA
NVIDIA Products

GeForce®
GPUs dedicated to graphics and video.

Desktop and notebook PCs equipped with GeForce GPUs deliver unparalleled performance, crisp photos, high-definition video playback, and ultra-realistic games.
GeForce notebook GPUs also include advanced power management technology to deliver high performance without sacrificing battery life.
Quadro™
A complete range of professional solutions engineered to deliver breakthrough performance and quality.
Certified for all leading professional graphics applications. #1in professional graphics segment share.
NVIDIA Quadro Plex is the industry's first dedicated visual computing system (VCS).
Tegra™
Visual computing for mobile devices.
NVIDIA® Tegra
™ is a complete computer-on-a-chip, smaller than a US dime (10-cent piece), designed from the ground up to enable the "visual PC experience" on a new generation of mobile computing devices while consuming the smallest amount of power.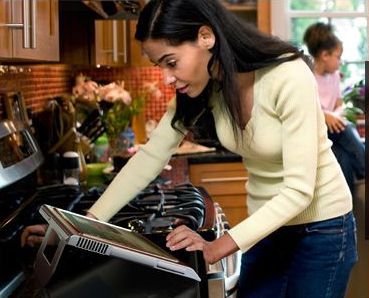 10" Tablet
Photo: NVIDIA

NVIDIA Tegra
products bring intuitive user interfaces, high-definition video, and rich Internet experiences to smartphones, portable navigation devices (PNDs), portable media players (PMPs), mobile Internet devices (MIDs), and more.
Tesla™
GPUs for High Performance Computing.
Designed for high performance computing, NVIDIA's Tesla GPU Computing Solutions support many "must have" features for HPC.
These key computing features include ECC memory for uncompromised accuracy and scalability, support for C and C++ and superior double precision performance.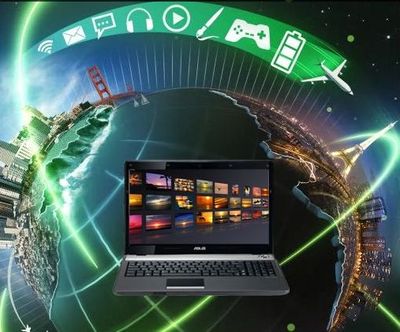 Photo: NVIDIA
When compared to the latest quad-core CPU, Tesla GPU computing processors can deliver equivalent performance at 1/20th the power consumption and 1/10th the cost.
http://www.nvidia.com/page/companyinfo.html
Corporate Milestones
2010
NVIDIA launched its Next Generation Tegra, the world's first processor for the mobile web, specifically designed for the high-resolution needs of tablets.
NVIDIA and Audi announced that NVIDIA GPUs power the navigation and entertainment systems in all 2010 Audi vehicles worldwide.
2009
NVIDIA unveiled the Tesla 20-series of parallel processors for the high performance computing (HPC) market, reducing the cost of supercomputing by a factor of 10.
NVIDIA introduced the RealityServer platform for cloud computing, a powerful combination of GPUs and software that streams interactive, photorealistic 3D applications to any web connected PC, laptop, netbook and smart phone.
NVIDIA introduced its next generation CUDA GPU architecture, codenamed "Fermi".
NVIDIA announced that Microsoft's new Zune HD portable media player is powered by the Tegra processor, which gives it exceptional multimedia capabilities.
NVIDIA introduced the Quadro Digital Video Pipeline, the industry's first integrated GPU-based platform for broadcasters to acquire, process and deliver virtual effects to video.
21 new ION-based products introduced at Computex 2009.
NVIDIA and industry partners unveiled 12 new high-definition mobile Internet devices (MIDs) all powered by the Tegra processor.
The NVIDIA ION graphics processor earned the prestigious "Best Choice of Overseas Enterprise" award from the Taipei Computer Association.
NVIDIA and Acer reshaped the PC landscape by setting a new standard for small PCs with the introduction of the world's first NVIDIA ION-based PC, the Acer AspireRevo.
GPU Ventures Program launched globally with intent on identifying, supporting and investing in early stage companies leveraging the GPU for visual and other computing applications.
NVIDIA unveils the NVIDIA Tegra 600 Series computer-on-a-chip that enables a $99, always-on, always-connected HD mobile internet device (MID) that can go days between battery charges.
National Taiwan University (NTU), one of the world's leading research universities, was named Asia's first CUDA Center of Excellence.
NVIDIA 3D Vision for GeForce introduced at CES, bringing new dimension to photos, videos and games.
2008
NVIDIA GeForce 9400 with Atom Creates a New Class of Affordable Premium PCs.
NVIDIA announces the availability of the GPU-based Tesla Personal Supercomputer, delivering the equivalent computing power of a cluster, at 1/100th of the price.
For the 2nd year running, NVIDIA's CUDA wins PC Magazine's Technical Excellence Award.
NVIDIA's GeForce 9400M adopted by Apple for its incredible new Apple MacBook, MacBook Pro, and MacBook Air notebooks.
Adobe natively supports NVIDIA's graphics processing units (GPUs) in the Adobe Creative Suite 4.
NVIDIA Launches its new family of GeForce GTX 200 graphics processors
NVIDIA Launches new Tesla 10 series computing solutions
NVIDIA Launches the Tegra family of processors, the world's first single-chip computer
NVIDIA announced that it is a founding member of Stanford University's new Pervasive Parallelism Lab (PPL)
NVIDIA named to BusinessWeek Top 50 List
NVIDIA named to Fortune's Most Admired Companies List
NVIDIA wins Government of Maharashtra award for innovation in research and development
NVIDIA makes CUDA toolkit and SDK available to Mac users
NVIDIA closes acquisition of AGEIA
NVIDIA closes acquisition of Mental Images
2007
NVIDIA named Forbes' 2007 Company of the Year
NVIDIA named Most Respected Fabless Semiconductor Company by Global Semiconductor Alliance
NVIDIA achieves first $1 billion quarter
NVIDIA launches Tesla; Wins PC Magazine's Technical Excellence award
NVIDIA launches CUDA; Wins Popular Science's Best of What's New and HPCWire Readers' Choice awards
NVIDIA launches GeForce 8 notebook PCs with SLI technology (first DX10 notebooks in the market)
NVIDIA launches new professional graphics solutions: Quadro FX 5600, Quadro FX 4600, Quadro Plex VCS Model IV
NVIDIA wins EE Times' ACE Company of the Year award
NVIDIA opens Nasdaq Stock Market to celebrate 8th anniversary of IPO; NVIDIA graphics power Nasdaq MarketSite Tower
NVIDIA wins Technology & Engineering Emmy award
NVIDIA closes acquisition of PortalPlayer
2006

New NVIDIA Quadro® FX 3500M graphics solution redefines mobile workstation performance and capabilities
NVIDIA launches the SLI Marketplace; the ultimate destination for consumers looking to buy, build, or sell PC Gaming products
NVIDIA launches digital Bollywood initiative
NVIDIA unveils CUDA™; the GPU Computing revolution begins
NVIDIA and TSMC celebrate 500M processor milestone
Launch of GeForce 8800 and NVIDIA nForce 680i; a profound advancement in graphics architecture
Acquisition of Hybrid Graphics Ltd.; the leading developer of embedded 2D and 3D graphics software for handheld devices
Acquisition of ULi Electronics Inc.; one of the PC industry's most highly-regarded core logic developers
2005

Launch of NVIDIA GeForce Go 7800; the World's Fastest GPU for Notebooks
Announcement of NVIDIA nForce4 SLI Intel Edition; the First NVIDIA Motherboard Platform Solution for Intel
Introduction of NVIDIA's Second-Generation GPU for Shader Model 3.0; GeForce 7800 GTX
Announcement of Development of New Graphics Processor (RSX) with Sony Computer Entertainment (SCE) for PLAYSTATION®3
2004

Launch of NVIDIA GoForce 3D 4500; the World's First 3D Handheld GPU
Introduction of SLI; the Industry's First Multi-GPU Solution
Launch of NVIDIA GeForce 6800; the First Shader Model 3.0 GPU
Introduction of Gelato; the Industry's First Hardware-Accelerated Film Renderer
Shipment of 300 Millionth Processor
2003

Launch of NVIDIA nForce3; a New Family of MCPs
Announcement of NVIDIA ForceWare; a Powerful Suite of Software Tools and Utilities
Introduction of NVIDIA GoForce; the First Megapixel Handheld Media Processor
Acquisition of Media Q; the Leading Provider of Graphics and Multimedia Technology for Wireless
Announcement of NVIDIA Personal Cinema FX; the Industry's Most Complete Digital Entertainment Solution
Introduction of NVIDIA Quadro FX Family; the First Fully Programmable Workstation GPU
10 Year Anniversary
2002
Launch of GeForce FX; The Dawn of Cinematic Computing
Launch of the NVIDIA GeForce4 Family: Top-To-Bottom Product Line of Desktop and Mobile GPUs
Launch of NVIDIA nForce2; the Digital Media Platform Processors
Over 100 Million Processors Shipped
2001
Named the Fastest Semi-Conductor Company to Hit $1B in Revenue
Added to S&P 500
License of Shader Technology to Evans & Sutherland
Announcement of the Industry's First Mobile Workstation GPU; NVIDIA Quadro2 Go
Entrance into the Integrated Graphics Market; Launch of NVIDIA nForce Platform Processing Architecture
Shipment of XBOX GPU and MCP
Introduction of the Industry's First Programmable GPU; NVIDIA GeForce3
2000
Acquisition of Assets of 3dfx Graphics
Announcement of NVIDIA GeForce2 Go; the World's First Mobile GPU
Chosen as GPU and MCP for Microsoft's XBOX; Delivering 2 Processors and Licensing Breakthrough 3D Technology to Microsoft
Launch of NVIDIA GeForce2 Ultra; the World's First Gigapixel GPU
Introduction of NVIDIA Quadro2 Pro; the World's Fastest Workstation GPU
Extension of IP Portfolio with S3 Cross License
1999

Introduction of NVIDIA Quadro; the World's First Workstation GPU
Launch of NVIDIA GeForce 256; the World's First GPU
Announcement of the First 32-bit Frame Buffer; NVIDIA RIVA TNT2
Entrance into Commercial Desktop PC Market; Launch of NVIDIA Vanta Processor
Initial Public Offering
1998
NVIDIA Moves to New Location in Santa Clara, California
Announcement of NVIDIA RIVA 128ZX
Introduction of the First Multitexturing 3D Processor; NVIDIA RIVA TNT
1997

Introduction of NVIDIA RIVA 128; the First High-Performance, 128-bit Direct3D Processor
1996

Key Role Established with Game Developer Community by Supporting Direct 3D
1995
Launch of NV1; NVIDIA's First Product
http://www.nvidia.com/page/corporate_timeline.html
NVIDIA-Powered Devices at CES 2010 Including Notion Ink Slate with Pixel Qi Screen.
ADAM - The Notion Ink Tablet will feature the Pixel Qi transflective display, and it will have a 10.1 inch screen with a resolution of 1024 x 600, and it measures 6.2 inches by 9.4 inches by 0.5 inches thick and weighs in at 1.35 lbs.
Photo: Notion Ink
Jen-Hsun Huang
Co-founder, President and Chief Executive Officer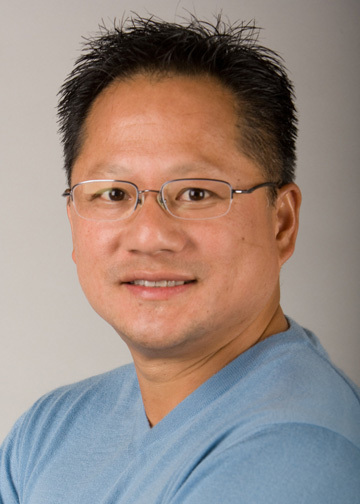 Jen-Hsun Huang, Co-founder, President and Chief Executive Officer
Photo: NVIDIA
Jen-Hsun Huang co-founded NVIDIA in 1993 and has served since its inception as president, chief executive officer, and a member of the board of directors.
Under his leadership, NVIDIA invented—and led the development of—the graphics processing unit (GPU), pioneering its use in devices as varied as smart phones, PCs, cars, workstations, and supercomputers.
NVIDIA GPUs deliver unmatched visual computing with breathtaking, interactive graphics that delight users, and massive parallel computing power that accelerates work on the world's most challenging technical problems.
NVIDIA was named Company of the Year in 2007 by Forbes magazine and has ranked #1 over the past two years in Innovation in the Semiconductor industry by Fortune.
Huang is a recipient of the Dr. Morris Chang Exemplary Leadership Award from the Fabless Semiconductor Association in recognition of his exceptional contributions to driving the development, innovation, growth, and long-term opportunities of the fabless semiconductor industry.
He has received the Daniel J. Epstein Engineering Management Award from the University of Southern California, and an honorary doctorate from Oregon State University.
Prior to founding NVIDIA, Huang held engineering, marketing, and general management positions at LSI Logic, and was a microprocessor designer at Advanced Micro Devices.
He holds a BSEE degree from Oregon State University and an MSEE degree from Stanford University.
http://www.nvidia.com/object/bio_huang.html
Chris A. Malachowsky
Co-Founder, NVIDIA Fellow and Senior Vice President, Engineering and Operations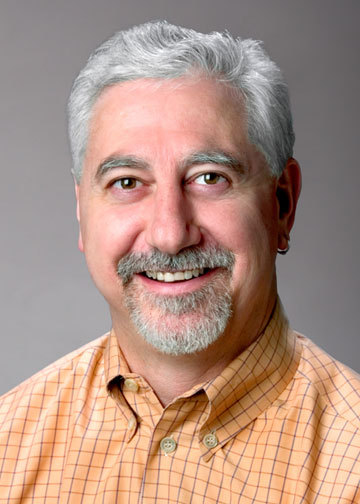 Chris A. Malachowsky, Co-Founder, NVIDIA Fellow and Senior Vice President, Engineering and Operations
Photo: NVIDIA
Chris Malachowsky co-founded NVIDIA in 1993.
He has been instrumental in managing, defining, and driving the company's core technologies as it has grown from a startup to a Fortune 1000 company with a worldwide reputation for engineering and execution excellence.
He previously held engineering and technical leadership positions at HP and Sun Microsystems.
A recognized authority on IC design and methodology, he has authored close to 40 patents, most of which relate to graphics.
Malachowsky holds a BSEE degree from the University of Florida and an MSCS degree from Santa Clara University.
http://www.nvidia.com/object/bio_malachowsky.html
Video
NVIDIA-Powered Devices at CES Including Notion Ink Slate with Pixel Qi Screen!


http://www.youtube.com/watch?v=_Q-bw2bg7fE&feature=related
Video
NVIDIA Tegra Tablets auf der CES 2010

http://www.youtube.com/watch?v=mF1ok1OPPV8&feature=fvw
Video
Notion Ink Pixel Qi tablet with Nvidia Tegra2 processor
http://www.youtube.com/watch?v=WxgRBC47SAo
Video
ICD Ultra tablet with NVIDIA Tegra 2

http://www.youtube.com/watch?v=forrNy-PPjY&NR=1