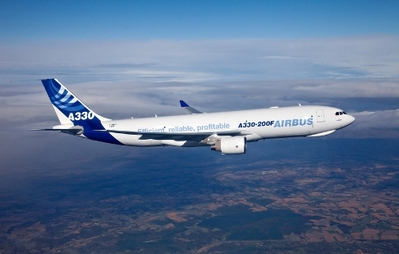 A successful maiden flight on 5 November 2009 marked the startup for the A330-200 Freighter's 180-hour flight test and certification campaign.
Photo: Airbus

Airbus
, an
EADS
Company, is a leading aircraft manufacturer with the most modern and comprehensive product line.
Airbus
is one of the world's leading aircraft manufacturers, and it consistently captures approximately half or more of all orders for airliners with more than 100 seats.
Airbus' mission is to provide the aircraft best suited to the market's needs and to support these aircraft with the highest quality of service.
The
Airbus
product line comprises
14
aircraft models
, from the
100
-seat single-aisle
A318
jetliner to the
525
-seat
A380
- which is the largest civil airliner in service.
As of December 31, 2009, combined orders for Airbus single-aisle and widebody jetliners totaled more than
9,400
, with over
5,990
aircraft delivered to customers worldwide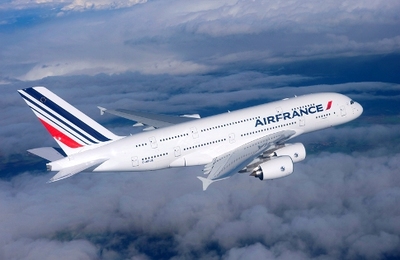 Air France will become the first operator to offer A380 service between Europe and the Americas when it begins flying this jetliner on the Paris-New York route in November (30 October 2009).
Photo: Airbus

Airbus
also has expanded into the military transport aircraft sector.
The
A400M
multi-role military airlifter - being produced under management of the
Airbus Military
company - will replace ageing fleets of
C-130 Hercules
and
C-160 Transalls
.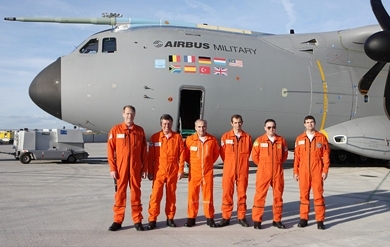 Airbus' all-new A400M multi-role military airlifter completed its maiden flight on 11 December 2009 from Seville, Spain.
Photo: Airbus Military
In addition, aerial tankers for in-flight refueling and transport missions are available in aircraft variants derived from the
A310
and
A330
.
310 new orders prove eco-efficient aircraft to be high in demand
Airbus delivered a total of 498 aircraft in 2009
.
The figure is a new company delivery record for a single year and is 15 more aircraft than in 2008.
The figure includes
402 A320 Family aircraft
,
86 A330/A340s
which are both records for a single year, and
10 A380s
.
Airbus Military
, the military aircraft division of Airbus, delivered
16
light and medium transport aircraft.

Airbus has marked another milestone with the delivery of its 6,000th aircraft in the company's 40-year history. This handover of Emirates' eighth A380 brings the total number of Airbus 21st century flagship jetliners received by customers to 25. Emirates has 58 A380s on order, and will use these next-generation aircraft to meet ambitious expansion plans and traffic demand.
Photo: Airbus
Despite challenging market conditions,
Airbus
also reached its order intake target.
Overall,
Airbus won a total of 310 orders gross
(271 net) valued
US$34.9 billion gross (US$30.3 billion net)
at list prices, or
54 per cent
of the worldwide market share of aircraft beyond
100 seats
.
The new orders include
228 A320 Family aircraft
and
78 A330/A340/A350 XWB Family aircraft
, and four new orders for the
A380
.
Just three years after launch Airbus also surpassed the
500th
order milestone for the next generation
A350 XWB
.
At 2009 year end,
Airbus
had a total order backlog of
3,488 aircraft
, valued at
US$437.1 billion
, or equalling six years of full production.

As the birthplace of Airbus, France is home to three of the company's manufacturing sites, along with three final assembly lines and the company's headquarters. Nearly 11,500 people are employed at facilities in the Toulouse area, where final assembly lines are located for the A320 Family, A330/A340 and A380. A typical final assembly process for Airbus aircraft includes joining the fuselage sections and wing mating, followed by the installation of the horizontal tail plane and vertical fin, engine pylons, landing gear and engines. After cockpit outfitting, system tests are performed, including avionics, electrical, hydraulic, flight control, air conditioning, fuel tank pressurization and landing gear.
Photo: Airbus
Further company streamlining saw the formation of
Airbus Military
, signaling the full integration of military aircraft programmes within
Airbus
.
The maiden flight of the
A400M (MSN 1)
in December was a proof-point of the successful re-organisation and new programme set-up.

Today, the Airbus sites at Filton, near Bristol, and Broughton, North Wales, are part of the Centre of Excellence - Wing/Pylon – working together with Airbus sites in Bremen, Germany and St. Eloi in Toulouse. Around 140,000 jobs are generated in the UK by Airbus wing work, directly as well as indirectly through supplier contracts.
Photo: Airbus
Conversion work for the first
A330-based Multi-Role Tanker Transport (MRTT) aircraft
, for the
Royal Australian Air Force (RAAF)
was completed, and is on track for delivery in mid 2010.
The
MRTT
received a further incremental order for three aircraft, raising the total to
28
.
On the smaller transport aircraft front, the year was successful, with
19
orders from seven customers.
These include one order for the
C-212
, two for the
CN-235
and 16 for the
C-295
.

Hamburg, the headquarters of Airbus Deutschland and the largest site in Germany, employs more than 10,000 people and plays a decisive role in the development and engineering of all Airbus aircraft. Final assembly takes place here for three of the A320 Family's four members: the A318, A319 and A321. As headquarters for Airbus' Centre of Excellence - Fuselage and Cabin, Hamburg is the site where the A300/A310, A320 Family aircraft, and the A380 are fitted with their cabin interiors and painted for final delivery.
Photo: Airbus
Airbus' turn-around programme, Power 8 again exceeded targets, delivering new cost savings of around
2.0 billion Euros
gross on a recurring basis.
Power 8+ aims to add a further
650 million Euros
in savings for
Airbus
by 2012.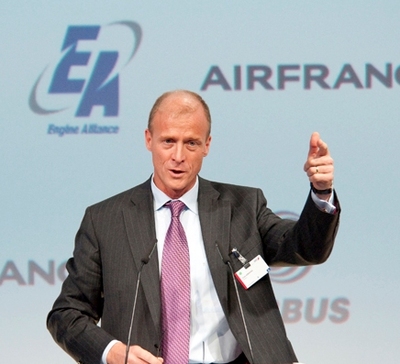 Tom Enders, Airbus President and Chief Executive Officer.
Photo: Airbus
"Considering the economic and financial environment we have done rather well in 2009. Great teamwork and flexibility at Airbus and a close cooperation with customers, suppliers and finance institutions were key to success. We plan to keep production at 2008/2009 levels, but we need to remain prudent and flexible. We are not out of the woods yet," said
Tom Enders, Airbus President and CEO
.
"Our prime mission in the coming weeks is to secure a solid financial footing for the A400M. After nine months of intense deliberations with our government customers, it's time for decisions."
12 January 2010
http://www.airbus.com/en/presscentre/press-releases/pressreleases_items/10_01_12_2009_results.html
Charles Champion nominated as Head of Engineering
Charles Champion
has been appointed
Head of Engineering
with effect from
1st April 2010
, replacing
Patrick Gavin
who will retire after many years of dedicated service.
In this position,
Mr Champion
will be a member of the Airbus Executive Committee.


Charles Champion
Photo: Airbus

Charles Champion is currently Executive Vice President Customer Services
, a position he has held since April 2007.
His replacement will be nominated shortly.
"I would like to thank Patrick for his dedication and commitment to Airbus, and especially for his leadership and vision in integrating our engineering capabilities" said
Tom Enders, Airbus President and CEO
.
"Charles will bring 30 years of experience in a wide variety of functions across the company to this key post. He's simply the best man for the job."
Charles Champion
began his professional career in 1980 with Aérospatiale as an engineer in aerodynamics.
He held various positions in the
Aircraft Division's Production Department
before being in charge of the single-aisle aircraft Final Assembly Lines from 1988 to 1992.
In 1993,
Charles Champion
was promoted to
Director of Airbus Programmes at Aérospatiale's headquarters in Paris
. He returned to Toulouse in 1995 as
Managing Director of the Future Large Aircraft (FLA)
military transport project, now known as the
A400M
.
In 1998
Charles Champion joined Airbus Industrie (now Airbus) as Vice President Sales for Eastern and Southern Europe and the C.I.S
(Commonwealth of Independent States) being in charge of Airbus' commercial activities for some 25 countries.
From May 1999 until 2001, he held the position of Product Executive for Airbus' Single Aisle Programme, before being appointed Head of the A380 programme in 2001.
Born in 1955 near Paris, France.
Charles Champion holds a Master of Science degree from Stanford University.
15 January 2010
http://www.airbus.com/en/presscentre/press-releases/pressreleases_items/10_01_15_charles_champion_no-minated.html