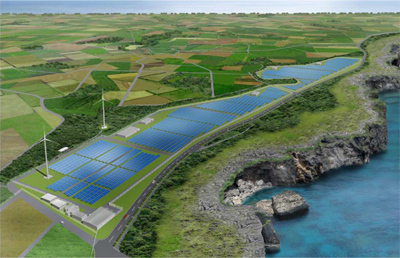 Artist's Impression of the Photovoltaic Power Plant in the Miyako Island Microgrid Verification Test Facility
Photo: Toshiba Corporation
18 January, 2010
TOKYO - Toshiba Corporation
(TOKYO: 6502) today announced that it has won a major contract for the development and supply of facilities for "verification of a microgrid system on a remote island" from
The Okinawa Electric Power Company, Incorporated
(OEPC) (TOKYO: 9511).
The verification process will investigate the impact of introducing new energy sources into the existing power system network on
Miyako Island
, in the south of
Okinawa
prefecture, and will start in autumn this year.
The output power carried by the microgrid and smart grid technologies will be on the largest scale yet promoted in
Japan
, and the order is the first that Toshiba has secured for a microgrid and smart grid system.
The Miyako Island
verification process will be carried out under "Fiscal 2009 verification of stand-alone new energy systems on remote islands," a project supported by the
Agency for Natural Resources and Energy in Japan's Ministry of Economy, Trade and Industry
.
The process will aim to understand the impact of integrating large-scale renewable energy sources into a transmission and distribution system and investigate power system operation and stabilization.
While photovoltaic power generation can contribute to meeting power demand, its output is highly variable, influenced by weather conditions.
The testing will focus on the performance of next generation supervisory control systems for supply and demand management in smart grid systems, including the
µEMS (Micro Energy Management System)
for renewable energy sources.
As prime contractor for the project,
Toshiba
will be responsible for all engineering work prior to the start of construction, the procurement of major equipment and components, such as supervisory control system and rechargeable batteries, and the construction of a photovoltaic power generation system with a rated output of 4MW.
The variable output of the photovoltaic cells will converted to clean AC by integrated power conditioners developed by
Toshiba Group
.
These have a conversion efficiency of 97.5%, which places them in the world's highest class for power conditioners (As of January 2010, for the 250kW output power conditioner).
The system will also be the first to adopt the
SCiB, Toshiba's innovative rechargeable battery
, as a part of the electricity storage system.
The photovoltaic modules used will be polycrystalline solar panels sourced primarily from
Sharp Corporation
(TOKYO: 6753), plus other suppliers.
Driven by a growing awareness of the need to counteract global warming, the market for microgrid and smart grid systems, which enhance the operation of power transmission and distribution systems in various ways, is expected to see considerable expansion in coming years. In this market environment,
Toshiba
made its full-scale entry into the microgrid and smart grid systems business on October 2009, when its
Transmission Distribution & Industrial Systems Company
established a dedicated department to promote the business.
Toshiba
will promote business expansion of smart grid systems by utilizing its existing global sales channels and expects to achieve an annual business scale of about
100 billion yen by fiscal year 2015
.
Outline of Miyako Island Microgrid Verification Test Facility (plan)

- Location
: Miyako Island, Okinawa prefecture
- Photovoltaic power output
: Approx. 4MW
- Solar panel installation area
: Approximately 4.5 hectares
- Rechargeable battery
: 4MW
- Existing power plants
:
Wind power generation
: 900kW x 4, 600kW x 1
Thermal power generation
: 21,500kW, 40,000kW
Gas turbine power generation
: 15,000kW
- Start of construction
: April, 2010
- Completion of construction
: October, 2010
http://www.toshiba.co.jp/about/press/2010_01/pr1801.htm