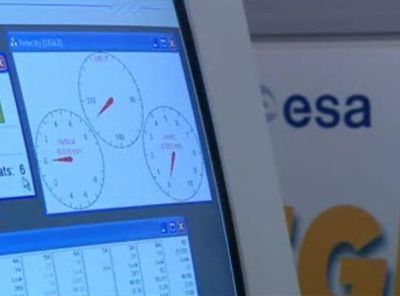 SSTL has been selected by ESA
to supply 14 navigation payloads for the deployment phase of the
Galileo satellite navigation system
which was announced by the
European Commission (EC)
today, 7th January.
SSTL
is teamed with
OHB–System
of
Bremen, Germany
for the provision of these fully operational
Galileo satellites
.
The two companies agreed to work together as a "core team" on
Galileo
at the end of 2007, with
OHB
taking the role of prime contractor and builder of the spacecraft "bus" and
SSTL
taking full responsibility for the navigation payloads onboard the satellite that will form the heart of the
Galileo
navigation system
.

Each satellite will carry two different types of highly accurate atomic clocks which are used to generate navigation messages that are broadcast by the satellites directly to the users' Galileo receivers.
Under the contract,
SSTL
will be responsible for the design, manufacture and test of these navigation payloads using equipment procured mainly from European suppliers.
SSTL
will also manufacture some of the electronics to interface the satellite bus built by
OHB-System
and the navigation payload.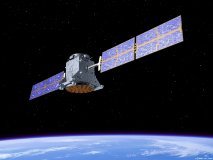 GIOVE-A in orbit
Photo Credit: SSTL
Commenting on the award
SSTL Group CEO Dr Matt Perkins
stated
"The award of this contract is an important step for SSTL. Our satellites are already providing operational services for many government and commercial customers and we are pleased to have a major role within Europe's flagship Galileo programme. The experience gained on GIOVE-A will help us to ensure the contract will be a success for the EC and ESA. This programme will also help to establish SSTL as a provider of communications and navigation satellites into other markets."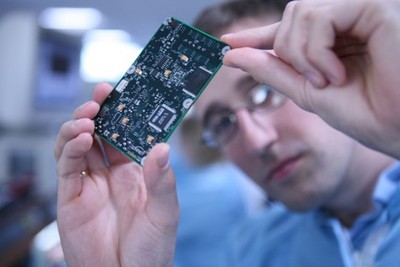 SSTL Laboratory
Photo Credit: SSTL

SSTL's Executive Chairman, Sir Martin Sweeting
, added
"This award is great news for the UK space industry and once again confirms SSTL as a world leader in sophisticated satellites and payloads, building on its 25-year history pioneering small satellites with 34 already launched, truly changing the economics of space".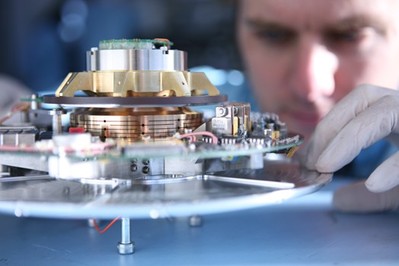 Wheel balancing in SSTL Cleanroom Integration
Photo Credit: SSTL
SSTL's pioneering work as prime contractor for the
GIOVE-A satellite
and in testing the Galileo signals will prove invaluable for the execution of this contract.
GIOVE-A
was the first part of the in-orbit validation programme for Galileo, broadcasting the first signal to successfully secure the critical Galileo frequency filing with the
International Telecommunications Union (ITU)
at 17:25 GMT on the 12th January 2006.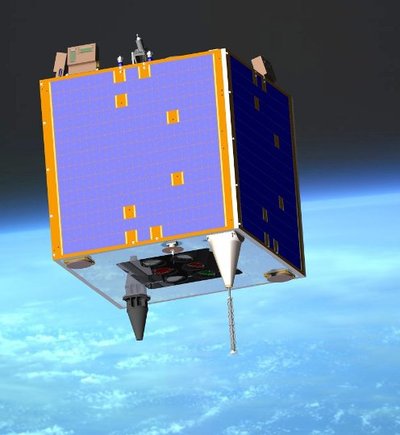 Deimos-1 in orbit.
Photo Credit: SSTL
On the 2nd May 2007
GIOVE-A
successfully transmitted the first
Galileo
navigation message from space, containing the information needed by users' receivers to calculate their position.
GIOVE-A
was required to work for 27 months and has greatly exceeded this – it is now in its fifth year of operations and continues to perform well.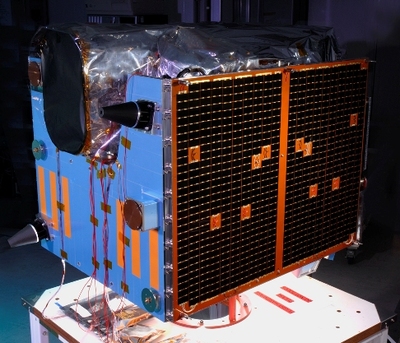 RapidEyes
Photo Credit: SSTL
The first
Galile
o satellites produced under this contract will be launched from 2013.
To help improve the overall schedule the team was authorised by the
EC
and
ESA
to initiate the procurement of long lead items for the full system during 2009 which will enable the team to make a quick start towards an operational
Galileo constellation
.
About SSTL
Surrey Satellite Technology Limited (SSTL)
is the world's leading small satellite company, delivering operational space missions for a range of applications including
Earth
observation, science and communications.
The Company designs, manufactures and operates high performance satellites and ground systems for a fraction of the price normally associated with space missions, with 300 staff working on turnkey satellite platforms, space-proven satellite subsystems and optical instruments.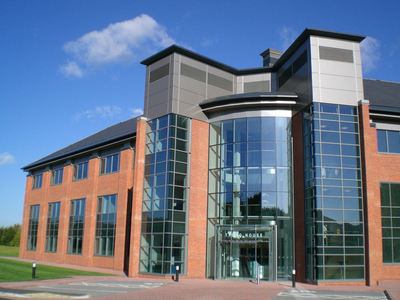 Corporate Headquarters – Guildford, Tycho House
Photo Credit: SSTL
Since 1981 SSTL has launched
34 satellites
as well as providing training and development programmes, consultancy services, and mission studies for
ESA, NASA
and commercial customers, with its innovative approach that is changing the economics of space.
Based in
Guildford, UK, SSTL
is owned by
EADS Astrium NV
.
SSTL is a privately owned company
.
EADS Astrium NV
owns 99% of the shares
The University of Surrey
owns 1% of the shares
The Surrey story is a showcase of ingenuity, ambition and engineering expertise.

In the mid-1970s a group of highly skilled aerospace researchers were working in the
Electrical Engineering Department of the UK's University of Surrey.

At the time, space exploration was something only countries with enormous aerospace budgets, such as the
US
and the (then)
Soviet Union
, could dream about.
Space exploration had been bought somewhat closer when the first man had set foot on the moon less than a decade earlier, but it was still far out of reach for most countries.
The belief at the time was that space was such a different environment to Earth that anything sent into the atmosphere needed to be specially designed for the harsh conditions of space. Naturally, this made building satellites incredibly expensive and time-intensive.
Researchers at Surrey believed it could be done more quickly and much cheaper.
They knew that it took up to 15 years to create and test this space-specific technology, by which time it was often obsolete.
"The consumer market was leading the way in technology investment by then," says
Sir Martin Sweeting
, one of the original researchers and now
Chairman of Surrey
.
"New computers, mobile phones and DVDs were being created all the time. Imagine anyone wanting to use a 15 year old PC these days."
They decided to experiment by creating a satellite using standard consumer technology, known as 'commercial off the shelf' (COTS) components.
The results were surprising.
"There's no question that space travel makes for a very bumpy ride. But we tested every component of the satellite in a specially designed chamber that replicated the space environment. The chamber exposed everything to high and low temperatures, high speeds and movement. Everything still worked afterwards and we still test all our satellite equipment in the same way,"
Sir Martin
says.
That first satellite,
UoSAT-1
(University of Surrey satellite) was launched in 1981 with the help of NASA, who had become very interested in the group's work.
The mission was a great success, outliving its planned three-year life by more than five years.
Most importantly, the team showed that relatively small and inexpensive satellites could be built rapidly to perform successful, sophisticated missions. To prove it,
UoSAT-2
was built in in just six months and launched in 1984.
In 1985, the University formed
Surrey Satellite Technology Limited (SSTL)
as a spin-out company to transfer the results of its research into a commercial enterprise able to remain at the forefront of satellite innovation.
Despite the
Challenger
disaster of 1986 seriously damaging the world's appetite for space exploration, within 10 years the company had launched eight satellites for various governments and businesses.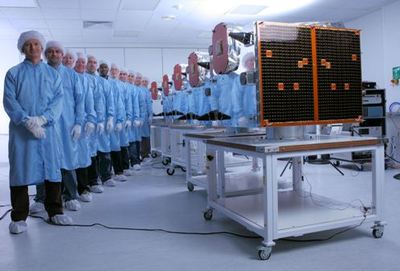 RapidEyes 1-5 with SSTL staff
Photo Credit: SSTL
The growth in company size and the capability delivered to our customers has continued to accelerate.
Today Surrey employs almost 300 staff in the UK, has launched 34 spacecraft, with 14 more under manufacture and is delivering missions that provide ciritical and valuable services to customers across the globe.
In 2008 the Company set up a
US
subsidiary,
Surrey Satellite Technology LLC
with offices in
Denver, Colorado
. At the end of that year,
EADS Astrium NV
bought a 99% shareholding in
SSTL
from the
University of Surrey
, allowing the Company to fulfil its growth potential.
http://www.sst-us.com/About_Surrey/Our_Story
Our Mission
Surrey's mission is to be the recognized world leader in providing affordable access to space. We will achieve this by:
• Leading the small satellite market across the full spectrum of missions in Earth orbit and beyond
• Tailoring price, performance, schedule and risk to meet each customer's requirements
• Stimulating and exploiting research into advanced small satellite systems.
• Fostering a culture of team spirit, innovation and excellence
• Generating consistent and robust financial success for shareholders
Our Culture
The world's best engineers and project managers choose to work at Surrey because:
• We have a passion and commitment to deliver
• We grow and develop people
• We have a pioneering and unique approach to space
• We are informal and friendly
• We encourage the freedom to be curious
• We are flexible and agile in everything we do
Our Values
The values that have driven our success over 28 years are:
• Openness and honesty
• Team spirit
• Commitment
• Valuing each other
Management Team
Chairman:
Professor Sir Martin Sweeting FRS FREng
Chief Executive Officer
: Dr Matt Perkins
Finance Director: Sarah Parker
Business Development and Sales Director: Paul Brooks
Operations Director: Jenny Lorenzi
Engineering Director: Andy Bradford
Projects Director: Jenny Harding
Strategic Director: Dr John Paffett
Commercial Director: Stephen Gibson
DMCii Managing Director: Dave Hodgson
HR Director: Marie Wallis
Company Secretary: Helen Perkins
Directors

Geoffrey Clarke
Dr John Forrest (Deputy Chairman, independent non-executive)
Robert Laine
Olof Lundberg (Independent non-executive)
Bruno Le Stradic
Sarah Parker
Dr Matt Perkins
Professor Sir Martin Sweeting
Patrick Wood
Company Secretary
Helen Perkins
http://www.sstl.co.uk/About_SSTL/Management_and_Ownership
www.sstl.co.uk
Surrey Satellite Technology Limited
Tycho House
20 Stephenson Road
Surrey Research Park
Guildford
GU2 7YE
Tel: 44 (0)1483 803803
Fax: 44 (0)1483 803804
About Galileo
Galileo
is a joint initiative of the
European Commission (EC)
and the
European Space Agency (ESA).
Galileo
will be
Europe's own global navigation satellite system
, providing a highly accurate, guaranteed global positioning service under civilian control. It will be inter-operable with
GPS
and
GLONASS
, the two other global satellite navigation systems.
A user will be able to take a position with the same receiver from any of the satellites in any combination. By offering dual frequencies as standard, however,
Galileo
will deliver real-time positioning accuracy down to the metre range, which is unprecedented for a publicly available system.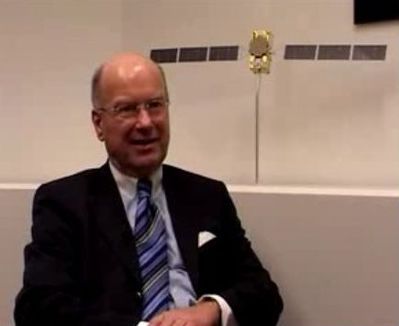 Rainer Grohe, Executive Director, Galileo
It will guarantee availability of the service under all but the most extreme circumstances and will inform users within seconds of a failure of any satellite. This will make it suitable for applications where safety is crucial, such as running trains, guiding cars and landing aircraft.
SSTL Contact:

Joelle Sykes
Surrey Satellite Technology Limited
Tel: +44 (0)1483 804243
Email: j.sykes@sstl.co.uk
Press Contact:
Robin Wolstenholme,
Ballard Communications Management (BCM)
Tel: +44 (0)1306 882288
Email: r.wolstenholme@ballard.co.uk
http://www.sstl.co.uk/News_and_Events/Latest_News/?story=1514
Video
Galileo - Europe's GPS system
http://www.youtube.com/watch?v=hNahhfi60OM
Video
Galileo Satelites 1
http://www.youtube.com/watch?v=Zj7KTD1HFYA&NR=1
Video
Galileo Satelites 2
http://www.youtube.com/watch?v=HM3uxo3l4ho&NR=1
Video
Galileo Satelites 3

http://www.youtube.com/watch?v=JRLJOJnwl7o&NR=1