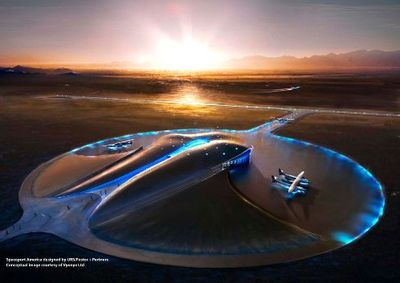 Spaceport America designed by URS/Foster + Partners
Conceptual image courtesy of Vyonyx Ltd
Photo: Spaceport America
LAS CRUCES, NM - December 28, 2009 -
The New Mexico Spaceport Authority (NMSA)
has selected a contractor to provide construction services for the flight apron at the
Spaceport America site
.
After reviewing proposals from several contractors, the
NMSA Board of Directors
awarded construction of the apron to
David Montoya Construction, Inc., of Alameda, NM.

The
$5.75 million
apron project includes all the surfaces around the
Terminal Hangar Facility (THF)
that connect to the runway and other infrastructure at
Spaceport America
.
David Montoya Construction, Inc
., was also awarded the construction of the runway in an earlier bid process, and is far along in that project.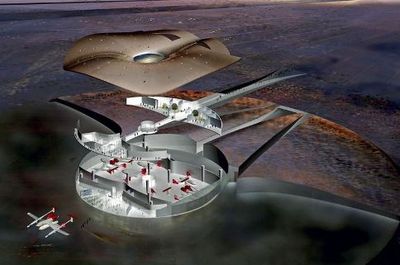 Terminal Hangar Concept, Spaceport America.
Photo: Spaceport America

David Montoya Construction, Inc.
, is recognized by the
Hispanic Business Magazine
as one of the top 500 Hispanic-owned businesses in the
United States
.
The apron will provide approximately 440,000 square feet of surface area outside of the terminal hangar facility to support
Virgin Galactic
and other
Spaceport America
operations.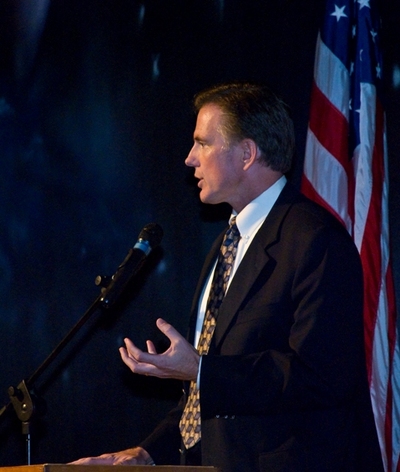 Steve Landeene, Executive Director, Spaceport America
Photo: Spaceport America

Steve Landeene, Executive Director for the NMSA
, expressed excitement about the continuing progress at the spaceport.
"The construction of Spaceport America is moving along on schedule, and I am pleased to see another component of the project going to a New Mexico contractor, bringing jobs and economic opportunity to the people of New Mexico," he said.
"NMSA will continue to issue Request for Proposals (RFPs) and Invitations to Bid (ITB) for more services and construction at the spaceport, and awarding contracts to the best qualified contractors."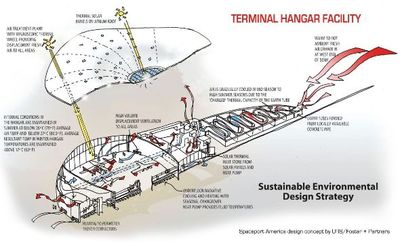 Terminal Hangar Facility. Designed by URS/Foster + Partners
Photo: Spaceport America
The latest RFP/ITB information can be found online at
www.spaceportamerica.com
Spaceport America
is the world's first purpose-built commercial space facility.
Spaceport America
has been working closely with leading aerospace firms such as Virgin Galactic, Lockheed Martin, Moog-FTS, UP Aerospace, and Armadillo Aerospace to develop commercial spaceflight.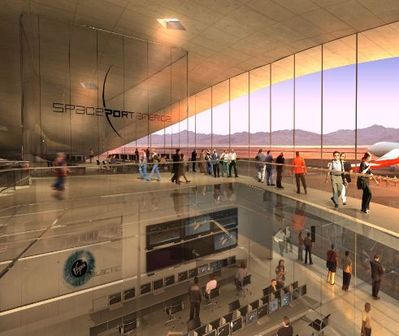 Inside Spaceport Terminal
Photo: Spaceport America

Spaceport America's
10,000-foot long runway is now under construction and is expected to be complete by late summer 2010 with the Terminal Hangar Facility projected to be complete by early 2011.
http://www.spaceportamerica.com/news/press-releases/290-apron-construction-contract-awarded-for-spaceportamerica.html
Greetings from the Executive Director
Spaceport America
is a unique opportunity, and when late last year I got the call offering the chance to lead this effort, I said, "
Tell me more
!"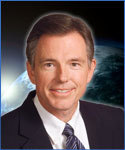 The reason I am here is to be a part of something greater than myself, and to leave a legacy.
I left a nice job in Phoenix, Arizona because I thought I could come to New Mexico and make a difference, be a part of history, and improve the lives of folks across the nation and the world.
When my career is over I want to be able to look back and say,
"I did things for the betterment of the community, I advanced technology, and I helped create a robust space industry that brought back that 1960's feel of excitement when talking about space."
There's potential here to accomplish all that and more.
With customers such as
Richard Branson's Virgin Galactic
and
Lockheed Martin
having signed agreements to launch and develop their space launch systems at Spaceport America, we have already become the world leader in commercial space before construction is finished in 2010.
As with all things that have never been done before, there are many things to do and challenges to face in building the very first dedicated commercial spaceport, but I am honored to be part of the team that helps take the dream of commercial space and turn it into reality.
Best,
Steve Landeene
http://www.spaceportamerica.com/news/spaceport-blog/all.html