MOUNTAIN VIEW, Calif. (November 9, 2009) –
Google Inc
. (NASDAQ: GOOG) today announced that it has signed a definitive agreement to
acquire AdMob
, a mobile display ad technology provider, for
$750 million in stock.

This acquisition will enhance Google's existing expertise and technology in mobile advertising, while also giving advertisers and publishers more choice in this growing new area.
"Mobile advertising has enormous potential as a marketing medium and while this industry is still in the early stages of development, AdMob has already made exceptional progress in a very short time," said
Susan Wojcicki, Vice President of Product Management at Google
. "AdMob is the quintessential Silicon Valley startup – generating impressive year on year revenue growth – and we're excited to welcome this talented team to Google."
"I think people underestimate how important ads have been to funding the development of innovative content on the Internet. Our goal all along at AdMob has been to make it possible for developers and publishers to bring their products and ideas to mobile with the same business model," said
Omar Hamoui, Founder and CEO of AdMob
.
"We're proud of the progress we've made towards accomplishing this goal, and joining Google will only accelerate this process, ultimately leading to very real benefits for end users around the world. As publishers and developers generate more revenue from their mobile products, they will invest more, and their mobile offerings will become richer, more creative and more robust."
The deal will help Google in its efforts to develop more effective tools for creating, serving and analyzing emerging mobile ads formats.
As this ecosystem continues to grow, the company expects these new marketing media to offer significant
benefits
:
•
Advertisers
will be better able to engage mobile users with AdMob's ad formats
•
Publishers
and developers will be able to monetize their content more effectively, which has benefits for the wider mobile ecosystem
•
Users
will see more relevant ads and ultimately get access to more ad-supported content and applications – improving their mobile experience
"Attracting the world's top engineering talent and people with entrepreneurial vision to Google has always been crucial to our success. AdMob's proven track record in innovating at speed will help maintain that culture – which is why we are so excited to be working with them," added
Vic Gundotra, Vice President of Engineering at Google
.
Both companies have approved the transaction, which is subject to customary closing conditions.
About Google Inc.

Google's innovative search technologies connect millions of people around the world with information every day.
Founded in 1998 by Stanford Ph.D. students Larry Page and Sergey Brin
, Google today is a top Web property in all major global markets.
Google's targeted advertising program provides businesses of all sizes with measurable results, while enhancing the overall Web experience for users.
Google is headquartered in Silicon Valley with offices throughout the Americas, Europe and Asia.
For more information, visit
www.google.com
Media Contact
:
Matt Furman
Google
650-214-5304
mfurman@google.com
Investor Contact
:
Maria Shim
Google
650-253-7663
marias@google.com
http://www.google.com/intl/en/press/pressrel/20091109_admob.html
About AdMob
AdMob
is the world's largest mobile advertising marketplace, offering solutions for discovery, branding and monetization on the mobile web.
Mobile devices are a critical media platform and we are building the tools to let every business on earth leverage mobile.
We were founded in 2006 by an entrepreneur trying to solve a problem.
Omar Hamoui wanted to build traffic for his mobile site.
He encountered complexity and fragmentation - it was just too hard to engage users.
AdMob
was born to remove roadblocks and enable mobile web businesses.
We've built technologies to enable media businesses in mobile and continue to invest in tools to enable the mobile environment.
Mobile presents a unique challenge and opportunity.
We're working on it!
Our Mission:
To provide the business models, services, tools, and data fundamental to the development and growth of the mobile internet
.
We are based in San Mateo, California and have offices in New York and London.
We help businesses leverage mobile in a number of ways:
•
Business Models
: We serve billions of targeted and personalized ads on the mobile web each month through our
Mobile Advertising Network
. We're the world's largest advertising marketplace with a network of thousands of mobile sites. We make it easy for publishers to monetize their mobile traffic and for advertisers to target and reach customers on the mobile web in more than
160 countries
.
•
Services & Tools
: Our
AdMob Mobile Analytics
solution helps mobile site owners gain insight into their traffic and site usage, allowing them to make data-driven decisions about their mobile business.
•
Data
: We are organizing the complex mobile environment to provide critical data to our partners and the market. We share data about the traffic in our network on an aggregate basis in our monthly
Mobile Metrics Report
. This data snapshot provides insights into trends in the mobile ecosystem.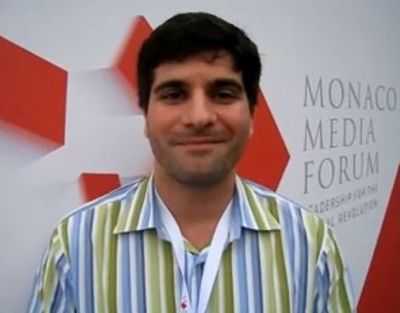 Omar Hamoui, Founder and CEO of AdMob
Photo: AdMob
We start and end each day at
AdMob
energized by our role in the mobile world.
We enable publishers large and small to benefit from the growth and economic power of the mobile web.
Regardless of size or budget, a wide variety of businesses can achieve successful results with mobile advertising with our measurable, high ROI solutions in the
AdMob Mobile Advertising Network
.
Our growing client list includes a diverse range of
Fortune 500
brands like
Ford, Coca-Cola, EA, P&G, Land Rover, MTV Europe, Adidas
, and
Paramount Pictures
, as well as publishers that are pushing the boundaries of the mobile web like
AccuWeather, BluePulse, CBS Mobile, EA, Flirtomatic, Hollywood.com, Peperonity,
and
TinyTube
.
We are the primary monetization and acquisition partner for thousands of companies.
We're widely recognized as the world's leading mobile advertising firm, winning accolades from the
Mobile Marketing Association, Ad Age, Business Week, Wired Magazine
, and the
World Economic Forum
.
We're backed by several of
Silicon Valley's top VC firms
and we're passionate about fueling our growth by continuing to invest in both cutting-edge technology and top talent.
We're having fun. How can we help you get into mobile?
http://www.admob.com/home/about
Google to Acquire AdMob

By Omar Hamoui, Founder and CEO of AdMob
November 9th, 2009
This morning we announced that AdMob has signed a definitive agreement to be acquired by Google.
I'm obviously excited, and not only for our customers, partners, and employees. I'm excited because I believe this will be an important moment for everyone involved in producing, consuming, or monetizing engaging products on mobile.
The truth is that the mobile industry has had no shortage of creative energy, amazing products, and talented entrepreneurs.
But until now, it has always felt like those of us involved in this space played second fiddle to our online brethren. I believe that time is over.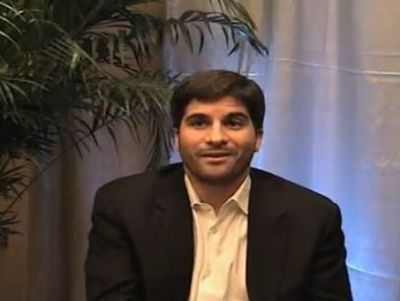 Omar Hamoui, Founder and CEO of AdMob
Photo: AdMob
I've been working in mobile for over 7 years now
.
Before AdMob, I founded two separate mobile startups that never got significant traction.
It was so frustrating to build what I knew was an incredible service only to find myself unable to distribute or monetize the product without a carrier or handset deal.
Turns out, I wasn't the only one.
Talk to any veteran in mobile and they will tell you just how hard it was to get things done only a few years ago.
I remember we used to have a cynical saying that summarized both the promise that mobile possessed and the monumental barriers we could not cross:
"
Mobile is the future, and always will be
."
That frustration is what led me to found AdMob a few years ago while I was in grad school. Over the years I've been fortunate enough to gather a tremendously talented group of employees.
Together we've been a part of helping to create a healthy and vibrant environment where developers and publishers, small and large, can both promote their services as well as benefit from the attention and usage their products attract.
In our early days we were focused primarily on the mobile web, and gained immense satisfaction from each new business that our service made possible within the mobile browser.
Then came the iPhone.
Suddenly, Apple solved so many problems that had plagued mobile for so long.
They showed all of us the way forward and their efforts have led to a landslide of rapid improvements in our space.
We were so excited by the promise the iPhone represented that we shifted a significant portion of our attention to that device in its very early days.
We launched the first iPhone ad units focused on the web and quickly added the capability to run ads in applications.
Now with the addition of excellent devices from Palm, Nokia, RIM, and plethora of Android powered smartphones, we have all the preconditions necessary for what will be a tidal wave of mobile browsing and app usage.
But let there be no mistake.
Our business, and the mobile industry in general, owes Apple a debt of gratitude.
We now operate in an environment that is much more advanced than the one we entered into a few years ago. There are literally hundreds of competitors, small and large, with different areas of focus and expertise. Lately, it seems that almost every week we hear about a new idea or company in the mobile advertising space.
This has led to rapid innovation, and we're excited about the positive attention this deal will bring to mobile advertising.
We have no doubt this will bring even more players into the space and accelerate all the innovation that is already taking place.
There are so many people to thank for getting us to this point.
We've benefited from the advice and support of the best investors and advisers in the world. We've had tremendous publishers, advertisers, and partners.
We're very excited by all the very real benefits this will bring for them.
Our ads will become more relevant, our products more robust, and our monetization capabilities more significant.
Most importantly, I've had the honor of working with a team of people that were all, top to bottom, completely committed to our mission.
I've never in my career seen such dedication, excellence, and passion.
This is a group that is smart, fun, and very focused on building and launching amazing products.
We've been able to keep the bar so high that I often tell people that I'm very lucky to have founded the company in the first place, as I am fairly certain I wouldn't have made it through the interviews.
So let me be plain: None of this would have this happened without the team at AdMob, and I will be forever in their debt.
The best part of all this is what's next.
We are not going away. After our deal with Google closes, we will work together to accelerate the pace of innovation in this area.
Our product and engineering teams will keep building great products for all of our customers. Our business development team will keep working to maximize ad revenue for the more than 15,000 mobile Web sites and applications that make up AdMob's publisher network.
Our sales teams will keep working with our thousands advertisers to deliver successful campaigns and our marketing group will keep pushing to get the word out about mobile.
It's just that now we will be able to do an even better job for all of our customers.
I have one important thank you left and it is for Google.
We've been blown away by their entrepreneurial attitude, their speed, and their insight.
My management team and I have been lucky enough to spend time with some key people at Google, and we've always walked away excited about our shared values and similar cultures.
In all of our interactions we've felt their passion for innovation and new ideas.
Obviously this transaction represents only a part of their overall interest in mobile but all of us at AdMob are looking forward to working with them to make sure that the future of mobile is no longer so far away.
- Omar

http://blog.admob.com/2009/11/09/google-to-acquire-admob/
Omar Hamoui
AdMob, Founder & CEO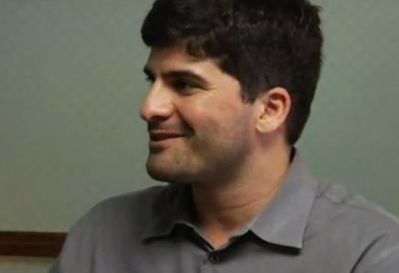 Omar Hamoui
Photo: AdMob
Omar Hamoui is the Chief Executive Officer of AdMob and a member of the company's board of directors
.
He founded AdMob in January 2006 while in the MBA program at The Wharton School at the University of Pennsylvania
.
Previously, Omar started and ran several companies in the mobile, Internet, and computer software industries including Vertical Blue, GoPix and fotochatter, a mobile to mobile image sharing network.
Omar holds a BS in Computer Science from the University of California, Los Angeles and is on leave from The Wharton School.
http://www.admob.com/home/management
Vic Gundotra
Google, Vice President, Engineering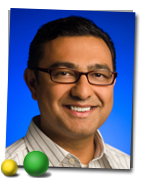 Vic Gundotra, Vice President of Engineering at Google
Photo: Google
Vic joined Google in 2007 as a Vice President of Engineering
, responsible for mobile applications and developer evangelism.
In addition, he is responsible for product management and marketing for mobile products at Google.
He also oversees applications development.
Previously, Vic spent 15 years at Microsoft, where he worked on a variety of products and operating systems, including Windows 3.0, NT, Windows XP, and Vista.
He was recognized by MIT as a "Young Innovator under 35" for his work in sparking the Microsoft's change from Win32 to the .NET programming model.
Most recently, Vic was General Manager of Microsoft's developer outreach efforts worldwide, including evangelism and strategy for products like Windows Vista, Visual Studio, Microsoft Office, Microsoft CRM, and Windows Mobile.
Vic holds two patents in the area of distributed computing and identity-based access to cloud resources.
http://www.google.com/corporate/execs.html#gundotra
Susan Wojcicki
Google, Vice President, Product Management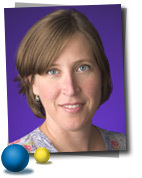 Susan Wojcicki, Vice President of Product Management at Google
Photo: Google
Susan Wojcicki is vice president of product management responsible for managing Google's monetization and measurement platform products including AdWords, AdSense and Google Analytics
.
Susan has a long history with Google.
She has been responsible for AdSense since 2002, and has managed both AdSense and AdWords since 2006.
Prior to that, she led the initial development of several consumer products including Google Books, Google Images and Google Video.
Before joining Google, Susan worked at Intel and was a management consultant at Bain and R.B. Webber & Company.
She graduated with honors from Harvard University, holds an MS from the University of California at Santa Cruz, and an MBA from the Anderson School of Management at UCLA.
http://www.google.com/corporate/execs.html#susan
Video

AdMob - Omar Hamoui Demo

http://www.youtube.com/watch?v=w7E5PosTG2U&feature=related
Spotlight - AdMob - Bloomberg

http://www.youtube.com/watch?v=v_EtfU-mY2s&NR=1&feature=fvwp
AdMob making big money on iPhone subscribers
http://www.youtube.com/watch?v=huGVhTvYJOg&feature=related
MIR Show - Week 45 - Omar Hamoui of AdMob
http://www.youtube.com/watch?v=dN5ATppOHks&NR=1
AdMob CEO: Status Quo of Mobile Advertising
http://www.youtube.com/watch?v=VwoRpUbv8VA&feature=related
Omar Hamoui, Founder & CEO at AdMob

http://www.youtube.com/watch?v=4PPJu4aRMiE&feature=related
CNBC AdMob

http://www.youtube.com/watch?v=18jwBkstVk0&feature=related
AdMob: Riding the Mobile Advertising Wave

http://www.youtube.com/watch?v=McYMkuHHwiU&feature=related