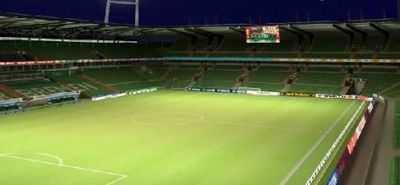 the Weser Stadium in Bremen
In the photovoltaics field
EWE
also has the necessary expertise to operate large plants and be instrumental in shaping the next wave of
photovoltaics technology
.
In spring 2008 EWE, the Bremen energy services provider swb and SV Werder Bremen announced their joint plans for renovating the
Weser Stadium in Bremen.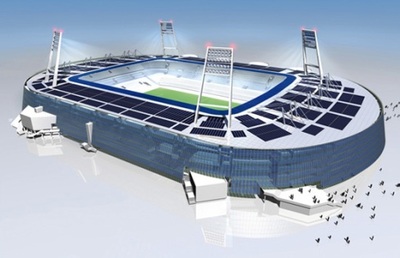 Approximately 200,000 solar cells are to be placed on the roof of the Weser Stadium in Bremen to convert sunlight into electricity.
The revamped stadium will greet football fans with a freshly designed facade, a new interior and an innovative and eye-catching energy concept.
Around 16,000 square meters of solar cells will be installed on the roof and on the south and east façade - the only facility of its kind on a German stadium.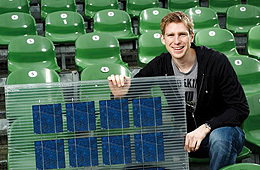 It is a challenge for the architects and a highlight for every Werder Bremen fan: the Weser-Stadion becomes a pure football stadium. Also important: our environment profits from the reconstruction as well.
The goal is to fully integrate the photovoltaics system into the construction of the building - quite a challenge.
The solar modules will produce by around
840,000 kWh
of electricity each year – about as much energy as 250 homes would use in a year - and reduce carbon dioxide emissions by around 450 tones.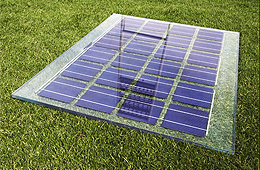 Renewable energy sources are a very topical issue. The new Weser-Stadion and its energy providers EWE and swb set a positive example with the photovoltaic system, which is integrated in the stadium architecture.
In June 2009 the Bremer Weser stadium was awarded the "
Clean Tech label"
by
the German Clean Tech Institute
for the largest building-integrated photovoltaic system in Germany.
EWE
has a long tradition of solar technology use to look back on.
EWE constructed its first photovoltaics facility back in the mid 90's; in the meantime there are now facilities at around 50 locations throughout the region.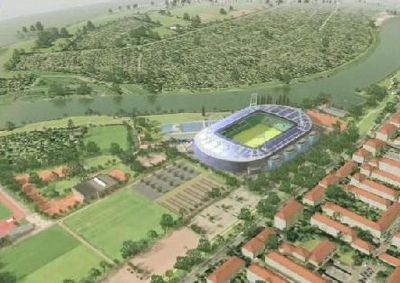 the Weser Stadium in Bremen
Two of these demonstrate some of the potential uses of photovoltaics: EWE installed a solar panel around 110 square meters in size on the exterior wall of the
EWE Arena in Oldenburg
which moves in accordance with the position of the sun, thus making optimum use of the sunlight.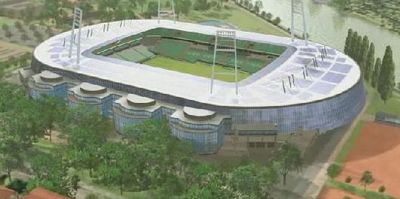 the Weser Stadium in Bremen
The photovoltaics facility installed on the noise barrier along the
A31
motorway in Emden in 2003 produces 23,000 kWh of electricity each year, enough for seven average households.
At the same time it shows how we can make sensible use of areas such as these.
http://www.ewe.com/english/company/solar-energy.php