In the upcoming decades, several global developments will create new challenges for mankind.
We will be confronted with problems and obstacles such as climate change, population growth beyond earth's capacity, and an increase in demand for energy and water caused by a strive for prosperity and expansion.
The DESERTEC Concept
provides a way to solve these challenges.
The DESERTEC Concept
describes the perspective of a sustainable supply of electricity for
Europe (EU), the Middle East (ME) and North Africa (NA) up to the year 2050
.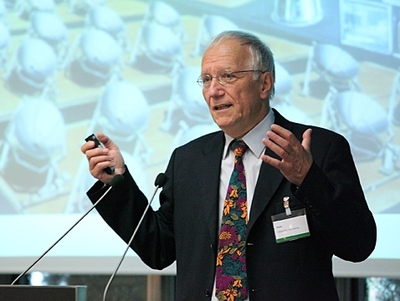 Gerhard Knies, Chairman of the Supervisory Board of the DESERTEC Foundation:
"The founding of the DII is a milestone."
Foto: Munich Re Group, Munich
It shows that a transition to competitive, secure and compatible supply is possible using renewable energy sources and efficiency gains, and fossil fuels as backup for balancing power.
A close cooperation between
EU and MENA
for market introduction of renewable energy and interconnection of electricity grids by high-voltage direct-current transmission are keys for economic and physical survival of the whole region.
However, the necessary measures will take at least two decades to become effective. Therefore, adequate policy and economic frameworks for their realization must be introduced immediately.
The role of sustainable energy to secure freshwater supplies based on seawater desalination is also addressed.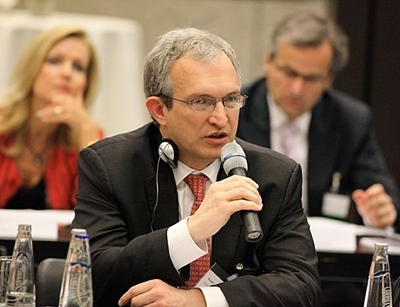 Hervé Touati, Managing Director of E.ON Climate & Renewables Division:
"E.ON is convinced that the future belongs - in the long term - to solar technology."
Foto: Munich Re Group, Munich
In order to find a viable transition to an electricity supply that is inexpensive, compatible with the environment and based on secure resources, rigorous criteria must be applied to ensure that the results are compatible with a comprehensive definition of sustainability.
A central criterion for power generation is its availability at any moment on demand.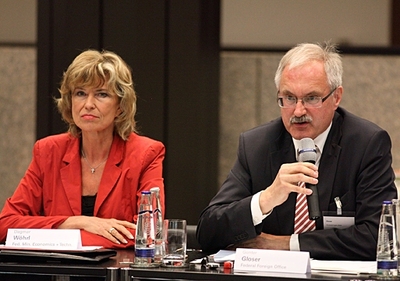 Dagmar Wöhrl, Secretary of State for the Federal Ministry of Economics and Technology; and Günter Gloser, State Minister for Europe, Department of Foreign Affairs.
Foto: Munich Re Group, Munich
Today, this is achieved by consuming stored fossil or nuclear energy sources that can provide electricity whenever and wherever required. This is the easiest way to provide power on demand.
However, consuming the stored energy reserves of the globe has a high price: they are quickly depleted and their residues contaminate the planet.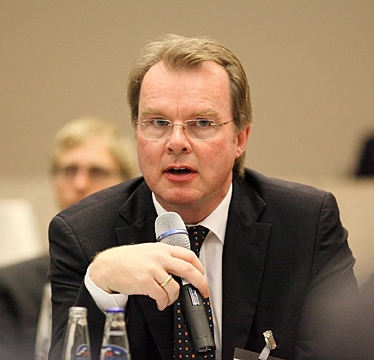 Wolfgang Knothe, CEO of MAN Solar Millennium GmbH and member of the Board of Management of Solar Millennium AG:
"DESERTEC is a fascinating initiative and at the same time a major challenge worth working for."
Foto: Munich Re Group, Munich
With the exception of hydropower, natural flows of energy are not widely used for power generation today, because they are not as easily stored and exploited as fossil or nuclear fuels. Some of them can be stored with a reasonable technical effort for a limited time-span, but others must be taken as provided by nature.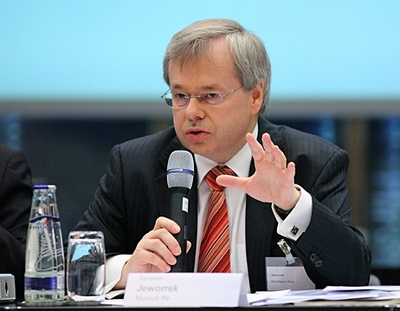 Torsten Jeworrek, Member of the Board of Management of Munich Re, opens the launch meeting of the Desertec Industrial Initiative (DII):
"We are pursuing a visionary plan. If it is successful, we will make a major contribution to combating climate change. The ecological and economic potential is huge."
Foto: Munich Re Group, Munich
The challenge of future electricity supply is to find a mix of available technologies and resources that is capable of satisfying not only the criterion of "power on demand", but all the other criteria for sustainability too.
The DESERTEC WhiteBook
describes a scenario of electricity demand and supply opportunities by renewable energy in the integrated EUMENA region up to the middle of the century, and confirms the importance of international cooperation to achieve economic and environmental sustainability.
CONCEPT

According to general opinion, by the middle of the 21st century, humanity will have used up a majority of the fossil fuel resources available on
Earth
(with the exception of coal) to meet the demands of power plants and vehicles.
There is not a sign of a worldwide reduction in fossil fuel demands, although such a reduction is essential to contain the threat of
Global Warming
. Even if there were to be a small reduction in fossil fuel consumption, it would merely postpone the day when fossil fuels are depleted.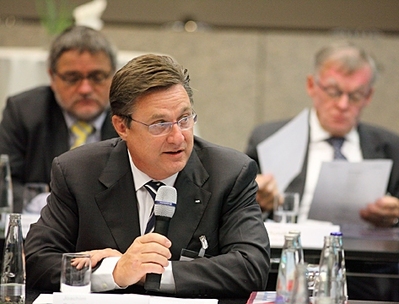 Joachim Schneider, Member of the Board of Management of ABB AG:
"Climate protection needs innovative technologies."
Foto: Munich Re Group, Munich
A shift to renewable forms of energy can be a long-term solution to looming problems of energy shortages and environmental damages.
However, the situation in Europe is complex.
The European continent provides great potential for wind, hydro, geothermal, and solar power. Be that as it may, there is a limit to the utilization of these sources due to Europe's high population density.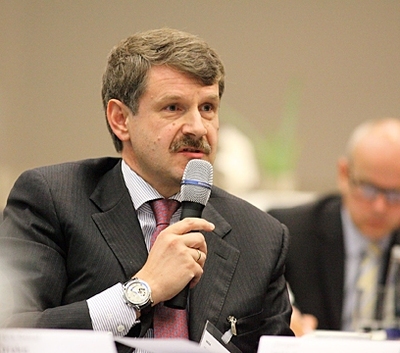 Jürgen Wild, Chairman and CEO of the M+W Zander Group:
"As a leading international engineering firm in the field of photovoltaics and solar technology, we strongly support this strategic initiative of trade and industry."
Foto: Munich Re Group, Munich
When the renewable sources of
Europe and The Middle East/North-Africa
are combined, the
EU-MENA
region would be in a much improved position to shift to clean and secure energy rapidly and economically.
EUMENA

Here are some of the things that need to be done to enable the
DESERTEC
vision to become a reality.
The single market for electricity which is being created in Europe needs to be extended to the whole of
EUMENA
.
This will facilitate direct commercial links between customers and suppliers throughout the region.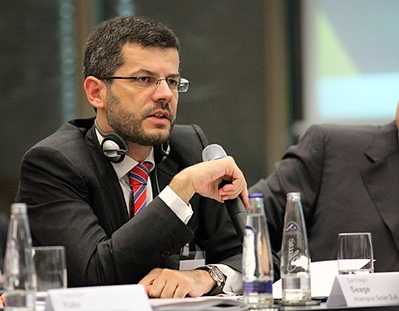 Santiago Seage, Chairman and CEO of ABENGOA Solar:
"In the future we want to use our experience to make a significant contribution to the success of the DESERTEC objectives."
Foto: Munich Re Group, Munich
As volumes of electricity increase, the existing transmission grid will need to be upgraded by removing bottlenecks, by converting
HVAC
transmission lines to
HVDC
, by creating new
HVDC
lines, and by the installation of smart electronics.
The TRANS-CSP report
from the
DLR
estimates that a
100 GW EUMENA-wide
supergrid would cost
45 billion Euros
. Bearing in mind that this cost would be shared amongst 30 or more countries and spread over about 10 years, this equates to an average annual expenditure by each country of only
150 million Euros
.
At present, the commercial "playing field" is tilted against renewable sources of power like CSP and wind power.
This is because established sources of energy are still receiving overt and hidden subsidies and because the world's atmosphere is still being used as a free dumping ground for CO2. Until these biases are removed, renewables will need support via mechanisms such as feed-in tariffs that have proved to be very successful in countries like
Germany
and
Spain.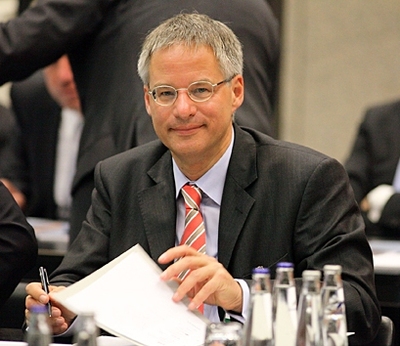 Jürgen H. Lange, Deputy Head of Global Energy at HSH Nordbank AG:
"We are happy to contribute our financing know-how to the DII."
Foto: Munich Re Group, Munich
Other kinds of support that may prove useful include moneys arising from the sale of emissions certificates in the European emissions trading system or
Kyoto2
, returns from the yet-to-be-created climate protection investment programs, or money assigned for investment in politically unstable regions.
With these kinds of support, it may be possible to reach the EU "20-20-20" targets ahead of schedule.
The following Projects and Measures are Planned in the Short Term
• Full utilization of the new agreements that result from the establishment of the Union for the Mediterranean by the EU and 10 countries on the southern and eastern boarders of the Mediterranean. In particular the Mediterranean Solar Plan should be drafted and realized with urgency as a part of an emergency programme to fight climate change.
• Opening of negotiations immediately to develop partnerships between the EU and MENA countries for the implementation of the DESERTEC Concept.
• Throughout EUMENA, campaigning to raise awareness of the DESERTEC Concept and how it may be realised.
• Creation of a freely accessible "Solar Radiation Atlas" for desert areas which provides high spatial and temporal resolution of levels of solar radiation. The fact that such data is not already available illustrates the low priority which has, so far, been given to "clean power from deserts".
• Establishment of feasibility studies to clarify the current political, organisational, financial, technical and ecological questions with respect to the implementation of the DESERTEC Concept.
• Initiation of a 1-GW-Kick-off-Programmes to demonstrate feasibility of CSP projects in interested MENA countries. For humanitarian reasons, a solar power plant and drinking water plant on Egyptian territory for the benefit of the Gaza Strip would be useful as a pilot project. Benefits for people in Gaza may help to resolve tensions in the region.
• A programme to develop industrial capacity for the construction of solar thermal power plants. In particular, it would be useful if host countries could develop capabilities for the manufacture, installation and maintenance of solar collectors.
• Establishment of binding contracts with appropriate conditions and standards for the export of clean electricity from the MENA region into Europe.
• A "decommissioning grant" for depreciated inefficient coal power plants in EU Mediterranean countries if its capacities are replaced through the import of wind and solar energy from the MENA region.
http://www.desertec.org/en/concept/
12 companies plan establishment of a DESERTEC Industrial Initiative
The objective of this initiative is to analyse and develop the technical, economic, political, social and ecological framework for carbon-free power generation in the deserts of
North Africa
.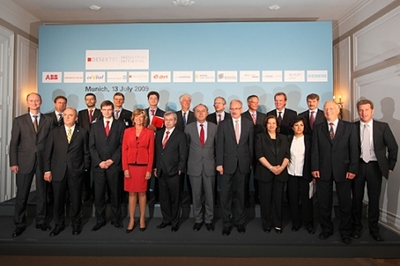 Group photograph of participants from business and politics.
Foto: Munich Re Group, Munich
Munich, 13 July 2009 - 12 companies today signed a
Memorandum of Understanding in Munich
to establish a
DESERTEC Industrial Initiative (DII)
.
The objective of this initiative is to analyse and develop the technical, economic, political, social and ecological framework for carbon-free power generation in the deserts of
North Africa
.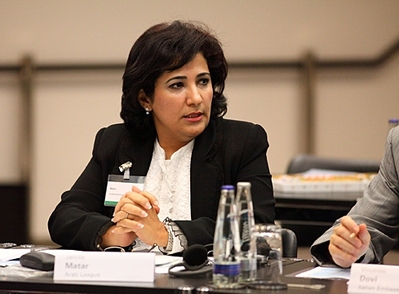 Jamila Matar, Director of Energy, Arab League
Foto: Munich Re Group, Munich

The DESERTEC concept
, developed by the
TREC Initiative of the Club of Rome
, describes the perspectives of a sustainable power supply for all regions of the world with access to the energy potential of deserts.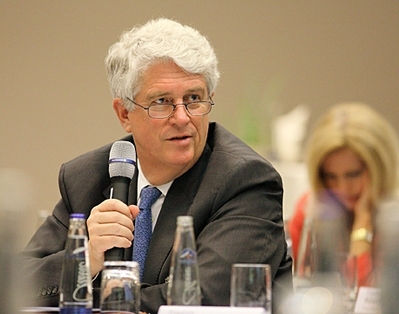 Caio Koch-Weser, Vice Chairman of the Deutsche Bank Group:
"We are pleased to participate in the Desertec Industrial Initiative and explore with our partners the feasibility of this trailblazing project."
Foto: Munich Re Group, Munich
The founder companies of the
DII
, whose regional focus is on
Europe, the Middle East and North Africa (MENA),
will be:
• ABB
• ABENGOA Solar
• Cevital
• Deutsche Bank
• E.ON
• HSH Nordbank
• MAN Solar Millennium
• Munich Re
• M+W Zander
• RWE
• SCHOTT Solar
• SIEMENS
The companies intend to establish a planning entity whose shareholders will include the
DESERTEC Foundation
.
The Memorandum of Understanding
was signed in the presence of high-ranking representatives from
German
and international politics
.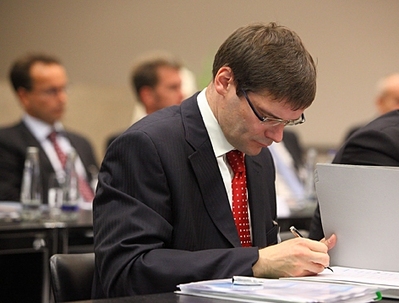 Rene Umlauft, CEO of Renewable Energy at SIEMENS:
"DESERTEC can make a significant contribution to sustainable energy supplies."
Foto: Munich Re Group, Munich
Among the DII's main goals are the drafting of concrete business plans and associated financing concepts, and the initiating of industrial preparations for building a large number of networked solar thermal power plants distributed throughout the
MENA region
.
The aim is to produce sufficient power to meet around 15% of Europe's electricity requirements and a substantial portion of the power needs of the producer countries.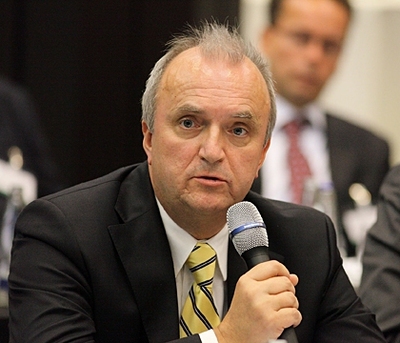 Udo Ungeheuer, CEO and Chairman of SCHOTT AG:
"The SCHOTT receiver is at the very heart of parabolic trough technology. Our products have been in use in these power plants for decades."
Foto: Munich Re Group, Munich
All of the DII's activities will be aimed at developing viable investment plans within three years of its establishment.
The initiative's clear focus on implementation is set out in the DII Principles for all future DII shareholders.
Besides the business opportunities for the companies, there are other economic, ecological and social potentials
:
• Greater energy security in the EU/MENA countries
• Growth and development opportunities for the MENA region as a result of substantial private investment
• Safeguarding the future water supply in the MENA countries by utilising excess energy in seawater desalination plants
• Reducing carbon-dioxide emissions and thus making a significant contribution to achieving the climate change targets of the European Union and the German Federal Government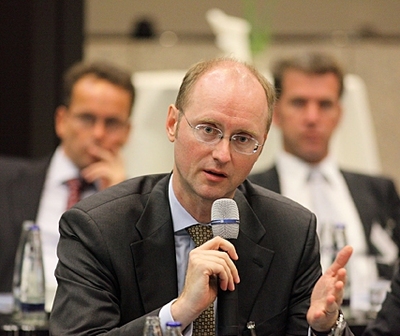 Frank-Detlef Drake, Vice President of Corporate Research and Development at RWE AG:
"The DESERTEC concept is a fascinating vision. We will contribute RWE's energy expertise".
Foto: Munich Re Group, Munich

The DII planning entity is to be established as a GmbH
(limited liability company)
under German law by 31 October 2009
.
It is envisaged that other companies will join the DII once the company has been established. The aim is for the DII to include shareholders from a variety of different countries.
Representatives of the parties involved had the following to say about the joint initiative
:
His Royal Highness Prince Hassan bin Talal of Jordan:
"The partnerships that will be formed across the regions as a result of the DESERTEC project will open a new chapter in relations between the people of the European Union, West Asia and North Africa."
Dr. Gerhard Knies, Chairman of the Supervisory Board of the DESERTEC Foundation:

"The founding of the DII is a milestone in the DESERTEC Foundation's concept for global energy, water and climate security!"
Max Schön, President of the German Association of the Club of Rome:
"The establishment of the DII is a giant leap by industry for the lasting protection of human life."
Dr. Joachim Schneider, Member of the Board of Management of ABB AG:

"ABB has developed High Voltage Direct Current transmission technology to connect power grids and utilise renewable energies. Climate protection needs innovative technologies."
Santiago Seage, Chairman and CEO of ABENGOA Solar:

"Today we are building North Africa's first private integrated solar combined cycle plant in Algeria and the region's largest utility-owned integrated solar combined cycle plant in Morocco. Tomorrow Abengoa's experience in transmission, desalination and solar projects in North Africa will make a significant contribution to the success of the DESERTEC objectives."
Malik Rebrab, Chief Executive Officer Cevital:

"It is time that everyone gets involved to preserve our planet and leave a better world for future generations. This is why Cevital considers this initiative as a new opportunity for the EUMENA region.'"
Caio Koch-Weser, Vice Chairman Deutsche Bank:
"We are pleased to participate in the Desertec Industrial Initiative and explore with our partners the feasibility of this trailblazing project. The Initiative shows in what dimensions and on what scale we must think if we are to master the challenges from climate change both in ecological and economic terms."
Dr. Hervé Touati, Managing Director of E.ON Climate & Renewables:
"E.ON is convinced that the future belongs to solar technology in the long term. We share the DESERTEC vision of exploiting the sun's energy on a grand scale to supply power to Europe and the African countries. We are supporting the initiative with a view to making this great idea possible. Apart from this, E.ON is constantly expanding its involvement in solar power, especially in the field of solar thermal power plants – as envisaged for supplying power in the DESERTEC Initiative."
Peter Rieck, Deputy Chairman of the Board of Management HSH Nordbank:

"HSH Nordbank has a leading position in project financing for renewable energy, which is also very important for our home region. We are happy to contribute our financing know-how to the DII."
Dr. Wolfgang Knothe, CEO MAN Solar Millennium GmbH and member of the Board of Management of Solar Millennium AG:

"DESERTEC is a fascinating initiative and at the same time a major challenge worth working for. Our highly qualified engineers and managers are already facing such challenges and realising large solar thermal power projects in the Mediterranean region."
Dr. Torsten Jeworrek, Member of the Board of Management Munich Re:

"We are pursuing a visionary plan. If it is successful, we will make a major contribution to combating climate change. The ecological and economic potential is huge. We will do our utmost to make this vision reality. Many thanks to all who are already giving us such strong support."
Jürgen Wild, Chairman and CEO of the M+W Zander Group:

"As a leading international engineering firm in the field of photovoltaics and solar technology, we strongly support this strategic initiative of trade and industry. As we see it, the DII can be a great success."
Dr. Frank-Detlef Drake, Vice President Corporate Research and Development RWE AG:
"The DESERTEC concept is a fascinating vision. We will contribute RWE's energy expertise and, together with our partners, establish how and when the concept can be realised."
Prof. Dr.-Ing. Udo Ungeheuer, CEO and Chairman of SCHOTT AG:
"The SCHOTT receiver is at the very heart of parabolic trough technology. Our products have been in use in these power plants for decades."
Dr. Rene Umlauft , CEO Renewable Energy, SIEMENS:

"DESERTEC can make a significant contribution to sustainable energy supplies. With its broad environmental portfolio, Siemens is the right technology partner for this visionary project."
Media contacts of the companies involved in alphabetical order:

ABB Deutschland
Klaus Treichel
Tel. 00 49 621 438 12 30
Klaus.treichel@de.abb.com
Abengoa Solar

Patricia Malo de Molina Meléndez
Tel. 00 34 954 93 71 11
Patricia.malodemolina@abengoa.com
Desertec Foundation
Michael Straub
Tel. 00 49 40 32 507 795
Michael.straub@desertec.org
Deutsche Bank Group

Dr. Klaus Winker
Tel. 00 49 69 910 322 49
klaus.winker@db.com
E.ON AG
Dr. Christian Drepper
Tel. 00 49 211 4579 889
Christian.drepper@eon.com
HSH Nordbank

Ulrike Abratis
Tel. 00 49 40 33 33 11463
Ulrike.abratis@hsh-nordbank.com
MAN Solar Millennium

Sven Moormann
Tel. 00 49 9131 94 09 0
presse@SolarMillennium.de
Münchener Rück

Alexander Mohanty
Tel. 00 49 89 3891 98 96
amohanty@munichre.com
M+W Zander
Michael Gemeinhardt
Tel. 00 49 711 8804 1420
michael.gemeinhardt@mw-zander.com
RWE AG

Jan-Peter Schwartz
Tel. 00 49 201 12 150 23
Jan-peter.schwartz@rwe.com
Schott Solar AG

Klaus-Bernhard Hofmann
Tel. 00 49 6131 66 36 62
Klaus-bernhard.hofmann@schott.com
Siemens AG

Alfons Benzinger
Tel. 00 49 9131 18 70 34
Alfons.benzinger@siemens.com
http://www.desertec.org/fileadmin/downloads/press/09-07-13_PM_DII_english.pdf