London, United Kingdom
- 08 Sep 2009: With the aim of helping
the UK
to achieve its target of generating 15% of its energy from renewable sources by 2020,
BAE Systems
is working to design a
"stealth" wind turbine which is invisible to radar.

Innovative Wind Farm Technology Unlocks 4.7GW of Renewable Energy
Over half of the UK's proposed wind farm developments are objected to on the grounds they interfere with air traffic control or defence radar systems. Rotating turbines of wind farms wreak havoc on radar systems and cause clutter on screens which prevents detection of other objects in the airspace.
With the aim of helping
the UK
to achieve its target of generating 15% of its energy from renewable sources by 2020,
BAE Systems is working to design a "stealth" wind turbine which is invisible to radar
.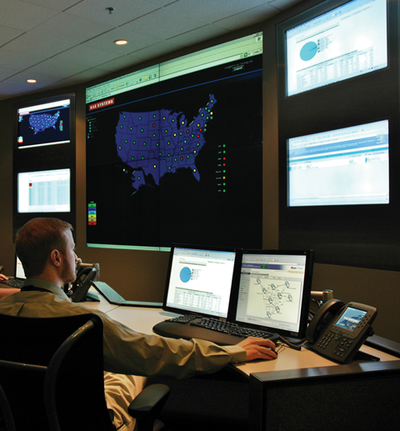 BAE Systems, Network Operations Center
Photo: BAE Systems
According to the
British Wind Energy Association
,
4.7 GW
of renewable energy projects are now held up because of military or civil aviation concerns and
BAE Systems
has developed a suite of solutions to help overcome this challenge.
A key area of development is the application of radar absorbent materials, commonly used on advanced military vehicles to prevent detection. These materials, made from rubber, foam or paint, can be applied to existing turbines or inserted within the turbine blades, with the effect of making the
wind farms invisible to radar
.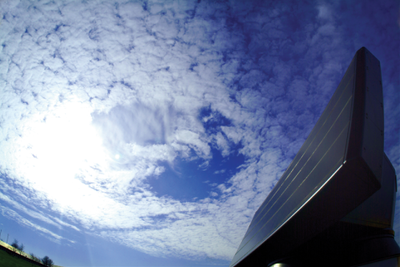 Long Range Radar

Photo: BAE Systems
Other solutions being trialled by the Company include: careful positioning of wind farms to avoid interference, innovative software featuring sophisticated algorithms to filter out the radar signals produced by wind turbines; and reshaping turbines so that they deflect signals away from the radar's line of sight.
Jon Mills, head of strategy at BAE Systems Integrated System Technologies
said:
"There is no single 'silver bullet' solution to mitigating the impact wind farms have on radars. Every geographical combination of radar and wind farm design will be different, but we have developed a systematic approach to the technical analysis and resolution that enables economically viable solutions.
"The development of a process where wide-scale planning issues can be addressed in a comprehensive manner paves the way for quicker, more cost-effective assessment of wind farm applications. Without our activities, a number of wind farm developments would be unable to proceed, which would affect the UK's ability to achieve its challenging 2020 renewable energy targets."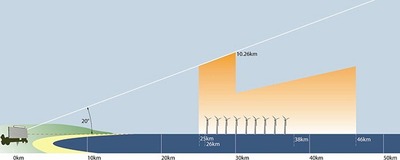 Stealth Wind Farms – Diagram
Photo: BAE Systems
In the last two years alone
BAE Systems
identified innovative solutions that will release
500 megawatts
of renewable energy and see developers commit
£1billion of investment
, while also maintaining the safety and security of air operations.
BAE Systems'
approach involves working with key stakeholders across the renewables industry including wind farm developers,
the Civil Aviation Authority, Ministry of Defence, Airports, the British Renewable Energy Association, Crown Estates and the British Wind Energy Association.

Many of these organisations have acknowledged the Company's role in facilitating discussion and understanding across a range of interest groups.
About BAE Systems

BAE Systems
is the premier global defence, security and aerospace company delivering a full range of products and services for air, land and naval forces, as well as advanced electronics, security, information technology solutions and customer support services.
With approximately
105,000 employees worldwide
, BAE Systems' sales exceeded
£18.5 billion (US $34.4 billion) in 2008
.
For further information contact:
Kristina Crowe, Biss Lancaster
Tel: +44 (0) 20 7257 9821 Mob: +44 (0)7841 279859
kristina.crowe@bisslancaster.com
John Neilson, BAE Systems
Tel: + 44 (0) 1252 384795 Mob: + 44 (0)7802 337704
john.neilson@baesystems.com
Issued by:

BAE Systems, Farnborough, Hampshire GU14 6YU, UK
Tel: +44 (0) 1252 384719 Fax: +44 (0) 1252 383947
24hr media hotline: + 44 (0) 7801 717739
www.baesystems.com
08 Sep 2009
http://www.baesystems.com/Newsroom/NewsReleases/auto-Gen_1098715132.html
Militarne rozwiązania dla farm wiatrowych
BAE Systems pomaga rządowi Wielkiej Brytanii
w uzyskaniu do 2020 roku 15 procent udziału energii ze źródeł odnawialnych w krajowej produkcji.
W tym celu firma ma zamiar skonstruować
turbinę wiatrową niewidoczną dla radarów.

W Wielkiej Brytanii ponad połowa planowanych inwestycji w farmy wiatrowe miałaby zostać zlokalizowana na terenach, na których zakłócałaby one ruch lotniczy i pracę radarów należących do systemu obrony narodowej. Obracające się turbiny powodują zakłócenia w pracy systemów radarowych oraz zamazują obraz na ekranach, co utrudnia wykrycie innych obiektów znajdujących się w przestrzeni lotniczej.
Według
Brytyjskiego Stowarzyszenia Energetyki Wiatrowej (British Wind Energy Association)
z powodu wątpliwości wojskowych i cywilnych służb lotniczych wstrzymano projekty mające w przyszłości dostarczyć nawet
4,75 GW energii odnawialnej
.
Aby umożliwić ich realizację w przyszłości firma
BAE Systems
przygotowała szereg propozycji mających rozwiązać ten problem.
Projekty bazują na wykorzystaniu materiałów pochłaniających promienie radarów, używanych na co dzień przez pojazdy wojskowe, aby zapobiec ich wykryciu. Mogą one występować w postaci gumy, pianki lub specjalnej farby nałożonej na już istniejące turbiny lub wmontowanej w skrzydła wiatraków, przez co farmy wiatrowe staną się niewidoczne dla radarów.
Spółka testuje również rozwiązanie polegające na specjalnym rozstawieniu farm wiatrowych, które nie powoduje zakłóceń, a także nowoczesne oprogramowanie filtrujące sygnał dochodzący z turbin.
BAE Systems prowadzi również prace badawcze nad innowacyjną formą skrzydeł wiatraków, które będą odbijały promienie radarów poza zasięg ich odczytu.
- Nie istnieje jedno uniwersalne rozwiązanie, pozwalające zniwelować wpływ farm wiatrowych na systemy radarowe. Każde geograficzne zestawienie farmy wiatrowej i radaru będzie wymagało innego projektu. Dlatego zaczęliśmy prowadzić systematyczne analizy techniczne, które pozwolą na jak najbardziej ekonomiczne rozwiązania - mówi
Jon Mills, dyrektor strategiczny BAE Systems Integrated System Technologies.
Jego zdaniem stworzenie procesu, w którym problemy mogą być rozwiązane w tak wszechstronny sposób tworzy okazję do szybszego i bardziej efektywnego wprowadzenia aplikacji dla farm wiatrowych.
- Bez naszej działalności, wiele projektów budowy farm wiatrowych nie byłoby możliwych do zrealizowania, co z kolei utrudniłoby rządowi Wielkiej Brytanii wypełnienie do 2020 roku celów związanych z energią odnawialną - zapewnia
Jon Mills
.
Przez ostatnie dwa lata
BAE Systems
wprowadziło innowacyjne rozwiązania, które pozwolą na przyłączenie
500 megawatów
odnawialnej energii
i umożliwią deweloperom zainwestowanie
1 miliarda funtów
, jednocześnie zapewniając bezpieczeństwo operacji lotniczych.
W ramach tej działalności
BAE Systems
nawiązało współpracę z najważniejszymi graczami na rynku energii odnawialnej, włącznie z deweloperami zajmującymi się budową farm wiatrowych, przedstawicielami
Urzędu Lotnictwa Cywilnego, Ministerstwem Obrony Narodowej, lotniskami, Brytyjskim Stowarzyszeniem Energii Odnawialnej
oraz
Brytyjskim Stowarzyszeniem Energetyki Wiatrowej
.
BAE Systems
jest międzynarodową spółką branży zbrojeniowej, lotniczej i systemów bezpieczeństwa.
Firma oferuje pełną gamę produktów i usług dla sił powietrznych, sił lądowych i marynarki wojennej, jak również zaawansowane rozwiązania elektroniczne, teleinformatyczne oraz usługi wsparcia.
Na całym świecie
BAE Systems
zatrudnia około
105 tysięcy pracowników,
a w 2008 roku sprzedaż spółki przekroczyła
18,5 mld funtów (34,4 mld dolarów).

wnp.pl (Dariusz Ciepiela)

17.09.2009
http://energetyka.wnp.pl/militarne-rozwiazania-dla-farm-wiatrowych,89307_1_0_0.html