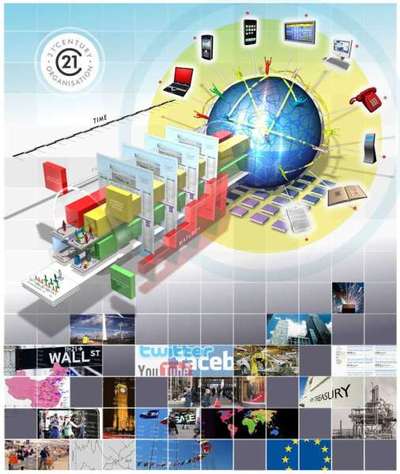 The idea of moving from the current reality to a future vision through maturity

A 21st Century Organization is something any leader, any business
- any competitive brand must be. It suggests that to survive in the complex global markets (now fiercely competitive and commoditized) the enterprise has to redesign the organizational model, streamline its systems and understand human behavior.
It has to do this in meaningful and relevant ways
- at the individual and team level - and display real leadership in everything from systems and process to the exploitation of every technology, media and next practice. It has to move from the restrictive practices of the 'org chart' to the reality of the value based and sustainable network and eco-system.
On these six pages lay the fundamentals of our work, and everything we've observed over the last ten years of assignments
- We've set about creating important new techniques and tools to enable important change for the
21st Century Business
.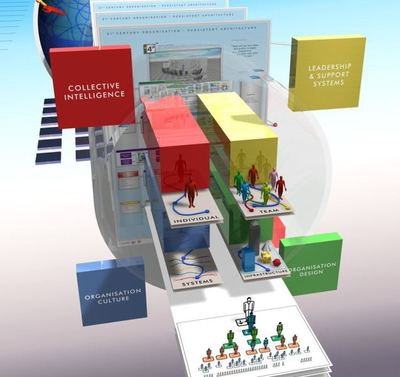 At the heart lies the individual, the team and the systems and infrastructure
Here also you will find links to other parts of our world but to get a rapid view over what we are deeply passionate about this is a good place to start. We have proven that these ideas and proven methods can change the way business thinks and works, they can do it rapidly and with creativity, inspiration and energy. Together, and with much better economy, we can solve complex problems, create valuable opportunities, make better decisions and avoid solving the wrong problems really well.
Are you going to drive or get driven through the upturn?
In every business at any time
- and especially in this economy
- who isn't rethinking! What business isn't doing everything it can to survive, rebuild or just cope with the incredible dynamics of the change.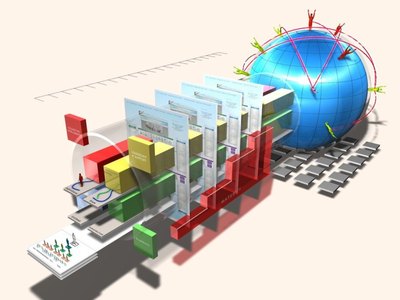 Moving from the tyranny of the org chart to the value network

Hard to imagine though how any one person
, team or business can constantly weigh up the following demands in almost real time and sustain it.
The 21st Century Exam Question
"More performance, More efficiency with better customer experience, more sales, better place to work, increased competition, new technology - quick - built to exploit global opportunity and be more socially responsible!"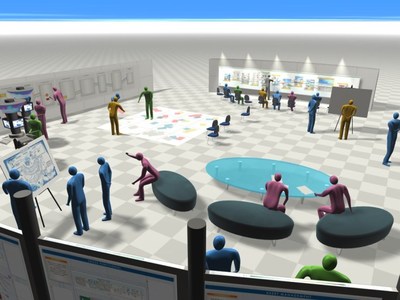 The sub-text
- cut costs, no discretionary spend, travel bans, uncertain futures for executives. Frustration and worry all around.
Our view & call to arms
Seems crazy doesn't it that any business would choose to do anything that doesn't contribute to its own success.

That means - build value by innovating every day, focus the whole enterprise on a clear vision, develop the culture for winning, being sustainable, encouraging efficiency across the firm.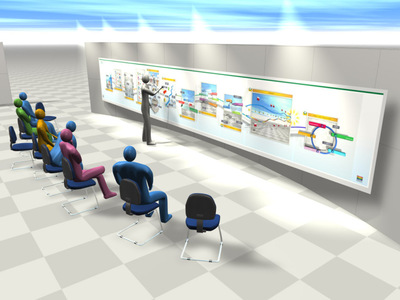 Working with scale and visualization in logic frameworks

We think it's time for a back to the drawing board approach to planning and strategizing the future.

This is about thinking differently, challenging the traditional, looking at the new tools, taking a new route, being ready the inevitable upturn - getting ready to create wealth and growth for its employees, partners and shareholders within a compelling worldview that contributes to a better; more sustainable world.
The Genius of Visual Frameworks
They contain the views of many is that they encourage the speaking of truth to create power in visual ways
- ways that are simply more powerful than other approaches to problem solving or value creation.
They are also the best means of alignment and arbitration when attempting to accurately figure out issues in business.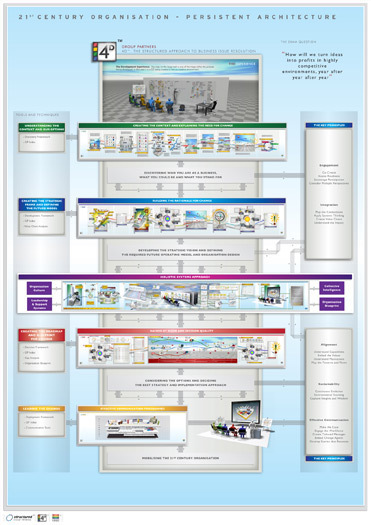 The Persistent Architecture - the framework to transform

These frameworks are an invaluable - and we believe important alternative
- to those meandering meetings and brainstorms that currently don't get us quite there.
These are logic frameworks - techniques designed to get at the underlying truth of strategic thinking, transformation development and value creation.
4D™ is an approach, it's comprehensive, leaving nothing out and leaving nothing in that is superfluous to any mission.
Bringing power and performance to business strategy, transformation and change programs by developing physical and visual logic frameworks.
This is a crucial weapon for business success and advantage in the 21st Century.
These '
architectures
' and
'maps to the future'
are collaboratively engineered by the key stakeholders developing high integrity
'real time'
outcomes enabling true decision quality.
Some howlers we've observed businesses make
They will often
:
Create a new vision, without wide consultation
, and not looking at the broadest possible context for value. Then to compound matters still further, keep the vision and strategy locked in the boardroom.
Avoid the power of a clearly identified and stated intention
, motivational outcomes, relevant measures, a powerful and inspirational vision and well articulated roadmap.
Begin a large transformation
, change or technology program by simple procurement and contract with one siloed part of the business and then be surprised by its failure.
Expect wide engagement by the workforce in change
– change that the employees don't understand, cannot see the rationale for nor feel any human relationship with.
Outsource all of the thinking to external agencies
who then fail to transfer the full control, reasoning or confidence in their plans back to the enterprise.
Outsource all responsibility for the solution to external agencies
- many of whom have no interest in the wider implications or success of the program other than their task.
Ignore the incredible developments in technology, social community, service excellence and sustainable
- values based thinking when it comes to operational transformation fit for the world we now live in.
Remain removed/dismissive of the newer thinking and tools of behavioral change
- the cultural insights, social networks and real world/human engagement potential as they seem intangible or abstract in relation to the strategic intention.
Forget the power of telling a good new story
- one of a more inspired intention - in ways that compel, inspire or motivate the people in the enterprise. Ignoring the catalytic power of communication.
True success in change and transformation is inclusive, intelligent, thoughtful, structured and decisive.
We urgently need to utilize much more appropriate tools to win in this economy – the critical context we now find ourselves in.
These are tools that have been around since man got given his opposable thumb – visualization, conscious thought, story telling, reasoning and map making.
http://www.grouppartnerswiki.net/index.php?title=Now
21st Century Organization
In the 21st Century effective leadership and successful collaboration, worthwhile knowledge and breakthrough innovation are high on the list of objectives and aims of our clients.
After more than a decade of value networks leadership and as practitioner, it is apparent that adopting the following behaviors by people is harder, a lot harder than anyone might think.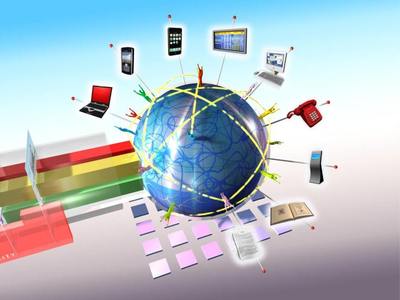 The world of connectedness social media and interoperability
Traditional methods and staggering arrogance is often so deeply engrained in even the most clever and progressive business people that it can make the value networks transformation and outcome impossible for them.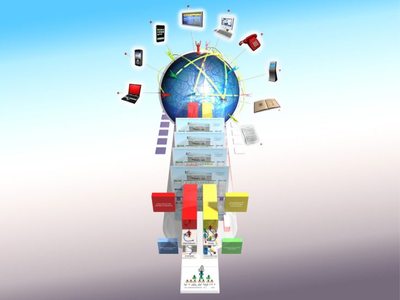 The vision of the value network
On the bright side, managerial intransigence vis-à-vis value networks is often a generational issue. All the value network properties below are innate and transparent to new workers, authentic value networkers and shapers of the future.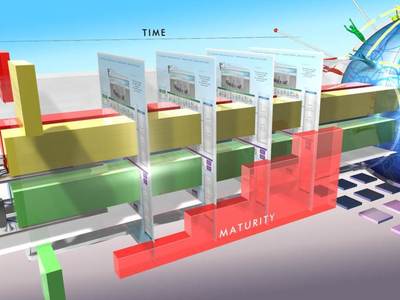 Fortunately there are still enough open-minded Baby Boomers around that have enough discipline to unlearn and wall-off 20th century styles of authoritarian command and control. These are the fun, good-humored leaders that create the future.
The 21st Century Organization
.
Value Networks 101- Characteristics and Behaviors
Original Attribution to
Gary Hamel
.
The Wall Street Journal
recently ranked
Gary Hamel
as the world's most influential business thinker, and
Fortune magazine
has called him "the world's leading expert on business strategy."
For the last three years, Hamel has also topped
Executive Excellence magazine's
annual ranking of the most sought after management speakers.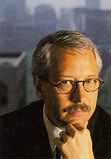 He captures below how a value network ACTUALLY works when he describes
Gen-Y
online behaviors in his
Wall Street Journal blog
entry this year.
1. All ideas compete on an equal footing.

In value networks every idea has the chance to gain a following – or not. No one has the power to kill off a subversive idea or squelch an embarrassing debate. Ideas gain traction based on their genuine merits, network emergence and flow paths rather than on the perceived and self-appointed political power of their sponsors.
2. Contribution counts for more than credentials.

When you are active in a value network, position, title, history, experience and academic degrees – none of the usual status differentiators – carry much weight. In the value network, what counts is not your resume, but what you can contribute.
3. Influence, power is natural, not prescribed.

In value networks there may be roles which have more influence. Critically, though, these roles haven't been appointed by some superior authority. Instead, their clout reflects the freely given approbation of the network. In the value network, authority is determined by outcomes, not phony mandates.
4. Leaders serve rather than preside.

In the value network, all leaders are servants; no one has the power to command or sanction. Credible arguments, demonstrated expertise and selfless behavior are the only levers for getting things done through the value network. Forget this key property, and people will abandon you fast and the value network disintegrates completely.
5. Tasks are chosen, not assigned.

Value networks are an opt-in economy. Whether contributing to a project, working on strategy, or executing to plan, people choose to work on the things that interest them. Everyone is an independent contractor, and everyone scratches their own itch.
6. Groups are self-defining and -organizing.

In the value network, you get to choose your compatriots. You have the freedom to link up with some individuals and ignore the rest, to share deeply with some folks and not at all with others. No one can assign you an inappropriate task, no can force you to work with dim-witted colleagues.
7. Resources get attracted, not allocated.

In large organizations, resources get allocated top-down, in a politicized, Soviet-style budget wrangle. In value networks, human effort flows towards ideas and projects that are attractive and fun, and away from those that aren't. In this sense, value networks are a market economy where individuals decide, moment by moment, how to spend the precious currency of their time and attention.
8. Power comes from sharing information, not hoarding it.

To gain role influence and value network status, you have to give away your expertise and content. And you must do it quickly; if you don't, someone else will beat you to the punch. In emergent value networks there are a lot of incentives to share. It's the shared outcome not the hoard that is the reward.
9. Opinions compound and decisions are peer-reviewed.

When operating in value networks truly smart ideas rapidly gain a following no matter how disruptive they may be. Networks is a near-perfect medium for aggregating the wisdom of the crowd – whether in formally organized opinion markets or in casual discussion groups.
The value network is a battering ram to challenge and defeat the entrenched interests and institutions.
10. Users can veto most policy decisions.

As many bossy moguls have learned to their sorrow, value networks are opinionated and vociferous – and will quickly attack any decision or policy change that seems contrary to the network interests. In authentic value networks performance and prosperity originates from the networks that have a substantial say in key decisions. You may have built the concept, identified the value network, but the roles really own it and you only serve it.
11. Intrinsic and intangible rewards matter most.

Value networks are the testament to the power of intrinsic and intangible rewards. Human beings will give generously of themselves when they're given the chance to contribute to something they actually care about. Tangibles like money are necessary, but it's recognition, the joy of accomplishment and above all, outcomes, that matter most.
12. Value networkers are heroes.

Large organizations tend to make life uncomfortable for activists and rabble-rousers – however constructive they may be. In contrast, value networks frequently embrace those with strong anti-authoritarian views since it is often the only way to drive innovation. Value networks are celebrated as champions of authentic democratic values – particularly when productivity growth, innovation and prosperity are the outcome.
http://johncaswell.com/blog/?page_id=477
John Caswell
Founder and CEO, Group Partners Ltd.

John Caswell
Born on the 1st January 2001,
Group Partners
™ is an independent business that resolves business issues, accelerates value and creates understanding with clients.
It does this through a structured, visual framework approach known as
4D
™.
This is based on
Structured Visual Thinking
™ a unique and highly visual technique developed over the last 15 years.
In John's words
"I founded the company because I was frustrated - as a client - when I just couldn't get the right or impartial advice. Everyone seemed to have their angle, their axe to grind, something to sell. Worse still I couldn't articulate my problem properly because I didn't have the full picture on my organisation. I couldn't get everyone lined up around the aims and objectives because they each had their own silo of activity. And if that wasn't enough the procedure of thinking and innovation was just too dull, unhelpful, inefficient and uninspiring. I could easily solve the wrong problem really well. So I decided to do something about it."
Verna Allee says it best:
"Don't try to change people, find people who are already going there and help them..."
For me it is a question of where do I want to put my energy?
People often ask me how I "sell" my ideas or convince people of the importance of value networks.
I always respond. "I don't." It is not my job to sell or convince people of anything. My job is to help people who DO get it and are eager to move forward.
There are more of those coming forward literally every minute and they are desperate for solid, proven, easy-to-use tools and robust methodologies.
My job is to provide those and show people ways to work with internal and external value networks.
My philosophy is to work with what is emergent, what wants to happen. Trying to change the old guard takes an enormous amount of energy. If I tilt at windmills all I ever seem to get is a bloody nose. If people are starting to get curious and asking questions then I will happily engage with them.
People (and their organizations) simply must change if they want to be successful in this business environment – and many organizations are quickly getting on board.
If they are curious and interested we are ready to help.
http://www.grouppartnerswiki.net/index.php?title=John_Caswell._Biography