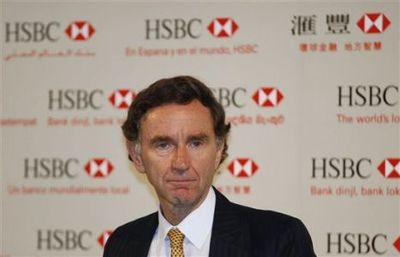 Stephen Green, Group Chairman of HSBC Holdings Plc
Foto: Reuters

HSBC Bank Polska SA
has agreed to sell its
HSBC Credit branded consumer finance portfolio
, and its credit card portfolio, to
Alior Bank SA.

The total consideration, to be paid in cash on completion of the deal, will be at a premium to the net book value of the receivables at the date of completion.
The gross asset value of the two portfolios was
PLN1 billion (US$350 million)
at 31 July 2009.
Following the sale of its non-core consumer finance portfolio,
HSBC Bank Polska
will focus on growing its personal banking services aimed primarily at Premier and middle class segments.
The bank will also continue to strengthen its global banking and markets and commercial banking businesses, where its global reach offers significant advantages to companies engaged in international trade.
The sale is expected to be concluded in the fourth quarter of 2009.
Media enquiries to
:
Brendan McNamara
+44 (0) 20 7991 0655
brendan.mcnamara@hsbc.com
Aleksandra Leszczynska
+48 22 354 08 88
aleksandra.leszczynska@hsbc.com
HSBC Bank Polska SA
HSBC Bank Polska SA
is part of
HSBC Group
, one of the world's largest banking and financial services organisations.
HSBC in Poland
focuses on personal banking for premier customers, commercial banking, and treasury and fund investment services.
The HSBC Group
HSBC Holdings plc
, the parent company of the
HSBC Group
, is headquartered in London.
The Group serves customers worldwide from around 8,500 offices in 86 countries and territories in Europe, the Asia-Pacific region, the Americas, the Middle East and Africa.
With assets of US$2,422 billion at 30 June 2009, HSBC is one of the world's largest banking and financial services organisations.
HSBC
is marketed worldwide as
'the world's local bank'
.
04 Sep 2009
http://www.hsbc.com/1/2/newsroom/news/2009/polish-consumer-finance
Letter from the Chairman
2008 was the most extraordinary year for the global economy and financial services in well over half a century. It marked the first crisis of the era of globalised securitisation. And it also marked the first crisis of the just-in-time global economy as the impact of the financial crisis fed rapidly straight into the performance of the real economy.
We at HSBC were not immune from the crisis. But we have built our business on very strong foundations and are able to report results which demonstrate our ability to withstand the storm.
HSBC reported a pre-tax profit for 2008 of US$19.9 billion, a decline of 18 per cent, excluding the goodwill impairment on our North American Personal Financial Services business. On a reported basis, pre-tax profit was US$9.3 billion, down 62 per cent.
In a world where the private banking industry saw major reductions in overall assets, HSBC Private Bank continued to perform strongly. The contribution to Group pre-tax profits from Private Banking ("PB"), of which HSBC Private Banking Holdings (Suisse) SA is the principal component, was higher at 7.3 per cent (excluding the goodwill impairment), with pre-tax profits in 2008 holding up well at US$1,447 million compared to the record level of US$1,511 million in 2007.
HSBC Private Banking Holdings (Suisse) SA posted a pre-tax profit of US$1,250 million, a small decline of 3 per cent over 2007 (US$1,287 million). Within this were some strong regional performances which are covered in the Chief Executive Officer's review.
The HSBC Group and the Private Bank in particular have a robust balance sheet and strong liquidity. And our brand strength continues to underpin our performance. It was noticeable that at times of stress in many markets, HSBC was a beneficiary of funds flowing in. Recently, the HSBC brand was recognised as the number one brand in banking by Brand Finance.
Over the past 12 months, many of our competitors have received significant government capital injections – something we said we could not envisage – or have raised capital from shareholders and other investors. Higher regulatory capital requirements, in part from the effect of the economic downturn on capital requirements under the Basel II regime, as well as changing market sentiment on appropriate levels of leverage, have also raised expectations regarding capital levels. We are determined that HSBC should maintain its signature financial strength and we are now raising the top of our target range for our tier 1 ratio so that the range will be from 7.5 per cent to 10 per cent. The rights issue we announced on 2 March will strengthen further the core equity tier 1 ratio to 8.5 per cent and the tier 1 ratio to 9.8 per cent, both on a pro-forma basis as at 31 December 2008.
Internal capital generation remains strong and this capital raising will enhance our ability to deal with the impact of an uncertain economic environment and to respond to unforeseen events. Importantly, it will also give us options with respect to opportunities which we believe will present themselves to those with superior financial strength. These may involve organic investment in the continued taking of market share from more capital constrained competitors. There may also be opportunities to grow through targeted acquisitions by taking advantage of attractive valuations where the opportunities in question align with our strategy and the risks are understood.
The coming 12 months will be difficult. We expect parts of Asia, the Middle East and Latin America to continue to outperform Western economies, but to be constrained by the global downturn.
We see unemployment rising through 2009 into 2010 in both the US and the UK, together with continuing declines in housing markets. We should remember that the US is the driver of the global economy and global growth depends on the US recovery.
We remain confident that HSBC is well-placed in today's environment and that our strength leads to opportunity. Our strategy has served HSBC well and positions it for long-term growth with attractive returns. HSBC continues to combine its position as the world's leading emerging markets bank with an extensive international network across both developed and faster growing markets. At the same time, as the financial system exhibits stress, our competitive position is improving as the capacity and capabilities of financial institutions are constrained by lack of capital and funding; many of them are also focusing more on their domestic markets.
This was an extraordinary year and made extraordinary demands on many of our people. I want to express my sincere thanks for all their efforts and achievements. Our industry has rightly been under considerable public scrutiny and banks have been indiscriminately bunched together. It is through our staff that HSBC's distinctive character stands out for our customers and it is they who ensure that not all banks are the same. The staff of Private Banking can be especially proud of their commitment and achievements in 2008.
On behalf of the Board of Directors
Stephen K Green

Geneva, 24 March 2009
http://www.hsbcpb.com/aboutus/letter-from-the-chairman.html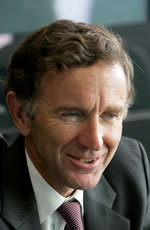 Stephen K Green, Chairman

Stephen K Green
Chairman
Group Chairman of HSBC Holdings plc and Chairman of HSBC Bank plc. A Director of HSBC France, HSBC North America Holdings Inc and The Hongkong and Shanghai Banking Corporation Limited. Chairman of The British Bankers' Association.

He was born in England on 7 November 1948.
He has degrees from Oxford University and Massachusetts Institute of Technology.
Mr Green began his career with the British Government's Ministry of Overseas Development. In 1977 he joined McKinsey & Co Inc, management consultants, with whom he undertook assignments in Europe, North America and the Middle East.
He joined The Hongkong and Shanghai Banking Corporation Limited in 1982 with responsibility for corporate planning activities, and, in 1985, was put in charge of the development of the bank's global treasury operations. In 1992 he became Group Treasurer of HSBC Holdings plc, with responsibility for the HSBC Group's treasury and capital markets businesses globally.
In March 1998 he was appointed to the Board of HSBC Holdings plc as Executive Director, Investment Banking and Markets responsible for the investment banking, private banking and asset management activities of the Group. He assumed additional responsibility for the Group's corporate banking business in May 2002. He became Group Chief Executive on 1 June 2003 and Group Chairman on 26 May 2006.
He is Chairman of HSBC Bank plc and of HSBC Private Banking Holdings (Suisse) SA. He is a director of The Hongkong and Shanghai Banking Corporation Limited, of HSBC North America Holdings Inc., and of HSBC France.
He became Chairman of the British Bankers' Association in November 2006 and Chairman of the Prime Minister's Business Council for Britain in January 2009. He is also a trustee of The British Museum, and an honorary trustee of Peking University.
Stephen Green is married with two daughters.
http://www.hsbc.com/1/2/retirement/future-of-retirement/future-of-retirement-press-room