Dutch City Aims to Reduce Climate Change Impact, Improve Urban Water Management with Real-Time Advanced Data Analytics.
By 2050, city dwellers are expected to make up 70 percent of the Earth's total population, spiking from approximately 3.3 billion people today to a breathtaking 6.4 billion.
That gives us only 40 years to prepare our cities and our planet for an inflow of new inhabitants comparable to more than 10 United States of Americas.
How do we prepare our cities to absorb this many people?
How must our cities transform to handle exponentially greater economic, societal and environmental complexity?
Let's build a smarter planet, city by city.
A planet of smarter cities

In 1900, only 13% of the world's population lived in cities.
By 2050, that number will have risen to 70%.
We are adding the equivalent of seven New Yorks to the planet every year.
This unprecedented urbanization is both an emblem of our economic and societal progress — especially for the world's emerging nations — and a huge strain on the planet's infrastructure.
It's a challenge felt urgently by mayors, heads of economic development, school administrators, police chiefs and other civic leaders.
The challenges these leaders face — educating the young, keeping citizens safe and healthy, attracting and facilitating commerce, and enabling the smooth flow of planes, trains, cars and pedestrians — are compounded by the global economic downturn.
Thankfully, help is at hand.
Around the world, intelligence is being infused into the way our cities work.
Transport officials in
Singapore, Brisbane
and
Stockholm
are using smart systems to reduce both congestion and pollution.
Public safety officials in major cities like
New York
are able not only to solve crimes and respond to emergencies, but to help prevent them.
City managers in Albuquerque have achieved a 2,000% improvement in efficiency in sharing information across agencies, keeping citizens informed and providing critical municipal services, from residential and commercial development to water to public safety.
A large hospital organization in
Paris
is implementing an integrated patient-care-management solution to facilitate seamless communication across its business applications — enabling them to track every stage of a patient's stay in the hospital.
Italy, Malta
and
Texas
are applying smart meters and instrumentation to make the power grids in their cities more stable, efficient and ready to integrate renewable energy sources and electric vehicles.
Miami
- Dade school officials have built a transparent data management system that provides assistance to students, parents and educators to facilitate improved academic achievement.
Smart water management in the
Paraguay
-Paraná River Basin of
Brazil
is helping to improve water quality for
São Paulo
's 17 million residents.
These solutions, and many more, are making a real impact today.
But they are just the first step toward a true smart city.
For a glimpse of what that might look like, consider
Masdar City
, which is being built from scratch near
Abu Dhabi
, in the
United Arab Emirates
.
Planners there are working with top scientists, engineers and innovators to create interconnected systems and manage them through an integrated city dashboard.
Masdar City's leaders want to be able to fine-tune their metropolis in real time — and thus shape what could be the world's first economically and environmentally sustainable city, with zero carbon emissions, as they go.
The lessons they learn — both technological and in terms of citywide collaborative management — can be spread around the globe.
If someone could have observed the
Earth
from space two centuries ago, he or she would have seen the light from just two concentrations of a million or more people —
London
and
Beijing
.
Today, there are 450 such shining cities — and they are the economic, governmental, cultural and technological power plants of a global urban age.
Our future depends on keeping them running and growing brightly.
Let's build a smarter planet, city by city.

Join us and see what others are thinking at
ibm.com/think
Berlin: June 23-24, 2009

New York City: October 1-2, 2009

Shanghai: 2010

IBM
is convening a series of three conversations on how to build smarter cities.
The first took place in
Berlin on June 23-24
.
The second will take place in
New York on October 1-2
, and the third will take place in
Shanghai next year
.
These unique gatherings,
SmarterCities
, will explore how progressive cities are modernizing to spur economic development, drive greater innovation, transform for competitive advantage and meet the pressing demands of a more engaged and intelligent citizenry.
They will be hosted by IBM in collaboration with major partners across the globe.
Rotterdam and IBM to Build First Smart Delta City

Dutch City Aims to Reduce Climate Change Impact, Improve Urban Water Management with Real-Time Advanced Data Analytics.
Berlin - 23 Jun 2009
: At the SmarterCities forum today in Berlin, the city of Rotterdam, one of the main engines of the Dutch economy and the
largest port in Europe
, announced a collaboration with
IBM
(NYSE: IBM) on the design and testing of a monitoring and forecasting system for smarter water and energy management. The system, easily managed through an intuitive dashboard, will collect and analyze real-time data on the rivers, ocean, weather, and more, creating the world's first
Smart Delta City.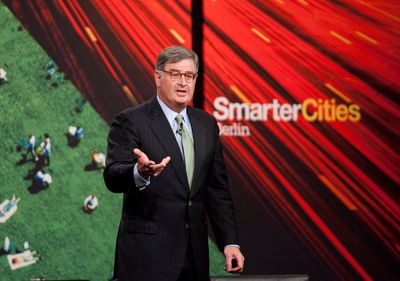 IBM Chairman Sam Palmisano at SmarterCities Berlin
With this collaboration with IBM, Rotterdam aims to transform into the first
Smart Delta City
– a city that utilizes real-world, real-time operational information to manage infrastructure and operations related to the effects of climate change in a dynamic, complex natural water system.
The Smart Delta system's information portal will enable officials and professionals to more quickly and effectively respond to concerns such as flood and drought threats, safety or accessibility issues, and changes in water conditions that could harm fish and other aquatic life.
"We are committed to reducing carbon dioxide by 50 percent and reaching a climate adaptive situation while also strengthening our region's economic condition by 2025," said
Paula Verhoeven, Rotterdam Climate Office Director
.
"To reach these goals, we have defined a holistic approach to climate change and water management, considering economic and spatial planning factors in the decision-making process. This collaboration is important to help Rotterdam evolve to a Smart Delta City."
As part of the collaboration, IBM intends to leverage the expertise of its Research arm, involving scientists across a broad spectrum of disciplines to explore additional areas such as the management of carbon in logistics processes.
Together with leading people from academia, industry and government, IBM has engaged over the past two years in projects worldwide to identify current and future impact on operations from changing water availability, accessibility, quality and quantities.
In February 2008, IBM opened the
Global Center of Excellence for Water Management in the Netherlands.

"Governments and companies that don't understand how climate changes will impact their operations will increasingly find themselves at a disadvantage," said
Sharon Nunes, Vice President, Big Green Innovations, IBM
.
"Over the next few years, the business impact of either too-much or too-little water will be devastating in many parts of the world. The Smart Delta City initiative addresses the need to start thinking and acting in new ways to make our systems more efficient, productive and responsive."
For additional resources for press on today's news, please visit:
http://www.ibm.com/press/smartercities
For more information on IBM, please visit:
http://www.ibm.com
http://www-03.ibm.com/press/us/en/pressrelease/27790.wss
IBM Offers Smarter City Assessment Tool to Help Cities Prepare for Challenges and Opportunities of Unprecedented Urbanization
Berlin - 24 Jun 2009
: At the SmarterCities forum today in Berlin, IBM (NYSE: IBM) announced that it is offering a new Smarter City Assessment Tool to help cities better understand and meet the new demands of an increasingly urbanized world.
Last year for the first time in history, according to the
Department of Economic and Social Affairs of the United Nations
, the majority of the world's people lived in cities.
By 2050 seventy percent of the world's population will live in cities.
To put this into perspective, a century ago, fewer than 20 cities around the world had populations in excess of 1 million people.
Today, that number has swelled to 450 and will continue to grow for the foreseeable future.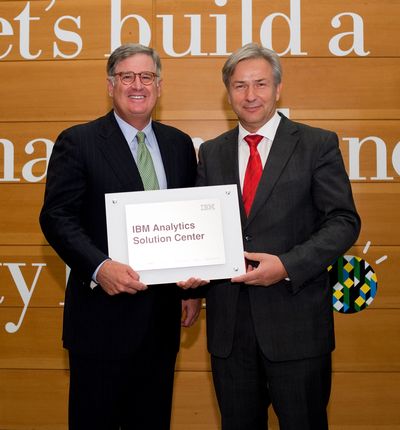 Samuel J. Palmisano, CEO IBM and Klaus Wowereit, Governing Mayor of Berlin
Recognizing the pressure increasing urbanization will place on urban planners and local governments,
IBM
has developed a
Smarter City
Assessment Tool
, to help cities focus on how best to move forward.
Cities using the
Smarter City Assessment Tool
will provide IBM with specific data about their core operational systems (people, business, transport, communication, water and energy) which are then analyzed to benchmark a city's overall capabilities against peer locations, highlight relative strengths and weaknesses and provide initial recommendations for improvement.
The tool, which leverages research done by the
IBM Institute for Business Value,
is based on a methodology developed by
IBM's Global Location Strategies
consulting service, which helps corporations determine the best countries and cities in which to locate businesses.
"Cities are in the midst of a realignment of power – with greater influence highlighted by greater responsibility," said
Peter Korsten, Global Leader for the IBM Institute for Business Value
.
"Aspects of a city's operations that city managers have previously been unable to measure – and therefore unable to influence – are increasingly being digitized, creating brand new data points. With the greater digitization of its core systems and the use of advanced analytic capabilities, cities can enhance decision-making and improve urban planning."
Additionally
IBM's Institute for Business Value
, part of
IBM Global Business Services
, is doing extensive research into cities and has just published the first in a series of three studies on smarter cities.
Titled
"A vision of smarter cities - How cities can lead the way into a prosperous and sustainable future"
the study outlines the new central role that cities are playing in the world economy and the associated need for cities to address their sustainability challenges by transforming their core systems -- individually as well as holistically.
The new
IBM Smarter City Assessment Tool
and accompanying thought leadership study were announced today at the
Smarter Cities forum in Berlin
, hosted by IBM to explore how progressive cities are modernizing to spur economic development, drive greater innovation, transform for competitive advantage and meet the pressing demands of a more engaged and intelligent citizenry.
IBM defines a smarter city as one that makes optimal use of all the interconnected information available today in order to better understand and control its operations and optimize the use of limited resources.
http://www-03.ibm.com/press/us/en/pressrelease/27791.wss
Contact(s) information
Vineeta Durani
IBM Media Relations, Worldwide
+1 917 472 3694
vineeta.durani@us.ibm.com
Linda Hanson Hunt
IBM Media Relations, Worldwide
+1 914 766 2015
lindah@us.ibm.com
New York City Agenda: October 1-2, 2009
In collaboration with The Partnership for
New York City
, City University of New York and the National Governor's Association, IBM is convening forward-thinking leaders from the public, private and voluntary sectors to explore how cities in the Americas can transform to become smarter.
Hosted by
IBM Chairman and CEO Samuel J. Palmisano
, our
SmarterCities NYC
forum will continue the conversation started in Berlin in June to explore new approaches to regional partnership, identify roadblocks, evaluate frameworks for investment and review the tools that are helping our cities meet 21st century realities.
The event will begin at midday on October 1 and will include keynote addresses from major political and business leaders.
That evening, IBM will host a very special reception and dinner.
The session will continue on October 2, concluding late in the afternoon. The event will be structured in four parts—the third which will allow for peer-to-peer exchange, best-practice sharing and brainstorming to shape the blueprints for smarter cities.
More on the program below.
As leaders, we all have a vital stake in ensuring that our cities become more resilient, more sustainable and more secure. Indeed, the health of our planet and of society depends on it. Let's start shaping that future.
Session I – A Planet of Smarter Cities
In Berlin we discussed how our cities are the perfect platform on which to innovate new solutions for our urbanizing planet. In New York, our first session will delve deeper into the tendencies that are making our cities the focal point of our planet's future. And, it will lay out IBM's view for why and how cities are becoming smarter.
Session II – A Vision for Smarter Cities
It is clear we need a new vision for our cities.
For this vision to come to life, we'll also need new leadership requirements, new tools and new models. We'll also need an understanding of the key systems that make up our cities—and how all of these interact, within our cities and between them.
This session will describe a vision for smarter cities, laying out a schema of the systems that comprise smarter cities and how these are interconnecting to create a complex web of opportunities for innovation.
Session III – What it Takes to Build a Smarter City – Breakout Discussions
Civic leaders are shaping their own leadership agendas, but they need practical plans to make their vision real.
Here, we'll engage participants in several structured discussions about what it takes to build a smarter city. We'll hear from seasoned leaders who have implemented smarter programs in their cities in everything from transportation, healthcare, education, public safety and government services.
- Smarter Healthcare
- Smarter Transportation
- Smarter Public Safety
- Smarter Utilities
- Smarter Education
- Smarter Government Services
Session IV – Seizing the Opportunity
Forward-thinking city leaders are seizing the opportunity to make their cities, their regions and their countries smarter.
We will hear about their bold steps and imaginative approaches to designing smarter solutions for their cities.
This session hopes to offer our participants prescriptive ideas and blueprints for how mayors and other city administrators can map a path to a smarter city.
http://www.ibm.com/ibm/smartercities/us/en/newyork09.shtml
Samuel J. Palmisano
Chairman of the Board and Chief Executive Officer
IBM Corporation
For nearly a century, when people have sought a relationship with IBM—whether as a client, employee, partner or neighbor—what have they been seeking?
Perhaps it was deep expertise in science and technology. Or a partner with broad understanding of their industry or sector of society. It might have been long-standing presence in their market, their community or around the world. Or perhaps they hoped to learn from a company that itself had undergone continual change.
There are, however, certain kinds of aspirations that can't be achieved through organizational capabilities, global reach or technology—or by applying the lessons of the past. To capture the biggest economic opportunities or to tackle society's most daunting problems—to imagine what the world might be, and actually to build it—people have sought something more fundamental: a unique ability to conceptualize opportunities, to analyze developments, to tackle and overcome grand challenges.
In my view, the defining value that IBM has provided over the years has been the way we think. Today, as in the past, when people turn to our company, I believe they are looking for how IBMers approach problems, as well as for the types of problems we choose to approach. They seek a kind of relationship, in addition to the outcomes of that relationship. And they are drawn to a set of values that reflect their own.
Most companies aim to satisfy their customers. Some go farther, dedicating themselves to their clients' success. A few define success as bringing to the world innovations that make a lasting difference. A handful build trusted, long-term relationships with their owners, employees, partners, neighbors and the world at large.
For nearly a century, IBM has chosen to live at the intersection of these values. This choice has enabled our company to prosper, to create value for our clients and owners, to provide rewarding careers for millions of people, and to be a progressive force in the societies in which we do our work.
Samuel J. Palmisano
Chairman, President and Chief Executive Officer
Full biography
Sam Palmisano is Chairman of the Board, President and Chief Executive Officer of the IBM Corporation.
Mr. Palmisano was appointed to this position on January 6, 2003.
Previously, he served as President and Chief Operating Officer.
He began his career in 1973 in Baltimore, Maryland.
Since then, Mr. Palmisano has held a series of leadership positions during his IBM career, including senior vice president for the Enterprise Systems and Personal Systems groups. Mr. Palmisano also played a key role in creating and leading IBM's Global Services, rising to senior vice president, and building the largest and most diversified IT services organization in the industry.
He also served as senior managing director of operations for IBM Japan.
Mr. Palmisano is a graduate of The Johns Hopkins University.
In recognition of his leadership role as co-chair of the Council of Competitiveness' National Innovation Initiative, as well as his many business accomplishments, Mr. Palmisano was awarded an Honorary Degree of Doctor of Humane Letters from Rensselaer Polytechnic Institute in September 2005.
In July 2006, he was awarded an Honorary Fellowship from the London Business School.
http://www-03.ibm.com/press/us/en/biography/10055.wss