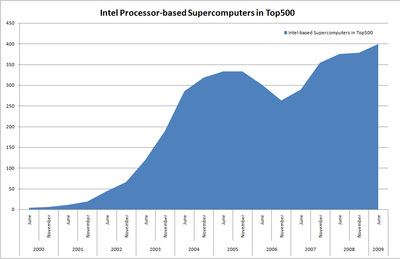 Graph showing growth of Intel's presence in the TOP500 since 2000.
HAMBURG, Germany, June 23, 2009 – More
supercomputers
than ever are using
Intel Corporation processors
, according to the latest
TOP500
list.
The high performance computing (HPC)
community is especially enthusiastic about the
Intel® Xeon® 5500
processor series.
Launched only 3 months ago these chips are already driving the research and analytical capabilities of 33 systems on the list.
The 33rd edition of the TOP500 list shows that
399
of the world's top 500 systems, including two in the top 10, now have Intel inside.
Systems using
Intel® Xeon®
quad-core processors feature prominently in the list, holding 340 spots. Using reinvented high-k metal gate transistors, Intel's previous-generation quad-core 45nm Intel® Xeon® processor 5400 series is used in 263 systems.
Intel-based super computing platforms are playing a pivotal role in a number of research areas, from improving the safety of space exploration to forecasting global climate conditions.
More "mainstream" industries, such as financial services and health care, are also using Intel-based systems to achieve faster, more accurate results, to speed the pace of innovation and improve competitive advantage.
In addition to hardware, Intel delivers software tools and technologies to maximize the value of
HPC
systems with Intel inside.
Intel Cluster Ready
architecture shortens the time to productivity of clustered systems while increasing software compatibility.
Intel Cluster Tools
, including compilers, libraries, and message-passing software, maximize the performance of the majority of TOP500 systems with Intel inside.

Kirk Skaugen, vice president and general manager of Intel's Server Platforms Group
"High performance computing has emerged as one of the fastest growing segments of Intel's server business, and Intel is committed to continue to push the boundaries of the world's highest end supercomputers harder than ever before," said
Kirk Skaugen, vice president and general manager of Intel's Server Platforms Group
.
"The new Intel Xeon® Processor 5500 series extends the world-record performance and energy efficiency the TOP500 supercomputers demand, and we are delighted to see once again that more supercomputers than ever before are embracing the Intel Xeon processor as a result."
New Intel Compilers, Libraries and Cluster Toolkits Available
Intel
is now shipping
Intel® Compiler Professional Editions 11.1
for
Linux
,
Windows
and
Mac OS X
.
New features include elements of the recently released
Intel® Parallel Studio
, product support for
Intel® Advanced Vector Extensions (AVX)
and updates for integration with
Microsoft Visual Studio
,
Eclipse
and
Xcode
.
The update also incorporates enhancements to the
Intel Fortran
and
C++
compilers,
Intel® Math Kernel Library
and
Intel® Integrated Performance Primitives
. The
Intel® Cluster Toolkits
include an updated
Intel® MPI library
.
Learn more by clicking here:
http://software.intel.com/en-us/intel-sdp-home
The semi-annual TOP500 list of supercomputers is the work of Hans Meuer of the University of Mannheim, Erich Strohmaier and Horst Simon of the U.S. Department of Energy's National Energy Research Scientific Computing Center, and Jack Dongarra of the University of Tennessee.
The complete report is available at
www.top500.org
Paul S. Otellini
President and Chief Executive Officer
Paul S. Otellini is president and chief executive officer of Intel Corporation.
He became the company's fifth CEO on May 18, 2005, succeeding Craig R. Barrett.
Otellini previously had served as Intel's president and chief operating officer, positions he held since 2002, the same year he was elected to Intel's board of directors.
Otellini joined Intel in 1974.
Since joining Intel in 1974, Otellini has managed several Intel businesses, including the company's PC and server microprocessor division and the global sales and marketing organization.
In 2002, Otellini was elected to Intel's board of directors and promoted to president and chief operating officer. He was named CEO in May 2005, a role in which he's focused on driving the company's growth and mission to deliver innovative, energy-efficient products.
Under Otellini's guidance, Intel also aims to usher in a new era when portable wireless computing is available anytime, anywhere.
The company also is focused on bringing the next billion people online with affordable computers tailored to their needs.
Otellini received a bachelor's degree in economics from the University of San Francisco in 1972, and an MBA from the University of California, Berkeley in 1974.
Otellini serves on the board of directors of Google Inc.
Kirk B. Skaugen
Vice President, Digital Enterprise Group
General Manager, Server Platforms Group
INTEL CORPORATION
Kirk Skaugen is vice president of the Digital Enterprise Group and general manager of the Server Platforms Group for Intel Corporation.
In this role, Skaugen has P&L responsibility for Intel's server, storage and workstation platforms, including the Intel® Xeon® and Intel® Itanium® processors and related platform silicon, software and motherboards.
Previously, Skaugen served in Asia as general manager of Intel Asia Pacific Solutions Group, responsible for the development and deployment of optimized software and related solutions across Intel's client and server platform architectures.
He also managed Intel's relationships with end-users, independent software vendors, OS vendors, system integrators, and service providers across Asia-Pacific.
Prior to his time in Asia, Skaugen was general manager of the Enterprise Platforms & Services Division (EPSD) with P&L responsibility for Intel's server board and system business.
Skaugen spent seven years in a variety of positions within Intel's sales and marketing organization, including microprocessor product management, distribution business management, and Intel's enterprise and desktop global account management for Compaq Computer Corporation.
Skaugen received his bachelor's degree in electrical engineering from Purdue University, with a further concentration in business.
He joined Intel in 1992.
He lives in Portland, Oregon with his wife and son.
About Intel

Intel (NASDAQ: INTC), the world leader in silicon innovation, develops technologies, products and initiatives to continually advance how people work and live.
Additional information about Intel is available at www.intel.com/pressroom and blogs.intel.com.
Intel, Xeon and the Intel logo are trademarks of Intel Corporation in the United States and other countries.
Contact Intel

Corporate Mailing Address
2200 Mission College Blvd.
Santa Clara, CA 95054-1549
USA
(408) 765-8080
http://www.intel.com/pressroom/archive/releases/20090623corp_a.htm?iid=pr1_releasepri_20090623ra