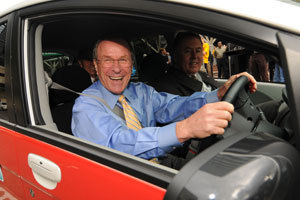 Oregon Governor Ted Kulongoski

Oregon Governor Ted Kulongoski
and
Jim Piro, president and CEO of PGE
, welcomed
John Koenig, executive vice president of Mitsubishi Motors North America
, to the city and to learn more about the all-new EV. After the press conference, Gov. Kulongoski took his first test drive of the all-electric vehicle from PGE's headquarters at the World Trade Center.
Powered by an advanced lithium-ion battery, the
Mitsubishi i-MiEV
will be one of the first of the new generation of lithium-ion-powered electric vehicles to be developed by a major automobile manufacturer that will be available to the public. Mitsubishi plans to deliver its
i-MiEV
to Oregon for fleet testing in late 2009.
PGE
continues to partner with Oregon businesses and governments to roll out its network of charging stations to support these next-generation electric vehicles and plug-in electric vehicles.
Mitsubishi Motors North America
is expanding its EV testing program, which began late last year with partnerships with Southern California Edison and Pacific Gas and Electric.
For more information, visit
media.mitsubishicars.com
Mitsubishi i-MiEV "Electrifies" Test Track in Demonstration Video to Celebrate World Environment Day
CYPRESS, Calif., June 4, 2009 –
Mitsubishi Motors
will be celebrating
the
United Nation's World Environment Day
, June 5, with the debut of a short video that exemplifies the automaker's commitment to the environment and eco-conscious technologies.
The video showcases the performance and durability of Mitsubishi's pure battery electric vehicle – the i-MiEV (Mitsubishi Innovative Electric Vehicle) – in a series of tests and in comparison to its Japanese market i gasoline counterpart.
So for those who can't wait to catch a glimpse of the i-MiEV on the road after it goes on sale in Japan this summer, they can catch the minute-and-a-half video at
www.mitsubishicars.com
It's clear from the video that emitting zero on-road carbon emissions and using no fossil fuel are not the i-MiEV's only talents.
The small, yet roomy, four-passenger i-MiEV is shown in acceleration and slalom tests side-by-side the turbocharged gas-powered i car on which it is based.
The electric i-MiEV performs impressively, with markedly quicker standing-start acceleration, and due primarily to its lower center of gravity, substantially reduced body sway in a double lane-change maneuver.
Keys to the i-MiEV's performance include an ultra-quiet permanent magnet synchronous motor and a powerfully efficient lithium-ion battery pack that can be quick-charged up to 80 percent of capacity in as little as 30 minutes.
An onboard charger accepts 110V (12-14 hour full-charge time) or 220V in half that time.
MITSUBISHI MOTORS GREEN LIGHTS i-MiEV ELECTRIC CAR FOR GLOBAL MARKETS
State of Oregon and Portland General Electric Join Test Program
NEW YORK, April 9, 2009 –
Mitsubishi Motors
is accelerating its drive toward greater environmental responsibility and reinforcing its
Drive@Earth
global sustainability initiative by announcing today its commitment to develop the pure electric, four-passenger
Mitsubishi
i-MiEV
for global markets.
Ending months of heightening speculation,
Mitsubishi Motors North America President and CEO Shinichi Kurihara
confirmed the
i-MiEV
(Mitsubishi Innovative Electric Vehicle) is being developed for sale in world markets, including the United States.
"Electric vehicles are one branch of the automotive landscape and we are dedicated to providing these technology-sourced solutions as an important path for the world's clean-air options," explained
Kurihara
, who stood alongside a Left Hand Drive i-MiEV during his address to journalists at the New York International Auto Show.
"We believe the i-MiEV delivers on the promise of sustainability, suitable range, performance, and innovative packaging and styling."
The award-winning
Mitsubishi i-MiEV
is expected to be the world's first practical electric vehicle offered by a major automobile manufacturer when fleet sales begin this July in Japan.
State of Oregon and Portland General Electric Join Partnership

Kurihara
was pleased to also announce that the State of Oregon and
Portland General Electric
(PGE) (NYSE:POR) are joining
Mitsubishi
in the
i-MiEV
partnership program. "State of Oregon Governor Ted Kulongoski is a progressive thinker who is providing a roadmap of the future," commented
Kurihara
.
"The State of Oregon and Portland General Electric will become valuable partners in helping validate the future of all electric vehicles."
Details of the programs are being finalized, but the findings from these real-world, independent tests will play an important role in further advancing the car's development for the U.S. market.
"Oregon welcomes the partnership with Mitsubishi as we transition to the next generation in vehicle technology. Together, we can build a consistent and reliable infrastructure so consumers can make the switch seamlessly to electric vehicles,"
Governor Kulongoski
said. "The partnership shows that a state can create opportunity for its commitment to a greener future – wins for our economy and our environment."
PGE is rolling out a network of charging stations across its service territory in Oregon and the addition of i-MiEVs further facilitates its support of next-generation electric vehicles.
PGE currently has more than a dozen charging stations up and running.
"We are developing a model charging station infrastructure across our service territory to advance the electric vehicle market in Oregon for our customers," said
Jim Piro, president and CEO, PGE
.
"Our customers are number one in the nation in purchasing renewable power so clearly they are committed to sustainability. We expect Oregon to be one of the top markets for next generation electric vehicles. We look forward to partnering with Mitsubishi and the state of Oregon on this important project."
Mitsubishi i-MiEV Performance

Based on the successful Japanese market "i" car, the electric version replaces the i's conventional gasoline engine, transmission and fuel tank with an advanced lithium-ion battery system, electric motor and onboard charging system.
Unique rear mid-ship architecture allowed Mitsubishi Motors to seamlessly integrate the new components under the seats, luggage compartment and floor deck, meaning no compromise in interior cabin space.
In fact, there are few visual sight cues that indicate the vast technological differences between the gasoline and electric models.
With its high-torque electric motor and clever packaging, the i-MiEV offers an intelligent combination of useful performance with small physical and carbon footprints, plus a roomy interior and a sensible range of approximately 80 miles from its advanced lithium-ion battery pack.
The i-MiEV's battery pack consists of 22 modules, each one consisting of four cells that can be installed in either a vertical or transverse position under the i-MiEV's floor. The i-MiEV's onboard charger automatically adapts between a standard 110 outlet – which takes 12-14 hours – or half that time on 220.
There is also a fast charge connector that allows the battery to reach 80 percent of capacity in just 30 minutes.
The proprietary lithium-ion batteries are purpose-built for automotive applications.
It is produced by Lithium Energy Japan, a joint venture among GS Yuasa, Mitsubishi Corporation and Mitsubishi Motors.
About Mitsubishi Motors Corporation
Mitsubishi Motors North America, Inc., (MMNA) is responsible for all manufacturing, finance, sales, marketing, research and development operations for Mitsubishi Motors in the United States.
MMNA sells coupes, convertibles, sedans, sport utility vehicles and light trucks through a network of approximately 420 dealers.
About PGE

Portland General Electric Company, headquartered in Portland, Ore., is a fully integrated electric utility that serves approximately 810,000 residential, commercial and industrial customers in Oregon.
For more information about Portland General Electric Company, please visit the company's Web site at
www.PortlandGeneral.com
http://www.mitsubishicars.com/MMNA/jsp/imiev/greencar.do