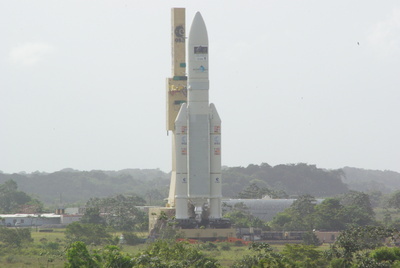 Ariane 5 enclosing Herschel and Planck being brought to the launch pad at Europe's Spaceport in French Guiana.
Foto: ESA
Live web streaming of Herschel-Planck launch on Thursday 14 May, starts at 14:40 CEST and lasts until 15:52 CEST. The launch itself is scheduled to take place at 15:12 CEST.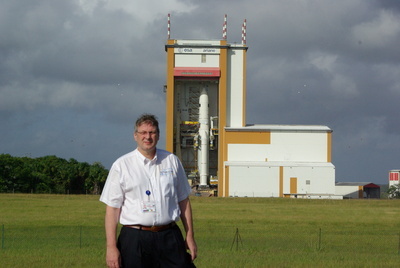 Thomas Passvogel, ESA Herschel and Planck Project Manager
Foto: ESA
At around 13:40 CEST today, 8:40 at the launch site in
Kourou
, the
Ariane 5
carrying
Herschel
and
Planck
rolled out onto the launch pad from its earlier location in the final assembly building under blue skies complete with puffy clouds.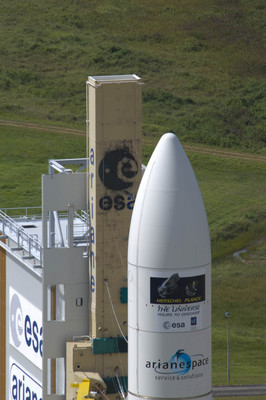 Ariane 5 enclosing Herschel and Planck
Foto: ESA
The entire process of moving the launcher from the final assembly building to the launch pad 2.6 km away took about 1.5 hrs. Roll-out was announced at 8:40 local time after which the launcher was pulled out of the final assembly building.
The Ariane 5 arrived at the launch pad at about 10:15 local time.
"The view is just spectacular," reported Göran Pilbratt ESA's Herschel Project Scientist, on location at Europe's Spaceport in Kourou, French Guiana.

Herschel and Planck will launch together on an Ariane 5
Foto: ESA

Herschel
and
Planck
will launch together on an
Ariane 5
from Europe's Spaceport in Kourou, French Guiana.
The satellites will separate shortly after launch and proceed independently to different orbits around the second Lagrange point of the Sun-Earth system, or L2.
The Ariane 5 will burn its solid boosters for slightly less than 2.5 minutes and its main and upper stage engines for about 25 minutes, setting Herschel and Planck on the path to L2.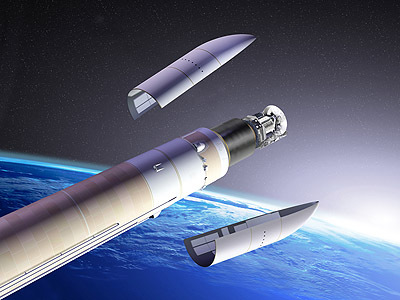 Herschel and Planck into space
Foto: ESA
An
Ariane 5
will carry
Herschel
and
Planck
into space.
About 30 minutes after launch. The launcher's solid rocket boosters will separate from the upper stage approximately 2.5 minutes after launch, and the fairing will come off about 4 minutes after launch.
Following this first Herschel, and then Planck, will separate from the upper stage.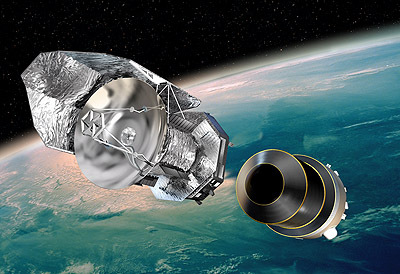 Herschel separates from upper stage
Foto: ESA
About 0.5 hours after launch,
Herschel
separates from the launcher upper stage (a couple of minutes before
Planck
) and starts its cruise to L2 (the second Lagrangian point), situated at about 1.5 million kilometers from Earth.
L2, the second Lagrangian Point

The
L2
point is rapidly establishing itself as a pre-eminent location for advanced space probes and ESA has a number of missions that will make use of this orbital 'sweet-spot' in the coming years. L2 will become home to ESA missions such as Herschel, Planck, Eddington, Gaia, the James Webb Space Telescope and Darwin.
L2
is one of the so-called
Lagrangian points
, discovered by mathematician Joseph Louis Lagrange, where all the gravitational forces acting between two objects cancel each other out and therefore can be used by spacecraft to 'hover'. It is located 1.5 million kilometers directly 'behind' the Earth as viewed from the Sun. It is about four times further away from the Earth than the Moon ever gets and orbits the Sun at the same rate as the Earth.
It is a great place from which to observe the larger Universe. A spacecraft would not have to make constant orbits of the Earth, which result in it passing in and out of the Earth's shadow and causing it to heat up and cool down, distorting its view. Free from this restriction and far away from the heat radiated by Earth, L2 provides a much more stable viewpoint.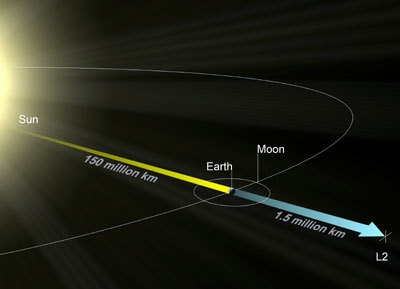 Location of Lagrangian point (L2).
This is an illustration of the L2 point showing the distance between the L2 and the Sun, compared to the distance between Earth and the Sun.
Foto: ESA
Since Lagrangian points are produced by the 'balance' of two or more opposing forces, it is possible that 'artificial' Lagrangian points could be created by spacecraft if they could constantly produce a force to counteract the pull of gravity. Giant reflective sails, known as solar sails, could do this by using the Sun's light to push. They would allow spacecraft to 'hover' almost anywhere they wanted in space, rather than being forced to move constantly through an orbit.
Lagrange
was born in Turin in 1736. He moved to Paris in 1787, where he remained, until his death in 1813. During his life, his greatest contribution to mathematical astronomy was his theoretical investigation of the way in which gravitational forces act on a small mass when placed in the vicinity of two larger ones. He discovered that there are 5 points, dotted around the two larger masses, in which all the forces acting on the small one would cancel out. These have become known as Lagrangian points and are labeled L1 to L5.
ESA

13 May 2009
http://www.esa.int/esaCP/SEMG65ZVNUF_index_0.html
http://www.esa.int/esaCP/SEMVW10YDUF_index_1.html
Zobaczą początek świata

Już 14 maja 2009 roku o godzinie 15.12 naszego czasu na pokładzie rakiety
Ariane 5
, która wystartuje z
Centrum Kosmicznego Kourou
w Gujanie Francuskiej, w podróż wyruszą kosmiczny teleskop
Herschel
i obserwatorium orbitalne
Planck
.
Kilkakrotnie przekładana misja, realizowana jest przez Europejską Agencję Kosmiczną
ESA
przy współudziale
NASA
.
W programie badawczym uczestniczą polscy naukowcy.
Jeśli wszystko pójdzie dobrze, start nastąpi 14 maja 2009 roku o godz. 15.12 naszego czasu.
Krótko po starcie satelity odłączą się od rakiety, by osobno zmierzać na swoje pozycje na orbicie.
Obie sondy będą poruszały się po tzw.
orbicie Lissajousa
wokół jednego z punktów libracyjnych odległego od Ziemi o 1,5 mln km (gdzie występuje równowaga sił grawitacyjnych Słońca, Ziemi i Księżyca).
Herschel
zajmie miejsce na orbicie w odległości około 800 tysięcy kilometrów od punktu libracyjnego,
Planck
znajdzie się 400 tysięcy kilometrów bliżej punktu.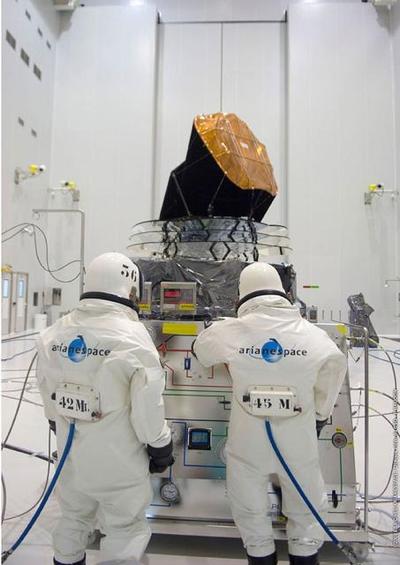 Obserwatorium Plancka
Foto: AFP
Oba satelity, choć za pomocą różnych metod, spróbują odtworzyć wczesną historię wszechświata.
Obserwatorium Plancka
będzie próbowało znaleźć odpowiedzi na fundamentalne pytania kosmologii: o początki i ostateczny los wszechświata.
Planck spojrzy w przeszłość aż do momentu około 400 tysięcy lat po Wielkim Wybuchu, który uznawany jest za początek znanego nam wszechświata i według obecnego stanu wiedzy nastąpił około 14 miliardów lat temu.
Mierząc mikroskopijne (rzędu kilku części na milion) zmiany temperatury i polaryzacji promieniowania tła w zależności od kierunku na niebie, Planck pozwoli na uściślenie lub wyznaczenie po raz pierwszy takich cech wszechświata, jak jego wiek, skład, masa i geometria.
Dzięki pomiarom Plancka dowiemy się też o hipotetycznej fazie inflacji (szybkiego rozszerzania się) wczesnego wszechświata.
Koszt misji to 700 milionów euro.
Nosi ona imię niemieckiego fizyka
Maksa Plancka
, laureata Nagrody Nobla za badania nad promieniowaniem.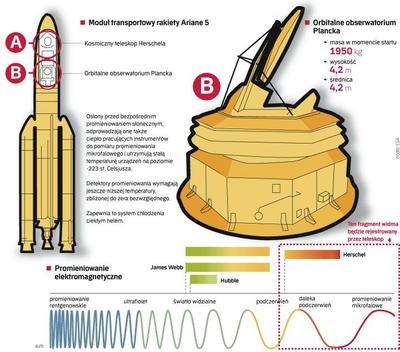 Moduł transportowy rakiety Ariane 5 oraz orbitalne obserwatorium Planck
Źródło: Rzeczpospolita
– Planck wykona najbardziej precyzyjne dotychczas pomiary poświaty całego nieba w zakresie mikrofal – kosmicznego promieniowania tła – wyjaśnia
prof. Andrzej Udalski
z Obserwatorium Astronomicznego Uniwersytetu Warszawskiego.
– Promieniowanie tła jest reliktem po okresie, w którym wszechświat był bardzo gorący, gęsty i zjonizowany, nieprzezroczysty dla promieniowania – dodaje
prof. Krzysztof Górski
z Jet Propulsion Laboratory (JPL) NASA w Kalifornii.
Najważniejsze podzespoły naukowych instrumentów Plancka zbudowali inżynierowie z
Jet Propulsion Laboratory
.
Analizą danych zajmą się zespoły naukowe z USA i Europy.
Członkiem jednego z nich w JPL jest prof. Górski, pracownik Obserwatorium Astronomicznego Uniwersytetu Warszawskiego.
Polski naukowiec jest koordynatorem amerykańskiej grupy naukowej
, która będzie uczestniczyć w analizie danych i interpretacji pomiarów przysłanych przez Plancka.
– Spodziewamy się najlepszych dotychczas pomiarów temperatury promieniowania tła na całym niebie, skokowego polepszenia wiedzy na ten temat po misjach
COBE
i
WMAP
. Planck będzie obserwował całe niebo, a nie tylko kilka procent jego powierzchni. Te pomiary powinny być już niemożliwe do "pobicia". Planck był projektowany jako "ostateczny" eksperyment do pomiarów temperatury promieniowania tła – powiedział prof. Krzysztof Górski.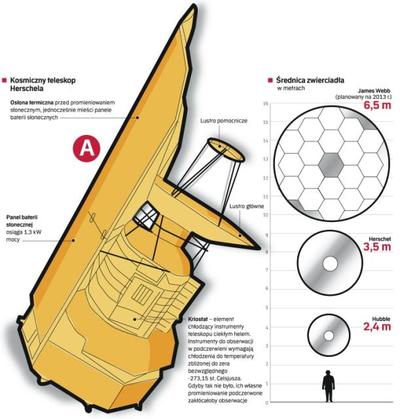 Kosmiczny teleskop Herschel

Herschel
jest największym dotychczas teleskopem kosmicznym – średnica jego zwierciadła głównego wynosi 3,5 metra.
Będzie obserwować kosmos w zakresie dalekiej podczerwieni i fal submilimetrowych.
Dzięki czułym detektorom będzie w stanie obserwować najsłabsze obiekty we wszechświecie – obłoki pyłu i gazu, z których tworzą się gwiazdy i planety.
Główne cele Herschela to zbadanie procesu powstawania galaktyk we wczesnym wszechświecie, poznanie mechanizmu tworzenia się gwiazd oraz ustalenie składu chemicznego wszechświata.
Herschel będzie też prowadził obserwacje powłok gazowych planet i komet w Układzie Słonecznym.
Teleskop zyskał imię
Williama Herschela
(1738 – 1822) – urodzonego w Niemczech brytyjskiego astronoma i kompozytora, konstruktora teleskopów, który odkrył Urana.
Całkowity koszt teleskopu Herschela to 1,1 miliarda euro.
Krzysztof Urbański

Rzeczpospolita, 13.05.2009
http://www.rp.pl/artykul/2,304526_Zobacza_poczatek_swiata__.html
http://www.esa.int/esaCP/SEMG65ZVNUF_index_0.html
http://www.esa.int/esaCP/SEMVW10YDUF_index_1.html