Toshiba, a world leader in high technology, is a diversified manufacturer and marketer of advanced electronic and electrical products, spanning information & communications equipment and systems, Internet-based solutions and services, electronic components and materials, power systems, industrial and social infrastructure systems, and household appliances.
Under its mid term business plan, Toshiba is working for enhanced recognition as a highly profitable group of companies, active in both high growth and stable growth businesses.
TOKYO — 25 Feb, 2009 - Toshiba Corporation (TOKYO: 6502) today announced that Toshiba America Nuclear Energy Corporation, a US based Toshiba subsidiary, has signed an Engineering, Procurement and Construction (EPC) agreement with STP Nuclear Operating Company (STPNOC) for the delivery of two Advanced Boiling Water Reactor (ABWR) nuclear power plants at the South Texas Project (STP) units 3 and 4 in Texas.
STPNOC, a non-profit operating company acting as agent for Nuclear Innovation North America LLC (NINA) and CPS Energy, is a plant management company responsible for management of the overall South Texas Project.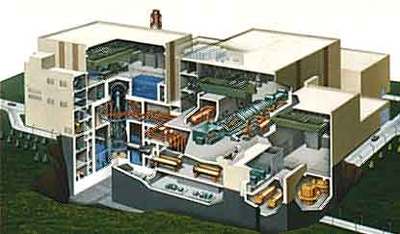 ABWR - The Advanced Boiling Water Reactor
NINA is the ABWR nuclear development company jointly owned by NRG Energy, Inc. (NYSE: NRG) and Toshiba Corporation. CPS Energy, the largest municipal electric and gas utility in the U.S., is owned and operated by the city of San Antonio, Texas. The South Texas Project consists of two existing reactors owned by CPS Energy, NRG Energy and Austin Energy in addition to the two planned ABWRs to be constructed at the Site.
The plants, the first ABWR constructed in the United States, will have an output of approximately 1,400 megawatts each, and are scheduled to start operation at units 3 and 4 in 2016 and 2017, respectively.
Westinghouse Electric Company is also expected to participate in the STP 3 & 4 projects.
In March 2008, NRG Energy and CPS Energy selected Toshiba as prime contractor for the development of the projects, and Toshiba has been responsible for all engineering work prior to the start of plant construction, for procurement of major equipment and components, and for supporting the licensing process.
"We are very pleased to take our involvement in the STP units 3 and 4 projects to the next level," said Mr. Yasuharu Igarashi, Corporate Vice President, and President and CEO of Toshiba's Power Systems Company. "We look forward to working closely with STPNOC through our US subsidiary, and to establishing the ABWR as a key power generation option in the U.S. We are confident that expertise in ABWR plant construction and project management cultivated in Japan will allow us to meet STPNOC's requirements. Toshiba group, including Westinghouse Electric Company, will continue to promote the nuclear power business and its capabilities, not least its CO2 -free emissions, and to support potential customers worldwide."
ABWR - The Advanced Boiling Water Reactor
Boiling water reactors (BWR) provide one of today's most widely used means of nuclear power generation. In a BWR plant, the reactor uses low-enriched uranium as a fuel for bringing the moderator and coolant water to the boil directly at the reactor core.
The resulting steam drives the turbine.
Toshiba's Advanced Boiling Water Reactor (ABWR), the culmination of years of experience in BWR construction, takes and enhances the best elements of the company's BWR technology.
ABWR: The Energy Source for 21st Century

Dreams come true with our excellent experience and high technology on nuclear power generation.
It is Advanced Boiling Water Reactor (ABWR).
Its short construction period and large capacity take power generation a long step forward toward 21st century.
Kashiwazaki-Kariwa Unit No.6, 1356MWe, has been in commercial operation since November 7, 1996. Owned and operated by Tokyo Electric Power Company (TEPCO), it is the world's first ABWR.
Toshiba was representative administrator for this huge Unit No.6 construction project.
And also 2nd ABWR, Kashiwazaki-Kariwa Unit No.7, same capacity as Unit No.6, has been in commercial operation since July 2,1997.
ABWR enjoys a reputation for excellence in respect to safety, economy, operability and reliability. The first ABWR, Kashiwazaki-Kariwa Unit No. 6, commenced commercial operation in 1996, followed by Unit No.7 the following year, both delivered to Tokyo Electric Power Company. Since then, both units have shown stable performance.
Construction Schedule and Methodology for
Kashiwazaki-Kariwa Unit No.6

RCCV: Reinforced Concrete Containment Vessel
RPV: Reactor Pressure Vessel
RIN: Reactor Internals
RB: Reactor Building
Successively, Toshiba took charge of the nuclear reactor equipment of Hamaoka Unit No. 5 of Chubu Electric Power Co., Inc. as our third ABWR, incorporating the latest in technology. Hamaoka Unit No. 5 commenced commercial operation in January 2005, emerging as a plant with the electricity output of 1380 MW, one of the world's largest in output.
Various new technologies were employed in Hamaoka Unit No. 5 to improve reliability and economy, such as "S-FMCRD (Sealless Fine-Motion Control Rod Drive)" which eliminated the use of seal housing by adopting a magnetic coupling, "A-PODIA (Advanced Plant Operation by Displayed Information and Automation)" to improve operability with its Large Display Panel, "ASD - the multiple drive power supply to reactor internal pumps" that can drive two or three RIPs with a large-capacity inverter.
Toshiba is currently deploying ABWRs for the international market, which feature an improved design and are backed by Toshiba's experience obtained through the construction, inspection and maintenance of these domestic nuclear power plants.
http://www.toshiba.co.jp/about/press/2009_02/pr2501.htm
http://www.toshiba.co.jp/nuclearenergy/english/business/re-actor/newabwr.htm#SFMCRD
http://www.toshiba.co.jp/nuclearenergy/english/business/re-actor/newabwr_1.htm