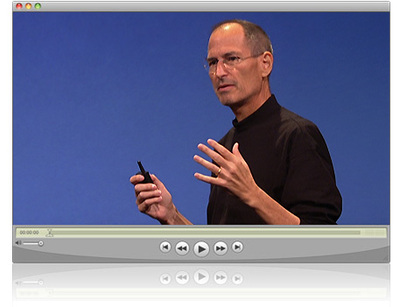 Steve Jobs
Foto: Apple
BURLINGAME, CALIF. - How much cash does Apple have? So much that even the hard-bitten investment analysts who cover the company for a living are sometimes in awe.

With automakers, insurance companies and banks going to the U.S. government and begging for bailout money, Apple (nasdaq: AAPL - news - people ) Chief Executive Steve Jobs took a moment during last month's earnings conference call to call attention to his company's massive $24.5 billion pile of cash and short-term investments.

"I think you could hire almost every engineer in Silicon Valley on a lifetime employment contract and not really dent that significant cash horde that you have," Bernstein Research senior analyst Toni Sacconaghi said on the earnings call.

"There's going to be some significant opportunities," Jobs replied dryly. "I think hiring every engineer in Silicon Valley is a good idea, though. Thanks."

The bottom line: Jobs is the king of cash, he can do anything.

Of course, when just measuring cash and cash-equivalents, computer and printer giant Hewlett-Packard (nyse: HPQ - news - people ) has more in the bank. But when you add in short-term investments, HP's total hoard is $14.8 billion compared to Apple's $24.5 billion.
Brian Caulfield is a Senior Technology Writer at Forbes.com.
So what will Jobs do with enough money to buy Japanese consumer electronics giant Sony (nyse: SNE - news - people )? Apple is already making acquisitions, albeit judiciously. In April, the Cupertino, Calif.-based computer and gadget maker spent $278 million in cash for chip designer PA Semi (see " Why Apple Could Make Phone Chips"). Jobs has said the PA Semi team will be designing silicon for Apple's iPods and iPhones. And with the tech downturn deepening, Apple can use cash to scoop up as many start-ups as it needs.

A stock buyback is another possibility. Despite surging sales of iPhones and Macintosh computers, Apple's shares have fallen nearly 50% this year. Apple's pile of cash and short-term investments now represents a third of its market capitalization. With Apple cranking out roughly $8 billion in cash each year, Apple can certainly afford it. "We believe a share repurchase represents the best use of, at least part of, Apple's [roughly] $25 billion in cash," Bernstein's Sacconaghi said in a note to investors last month.

Others, however, argue that with finance growing tight, thanks to the collapse of Lehman Brothers and the bail out of the nation's banks, sitting tight is the right thing to do. "I'd sit there with all my cash," says Roger Kay, president of Endpoint Technologies Associates. "The guys with the cash--banded bundles of 100 dollar bills--are in the best shape of all."

Apple, of course, is one of many tech companies with large cash piles. The key difference: Other tech companies have been more diligently spending their money on stock buybacks and acquisitions. IBM (nyse: IBM - news - people ), HP and Oracle (nasdaq: ORCL - news - people ) have all been snapping up companies at a steady pace. Says Crawford Del Prete, an executive vice president at tech tracker IDC, "These companies are trying very hard to fill cracks in their portfolios so they can capture more of the value in their customers' spending,"

Brian Caulfield

05.11.2008

http://www.forbes.com/technology/2008/11/05/tech-cash-kings-tech-enter-cx_bc_1105cashkings.html

Steve Jobs

Steve Jobs is the CEO of Apple, which he co-founded in 1976.

Apple leads the industry in innovation with its award-winning Macintosh computers, OS X operating system, and consumer and professional applications software.
Apple is also leading the digital music revolution, having sold over 110 million iPods and over three billion songs from its iTunes online store. Apple entered the mobile phone market this year with its revolutionary iPhone.

Steve also co-founded Pixar Animation Studios, which has created eight of the most successful and beloved animated films of all time: Toy Story, A Bug's Life, Toy Story 2, Monsters, Inc., Finding Nemo, The Incredibles, Cars and Ratatouille.
Pixar has won 20 Academy Awards and its films have grossed more than $4 billion at the worldwide box office to date.
Pixar merged with The Walt Disney Company in 2006 and Steve now serves on Disney's board of directors.

Steve grew up in the apricot orchards which later became known as Silicon Valley, and still lives there with his wife and three children.
http://www.apple.com/pr/bios/jobs.html