Tesla Model S - Full charge in 90 seconds.
Model S is designed to allow a fast battery swap, exchanging your battery for a fully charged battery in less than half the time it takes to refill a gas tank.
This offers Model S drivers another, even faster option when recharging while driving long distances.
Courtesy of Tesla Motors
Palo Alto, USA - August 15, 2014
Infinite Mile Warranty
By Elon Musk, CEO
The Tesla Model S drive unit warranty has been increased to match that of the battery pack.
That means the 85 kWh Model S, our most popular model by far, now has an 8 year, infinite mile warranty on both the battery pack and drive unit.
There is also no limit on the number of owners during the warranty period.
Moreover, the warranty extension will apply retroactively to all Model S vehicles ever produced.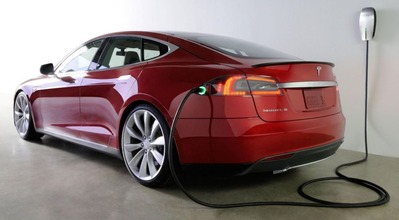 Tesla Model S
"Consumer Reports is calling the Tesla Model S the best car it has ever tested.
The Model S, an all-electric plug-in car, earned a score of 99 out of a possible 100 in the magazine's tests."
- CNN, May 09, 2013.
Courtesy of Tesla Motors
In hindsight, this should have been our policy from the beginning of the Model S program.
If we truly believe that electric motors are fundamentally more reliable than gasoline engines, with far fewer moving parts and no oily residue or combustion byproducts to gum up the works, then our warranty policy should reflect that.
To investors in Tesla, I must acknowledge that this will have a moderately negative effect on Tesla earnings in the short term, as our warranty reserves will necessarily have to increase above current levels.
This is amplified by the fact that we are doing so retroactively, not just for new customers.
However, by doing the right thing for Tesla vehicle owners at this early stage of our company, I am confident that it will work out well in the long term.
–
Elon
Elon Musk, CEO, Tesla Motors, Inc
Panasonic and Tesla Sign Agreement for the Gigafactory
Osaka, Japan and Palo Alto, USA - July 31, 2014
Panasonic Corporation
and
Tesla Motors, Inc.
have signed an agreement that lays out their cooperation on the construction of a large-scale battery manufacturing plant in the
United States
, known as the
Gigafactory
.
According to the agreement,
Tesla will prepare, provide and manage the land, buildings and utilities
.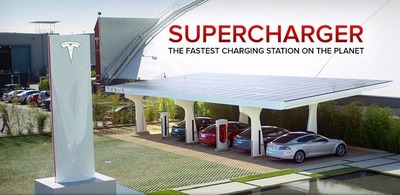 Tesla Superchargers allow Model S owners to travel for free between cities along well-traveled highways in North America, Europe and Asia.
Superchargers provide half a charge in as little as 20 minutes and are strategically placed to allow owners to drive from station to station with minimal stops.
Courtesy of Tesla Motors

Panasonic
will manufacture and supply cylindrical lithium-ion cells and invest in the associated equipment, machinery, and other manufacturing tools based on their mutual approval.
A network of supplier partners is planned to produce the required precursor materials.
Tesla
will take the cells and other components to assemble battery modules and packs.
To meet the projected demand for cells,
Tesla
will continue to purchase battery cells produced in
Panasonic's factories in Japan
.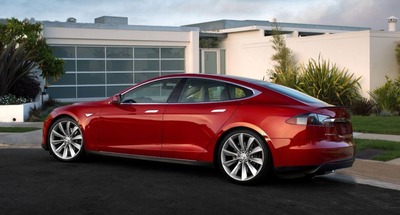 Tesla Model S
"Model S voted as the most stylish car of the year 2014 in Switzerland".
- Blick, December 04, 2013.
Courtesy of Tesla Motors

Tesla
and
Panasonic
will continue to discuss the details of implementation including sales, operations and investment.
The Gigafactory
is being created to enable a continuous reduction in the cost of long range battery packs in parallel with manufacturing at the volumes required to enable
Tesla
to meet its goal of advancing mass market electric vehicles.
The Gigafactory
will be managed by
Tesla
with
Panasonic
joining as the principal partner responsible for lithium-ion battery cells and occupying approximately half of the planned manufacturing space; key suppliers combined with Tesla's module and pack assembly will comprise the other half of this fully integrated industrial complex.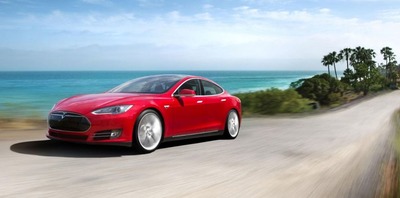 Tesla Model S
Courtesy of Tesla Motors

JB Straubel, Chief Technical Officer and Co-founder of Tesla Motors
said:
"the Gigafactory represents a fundamental change in the way large scale battery production can be realized. Not only does the Gigafactory enable capacity needed for the Model 3 but it sets the path for a dramatic reduction in the cost of energy storage across a broad range of applications."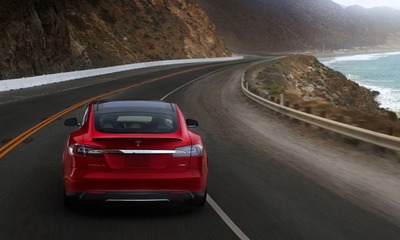 Tesla Model S
Courtesy of Tesla Motors

Yoshihiko Yamada, Executive Vice President of Panasonic
, added,
"We have already engaged in various collaborative projects with Tesla toward the popularization of electric vehicles. Panasonic's lithium-ion battery cells combine the required features for electric vehicles such as high capacity, durability and cost performance. And I believe that once we are able to manufacture lithium-ion battery cells at the Gigafactory, we will be able to accelerate the expansion of the electric vehicle market."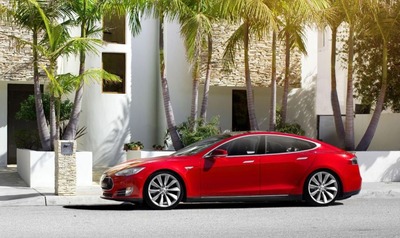 Tesla Model S
Courtesy of Tesla Motors
Cost reductions will be achieved through optimized manufacturing processes driven by economies of scale previously unobtainable in battery cell and pack production.
Further price reductions are achieved by manufacturing cells that have been optimized for electric vehicle design, both in size and function, by co-locating suppliers on-site to eliminate packaging, transportation & duty costs and inventory carrying costs, and by manufacturing at a location with lower utility and operating expenses.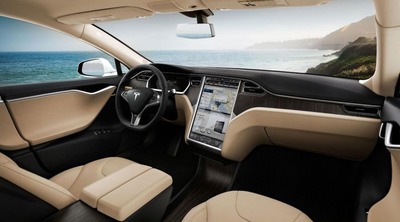 Tesla Model S interior
Courtesy of Tesla Motors

The Gigafactory will produce cells, modules and packs for Tesla's electric vehicles and for the stationary storage market
.
The Gigafactory is planned to produce 35GWh of cells and 50GWh of packs per year by 2020.

Tesla projects that the Gigafactory will employ about 6,500 people by 2020.
Panasonic

http://panasonic.net/
Tesla Motors

http://www.teslamotors.com/blog-and-press-releases
Media Contacts
:
Panasonic Corporation
Tel: +81-(0)3-3574-5664
Fax: +81-(0)3-3574-5699
Tesla Motors
press@teslamotors.com
Tel: +1650-833 8456
Source: Tesla Motors, Inc
http://www.teslamotors.com/
ASTROMAN Magazine - 2014.06.14
Tesla Motors Inc CEO Elon Musk says he's making the firm's patents public in bid to grow electric car market
http://www.astroman.com.pl/index.php?mod=magazine&a=read&id=1733
ASTROMAN Magazine – 2013.12.27
NHTSA Reaffirms Tesla Model S 5-Star Safety Rating In All Categories For Model Year 2014
http://www.astroman.com.pl/index.php?mod=magazine&a=read&id=1617
ASTROMAN Magazine - 2012.08.15

Tesla Motors announces Canadian pricing for Model S
http://www.astroman.com.pl/index.php?mod=magazine&a=read&id=1298
ASTROMAN Magazine - 2011.12.25
Tesla Motors: With the Model S, our aim was to create the best car in the world, not simply the best electric car
http://www.astroman.com.pl/index.php?mod=magazine&a=read&id=1129
ASTROMAN Magazine - 2010.02.01
Tesla Files S-1 Registration Statement for Initial Public Offering
http://www.astroman.com.pl/index.php?mod=magazine&a=read&id=656
Editor-in-Chief of ASTROMAN magazine: Roman Wojtala, PhD.