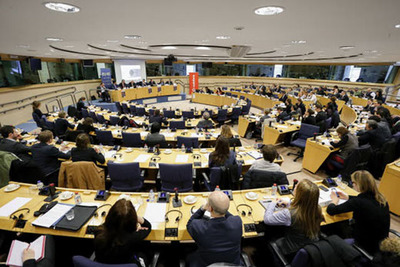 EU40, the network of young Members of the European Parliament, and Vodafone Group organised an event to discuss the opportunities and challenges faced by SMEs in the digital Age.
Circle Research showed the results of the survey on "SMEs and Digitization".
Courtesy of Vodafone
Newbury, Berkshire, England - April 11, 2014
Vodafone announces that it now owns 100% of its Indian subsidiary, Vodafone India Limited ("VIL").

In March 2014, Vodafone completed the acquisition of indirect equity interests in VIL held by Analjit Singh and Neelu Analjit Singh, taking its stake to 89.03% of VIL.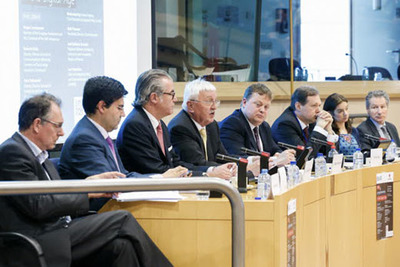 EU40, the network of young Members of the European Parliament, and Vodafone Group organised an event to discuss the opportunities and challenges faced by SMEs in the digital Age.
Circle Research showed the results of the survey on "SMEs and Digitization".
Courtesy of Vodafone

Today Vodafone acquired the remaining 10.97% of VIL from Piramal Enterprises Limited.

The combined cash consideration for both transactions was INR 101.418 billion (£1.0 billion).

At an exchange rate of
£1.00: INR 100.9713
.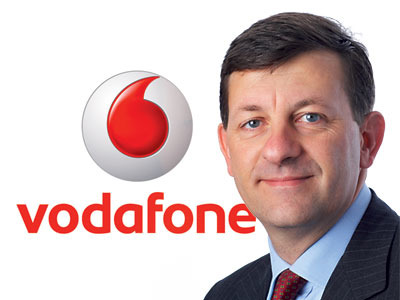 Vittorio Colao, Vodafone Group CEO.

Courtesy of Vodafone
For further information:
Vodafone Group
Investor Relations
Tel: +44 (0) 7919 990 230
Media Relations
www.vodafone.com/media/contact

Vodafone operates a whistle-blowing mechanism called "Speak Up" for all employees, suppliers and business partners.
It is the duty of our suppliers, contractors, business partners and employees to report any breach of the Code of Conduct including dishonesty, corruption, fraud, labour and human rights concerns, environmental damage or any other unethical behaviour.
Courtesy of Vodafone
About Vodafone
Vodafone is one of the world's largest telecommunications companies with approximately 419 million customers in its controlled and jointly controlled markets as of 31 December 2013.



The emergence of mobile voucher apps has provided consumers with money-saving offers direct to their smartphones.
From deals on shopping and eating out through to leisure and entertainment, consumers can save money on hundreds of items and activities.
vouchercloud is Europe's biggest mobile voucher app, allowing shoppers to save money on well-known international brands, independent retailers and local services.
Courtesy of Vodafone

Vodafone has equity interests in telecommunications operations in nearly 30 countries and around 50 partner networks worldwide.

From Ghana to Greece, England to Egypt, India to Ireland, all over the world, we all work together to produce the best solutions and the most rewarding results.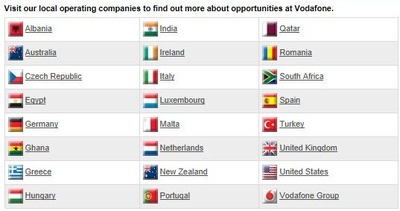 Courtesy of Vodafone

Great minds think alike here at Vodafone.

Which is great news for you as it mean s you may get the chance to travel to different operating countries, experience new cultures and develop your skills further afield.



The global gift card market is a multi-billion pound industry, generated by the buying and selling of physical gift cards from major high street brands.
Courtesy of Vodafone

Enriching lives is not just something we do for our customers, sharing what you've learned with your colleagues back at home is all part of the experience.

Partner markets
Vodafone Group has entered into arrangements with network operators in countries where the Group does not hold an equity stake.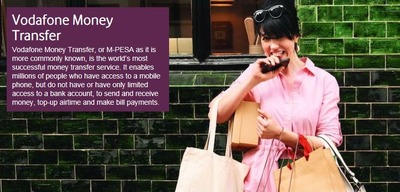 Vodafone Money Transfer, or M-PESA as it is more commonly known, is the world's most successful money transfer service.
It enables millions of people who have access to a mobile phone, but do not have or have only limited access to a bank account, to send and receive money, top-up airtime and make bill payments.
Courtesy of Vodafone

Under the terms of these Partner Market Agreements, Vodafone and its partner operators co-operate in the marketing of global products and services with varying levels of brand association.



OneSCM is the name given to the supply chain community at Vodafone.
It was created to procure products and services for a large variety of applications to help run our business, such as equipment for our networks, corporate services and IT infrastructure.


Courtesy of Vodafone

This strategy enables Vodafone to implement services in new territories and to create additional value to their partners' customers and to Vodafone's travelling customers without the need for equity investment in these countries.



In order to meet our responsibilities we want everyone working with us, be it an individual or a multinational company, to be clear on our approach and expectations around health, safety and wellbeing.
Courtesy of Vodafone

Similar agreements also exist with a number of the Group's joint ventures, associated undertakings and investments (the affiliates).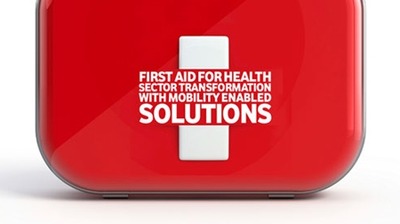 Vodafone mHealth Solutions recognise the value of using mobile phones and devices as the basis for innovative, yet practical solutions that create a gateway to the cost effective provision of modern healthcare services.

We are transforming the way healthcare is provisioned.
Courtesy of Vodafone
For more information, please visit:
www.vodafone.com
Contact Vodafone Group Plc
Central switchboard
All general enquiries about Vodafone should be made through the central switchboard:
Tel: +44 (0) 1635 33251
Vodafone's registered office address:
Vodafone Group Plc

Vodafone House
The Connection
Newbury
Berkshire
RG14 2FN
England
Vittorio Colao
Chief Executive of Vodafone Group Plc
Board director since 9 October 2006 and appointed Chief Executive on 29 July 2008
.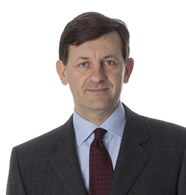 Vittorio Colao
Courtesy of Vodafone
Vittorio Colao, Chief Executive, aged 52, was appointed Chief Executive of Vodafone Group Plc after the AGM on 29 July 2008.
He joined the Board in October 2006 as Chief Executive, Europe and Deputy Chief Executive.
The early part of his career was spent in the Milan office of McKinsey & Company working on media, telecommunications and industrial goods, with additional responsibility for recruitment.
In 1996 he joined Omnitel Pronto Italia, which subsequently became Vodafone Italy, and he was appointed Chief Executive in 1999.
He was then appointed regional Chief Executive Officer, Southern Europe for Vodafone Group Plc in 2001, became a member of the Board in 2002 and was appointed to the role of Regional Chief Executive Officer for Southern Europe, Middle East and Africa for Vodafone in 2003.
In 2004 he left Vodafone to join RCS MediaGroup, the leading Italian publishing company, where he was Chief Executive until he rejoined Vodafone as CEO, Europe.
He sits on the International Advisory Board of Bocconi University, Italy and is a Member of the Steering Committee of the European Round Table of Industrialists.
Source: Vodafone
http://www.vodafone.com/
ASTROMAN Magazine - 2013.09.04
Verizon Reaches Agreement to Acquire Vodafone's 45 Percent Interest in Verizon Wireless for USD 130 Billion
http://www.astroman.com.pl/index.php?mod=magazine&a=read&id=1546