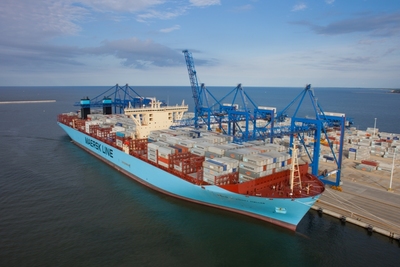 Hosting Maersk Mc-Kinney Moller during her maiden voyage proves that DCT Gdansk is ready to service ultra-large container vessels in the Baltic Sea region.
Courtesy of DCT Gdansk
Gdansk, Poland - August 22, 2013
DCT Gdansk and Maersk Line are proud to announce the arrival of the first Triple-E class vessel – Maersk Mc-Kinney Moller – to DCT Gdansk container terminal on her maiden voyage from Asia to Europe.

The arrival of the world's largest container ship in Gdansk is a memorable moment for the city and the region, as well as an unquestioned milestone for the entire Polish container business.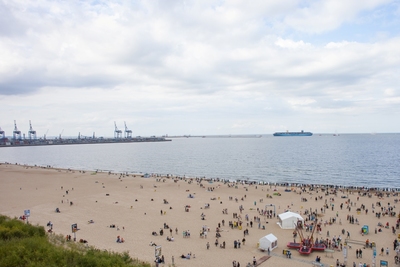 Courtesy of DCT Gdansk

Maersk Mc-Kinney Moller can carry 18,000 TEU (20-foot containers) and is the largest container ship ever built.

Her integration into the Asia-Europe trade lane is a signal of the importance of this trade and the commitment of the carrier, Maersk Line, to deploy the new vessels to the route where it makes the most commercial sense.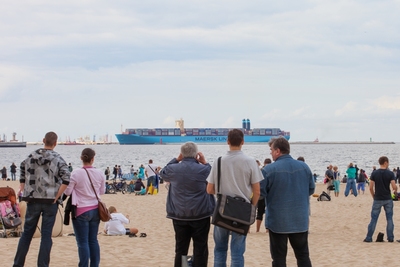 Courtesy of DCT Gdansk

Within this corridor, Poland has become an important link in the chain moving goods to consumers in this part of Europe and DCT Gdansk has achieved the role of a regional hub, handling cargo not only for the Polish market, but also for the Baltics and other Central and Eastern Europe destinations.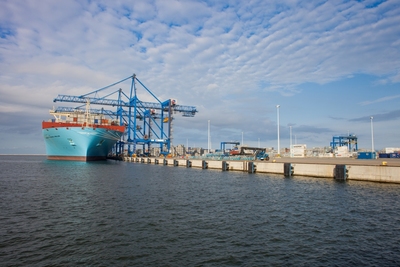 Courtesy of DCT Gdansk

In 2011, when Maersk Line's first E class type vessel Emma Maersk called DCT Gdansk, the carrier and the terminal set a new standard for servicing the Polish market and introducing innovative transportation solutions for the benefit of customers in export and import.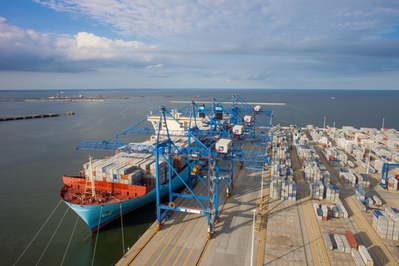 Courtesy of DCT Gdansk

"In a changing market, innovation is of crucial importance in order to continue providing the highest level of service to our customers,"
says Thomas Bagge, Managing Director of Maersk Line in East Central Europe and head of Maersk Polska.

"The introduction of the world's most efficient vessels is part of our drive to optimize our fleet. This is matched by our continuous efforts to optimize the entire network, in order to offer stable, reliable and consistent service to customers."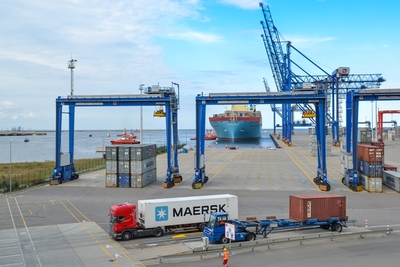 Courtesy of DCT Gdansk

Hosting Mærsk Mc-Kinney Møller during her maiden voyage proves that DCT Gdansk is ready to service ultra-large container vessels in the Baltic Sea region.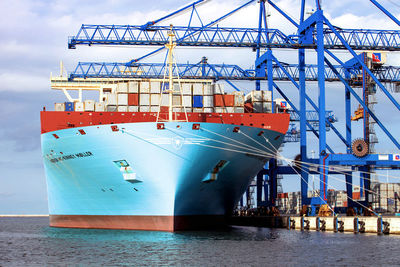 Courtesy of DCT Gdansk

"Location and depth of water in the Port of Gdansk allowed DCT to assume position of a gateway to Poland and to the entire Baltic Sea region. Now, with Triple E vessels entering the Baltic, we are able to offer even more effective services. By being one of only 14 world's ports that received the Triple-E, DCT Gdansk confirmed its role as the major Baltic hub port. We are honoured to be, together with our partner Maersk Line, the main driving force behind the development and constant innovation of the container business in Poland and the region,"
said Maciek Kwiatkowski, President of the Board, DCT Gdansk.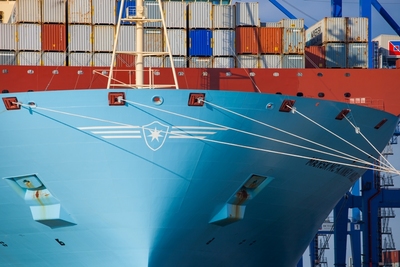 Courtesy of DCT Gdansk

Maersk Mc-Kinney Moeller will discharge and load containers in Gdansk until Saturday, August 24th.
About DCT Gdansk SA
History
The concept for the deep water container terminal located in Gdansk began in the late 90's in order to address the ever growing potential of the Baltic's deep-sea trading routes.
DCT Gdansk was selected by the Port of Gdansk to design, construct and operate a new independent deep-sea container port that was aimed to be the largest of its kind in the Baltic.
DCT Gdansk received its first vessel on the 1st of June 2007.
The grand opening celebration took place on the 3rd of October 2007.
During the first years of operations, the terminal specialized in handling feeder vessels, gaining important operational experience.
Since January 2010, DCT Gdansk, Poland's only deep-sea terminal, started receiving on a weekly basis 8,000 TEU container vessels departing from the Far East bringing Polish imports, picking up Polish exports, and carrying transshipment for the key Baltic ports.
This direct connectivity with Asia boosted DCT Gdansk's development as it became the Baltic Sea hub, achieving 180% growth in 2010 and made DCT one of the fastest growing terminals in the world.
The new era for DCT opened in May 2011, when the facility started handling the Maersk Line's E-type class container vessels with the capacity of 15,500 TEU, the world's largest ships at that time.
Thanks to this milestone, the company joined a prestigious group of North European deep-water container ports, serving the Ultra-Large Container Vessels on the weekly basis, the only such facility East of the Danish Straits.
In 2012, the container terminal handled its second millionth TEU since the operations kick-off, and closed the year with yet another annual volume record of approximately 900,000 TEU.
This ensured its Polish container hub position as Baltic's second most important facility after St. Petersburg.
Management Board
Maciek Kwiatkowski
President of the Management Board
Maciek Kwiatkowski has a life-long experience in shipping and port operations.
After successful career as Ship's Officer and Master in Europe, he has entered port operating industry in Australia in 1984.
He has held a number of operational management positions in container terminals in Sydney and Melbourne before moving on to international port operations of P&O Ports in 1994.
For P&O Ports, Maciek Kwiatkowski has been in charge of port development and terminal construction projects in Russia, China and Sri Lanka.
He has also run, as Chief Executive Officer, container terminal facilities in Russia, Indonesia and Sri Lanka.
Maciek Kwiatkowski has joined DP World with the acquisition of P&O Ports in March 2006. Until 2011, he has run as the CEO, Callao container terminal construction and operation project in Peru.
In May 2010, Muelle Sur terminal started operations becoming the largest and most modern container handling facility on the West coast of South America.
Jędrzej Mierzewski
Member of the Management Board
Jedrzej Mierzewski has been part of maritime industry for more than 30 years – first as a deck officer, than as a master and as a manager on container terminals all over the world. He has international experience gained among others in Malaysia and Bahrain.
Jedrzej started his career in DCT in 2009 as Chief Operations Officer. Since then DCT became the largest container terminal in Poland, first and only in Baltic with regular weekly calls of the biggest container vessels in the world.
Under his operational leadership DCT was twice nominated the best terminal in Northern Europe in 2009 and 2010 for Maersk Line.
Adam Żołnowski
Member of the Management Board
Adam Zolnowski joined DCT's senior Management team in May 2012 as Chief Strategy and Corporate Affairs Officer and later been appointed at the company CFO.
Prior to that he has been working for PwC since September 2006 where he was a Director leading Inward Investment practice.
Adam specializes in acquiring foreign direct investments, in particular finding optimal investment locations, optimizing investment incentives and negotiating market entrance conditions.
Moreover, Adam has extensive knowledge concerning the Polish public sector and over 15 years of experience working in an international environment, including public and private sectors.
Prior to joining PwC he held the position of CEO of the Polish Inward Investment Agency (PAIIIZ), General Director of the Competition and Consumer Protection Authority and a Member of the Securities and Exchange Commission.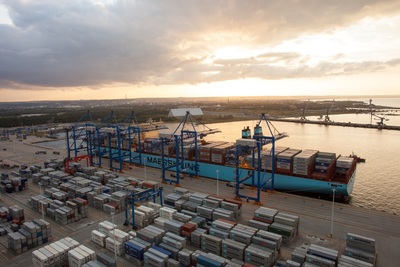 Courtesy of DCT Gdansk
Contacts for media
:
Jadwiga Grabowska
Communication and Employee Relations Coordinator

jadwiga.grabowska@dctgdansk.com
mob: +48 609 700 495
Elżbieta Dzijak
Internal Communication & PR Jr. Specialist
elzbieta.dzijak@dctgdansk.com
mob: +48 607 252 337
Source: DCT Gdansk SA
http://dctgdansk.pl/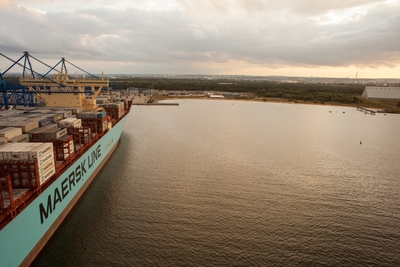 Courtesy of DCT Gdansk
ASTROMAN Magazine - 2013.08.19
Warsaw Stock Exchange and Aquis Exchange become Business Partners
http://www.astroman.com.pl/index.php?mod=magazine&a=read&id=1523
ASTROMAN Magazine - 2013.06.03
Poland is an excellent place to invest and develop business. Why we have invested in Poland?
http://www.astroman.com.pl/index.php?mod=magazine&a=read&id=1472
ASTROMAN Magazine - 2013.06.03
Poland - the centre of global debate on the economy and finance. IPO Summit, Warsaw 2013, June 6-7
http://www.astroman.com.pl/index.php?mod=magazine&a=read&id=1471
ASTROMAN Magazine - 2013.05.18
Europe is in need of reform. The 5th European Economic Congress has ended
http://www.astroman.com.pl/index.php?mod=magazine&a=read&id=1463
ASTROMAN Magazine - 2013.05.01
Global Social Progress Index 2013. Sweden on top spot, Poland ranked 13th overall
http://www.astroman.com.pl/index.php?mod=magazine&a=read&id=1451
ASTROMAN Magazine - 2013.04.28
Kulczyk Oil Ventures To Acquire Winstar Resources and be renamed Serinus Energy Inc.
http://www.astroman.com.pl/index.php?mod=magazine&a=read&id=1450
ASTROMAN Magazine - 2013.04.07
IBM: ICM's New Blue Gene Supercomputer Supports The Largest Biomedical Research Initiative In Poland

http://www.astroman.com.pl/index.php?mod=magazine&a=read&id=1437
ASTROMAN Magazine - 2013.01.18
Appointment of Adam Maciejewski as President of the Warsaw Stock Exchange Management Board
http://www.astroman.com.pl/index.php?mod=magazine&a=read&id=1390
ASTROMAN Magazine - 2012.05.01
World Silver Survey: Poland's KGHM was the world's largest producer of silver in 2011
http://www.astroman.com.pl/index.php?mod=magazine&a=read&id=1230