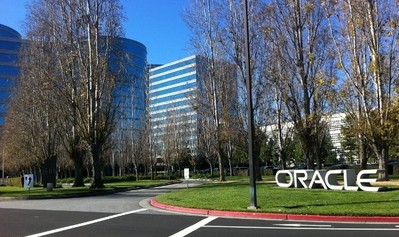 The Oracle Redwood Shores Headquarters, California, United States.
Photo courtesy of Oracle
Redwood Shores, Calif., USA – July 31, 2013
Oracle Delivers Modern Employee Experience with New and Expanded Oracle HCM and Talent Management Cloud Services
With increasingly diverse and global workforces, organizations must unite employees around common strategies and goals
.
To help streamline operations and align employees, HR departments are leveraging innovative technologies that engage employees to perform better and smarter
.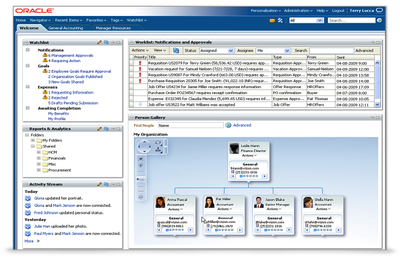 Fusion Global Core Human Capital Management. Global Core - Worklists, Person Gallery, and More.
Oracle's Fusion Global Core Human Capital Management capabilities combined with country-specific capabilities and international data formats enable regional operations and compliance while using a single system of record for reporting, maintenance and lower total cost of ownership.
Courtesy of Oracle

Delivered in the cloud, new features and functionality in Oracle HCM and Talent Management Cloud Services can power the foundation for stronger performance, recruiting and learning
.
Cloud-Based Release Extends Usability and Talent Insights with Greater Mobility, More Intuitive Design and Deeper Analytics
.
News Facts
To help businesses and organizations deliver a modern and insightful employee experience,
Oracle
has delivered updates to
Oracle Human Capital Management (HCM) Cloud
and
Oracle Talent Management Cloud
, available in the
Oracle Cloud
for customers to capitalize on immediately.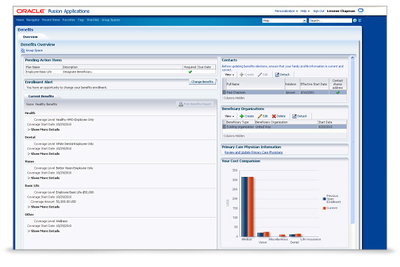 Fusion Global Core Human Capital Management. Benefits - Overview of Benefit Selections.
Courtesy of Oracle
Significant enhancements across
Oracle HCM Cloud services
help drive user productivity, support global adoption and deliver
advanced Big Data insights.

From recruiting and managing talent, to accurately forecasting future workforce needs,
Oracle HCM Cloud
enables organizations to proactively
manage HR operations
while focusing on strategic business initiatives through easy-to-use, cloud-based solutions.
Cloud Provides Flexibility, Real-Time Updates
Oracle has enhanced its best-in-class cloud HR software Oracle HCM Cloud, enabling organizations to
:
•
Develop Comprehensive Assessments
: An interactive dashboard to gauge talent within Oracle Fusion Talent Review includes the option to add multiple facilitators and the ability to measure teams or competencies more holistically by comparing people and jobs.
•
Extend Performance Management
: By capturing and comparing external business data against goals, and allowing employees and managers to view regular progress on objectives, organizations can more precisely assess performance.
•
Improve Productivity
: Deeper automated integrations enable organizations to easily capture additional data for their critical business flows while preserving historical information.
•
Optimize the Global Workforce
: An improved user interface for what-if analysis scenario planning helps HR managers strategically place talent around the world.
•
Enhance Global Support
: Additional country-specific features address statutory reporting, formats and default positions in
Australia, Canada, China, France, Germany, Hong Kong, Ireland, Kuwait, the Netherlands, Saudi Arabia, Singapore, the United Kingdom, the United States
and the
United Arab Emirates
.
Fusion Global Core Human Capital Management. Human Resources – Take Action Through the Portrait Gallery.
Courtesy of Oracle
The latest version of Oracle Talent Management Cloud incorporates new, intuitive functionalities to help
:
•
Enhance Talent Discovery
: A consumer-friendly search interface for job listings and talent profiles on Oracle Taleo Recruiting Cloud helps recruiters and companies find and connect with qualified, interested candidates.
•
Speed Candidate Feedback
: An online feedback questionnaire can reduce time-intensive feedback-gathering processes while supporting a more consistent and objective evaluation methodology.
•
Streamline Hiring
: An e-offer option enables candidates to quickly and easily receive, review and accept their offer letters and packages on a secure online portal.
•
Improve Onboarding
: Greater flexibility to organize and deliver onboarding materials through Oracle Learn Cloud helps organizations create a more engaging, productive experience for new hires.
•
Strengthen Compliance
: New e-signature functionality in Oracle Learn Cloud supports 21 CFR Part 11 to aid reporting.
•
Enhance Talent Information
: Modern social networking-style corporate directories and talent profiles, now accessible via
iPad
through
Oracle Fusion Tap,
encourage employees to provide better talent intelligence data.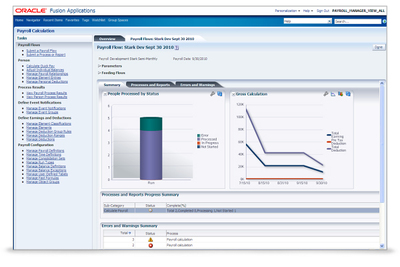 Fusion Global Core Human Capital Management. Global Payroll – Track Payroll Progress.
Courtesy of Oracle
Oracle has also announced a new release of Oracle Tap for Oracle HCM Cloud, which provides the following mobile benefits for its HCM customers
:
• A new iPhone App for Oracle HCM Cloud makes Oracle HCM Cloud accessible on to go.
• The ability to manage approvals on the go from iPhone1 or iPad 3 increases flexibility for managers.
• A new configurable dashboard feature enables users to personalize the application for their needs.
• Oracle Taleo Business Edition Cloud Service, part of Oracle Talent Management Cloud, now supports Tap.
This enables midsize customers to view and update requisitions, candidate profiles, employee information and employee performance goals from their mobile device.
Supporting Quotes
"Cutting-edge social, mobile and online capabilities are creating the HR department of the future, and Oracle Cloud enables our customers to harness this innovation today,"
said Gretchen Alarcon, vice president, Oracle HCM strategy.

"By managing global human capital in the cloud with user-friendly solutions, our customers can discover and develop the best talent. This extends the strategic value of HR and helps businesses gain a competitive edge."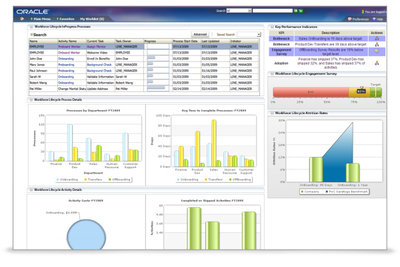 Fusion Global Core Human Capital Management. Workforce Lifecycle Manager – Onboarding Worklist.
Courtesy of Oracle

"Our organization has relied on Oracle Taleo for years, regularly updating to capture the value of new functionality and innovations in the latest versions,"
said Sue Kasprzak, senior corporate applications advisor, CTG.

"The quality of code being delivered has improved with each feature pack, to the point where cloud upgrades are routine and rarely disrupt our critical talent management projects."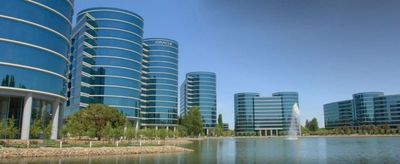 The Oracle Redwood Shores Headquarters, California, United States.
Photo courtesy of Oracle

"To deliver high quality, nutritious cereals at a low cost, MOM Brands is constantly looking to pass the savings on to our customers,"
said Michelle Newman, SPHR, talent acquisition manager, MOM Brands
.
"We're excited to expand our early adopter rollout of Oracle Taleo Business Edition on Oracle Fusion TAP, enabling our HR team to leverage business insights at their fingertips."
Oracle Cloud Solutions
Oracle provides the industry's broadest and most complete portfolio of public, private and hybrid cloud offerings.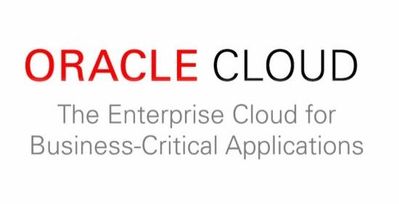 Courtesy of Oracle

Oracle Cloud delivers a broad suite of subscription-based, enterprise-grade Application Services, Platform Services, Infrastructure Services and Social Services.

Oracle also provides a comprehensive portfolio of cloud products and managed cloud services for IT providers to build and manage clouds
.
About Oracle Fusion Applications
Oracle Fusion Applications are 100% open standards-based business applications that provide a new standard for the way we innovate, work and adopt technology.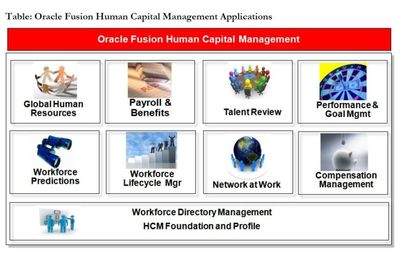 Table: Oracle Fusion Human Capital Management Applications.


Courtesy of Oracle

Delivered as a complete suite of modular applications, Oracle Fusion Applications work together with existing applications portfolio to evolve business to a new level of performance
.
About Oracle
Oracle engineers hardware and software to work together in the cloud and in your data center
.
For more information about Oracle (NYSE:ORCL),
visit
www.oracle.com
Contact Info
Danielle Cormier-Smith
Oracle
+1.610.766.3463
danielle.cormier@oracle.com
Joan Levy
Blanc & Otus
+1.415.856.5110
jlevy@blancandotus.com
Source: Oracle
http://www.oracle.com/us/corporate/press/index.html
ASTROMAN Magazine - 2013.05.02
Oracle Japan Focuses on IT System Initiative for Electric Industry in Japan
http://www.astroman.com.pl/index.php?mod=magazine&a=read&id=1452
ASTROMAN Magazine - 2013.04.27
ORACLE: Effective Social Media Strategies - Four Tips, Four Benefits
http://www.astroman.com.pl/index.php?mod=magazine&a=read&id=1448
ASTROMAN Magazine - 2012.10.29
Oracle Announces Availability of Oracle Solaris 11.1 and Oracle Solaris Cluster 4.1

http://www.astroman.com.pl/index.php?mod=magazine&a=read&id=1342
ASTROMAN Magazine - 2012.05.23
Oracle Buys Vitrue
http://www.astroman.com.pl/index.php?mod=magazine&a=read&id=1241
ASTROMAN Magazine - 2012.05.03
Oracle Unveils Enhancements to Oracle WebCenter
http://www.astroman.com.pl/index.php?mod=magazine&a=read&id=1232
ASTROMAN Magazine - 2012.02.24
Oracle: Taming the Data Deluge. Four ways smart technology can transform massive data sets into real profits
http://www.astroman.com.pl/index.php?mod=magazine&a=read&id=1185
ASTROMAN Magazine - 2012.02.11
Oracle Buys Taleo for US$1.9 Billion
http://www.astroman.com.pl/index.php?mod=magazine&a=read&id=1171
ASTROMAN Magazine - 2012.02.05
Oracle Excellence Awards: CIO of the Year 2011
http://www.astroman.com.pl/index.php?mod=magazine&a=read&id=1168
ASTROMAN Magazine - 2012.02.05
Oracle President Mark Hurd: The Road Ahead
http://www.astroman.com.pl/index.php?mod=magazine&a=read&id=1167
ASTROMAN Magazine - 2011.01.09
Oracle Named a Leader in Enterprise Content Management by Leading Analyst Firm
http://www.astroman.com.pl/index.php?mod=magazine&a=read&id=878
ASTROMAN Magazine - 2010.01.23

Larry Ellison to Unveil ORACLE + SUN Strategy
http://www.astroman.com.pl/index.php?mod=magazine&a=read&id=649
ASTROMAN Magazine - 2009.04.26
Oracle Is the # 1 Business Software Company
http://www.astroman.com.pl/index.php?mod=magazine&a=read&id=486