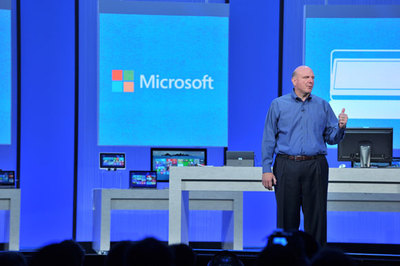 Steve Ballmer, Chief Executive Officer, takes the stage at Build.
Steve Ballmer discussed Microsoft's devices and services strategy and highlights the company's commitment to developers onstage during Microsoft's developer conference Build.
June 26, 2013.
Courtesy of Microsoft
Redmond, Washington, USA - July 5, 2013
Industry shifts such as the cloud, bring your own device (BYOD), big data, and mission critical computing have transformed datacenter computing
.
Some of these shifts are emerging, some not.
Either way, many businesses are just starting to address them and need complete solutions.
Microsoft and HP announced on Wednesday a set of market-ready solutions that Microsoft partners can begin offering their customers later this year
.
Microsoft Server and Cloud Platform Team - 3 July 2013
Transform your Business for New Opportunities with Microsoft & HP's Modern Infrastructure Program
By Mark Hassall

Director Partner, Microsoft
As the Microsoft lead for the joint Infrastructure to Applications (I2A) initiative with HP I can't wait to get to the Worldwide Partner Conference in Houston next week
.
It's a great chance to catch up with partners who have made
Microsoft
and
HP private cloud
and mission critical
SQL solutions
a mainstay for their business, and to showcase new joint go-to-markets, campaigns and solutions they can look forward to in the coming year.
This year perhaps more than any since the announcement of the I2A initiative back in 2007 I can't help but get excited about the unprecedented opportunity ahead for
Microsoft, HP
and our joint
Frontline partners
.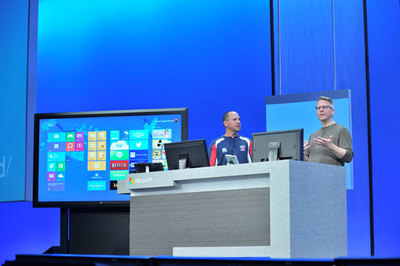 Microsoft demonstrates new apps and developer tools at Build.
Steven Guggenheimer and John Shewchuk demonstrate apps for Windows 8, including Khan Academy and Foursquare, and developer tools from PayPal, Adobe and Unity.
June 27, 2013.
Courtesy of Microsoft
Industry trends like cloud, the consumerization of
IT
and
BYOD, big data
, and mission critical computing are transforming datacenter computing today - and will deliver new value, and new ways of doing business for your customers, for many years to come.
To most effectively capture the opportunity presented by these trends, I'm excited to introduce a
new Microsoft-HP joint
go-to-market program
called
Modern Infrastructure
.
This represents an optimized go-to-market approach around a set of 3 clearly defined and differentiated, end-to-end solutions
:
1. Server Virtualization and Private Cloud
– Customers are looking to scale IT resources and services on-demand and reduce operational expenses.
A solution comprising of
Virtualization smart bundles
and
HP Cloud Solution
for
Microsoft built on HP VirtualSystem VS3
for
Microsoft
addresses
this scenario best.
2. Client Virtualization / Virtual Desktop Infrastructure (VDI)
– Customers want to empower their increasingly mobile workforce by delivering business applications anywhere and on any device.
Using the
HP Client Virtualization SMB Reference Architecture
for
Microsoft
is a great way to address this need.
3. Data Management and Business Intelligence
- Customers need to compete to more effectively grow by unlocking actionable insights from large volumes of data.
HP AppSystem
for
SQL Server 2012 Parallel Data Warehouse, HP Fast Track
and
Database Consolidation Reference Architectures
are industry-leading solutions that enable business to use data as a competitive advantage.
Courtesy of Microsoft

These scenarios are directly aligned with challenges that many of your customers are grappling with today
.
They remain largely unsolved because most customers are running datacenters on older versions of
Windows Server
(2003 or even earlier) that is nearing end of mainstream support, and aging hardware that has most likely exceeded its warranty. In short customers, need to modernize their server infrastructure now more than ever, while ensuring business continuity by keeping their applications up and running even in the event of a disaster.
The Modern Infrastructure program
will empower you to help your customers solve these challenges with a comprehensive set of innovative, integrated and cost effective end-to-end solutions.
As a trusted partner coming to
WPC
this year, you are in the right place to seize the huge market opportunity that modernization of IT represents.
Research shows that 60% of mid-size companies with
500 to 5,000 PCs
still run Windows Server 2003 and aging server infrastructure.
Contrast this to the fact that over 80% of the applications will be virtualized by 2015 (according to IDC), and it's no wonder that CIO's are quickly realizing this problem and changing their IT spend from reactive to proactive.
As a result the spend on virtualized hardware and software is slated to reach 43% of the total datacenter spend by 2014.
Mobility
and
VDI
specifically is becoming the highest growth driver and is predicted to double from
WW $500Min 2012
to
$1B by 2017
.
And
Microsoft
and
HP
are committed to supporting you every step of the way to deliver these end-to-end solutions to your customers.
We are opening the doors to Microsoft and HP's state of the art technology centers, so that you can show your customers what is possible
.
We'll provide business value assessment and ROI tools that prove the economic value
.
In addition to demand generation activities, we're also driving partner-led technical assessments, planning engagements and delivery services including deal support for
pilots
and
POCs
.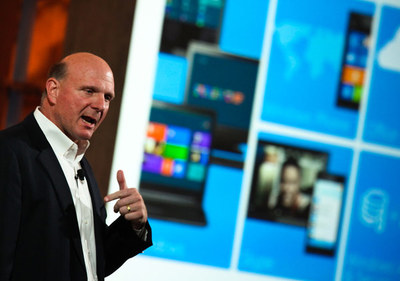 Microsoft Chief Executive Officer Steve Ballmer speaks to attendees during the 2012 Microsoft CEO Summit.
Courtesy of Microsoft

How can you leverage this opportunity?
First
, the Modern Infrastructure program will provide you with sales conversations that appeal to a broad range of new customers, while highlighting the need for both hardware and software upgrades to existing customers.
Second,
we will be introducing special promotions and discounts later in the year to help you close more deals and build long-lasting relationships with your customers.
Third
, you can earn Solution Incentive program (SIP) advisor fees for closing server infrastructure deals.
Finally, Modern Infrastructure solutions
bring a wide range of cross-selling opportunities that span infrastructure and applications, enabling you to make inroads into a platform that will only grow with your customers.
All this leads to high margins through long-term and high-value services across all kinds of environments: on-premise, private and hybrid cloud
.
WPC offers several ways to learn about the Modern Infrastructure program
.
You can check out
Takeshi Numoto's value keynote on July 8th from 1.30pm to learn about Microsoft's partner programs
and investments from partners like
HP,
see the solutions in action at the
HP
and
Microsoft
booths and visit
hpmspartners.com
for more information on the program.
When you're ready to engage, contact your HP or Microsoft account manager
.
It's a win-win proposition for you and your customers
.
You embark on a journey with
industry leaders Microsoft and HP
that share a vision to enable businesses through modern infrastructure.
And you get to tap into a huge market opportunity.
Your customers realize value for money with guaranteed ROIs
.
So enjoy your time at WPC
.
I hope I get the chance to talk to some of you and that you take the time in the next couple of months to learn about this
new Microsoft and HP go-to-market program
and the many benefits you will have when we launch later this year.
Mark Hassall
Director Partner / Channel Marketing, Enterprise Partners
Server & Tools Marketing Group, Microsoft
Source: Microsoft Corp. News Center
http://www.microsoft.com/en-us/news/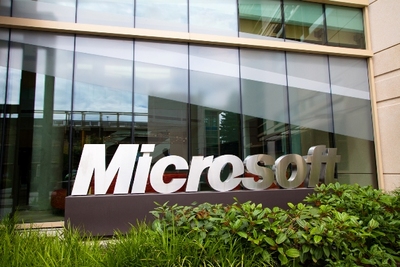 Courtesy of Microsoft
ASTROMAN Magazine – 2013.05.26
Xbox One, Azure and the creative power of the cloud
http://www.astroman.com.pl/index.php?mod=magazine&a=read&id=1468
ASTROMAN Magazine – 2013.04.07
Obama for America Relied on Microsoft Lync for Seamless Campaign Communications
http://www.astroman.com.pl/index.php?mod=magazine&a=read&id=1438
ASTROMAN Magazine – 2013.02.18
A 'Golden Era' of Insight: Big Data's Bright Future
http://www.astroman.com.pl/index.php?mod=magazine&a=read&id=1411
ASTROMAN Magazine – 2013.01.06
U.S. Army, U.S. Air Force and DISA Expand Access to Microsoft Technologies
http://www.astroman.com.pl/index.php?mod=magazine&a=read&id=1380
ASTROMAN Magazine – 2012.11.25
Microsoft Hires Jeannette Wing as New Vice President, Head of Microsoft Research International
http://www.astroman.com.pl/index.php?mod=magazine&a=read&id=1355
ASTROMAN Magazine – 2012.11.02
Microsoft Dynamics CRM Brings Customers a Reimagined User Experience
http://www.astroman.com.pl/index.php?mod=magazine&a=read&id=1343
ASTROMAN Magazine – 2012.09.01
Formula 1 Team Races With Microsoft Dynamics
http://www.astroman.com.pl/index.php?mod=magazine&a=read&id=1307
ASTROMAN Magazine – 2012.07.20
Microsoft Names Mark Penn as Corporate Vice President, Strategic and Special Projects
http://www.astroman.com.pl/index.php?mod=magazine&a=read&id=1279
ASTROMAN Magazine – 2012.07.18
Microsoft unveils the new Office
http://www.astroman.com.pl/index.php?mod=magazine&a=read&id=1276
ASTROMAN Magazine – 2012.06.27
Microsoft to Acquire Yammer for $1.2 billion in cash
http://www.astroman.com.pl/index.php?mod=magazine&a=read&id=1261
ASTROMAN Magazine – 2012.06.07
Microsoft and General Electric Healthcare Complete Joint Venture Agreement for new company Caradigm
http://www.astroman.com.pl/index.php?mod=magazine&a=read&id=1250
ASTROMAN Magazine – 2012.03.24
Microsoft and Movideo Forge Global Cloud-Based Strategic Alliance
http://www.astroman.com.pl/index.php?mod=magazine&a=read&id=1209
ASTROMAN Magazine – 2012.03.17
Cloud Computing to Create 14 Million New Jobs by 2015
http://www.astroman.com.pl/index.php?mod=magazine&a=read&id=1203
ASTROMAN Magazine – 2012.03.10
Microsoft: Intelligent Systems in Retail on Display at RetailTech Japan
http://www.astroman.com.pl/index.php?mod=magazine&a=read&id=1199
ASTROMAN Magazine – 2012.01.02
2011: A Watershed Year for Microsoft, from Gaming to Phones to the Cloud and Beyond
http://www.astroman.com.pl/index.php?mod=magazine&a=read&id=1138
ASTROMAN Magazine – 2011.12.11
GE, Microsoft to Launch Joint Venture Aimed at Global Healthcare System Transformation
http://www.astroman.com.pl/index.php?mod=magazine&a=read&id=1117
ASTROMAN Magazine – 2011.12.10
HP and Microsoft Deliver Global Communications and Collaboration Solutions Via the Cloud
http://www.astroman.com.pl/index.php?mod=magazine&a=read&id=1116