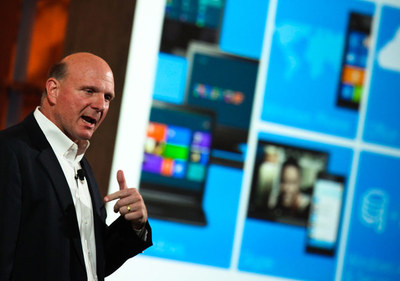 Microsoft Chief Executive Officer Steve Ballmer speaks to attendees during the 2012 Microsoft CEO Summit. May 17, 2012.
Courtesy of Microsoft
Redmond, Wash., and San Francisco, CA, USA - June 25, 2012
Microsoft Corp. and Yammer Inc. today announced that they have entered into a definitive agreement under which Microsoft will acquire Yammer, a leading provider of enterprise social networks, for $1.2 billion in cash.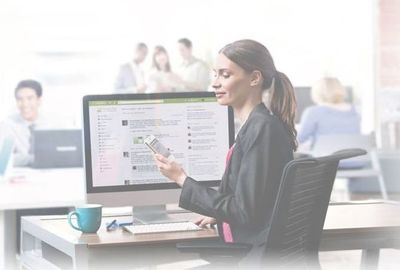 Courtesy of Yammer

Yammer will join the Microsoft Office Division, led by division President Kurt DelBene, and the team will continue to report to current CEO David Sacks.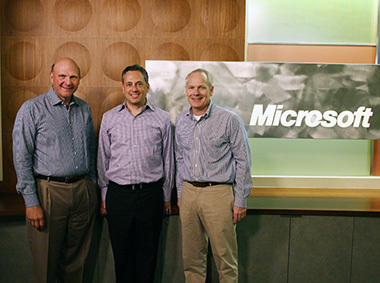 Steven A. Ballmer, David Sacks and Kurt DelBene
Courtesy of Microsoft
"The acquisition of Yammer underscores our commitment to deliver technology that businesses need and people love," said
Steve Ballmer, CEO, Microsoft.

"Yammer adds a best-in-class enterprise social networking service to Microsoft's growing portfolio of complementary cloud services."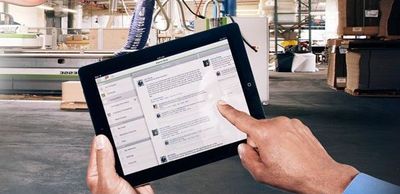 Courtesy of Yammer

Launched in 2008, Yammer now has more than 5 million corporate users, including employees at 85 percent of the Fortune 500.
The service allows employees to join a secure, private social network for free and then makes it easy for companies to convert a grassroots movement into companywide strategic initiative.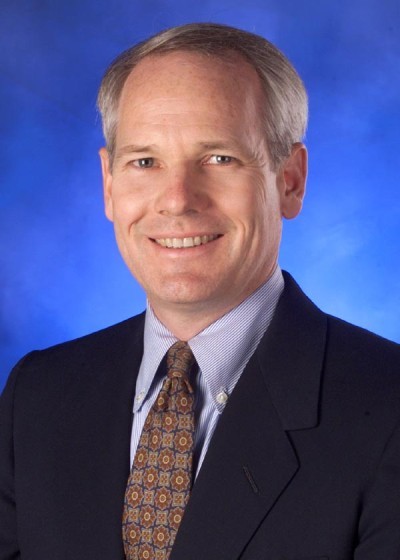 Kurt DelBene, President, Microsoft Office Division.
Courtesy of Microsoft

Yammer will continue to develop its standalone service and maintain its commitment to simplicity, innovation and cross-platform experiences
.
Moving forward, Microsoft plans to accelerate Yammer's adoption alongside complementary offerings from Microsoft SharePoint, Office 365, Microsoft Dynamics and Skype.

Yammer Infographic
The infographic provides background and data about Yammer and SharePoint today, and the opportunities that collaboration and enterprise social networking have to help people work more effectively in today's workplace.
Courtesy of Microsoft
"When we started Yammer four years ago, we set out to do something big,"
Sacks
said.
"We had a vision for how social networking could change the way we work. Joining Microsoft will accelerate that vision and give us access to the technologies, expertise and resources we'll need to scale and innovate."
The acquisition is subject to customary closing conditions, including regulatory approval
.
About Yammer
Yammer
(
www.yammer.com
)
is a leading provider of enterprise social networks with over 5 million verified corporate users including employees of more than 85 percent of the Fortune 500.

The basic version of Yammer is free, and customers can pay to upgrade their network to receive advanced administrative and security controls, integrations with enterprise applications, priority customer service and a designated customer success manager
.
About Microsoft
Founded in 1975, Microsoft
(Nasdaq "MSFT")
is the worldwide leader in software, services and solutions that help people and businesses realize their full potential.

For more information, news and perspectives from
Microsoft
, please visit the
Microsoft News Center
at
http://www.microsoft.com/news
Source: Microsoft Corp.

http://www.microsoft.com/en-us/news/
David O. Sacks

Yammer founder, CEO, and Chairman of the Board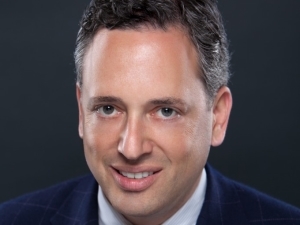 David O. Sacks
Courtesy of Yammer
David has been involved in the Internet space for 10 years as an entrepreneur, executive and investor, starting with PayPal in 1999.
He was PayPal's Chief Operating Officer and product leader, taking the company from startup to IPO and eventual sale to eBay for $1.5 billion.
Subsequently, he founded Geni.com, which is a genealogy website that enables millions of family members to collaboratively build an online family tree.
He also produced and financed the movie "Thank You For Smoking."
David holds a B.A. in Economics from Stanford University and a J.D. from the University of Chicago Law School.
Source:
Yammer Inc.
https://www.yammer.com/about/management/
Steve Ballmer

Chief Executive Officer of Microsoft Corporation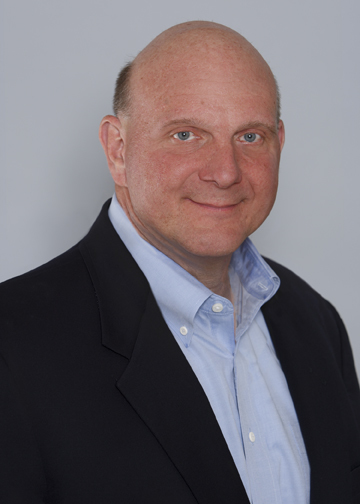 Steve Ballmer
Courtesy of Microsoft
Steven A. Ballmer is chief executive officer of Microsoft Corporation, the world's leading manufacturer of software for personal and business computing.
Ballmer joined Microsoft in 1980 and was the first business manager hired by Bill Gates.
Since then, Ballmer's leadership and passion have become hallmarks of his tenure at the company.
Ballmer and the company's business and technical leaders are focused on continuing Microsoft's innovation and leadership across the company's core businesses.
Microsoft's goal is to provide an integrated platform to enable a seamless experience across a wide range of computing and non-PC devices and services.
Variously described as ebullient, focused, funny, passionate, sincere, hard-charging and dynamic, Ballmer has infused Microsoft with his own brand of energetic leadership, vision and spirit over the years.
Ballmer was born in March 1956, and grew up near Detroit, where his father worked as a manager at Ford Motor Co.
He graduated from Harvard University with a bachelor's degree in mathematics and economics.
While in college, Ballmer managed the football team, worked on the Harvard Crimson newspaper as well as the university literary magazine, and lived down the hall from fellow sophomore Bill Gates.
After college, he worked for two years at Procter & Gamble Co. as an assistant product manager and, before joining Microsoft, attended Stanford University Graduate School of Business.
Source: Microsoft Corp.

http://www.microsoft.com/en-us/news/exec/steve/
ASTROMAN Magazine – 2012.06.07
Microsoft and General Electric Healthcare Complete Joint Venture Agreement for new company Caradigm

http://www.astroman.com.pl/index.php?mod=magazine&a=read&id=1250
ASTROMAN Magazine – 2012.03.24

Microsoft and Movideo Forge Global Cloud-Based Strategic Alliance
http://www.astroman.com.pl/index.php?mod=magazine&a=read&id=1209
ASTROMAN Magazine – 2012.03.17

Cloud Computing to Create 14 Million New Jobs by 2015
http://www.astroman.com.pl/index.php?mod=magazine&a=read&id=1203
ASTROMAN Magazine – 2012.03.10
Microsoft: Intelligent Systems in Retail on Display at RetailTech Japan
http://www.astroman.com.pl/index.php?mod=magazine&a=read&id=1199
ASTROMAN Magazine – 2012.01.02

2011: A Watershed Year for Microsoft, from Gaming to Phones to the Cloud and Beyond

http://www.astroman.com.pl/index.php?mod=magazine&a=read&id=1138
ASTROMAN Magazine – 2011.12.11

GE, Microsoft to Launch Joint Venture Aimed at Global Healthcare System Transformation
http://www.astroman.com.pl/index.php?mod=magazine&a=read&id=1117
ASTROMAN Magazine – 2011.12.10

HP and Microsoft Deliver Global Communications and Collaboration Solutions Via the Cloud
http://www.astroman.com.pl/index.php?mod=magazine&a=read&id=1116