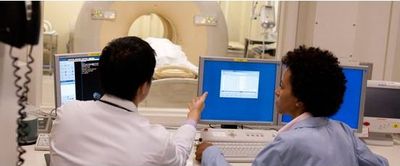 Amalga - Increase Efficiency in Radiology
The radiology department is a vital part of the health system – a cornerstone in the care delivery continuum that delivers diagnostic insight and revenue.
How can enterprises make that resource even more valuable?
First, provide radiologists with relevant immediate access to critical clinical information – so they can improve their interpretation effectiveness and work more productively.
Second, enable the radiology department to maximize profitability by streamlining operations and increasing referral satisfaction.
Courtesy of Caradigm
Redmond, Wash., USA and Barrington,
Ill., USA - June 6, 2012
General Electric Co.
(NYSE "GE"),
through its healthcare IT business, and Microsoft Corp.
(Nasdaq "MSFT")
today announced they have completed the formation of Caradigm™, a 50-50 joint venture aimed at enabling health systems and professionals to use real-time, organization-wide intelligence to improve healthcare quality and the patient experience.

Caradigm will develop and market an open healthcare intelligence platform and collaborative clinical applications focused on enabling better population health management to improve outcomes and the economics of health and wellness.

Amalga - Ease Care Transitions
Manage patients through multiple care settings.
Amalga, Microsoft HealthVault, and InstantPHR, from Get Real Consulting, can help healthcare organizations optimize patient care transitions by more effectively using and sharing data within the enterprise, with other care providers and with patients.
Courtesy of Caradigm
Plans for the joint venture were first announced on December 7, 2011, and the
final agreement was completed on June 1, 2012
.
The Caradigm board of directors and leadership team, announced in February, is composed of executives from both parent companies
.
Caradigm will be led by CEO Michael Simpson, who joins the company from GE Healthcare
.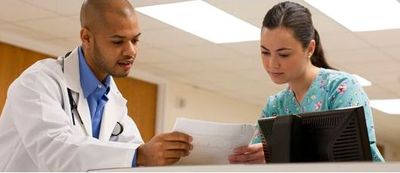 Amalga - Reduce Readmissions
Amalga helps healthcare organizations proactively identify inpatient and Emergency Department (ED) patients at risk for readmissions and helps them take action to avoid preventable readmissions, reduce costs and deliver higher quality care – today and tomorrow.
Courtesy of Caradigm
In addition,
the
companies today announced the appointment of
Lauren Salata as chief financial officer
and
Michael Willingham as quality assurance and regulatory affairs executive for Caradigm
.
Salata previously served as the chief financial officer (CFO) and compliance officer of Care Innovations, an Intel and GE company based in Roseville, Calif.

Willingham joins Caradigm from Philips Healthcare in Bothell, Wash., where he served as senior director of quality and regulatory affairs.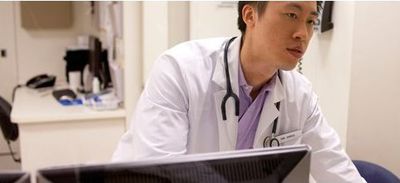 Vergence
Create a fully-integrated managed clinical workstation that enables caregivers to quickly access patient data.
Vergence is a solution for bringing single sign-on, context management and multi-factor authentication together on a clinical workstation. With its streamlined approach, Vergence helps clinicians quickly access the applications and patient information they use to deliver care.
Courtesy of Caradigm
"The combination of people and technology from GE Healthcare and Microsoft will allow us to drive the dramatic change that is needed in healthcare,"
Simpson
said.
"By forming Caradigm, we can offer innovative healthcare solutions, including an open platform and tools that enable software developers around the world to address the complexities of population health today."

eHealth Information Exchange

Integrate clinical data from across disparate systems with a secure, standards-based platform.
eHealth Information Exchange is a secure, standards-based infrastructure that integrates clinical data from across disparate systems and manages the wide variety of clinical records, document types and terminologies pervasive in today's healthcare system.



Courtesy of Caradigm

Caradigm will be located at City Center Bellevue in Bellevue, Wash., with significant presence in Salt Lake City, Utah; Andover, Mass.; Chevy Chase, Md.; and other cities around the world.

Mike Willingham
Vice President of Quality Assurance and Regulatory Affairs for Caradigm
Mike Willingham
Courtesy of Caradigm
Mike Willingham is the vice president of quality assurance and regulatory affairs for Caradigm.
Willingham most recently served as senior director of quality & regulatory for the
Philips Healthcare Ultrasound business
, where he was responsible for managing the quality systems and regulatory certifications for five factories in the
US, Canada
and
China
.
Willingham has several years of experience in the medical device industry, with roles in Q&R, R&D, HR and International Business.
Prior to joining Philips in 2006, he worked for Medtronic Emergency Response Systems where he held positions as the vice president of international business operations and vice president of quality and regulatory.
Willingham is an engineer with expertise in safety, reliability and quality engineering principles.
He chaired international (IEC) and national (AAMI) medical device standards committees for electromagnetic compatibility, external defibrillators and pacemakers. He has been an active member of several industry groups including AAMI, AdvaMed, ASQ, IEC and NEMA.
Willingham received his bachelor of science in electrical engineering from the University of Mississippi.
He resides in Bellevue, Washington with his wife and family.
Lauren Salata
Chief Financial Officer at Caradigm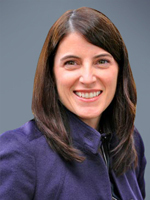 Lauren Salata
Courtesy of Caradigm
Lauren Salata is the Chief Financial Officer at Caradigm.
As CFO, Salata leads global finance, accounting, sourcing and treasury activities, as well as playing an integral role in developing company strategy with the rest of the leadership team.
Salata most recently served as Vice President, Chief Financial Officer and Chief Compliance Officer for Care Innovations, an Intel and GE company, where she was responsible for finance, accounting, treasury, corporate compliance and internal audit functions.
Prior to Care Innovations, Salata spent 14 years at various GE businesses. Her last role with GE was Chief Financial Officer of GE Rail Services, leading the global finance function and managing key business levers for their full service rail equipment leasing business.
She served in various financial leadership positions at GE Corporate, GE Capital and NBC Universal where she oversaw financial and accounting functions, including the consolidation and reporting for GE's annual operating plans and long term planning sessions.
Salata was a 2002 graduate of GE's Experienced Financial Leadership Program. Prior to joining GE, she began her professional career in the audit department of Deloitte & Touche.
Salata received her Bachelor of Science in Management and Accounting at Tulane University and is a Certified Public Accountant.
She resides in Seattle, Washington with her husband and young daughter.
Michael Simpson
Chief Executive Officer of Caradigm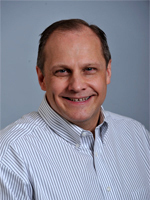 Michael Simpson
Courtesy of Caradigm
Michael Simpson is the CEO of Caradigm accountable to the company's Board of Directors.
Before being named CEO of Caradigm, Simpson served as general manager for GE Healthcare IT.
In that role, Simpson had responsibility for product management, marketing, engineering and service strategies for Qualibria, a groundbreaking clinical knowledge platform.
He also was responsible for managing GE partnerships with Intermountain Healthcare and Mayo Clinic.
Simpson has more than 23 years of domestic and international experience across various market segments, including healthcare IT, telecommunications, media and high-tech industries.
Prior to joining GE, he was senior vice president of product strategy and development at QuadraMed Corp.
Simpson also held several executive roles at McKesson Corp., including senior vice president and chief technology officer, McKesson Provider Technologies; senior vice president and chief technology officer for McKesson Technology Solutions' international operations; and senior vice president and general manager, Horizon Clinicals.
Simpson has also worked as a general manager for Unisys and as vice president and general manager at Novell, where he was responsible for the company's enterprise platform business and Novell India.
Simpson holds a Bachelor of Science degree in management from the University of Phoenix and a degree in design engineering technology from Brigham Young University.
He resides in Washington with his family.
Source: Caradigm
http://www.caradigm.com/pages/about/caradigm-leadership.aspx
Additional information and news about Caradigm can be found at
http://www.caradigm.com
About GE Healthcare
GE Healthcare provides transformational medical technologies and services that are shaping a new age of patient care
.
Our broad expertise in medical imaging and information technologies, medical diagnostics, patient monitoring systems, drug discovery, biopharmaceutical manufacturing technologies, performance improvement and performance solutions services help our customers to deliver better care to more people around the world at a lower cost. In addition, we partner with healthcare leaders, striving to leverage the global policy change necessary to implement a successful shift to sustainable healthcare systems.

Worldwide, GE Healthcare employees are committed to serving healthcare professionals and their patients in more than 100 countries.
For more information about
GE Healthcare
, visit our website at
www.gehealthcare.com
About Microsoft in Health

Microsoft is committed to improving health around the world through software innovation
.
For over 16 years, Microsoft has been providing a broad portfolio of technologies and collaborating with partners worldwide to deliver solutions that address the challenges of healthcare providers, public health and social services, payers, life sciences organizations, and consumers.
Today, Microsoft invests in technology innovation and works with health organizations, communities and over 20,000 partners around the world to make a real impact on the quality of healthcare
.
About Microsoft

Founded in 1975, Microsoft
(Nasdaq "MSFT")
is the worldwide leader in software, services and solutions that help people and businesses realize their full potential.

Source: Microsoft Corp.

http://www.microsoft.com/en-us/news/
ASTROMAN Magazine – 2012.04.22
GE Healthcare to Develop Next Generation Compact Cyclotron and PET Tracer System for Global Markets
http://www.astroman.com.pl/index.php?mod=magazine&a=read&id=1224
ASTROMAN Magazine – 2012.03.24

Microsoft and Movideo Forge Global Cloud-Based Strategic Alliance
http://www.astroman.com.pl/index.php?mod=magazine&a=read&id=1209
ASTROMAN Magazine – 2012.03.17

Cloud Computing to Create 14 Million New Jobs by 2015

http://www.astroman.com.pl/index.php?mod=magazine&a=read&id=1203
ASTROMAN Magazine – 2012.03.10

Microsoft: Intelligent Systems in Retail on Display at RetailTech Japan
http://www.astroman.com.pl/index.php?mod=magazine&a=read&id=1199
ASTROMAN Magazine – 2012.01.02

2011: A Watershed Year for Microsoft, from Gaming to Phones to the Cloud and Beyond
http://www.astroman.com.pl/index.php?mod=magazine&a=read&id=1138
ASTROMAN Magazine – 2011.12.11

GE, Microsoft to Launch Joint Venture Aimed at Global Healthcare System Transformation
http://www.astroman.com.pl/index.php?mod=magazine&a=read&id=1117
ASTROMAN Magazine – 2011.12.10

HP and Microsoft Deliver Global Communications and Collaboration Solutions Via the Cloud
http://www.astroman.com.pl/index.php?mod=magazine&a=read&id=1116
ASTROMAN Magazine – 2011.12.04

GE Healthcare Taps Global Industry Leader to Head Magnetic Resonance Business
http://www.astroman.com.pl/index.php?mod=magazine&a=read&id=1113
ASTROMAN Magazine – 2011.10.27

Texas Scottish Rite Hospital for Children Purchases Carestream's DRX-Evolution

http://www.astroman.com.pl/index.php?mod=magazine&a=read&id=1084
ASTROMAN Magazine – 2011.10.04

GE Healthcare Spotlights its Commitment to Advancing Cancer Care at ASTRO 2011

http://www.astroman.com.pl/index.php?mod=magazine&a=read&id=1071
ASTROMAN Magazine – 2011.09.18

GE Healthcare to Invest $1 Billion in New Oncology Solutions
http://www.astroman.com.pl/index.php?mod=magazine&a=read&id=1060
ASTROMAN Magazine – 2011.07.11

GE Healthcare Wins Design Excellence Awards for Magnetic Resonance Imaging
http://www.astroman.com.pl/index.php?mod=magazine&a=read&id=1017
ASTROMAN Magazine – 2011.06.04
GE Healthcare Opens Life Sciences Demonstration Laboratory in Stockholm, Sweden
http://www.astroman.com.pl/index.php?mod=magazine&a=read&id=986
ASTROMAN Magazine – 2011.04.30

Metropolitan Chicago Healthcare Council to Develop Nation's Largest Metro Health Information Exchange
http://www.astroman.com.pl/index.php?mod=magazine&a=read&id=959
ASTROMAN Magazine – 2011.04.28

Microsoft Implements Chronic Condition Management Platform at Denver Health
http://www.astroman.com.pl/index.php?mod=magazine&a=read&id=958
ASTROMAN Magazine – 2011.04.07

Verizon and MEDfx Demonstrate Digital Exchange of Health Care Records

http://www.astroman.com.pl/index.php?mod=magazine&a=read&id=935
ASTROMAN Magazine – 2011.03.31
Micromedex CareNotes Available Within the Iatric Systems Patient Discharge Module
http://www.astroman.com.pl/index.php?mod=magazine&a=read&id=931
ASTROMAN Magazine – 2011.02.20

IBM to Collaborate with Nuance to Apply IBM's "Watson" Analytics Technology to Healthcare

http://www.astroman.com.pl/index.php?mod=magazine&a=read&id=899
ASTROMAN Magazine – 2011.01.23

Siemens Healthcare unveils the world's first integrated whole-body molecular MR system available for clinical use
http://www.astroman.com.pl/index.php?mod=magazine&a=read&id=887
ASTROMAN Magazine – 2011.01.10

IBM and the Premier Healthcare Alliance to Integrate Nation's Healthcare Data

http://www.astroman.com.pl/index.php?mod=magazine&a=read&id=879
ASTROMAN Magazine – 2010.12.25

Accuray Establishes Medical Affairs Function to accelerate CyberKnife
http://www.astroman.com.pl/index.php?mod=magazine&a=read&id=862
ASTROMAN Magazine – 2010.11.07

New AT&T ForHealth Practice Accelerates Pursuit of $34 Billion
http://www.astroman.com.pl/index.php?mod=magazine&a=read&id=840
ASTROMAN Magazine – 2010.04.18

Fujitsu and TUM Develop World's First DNA-based Revolutionary Bio-Sensor Technology

http://www.astroman.com.pl/index.php?mod=magazine&a=read&id=703
ASTROMAN Magazine – 2009.12.23

Canon Inc. to make OPTOPOL Technology S.A. of Poland a subsidiary
http://www.astroman.com.pl/index.php?mod=magazine&a=read&id=624
ASTROMAN Magazine – 2009.09.05

Toshiba's Aquilion ONE Honored With Medical Design Excellence Gold Award

http://www.astroman.com.pl/index.php?mod=magazine&a=read&id=568