Waterfront Vision and Enhancement Strategy - Transforming NYC's Waterfront.

Courtesy of NYCEDC
New York City, USA - November 04, 2011
New York City Economic Development Corporation (NYCEDC) today announced that it is seeking a developer for the purchase or long-term lease and development of an approximately 33 acre waterfront site in the Rossville section of Staten Island
.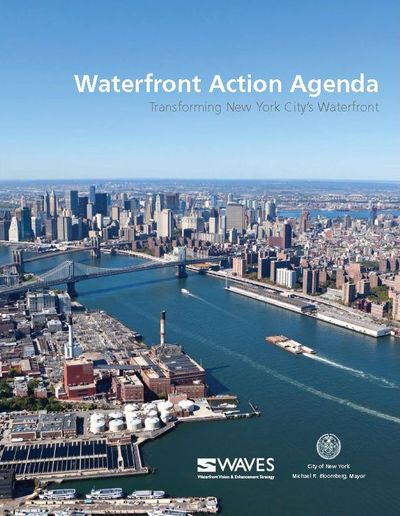 The Waterfront Action Agenda is the three year implementation component of Vision 2020: New York City Comprehensive Waterfront Plan.
The Action Agenda establishes a set of actions for realizing our waterfront and waterways as a world-class destination, a globally competitive port, and a rich and vital natural resource that draws all New Yorkers to its edge and onto the water.

Courtesy of NYCEDC

The City-owned site, which includes 2,000 linear feet of shoreline along the Arthur Kill Channel, is the largest New York City-owned
property available for maritime development, and one of the few remaining industrial waterfront properties in the entire region suitable for the shipping of bulk and break bulk goods
.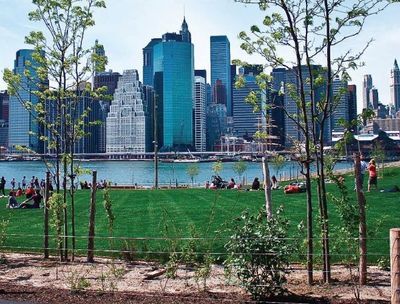 The Action Agenda includes 130 specific, high-priority projects that demonstrate the City's commitment to investing in the transformation of the waterfront.
The Action Agenda organizes each project under one of the eight goals of Vision 2020, identifies the City agency leading its implementation, and lists the date by which the project will be undertaken.


Courtesy of NYCEDC

NYCEDC issued a Request for Expressions of Interest (RFEI) for the site today, and responses must include the activation of at least a portion of the waterfront area with maritime industrial uses.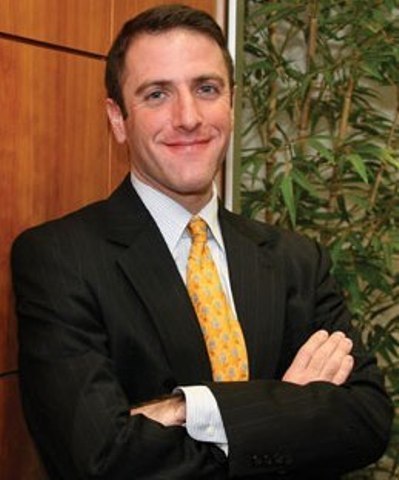 New York City Economic Development Corporation President Seth W. Pinsky.

Courtesy of NYCEDC
"Today, we begin the process of transforming an underutilized waterfront property into a center of maritime industrial activity - a key goal of the Bloomberg Administration," said
New York City Economic Development Corporation President Seth W. Pinsky.
"To this end, we look forward to seeing the responses to this RFEI and ultimately to paving the way for increased economic activity and good jobs for the residents of Staten Island."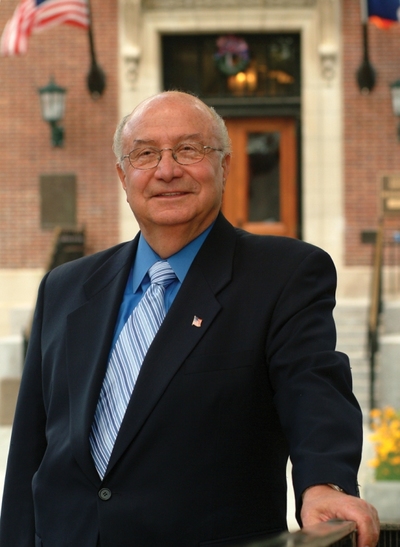 Staten Island Borough President James P. Molinaro.

Courtesy of StatenIslandUSA.com
"This is an important step forward for Economic Development on Staten Island's West Shore waterfront," said
Staten Island Borough President James P. Molinaro.

"In this economy, Staten Island needs jobs-jobs-jobs – that's what we hope will emerge from this RFEI."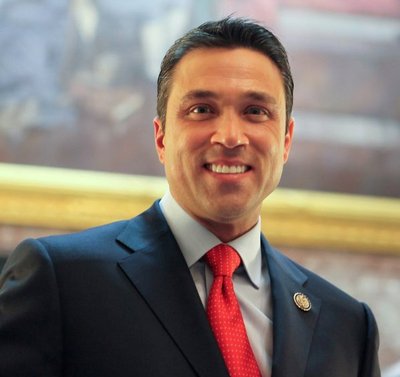 Congressman Michael Grimm.

Courtesy of Congressman Michael Grimm / facebook
"Staten Island has a long and proud tradition in the maritime industries of New York City," said
Congressman Michael Grimm
.
"This proposal by the NYCEDC has the potential to expand on that tradition and create stable, good paying jobs for our community."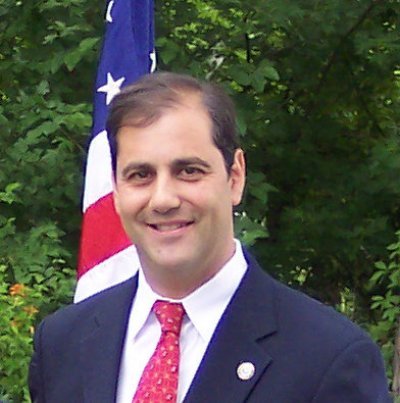 Senator Andrew Lanza.

Courtesy of Senator Andrew Lanza / facebook
"Given the state of our economy, it is vitally important that we realize our port related economic opportunities here on Staten Island," said
Senator Andrew Lanza
.
"This land, if developed properly, can create decent high paying new jobs on Staten Island."
"I am very excited to see the City moving forward with the redevelopment of this site, in particular with job creating maritime uses," said
Assemblyman Lou Tobacco
.
"The potential economic activity generated by the activation of this site will be a boon for this community."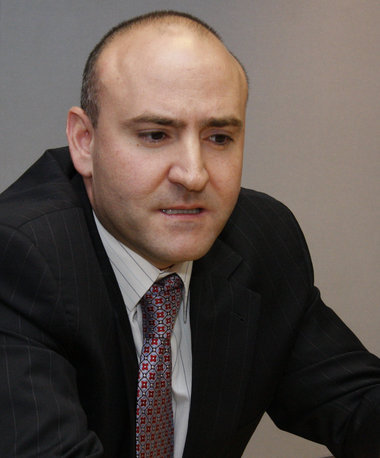 Assemblyman Lou Tobacco.

Courtesy of New York State Assembly Web page
"From its earliest days, the maritime industry has been a central economic engine for New York City, the surrounding region, and the nation," said
Edward J. Kelly, Executive Director of the Maritime Association of the Port of NY/NJ
.
"The Maritime Association of the Port of NY/NJ has been a steady supporter of Mayor Bloomberg's strong plans to sustain and expand the working maritime industry in our city, and we believe that NYCEDC's action to place an RFEI for the important Rossville site will be a major step in ensuring that our maritime resources will be put to the best possible use. The West Shore of Staten Island is located in the crux of one of the world's busiest maritime areas, and will surely be a magnet for a working maritime enterprise that will bring well-paying jobs to the area."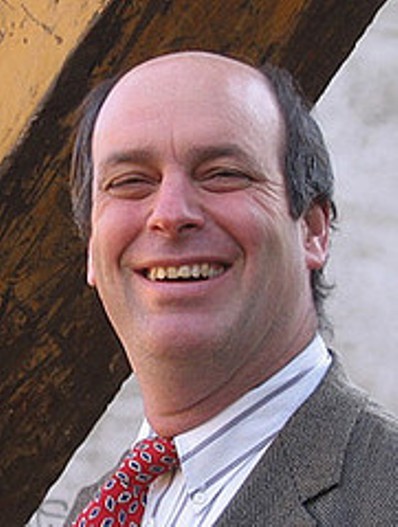 Roland Lewis, President and CEO of the Metropolitan Waterfront Alliance.

Courtesy of the Metropolitan Waterfront Alliance
"The new Rossville waterfront development site will attract water dependent businesses that will aid our economy and our environment, providing good paying maritime jobs and add to the working port which gets goods to market via water rather than road," said
Roland Lewis, President and CEO of the Metropolitan Waterfront Alliance.
"It is a win win for New York City and the region."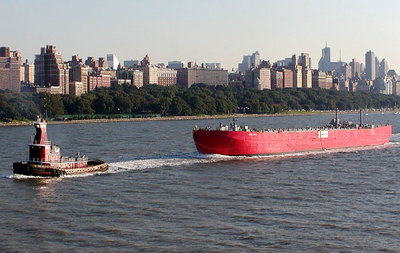 WAVES will bring to life a new vision for New York City's waterfront.

Courtesy of NYCEDC

Located on the 35 foot deep Arthur Kill Channel, the Rossville site can support deep-sea and shallow draft vessels for international and domestic shipping. In addition, the site can also provide berthing space for auxiliary vessels such as tugs and barges
.
The site has significant potential to expand maritime activity within the
Port of New York and New Jersey
, which is currently the
third largest port in the United States and the largest port complex on the Atlantic Coast.

According to a recent
New York Shipping Association study, the Port supports over 270,000 jobs and $37 billion
in economic activity.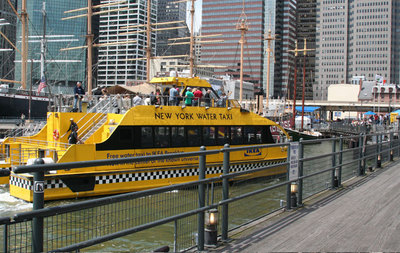 The City's ferries transport over 90,000 people daily to over 33 destinations.

Courtesy of NYCEDC
Commerce and trade in the port has increased significantly in recent years and, over the next decade growth is expected to continue.
While an increase in demand for goods is expected, the port has a limited number of sites that can house new and significant marine transportation facilities.
The site also has access to a major highway enabling multi-modal connectivity and efficient cargo logistics
.
Currently, the site is mostly vacant, and responses must include plans for structural improvements, including the demolition of a pier, development of necessary maritime infrastructure and any plans for improved traffic changes.
Respondents may also include a proposal for the non-waterfront portion of the site as long as it complements and supports the proposed maritime industrial development and adheres to existing zoning.
The appropriate development of the site could greatly contribute to economic growth on
Staten Island
, as outlined in comprehensive planning efforts such as the
Waterfront Vision and Enhancement Strategy (WAVES)
and the
Working West Shore 2030 report
.
Launched in March 2011,
WAVES is a citywide initiative launched by Mayor Bloomberg which will create a new sustainable blueprint for the City's more than 500 miles of shoreline
.
WAVES has two core components: Vision 2020: The New York City Comprehensive Waterfront Plan
, which will establish long-term goals for the next decade and beyond, and the
New York City Waterfront Action Agenda
, which will set forth priority initiatives to be implemented within three years.
Together, the initiatives will provide a blueprint for the
City's waterfront
and
waterways
, and focus on the
following categories
: open space and recreation, the working waterfront, housing and economic development, natural habitats, climate change adaptation and waterborne transportation.
The Working West Shore 2030 report
, published by
NYCEDC
and the
New York City Department of City Planning in 2011
, is a twenty year vision that aims to create jobs, increase waterfront access, improve mobility and strengthen neighborhoods.
The report was the result of a two-year effort involving
City and State agencies
, elected officials, local stakeholders and hundreds of local residents.
In order to jumpstart the
West Shore 2030 vision
,
the City is focusing on 39 short-term initiatives, including this RFEI, which emphasize job growth and needed infrastructure in the West Shore of Staten Island
.
By prioritizing maritime industrial uses in the
RFEI,
the activation of the
waterfront site in
Rossville
is also
part of the
City's recently announced 22 initiatives to strengthen the City's industrial sector and help small industrial businesses stay and grow in New York City
.
In total, the
22 initiatives
will revitalize, modernize, and preserve
up to 9 million square feet of underutilized industrial space
, and create and retain up to
30,000 direct and indirect industrial jobs
, generate annual payroll earnings of more than
$900 million and more than $150 million in City tax revenue.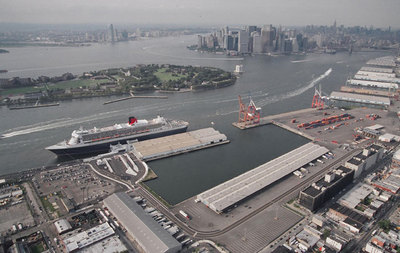 New York City's maritime industry provides 31,800 jobs and generates $1.3 billion in tax revenue.

Courtesy of NYCEDC
The initiatives resulted from an inter-agency review of the
City's industrial policies, led by Deputy Mayor for Economic Development Robert K. Steel, New York City Economic Development Corporation President Seth W. Pinsky, Department of Small Business Services Commissioner Robert W. Walsh and City Planning Commissioner Amanda M. Burden.

The review found that while the
City's industrial sector
has been declining in line with national trends of 8 percent annually over the past 10 years, there are certain subsectors showing stability and growth.
As offshoring costs increase, it is anticipated that industrial activities will continue to grow nationwide.
New York City
in particular offers unique location-based advantages for industrial activity, including a population of about
8.4 million
, access to a large workforce and highly-skilled labor, and one of the nation's busiest ports based on import volume.
The review also found that industrial businesses in the
City
are challenged by a lack of building stock appropriate for
modern industrial uses, higher costs, and difficulty maneuvering City processes
.
Industrial sectors account for 16.3 percent of New York City's overall private employment and more than 25 percent of employment outside of Manhattan, and industrial jobs have a mean wage of $64,000.
To obtain a copy of the
complete RFEI
, visit
www.nycedc.com/rfp
Responses are due by January 18, 2012 at 4 p.m.

About NYCEDC
New York City Economic Development Corporation is the City's primary vehicle for promoting economic growth in each of the five boroughs
.
NYCEDC's mission
is to stimulate growth through expansion and redevelopment programs that encourage investment, generate prosperity and strengthen the City's competitive position.
NYCEDC serves
as an advocate to the business community by building relationships with companies that allow them to take advantage of
New York City's many opportunities.

Find us on
Facebook
or follow us on
Twitter,
or visit our blog to learn more about
NYCEDC projects and initiatives
.
Contact

Patrick Muncie / Kyle Sklerov
(212) 312-3523
Source: NYCEDC
http://www.nycedc.com/Pages/HomePage.aspx
Seth W. Pinsky
President of the New York City Economic Development Corporation (NYCEDC)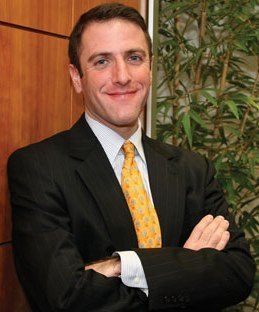 Seth W. Pinsky, President of the NYCEDC

Courtesy of NYCEDC

Seth W. Pinsky was appointed President of the New York City Economic Development Corporation (NYCEDC) by Mayor Michael R. Bloomberg in February 2008
, seven months before the collapse of Lehman Brothers ushered in one of the most significant economic downturns in generations.
Seth has worked to meet the challenge presented by the crisis by re-evaluating the agency's strategy for expanding the City's economy and redoubling existing efforts to position the City as the international center for innovation in the 21st century.
NYCEDC's agenda includes an aggressive slate of programs aimed at diversifying the City's economy, helping legacy industries transition to 21st Century business models, and expanding entrepreneurship to ensure that the City is well-represented in the fields of tomorrow.
The more than 60 programs launched during Seth's tenure focus on industries such as the arts, bioscience, fashion, finance, green services, manufacturing, media, and technology and include: incubator spaces providing hundreds of low-cost work stations and business development services to startup companies; the first City-sponsored investment fund outside the Silicon Valley; and international competitions aimed at spurring the creation of new business plans and smart-phone applications using long-neglected government data.
Beyond working to overhaul the City's economy, Seth's efforts have also included modernizing NYCEDC's property management portfolio; overseeing $2.5 billion in capital investments ranging from basic infrastructure improvements to new parks and streetscapes across the City; and helping to negotiate and structure the City's involvement in some of the most complex development projects in recent years, including the World Trade Center, Yankee Stadium, and Citifield.
Under Seth, NYCEDC has further continued its efforts to implement several of the Administration's most ambitious area-wide redevelopment projects, bringing new housing, infrastructure, and job opportunities to underserved neighborhoods throughout the Five Boroughs.
Examples of these projects include: creation of the City's first LEED-certified neighborhood in Willets Point, Queens; upgrades to the South Bronx Greenway to improve air quality and recreational opportunities in some of the City's poorest neighborhoods; revitalization of the 27-acre amusement district and surrounding community in Coney Island, Brooklyn; and projects at the South Brooklyn Marine Terminal and New York Container Terminal in Staten Island to help revive the City's working waterfront.
Additionally, under Seth's leadership, the City became the first municipality in the nation to develop a selection process and make allocations under a federal stimulus program designed to spur employment and encourage development during the recent downturn.
An attorney by training, prior to joining NYCEDC, Seth was an associate at the law firm of Cleary Gottlieb, Steen & Hamilton in the Real Estate practice and a financial analyst at the Mergers & Acquisitions boutique, James D. Wolfensohn Incorporated.
Seth is a graduate of Columbia College, where he majored in Ancient History, and Harvard Law School.
Source: NYCEDC
http://www.nycedc.com/
ASTROMAN Magazine - 2011.01.22
Mayor Bloomberg Launches NYC Urban Technology Innovation Center
http://www.astroman.com.pl/index.php?mod=magazine&a=read&id=885