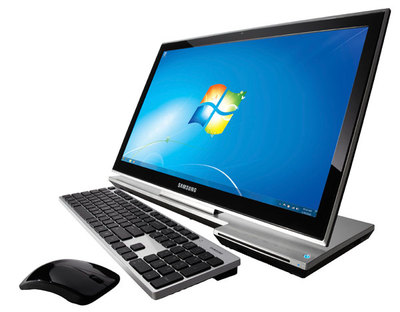 Samsung Touch-Enabled Devices Create Deep, Interactive Connections for Customers.
Samsung Series 7 All-in-One PC
The Samsung Series 7 All-in-One PC redefines the desktop PC. Touch-enabled, the brilliant, 16mm-thick, 23-inch LED display tilts to create a horizontal interface for gaming, art and design projects. With the Intel Core i3 or i5 processor and Windows 7 Home Premium, this PC for work and play starts at $999. Oct. 28, 2011
Courtesy of Microsoft
Redmond, Wash., USA - October 28, 2011
Editor's Note
:
This article is part of the IN FOCUS series providing a look at hardware advancements across a wide range of Windows-based devices and form factors.
The series highlights Microsoft partners creating rich experiences through innovative hardware.
Natural User Interfaces (NUI), such as touch, have been in development for years, but only recently have become a mainstream reality
.
Touch user interfaces have made computing more interactive, easier to use and more pervasive than ever, whether on a laptop, all-in-one PC or mobile phone
.
In fact, over the past few years, the
ability to control mobile phones, for example, with spot-on voice recognition or with simple touch gestures has redefined an industry.

Extending input with touch-first capabilities can make life easier, enabling brand-new experiences and scenarios that have become a consumer expectation
.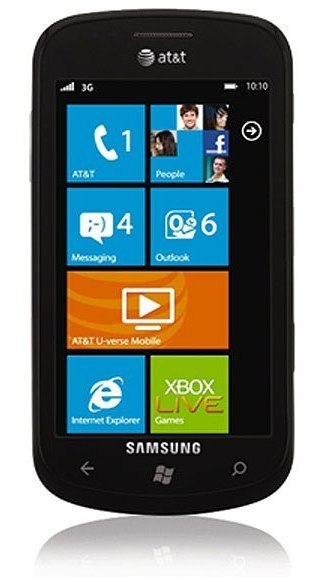 Samsung Touch-Enabled Devices Create Deep, Interactive Connections for Customers.
Samsung Focus
The award-winning Samsung Focus is the best-selling Windows Phone in the U.S. Along with its sleek design and outstanding call quality, the highlight of the Focus is a brilliant 4-inch Super AMOLED display that brings new life to movies and games. Starts at $49.99 with contract. Oct. 28, 2011
Courtesy of Microsoft
Few companies have the pedigree to fulfill this new demand, but
Samsung Electronics had this foresight, leveraging its display expertise across many of its consumer product categories, to lead this new era in computing.

Touch computing is now fully integrated into a variety of Samsung computing products, including PCs, slates, mobile phones and Microsoft Surface devices
.
Using Microsoft platform assets, Samsung expands personal computing capabilities with a touch of the finger
.
According to
Todd Bouman, director of Enterprise Business Division product marketing at Samsung
, this fall will get even more exciting for customers with the
new Samsung Series 7 family of products
.
It's Bouman's job to help envision the company's strategy for developing its premium PC brand
.
The company recently launched the
Samsung Series 7 Slate PC
and the
Samsung Series 7 All-in-One PC
, which is part
tablet
and part
desktop
.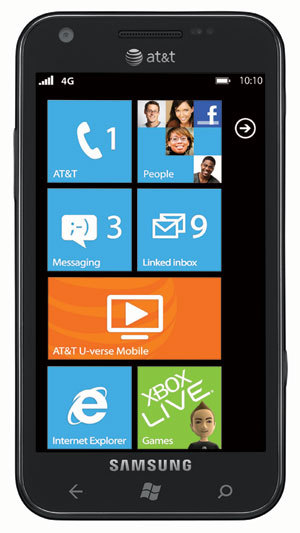 Samsung Touch-Enabled Devices Create Deep, Interactive Connections for Customers.
Samsung Focus S
The Samsung Focus S takes the success of the original Focus to the next level with a 4.3-inch Super AMOLED Plus display, a 1.4 GHz processor, 4G speeds and a super-thin profile. It also includes front and rear facing cameras to capture a special moment or connect with friends. Oct. 28, 2011
Courtesy of Microsoft
"We have an appetite to do some innovative things and to make a name for ourselves, and we've been able to do this with some very cool designs for the Microsoft platform,"
Bouman
says.
"These are beautiful, thin products that quite frankly are milestones in the industry."
Bouman
says the
Series 7 Slate PC
represents what the industry has been looking for in a Windows tablet experience — a responsive, fast, lightweight machine with a great screen and all the productivity users expect from a PC.
"We believe a slate should not only be a consumption device, but should also bring you the full power of creation; this is what the future holds for this space,"
he says
.
"It's also a content-sharing platform for the home, on the go and potentially up in the cloud. We're really just at the tip of the iceberg."
Because the
Series 7 Slate P
C is so cutting edge, and because
Samsung
is able to innovate very quickly,
Samsung
has been closely collaborating with Microsoft to develop a special version of the
Series 7 Slate PC for Windows 8 Developer Preview
, exclusively available to developers at
Microsoft's BUILD Conference
last month.
Adding to this view and announced just this month, the
Samsung Series 7 All-in-One PC extends yet another dimension to Samsung's vision with a touch-enabled platform that easily anchors the home
.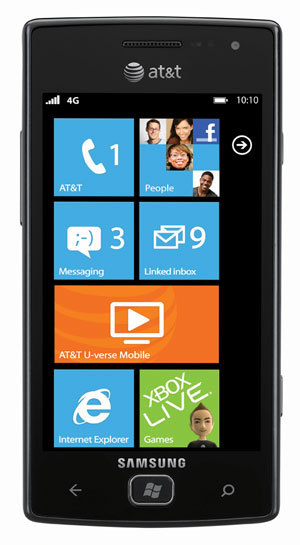 Samsung Touch-Enabled Devices Create Deep, Interactive Connections for Customers.
Samsung Focus Flash
Lighter and more compact than the Focus S, the Samsung Focus Flash still packs a punch with a 1.4 GHz processor. Front- and rear-mounted cameras and a 3.7-inch Super AMOLED screen round out a feature-packed phone that fits as neatly in the pocketbook as it does in the pocket. Oct. 28, 2011
Courtesy of Microsoft
The
new All-in-One PC is unique in that its TV-like 23-inch
display tilts horizontally to lie flat for games, collaboration, video conferences and the like.

"It's really a fun design with next-generation thinking,"
Bouman
says.
"We think this can be a great segment for the home and office going forward,"
he says
. "Adding a device like the new All-in-One PC provides a fantastic hardware structure as the center for us to develop new and innovative products around."
Lessons Carried Forward
The Series 7 line builds on a combination of factors that have proved successful for Samsung's mobile line, integrating touch across a variety of its devices.

Finding the right display technology, processors, batteries and applications, and then integrating and optimizing them tightly with the underlying software platform in a slick, attractive package proved to be challenging.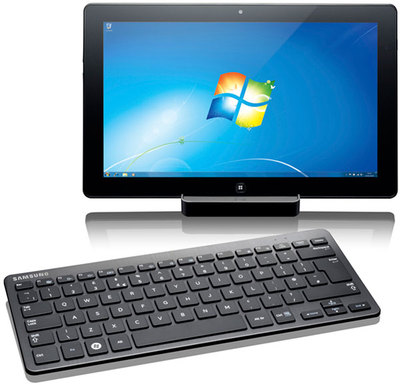 Samsung Touch-Enabled Devices Create Deep, Interactive Connections for Customers.
Samsung Series 7 Slate PC
With a gorgeous 11.5-inch screen, smooth-touch navigation, and front and rear cameras for Windows Live video chat, the Series 7 Slate PC weighs less than two pounds, ships with a Core i5 Intel processor and either 64GB or 128GB solid-state drives. It has Windows 7 productivity and starts at $1,099. Oct. 28, 2011
Courtesy of Microsoft
It's a set of challenges that
Nick DiCarlo, vice president of Product Planning for Samsung Telecommunications Americas
, knows well.
DiCarlo's group
keeps a close eye on new software and the experiences it can enable for
Samsung's smartphone products
.
He says a key in driving
Samsung's transformation
into a leader in the
smartphone market is collaboration with Microsoft, whose software enables the kinds of use cases consumers want, which Samsung can then optimize to full potential.

"Consumers want a smartphone that works simply and effortlessly,"
DiCarlo
says. "With Windows Phone, the user interface is bold, clean and really easy to learn"
He points to the
Samsung Focus line of mobile phones as prime examples.

Building on the success of its
first-generation Focus, Samsung
was able to address two different consumer segments with the
new Samsung Focus S for premium users
and the
Samsung Focus Flash for the value-conscious, both of which will support the latest version of Windows Phone.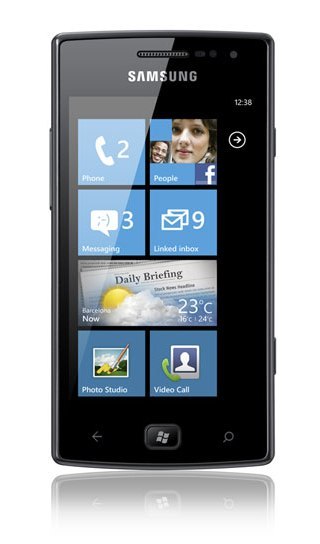 Samsung Touch-Enabled Devices Create Deep, Interactive Connections for Customers.
Samsung Omnia W
The Omnia W puts people at the center and takes advantage of Windows Phone 7.5 software, featuring the People Hub. It has a 3.7-inch Super AMOLED display, a 5 megapixel camera and 1.4GHz processor. Available starting in Italy in October and rolling out to Europe, CIS, Latin America, Africa and Asia. Oct. 28, 2011
Courtesy of Microsoft
The
new Focus line of smartphones integrate a Super AMOLED display (Active Matrix Organic Light Emitting Diode),
which is more colorful and responsive than traditional phone displays, while also more battery-efficient.
Samsung's Super AMOLED technology produces deep black tones, which makes the colorful Windows Phone Metro UI really shine
.
Samsung's Super AMOLED technology
also makes the
Focus S lightweight and thin,
so it slides easily into any pocket.
They also sport
very high-quality cameras, both front and back, for exceptional image quality and collaboration capabilities such as video chat.

Beyond the hardware, though, consumers are keenly interested in what the device can do. And that, says
DiCarlo
, is where the software comes in.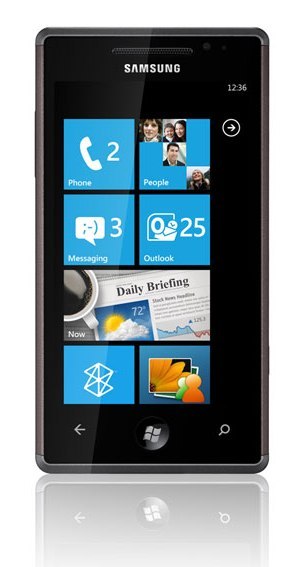 Samsung Touch-Enabled Devices Create Deep, Interactive Connections for Customers.
Samsung Omnia 7
Mobile gamers, unite! With a 4.0-inch Super AMOLED display and thin, light design, the Samsung Omnia 7 takes your games and entertainment with you. Play Xbox LIVE, listen to your music with your Zune Pass and watch HD videos from virtually anywhere. Available across Europe and Asia. Oct. 28, 2011
Courtesy of Microsoft
"In working closely with Microsoft, we've been able to realize the full set of experiences, including Facebook integration, and some really powerful location-based services,"
DiCarlo
says.
"A lot of the ideas are basic, but the execution is elegant and we have a lot of appreciation for that. The Windows Phone Platform, especially Windows Phone 7.5, is really poised to break out. Millions of consumers are buying their first smartphone this holiday season, and the family of Focus-branded devices, exclusively with AT&T, is really the perfect set of devices to amaze your family with their power, beauty and simplicity."
In the Trenches
Optimizing the way hardware and software interact takes some work, and both Microsoft and Samsung remain committed to this effort across Samsung's computing products
.
During development of the
Series 7 PCs
, for example,
Samsung worked daily with Microsoft
to make sure the software maximized the hardware's touch potential, and to enable new features, such as
Samsung's Fast Start technology
that boots the
PC up in two seconds flat from a hybrid sleep.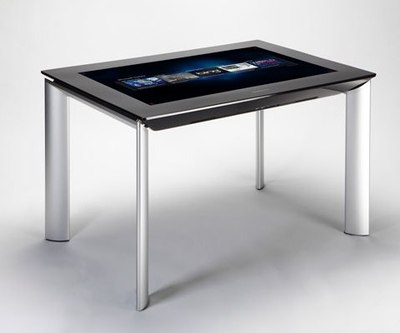 Samsung Touch-Enabled Devices Create Deep, Interactive Connections for Customers.
Samsung SUR40 for Microsoft Surface
Once a science-fiction dream, the Samsung SUR40 for Microsoft Surface makes "together computing" real. This commercial-use device has an intuitive touch interface, PixelSense technology, and an display that recognizes real-world objects. Expect it in hotels, airports and other settings as soon as next year.
Courtesy of Microsoft
"We see the vision and all these benefits in preparing for next-generation platforms,"
Bouman
says.
"Making the most of those benefits starts with building the right hardware for Windows 7 today, with the full support of Microsoft."
The work is so important that Microsoft has an entire group dedicated to collaborating with manufacturers such as
Samsung
.
Greg Taylor, group partner technology manager for Microsoft OEM Engineering
, works with
Samsung
to push computing boundaries and deliver innovative products.
"Samsung allows us to have a very early look into their concepts and ideas," says
Taylor
. "We examine those concepts against the scenarios we enable, and make sure the product aligns tightly with that vision."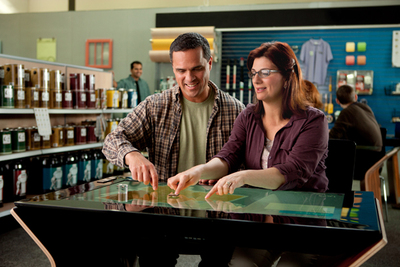 Samsung SUR40 for Microsoft Surface (horizontal implementation)

Samsung SUR40 for Microsoft Surface features new technology that gives LCD panels the power to see without the use of cameras, a 40-inch, high-definition screen, and thin form factor with multiple configuration options (horizontal and vertical).

Courtesy of Microsoft

For the Series 7, Taylor's group has been working with Samsung for the past two years on creative designs that bring great touch experiences to customers
.
"Users want the touch screen to feel organic,"
he says
.
"They want it to feel alive. We worked together to bring that feeling to the Series 7 PCs. When you use touch to drive the software experience, it's very smooth and fluid."
Next-Generation Multi-Touch, Natural Computing
Announced at
CES 2011
and designed for commercial environments,
Samsung's SUR40 for Microsoft Surface bonds context-aware and "together computing" principles to elevate decision-making and entertainment.

Samsung and Microsoft worked closely on their respective hardware and software for this upcoming product
, combining advanced image-sensing technology, cutting-edge multi-touch capabilities and enhanced horizontal durability, which are specialized for the Microsoft Surface experience.
The software and hardware solution makes it possible for people to share, collaborate and explore together using a large, thin display that recognizes fingers, hands and other objects placed on it.
This pioneering computing scenario recognizes what's touching the
LCD display
, and that information is immediately processed and interpreted, providing users with contextually accurate information.
Samsung SUR40 for Microsoft Surface
Created in partnership with Samsung, the Samsung SUR40 for Microsoft Surface incorporates all the key features of the original Surface product – a massive multi-touch experience, the ability to recognize fingers, hands, and objects – as well as a new technology that has enabled a more flexible form factor.
Courtesy of Microsoft
"As more and more people are using smartphones and tablet devices, intuitive touch-based user experiences have become the norm,"
Bouman
says.
"Our close hardware and software collaboration with Microsoft for the development of the SUR40 allows us to expand the user experience with the largest massive multi-touch display, meeting the needs of multiple users at once with the ability to recognize multiple objects at the same time."
Companies from around the world,
including
Dassault Aviation, Fujifilm
and
Royal Bank of Canada,
all of whom have announced their deployments, appreciate the tight collaboration between
Microsoft
and
Samsung, enabling Samsung's SUR40 to advance consumer decision-making and elevate entertainment experiences
.
Only the Beginning
With the
Samsung Focus mobile phone
already on store shelves, the
Series 7 line
due later this fall, and other products such as the
SUR40
for Microsoft Surface on the horizon
, the collaboration between
Microsoft
and
Samsung
has proven a successful formula for bringing innovative computing scenarios to life.
And if
Samsung's Focus phones
are any indication, the approach to collaborative innovation is paying off:
The Samsung Focus ranked No. 1
in a customer survey conducted by
Equation Research
and PC Magazine this year
, landing the coveted
PC Magazine Reader's Choice Award.

According to
Samsung's DiCarlo
, there's much more of that to come: "We haven't even played the first inning yet, and that's exciting."
Source: Microsoft Corp.
http://www.microsoft.com/presspass/default.mspx
ASTROMAN Magazine - 2011.11.02

Juniper Networks to Deliver Business-Ready Secure Mobility Solutions with Samsung
http://www.astroman.com.pl/index.php?mod=magazine&a=read&id=1093
ASTROMAN Magazine - 2011.10.29
SAMSUNG Expands U.S. Tablet Portfolio with Galaxy Tab 7.0 Plus
http://www.astroman.com.pl/index.php?mod=magazine&a=read&id=1085
ASTROMAN Magazine - 2011.10.02
Microsoft and Samsung Broaden Smartphone Partnership
http://www.astroman.com.pl/index.php?mod=magazine&a=read&id=1067
ASTROMAN Magazine - 2011.07.16
Microsoft Reveals Imagine Cup 2011 Winners in New York City
http://www.astroman.com.pl/index.php?mod=magazine&a=read&id=1018
ASTROMAN Magazine - 2011.04.17
Sprint Launches Mobility Solution for a Better Planet
http://www.astroman.com.pl/index.php?mod=magazine&a=read&id=944
ASTROMAN Magazine - 2011.01.16

2011 International CES Wows World with Innovation and Optimism
http://www.astroman.com.pl/index.php?mod=magazine&a=read&id=880
ASTROMAN Magazine - 2010.09.18
Samsung GALAXY Tab Opens a New Chapter in Mobile Industry
http://www.astroman.com.pl/index.php?mod=magazine&a=read&id=807
ASTROMAN Magazine - 2010.06.13
Samsung Electronics Launches the World's First LED Large Format Display
http://www.astroman.com.pl/index.php?mod=magazine&a=read&id=743