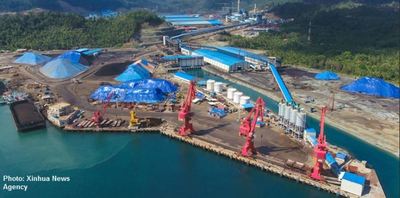 Belt and Road Gets Indonesian Boost.
Photo courtesy of HKTDC / Xinhua News Agency
Hong Kong Trade Development Council - June 08, 2018
The development of the
Belt and Road Initiative (BRI) in Indonesia
received a big boost in late April after the
Morowali Industrial Park (IMIP)
received a new funding of
US$1.22 billion
from a major Chinese bank for the development of three new manufacturing plants.
The plan had been secured to further develop
Indonesia's Morowali Industrial Park
set in the
Central Sulawesi Province
, the park is already seen as something of a high-water mark for
Indonesian-Chinese cooperation.

The new agreement, believed to have been brokered during the
China-Indonesia Cooperation Forum: Belt and Road Initiative and Global Maritime Forum
, which was held in
Beijing in June 2017
, has seen the
China Development Bank guarantee an additional US$1.22 billion of funding for the park.

Under plans that are already in place, this will see three additional manufacturing plants and two new coal-fired electricity generating facilities constructed on the
2,000-hectare site
.
Indonesian-Chinese cooperation
on the development of the park actually predates the official launch of the
BRI
, China's international infrastructure development and trade facilitation programme.
When the
IMIP
was first conceived, back in 2009, it was backed by the
Shanghai Decent Investment Group
– a wholly owned-subsidiary of
Tsingshan Steel
, the Shanghai-headquartered steel-producing giant – under the then-current Go Global strategy.
Decent partnered with the
Bintangdelapan Group
, a Jakarta-based mining and chemical conglomerate, on the development of the project, with the shareholding split 66.25%-33.75% in favour of the Chinese company.
This saw the two agree on a three-phase development schedule for the site.
The first phase involved the implementation of three individual projects – two nickel pig iron and captive power plants and a stainless-steel slab and captive power plant.
The three projects were fast-tracked in order to take advantage of the abundant metal reserves in the immediate vicinity of the park.
The first of the pig iron plants was backed by
Sulawesi Mining Investment
, a 45%-55% joint venture between
Bintangdelapan
and the
Dingxin Group
, a Fujian-based steel producer.
Under the terms of the agreement, the nickel mined by
SMI
is processed at the plant, with its annual throughput expected to be around
300,000 tonnes
.
Work on this first plant involved investment of
US$628 million
, which was largely sourced from the
CDB
.
With construction beginning in July 2013, the work was completed 18 months later, with the plant officially going online in May 2015.
The second plant was backed by
Guang Ching Nickel and Stainless Steel Industry,
a Salawesi-based metal producer in which
Guangxin Holdings
, a Guangdong-based mining and manufacturing conglomerate, is a substantial shareholder.
With a target output of
600,000 tons of nickel pig iron per annum
, the project attracted total investment of more than
US$1 billion
.
Construction work on the facility began in May 2014, with the plant going into operation two years later.
The stainless-steel slab and captive power plant, the final project of the first development phase, was backed by
Indonesia Tsingshan Stainless Steel
, with the
CDB
covering
$570 million
of the
$800 million
overall cost of the facility.
Construction work on the plant began in July 2015 and, although it is not yet operational, its annual sales revenue is anticipated to be around
$2.2 billion
, based on an annual output capacity of
one million tonnes.

By the end of September 2016, the total investment in the park was around
$2.5 billion
.
In March the following year, with production underway, the site was on track to produce two million tonnes of stainless steel in 2017, with its output expected to rise to three million tonnes in 2018.
As a result of the 2017 China-Indonesia Cooperation Forum, further BRI-related investment of $1.63 billion was agreed
.
Of this, some
$980 million
will go towards funding a new carbon steel factory, which will be jointly developed by the
Tsingshan Group
and the
Delong Group
.
Once operational, it is expected to have an annual production capacity of
3.5 million tonnes
.
Tsingshan
is also working with the
Bintang Delapan Group
on the joint development of two further power plants.
With the cost currently estimated as
$650 million
, each plant has a target capacity of
350 MW
.
Overall,
Indonesia
has been one of the key beneficiaries of the
BRI
, with
China
said to have invested up to
$87 billion
in developing the country's infrastructure, including some
$6 billion
on the
142-kilometre Jakarta-Bandung rail link, the country's first high-speed train service.

For its part,
China
views
Indonesia
as a key partner in the overall programme, largely thanks to the strong existing trade ties between the two countries and Indonesia's strategic positioning along the
BRI's
proposed maritime routes.
For more market opportunities, please visit:
http://research.hktdc.com
Related Link
Belt and Road
http://beltandroad.hktdc.com/en/
Connecting the CR Express with "Belt and Road" Logistics Networks
Hong Kong Trade Development Council - June 07, 2018
• Nippon Express: Part of a Joint research series on Shanghai-Hong Kong Co-operation in Capturing Belt and Road Opportunities
China is actively promoting economic and trade co-operation with countries and regions along the Belt and Road routes
.
This includes expansion of the
China-Europe Railway Express (CR Express)
network running between the
Chinese mainland and Europe
, providing express rail freight as an alternative to sea and air transport.
Since the 2011 launch of the
CR Express service from Chongqing in western China to Duisburg in Germany, freight volume has risen considerably.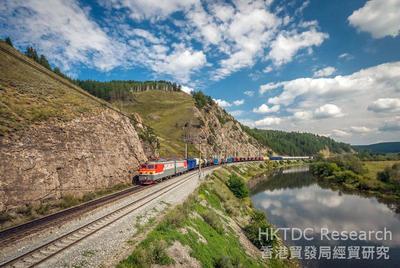 Rail service has become a freight shipping option for China-Europe trade.
Photo courtesy of HKTDC
Not only are western region Chinese manufacturers making greater use of
CR Express
trains to replace Europe-bound sea freight, coastal cities in the eastern region are also launching railway services, one after another.
Against this backdrop, logistics companies have begun to integrate rail freight services with sea and air networks in order to provide a more comprehensive international logistics service to clients.
For example,
Nippon Express (Shanghai) Co Ltd
, a Japanese-funded company located in the Waigaoqiao Free Trade Zone, plans to provide rail freight services to
Europe through the CR Express lines running from China's coastal and inland cities.

This is intended to support
Nippon Express
clients in capturing trade development opportunities
between China and Europe
, as well as the
BRI
.
For further details, see
Leveraging CR Express to Tap "Belt and Road" Markets.

http://economists-pick-research.hktdc.com/business-news/article/Research-Articles/Leveraging-CR-Express-to-Tap-Belt-and-Road-Markets/rp/en/1/1X32LK39/1X0ADSK4.htm
Nippon Express (Shanghai)'s parent company is Nippon Express Group (NE Group), a global logistics company, providing comprehensive logistics and supply chain management and related services.
It serves the Chinese market through international transport networks in the Yangtze River Delta (YRD) and Hong Kong.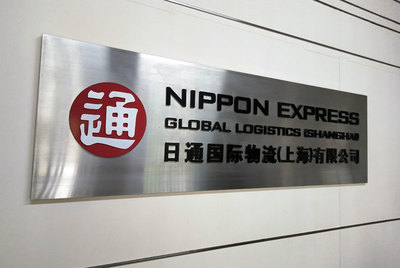 Nippon Express Group hopes to utilise CR Express to provide services of freight transport from Japan to Europe. 
Photo courtesy of HKTDC / NE Group
According to the
NE Group
, it is necessary to keep up to date with mainland economic development and trade policies.
It has, therefore, actively set up logistics operating points in various bonded areas and pilot free trade zones to provide clients with faster and more convenient services through customs facilitation.
The group also uses
Hong Kong facilities
to support the mainland network to optimise logistics.
It relies on
Hong Kong
to handle financial dealings and investment, as well as manage its information technology for the
East Asia region
.
Seizing opportunities presented by the rapid development of rail freight through the
CR Express network
in recent years,
NE Group
is targeting higher-value goods from the coastal and western regions of
China to Europe.

As freight trains between the
mainland and Asia as well as Europe
are on the increase, the group plans to launch a rail freight service between
Japan and Europe via the mainland in 2018, providing Japanese clients with an alternative to sea and air.

Under the current trend of industrial transformation and upgrade on the mainland, many high-tech or high-value-added enterprises have become more demanding of logistics services.
For example, most electronics manufacturers require logistics providers to have specialised logistics facilities and valuables storage systems for handling higher-value goods, enabling reduced shipping time.
In view of this, some logistics service providers, such as
NE Group
, have not only upgraded logistics facilities to meet client requirements, but have also integrated sea and air freight with the
CR Express network
.
This takes advantage of the relatively fast service and convenient customs clearance offered by the
CR Express
.
At present, areas served by the
CR Express network
have already been expanded from the mainland's western region to the
YRD
and other coastal cities.
CR Express is less costly than airfreight
.
While not as cheap as sea transport to Europe, it is faster and therefore suitable for higher added-value and shorter life span goods.
Suitable items include machinery, high-value electronics, and fast-moving consumer goods where a short delivery lead time is more important than transport costs.
Undoubtedly, the
CR Express
would provide an additional cost-effective option to enterprises with time sensitive shipping needs.
Capitalising on China's promotion of Belt and Road development, the NE Group has taken the lead among Japanese freight agencies, providing logistics solutions to Europe through the CR Express network since 2016.

Its service area has already expanded to cover
14 mainland cities and six European cities.
With an intermodal rail freight service from Shanghai or Shenzhen to Europe, it has also integrated with European transport networks to expand coverage
.
NE Group has recently launched sea-rail and air-rail multi-modal freight services in Japan, Taiwan and Korea, with the CR Express network at the core.
A brand-new logistics service has also been introduced, where the fastest freight transport from Japan to Germany could be completed in 23 days
.
About HKTDC
Each year, the HKTDC organises a broad spectrum of more than 320 trade fairs and promotional activities, 590 networking and outreach events, and receives more than 650 trade missions, helping Hong Kong's small and medium-sized enterprises (SMEs) connect with business clients and partners around the world.

The HKTDC responses to latest global and regional economic developments and policies to help Hong Kong SMEs capture new opportunities.

Photo courtesy of HKTDC

With China's Belt and Road Initiative presenting tremendous potential in new markets, the HKTDC provides Belt and Road related market intelligence and creates business platforms to help Hong Kong businesses navigate a world of new opportunities through Hong Kong.
Source: the HKTDC
http://hkmb.hktdc.com/en
Editor-in-Chief of ASTROMAN magazine: Roman Wojtala, Ph.D.